EDitorial ± 10-Jun-2019
Pulse Festival 2019
<! - |entrytitle|Pulse Festival 2019| -->
Love the culture, me. The tunes, the films, the pictures. Less so, the theatre. Much less so. Prob'ly why I've mostly shied away from Ipswich's very own Pulse, the "actively curated festival" that's been run by the New Wolsey for a few years. Ten days of small shows with big ideas. My line, that one.
This year, though, flicking through the brochure, I spotted a couple of things I fancied. Hadn't occurred to me before that Pulse is more or less a mini Edinburgh Fringe but 400 miles closer. Then went to book 'em online and found myself with an offer I couldn't refuse. Tenner each, or five for a fiver each. They had me.
(Mon 3 Jun @ 6:30pm) Lights! Planet! People! at New Wolsey Theatre
Co-writer with John Osborne of Sky One's delightful After Hours, Molly Naylor gives us a female cosmologist -- "I'm a scientist" -- flitting between a lecture, a therapy session and unanswered mobile calls. Karen Hill, terrific, keeps asking the audience for questions. I nearly put my hand up. Exoplanets and existentialism.
— line: "Leaflets and that."
(Tue 4 Jun @ 8pm) My Kind Of Michael at New Wolsey Studio
Promising start guessing the masterfully picked-out Bontempi TV theme tunes: that was Big Break? Nick Cassenbaum's love letter to persona non grata Michael Barrymore with us in the crowd acting as Strike It Lucky contestants. Should MB accept that free JD & Sprite? Much pathos. It's the celebri-tree!
— line: "It was my destiny to be that prat."
(Wed 5 Jun @ 8pm) A Hundred Different Words For Love at New Wolsey Studio
Previous show running late caused a delay enabling us in the audience to hear the full warm-up playlist culminating in a mass singalong of Erasure's A Little Respect. That was joyous, as was James Rowland's story. Show punctuated by looped keyboard riffs over which JR, the offspring of Tim Key and Bill Bailey, shouted his lines. Good old Giles. Nailed that landing with the final song, too.
— line: "Viennetta? You should have said."
(Fri 7 Jun @ 8pm) You're In A Bad Way at High Street Exhibition Gallery
Co-writer with Molly Naylor of Sky One's delightful After Hours, John Osborne is one of the few performers that I've seen previously at Pulse. That was 2016's Hefner-based The Fidelity Wars. Me and G. had already seen a JO double bill (John Peel's Shed and Circled In The Radio Times) at Diss back in February. The shambolic lad can do no wrong and tells a tale stretching from his final Glastonbury to a Lincolnshire care home. Bring on St Etienne, The Musical.
— line: "I was already wearing tomorrow's socks."
(Sat 8 Jun @ noon) This Is All For You at High Street Exhibition Gallery
Bonus performance by People You May Know. According to The Guardian's Guide, "Joss Oliver and Fred Double's preview of their latest play." Bum directions meant I was ten minutes late but I still caught 45 minutes of Jimmy's wordy would-be angry young man with FD on drums. Plenty of Facebook fishwife food for thought in a lunchtime show. The boys did good.
— line: "Boil an egg?"
(Sat 8 Jun @ 8:45pm) Kieran Hodgson '75 at New Wolsey Studio
Pre-show chat with fellow attendee about the pre-show '70s visuals of Heath, Thatcher, Powell and Jenkins. Then touch-of-Tennant Kieran appeared to whip us through a brief history of Europe in relation to the GB. Slick, skilled and spot-on impersonations of long-gone politicos. How did he synchronise that Bach air piano playing? Impressive.
— line: "Your fish quotas didn't bother me anyway."
...and still missed Max and Ivan, Byron Vincent and 1927.
EDitorial ± 24-May-2019
Woodbridge Lunches: Drift
<! - |entrytitle|Woodbridge Lunches: Drift| -->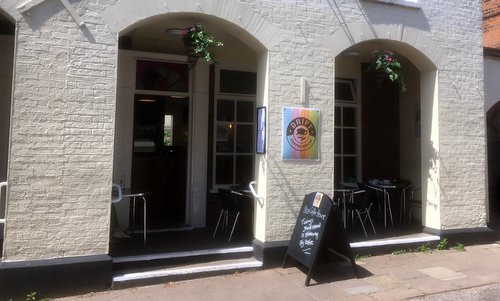 That old Earth of ours has seen a dozen orbital periods (nine common years, three leap years) since the boy Andy proposed this whole light lunch shebang in 2007. We kicked off in ye olde Woodbridge, being ten minutes down the road from where we all worked, and quickly knocked off ten eateries in the first three months including Pickwicks (now the brilliant if hard to find Cooks Shed), Frangipani (now the Cumberland Fish Bar) and the Georgian Coffee House. Well, the Georgian era is over.
I'd stumbled across colourfully branded Drift a week earlier while coming out of the booky Emporium and had a rather good rocky road, hence today's meet-up. I'm first, place my order inside -- there's the conservatory -- and squeeze into an outside corner table. Sipping my cucumber and mint when Andy appears fresh from Aldeburgh. He's not sat down long when my grub appears, an offering from their "ultimate lunch" menu:
sausage pattie + smashed avocado + free-ranged fried egg + wild rocket served in our unique black brioche bun
Marmite in appearance -- I decide to love it -- due to that black-as-your-hat bun. But oh man, that combination of meat & egg & greens all within a dark crunch. Most original thing I've had to eat in a while, an opinion I happily share with the couple at the next table. Who, it transpires, are pleased to hear this being the happy owners of this establishment. They're less delighted to hear that Andy's still waiting for his savoury, the house Scotch egg, after ten minutes. Bad timing for the staff who didn't write it down. Oops.
Which is how we both received exemplary service for the rest of our time sat there in the shade, taking receipt of unending apologies backed up by free coffee and cake. Ain't no fun being on the other side of the counter. Who'd give you complimentary goodies if they mucked up your order? Drift would.
If it was a car -- Nissan 240SX.
If they were passing by -- Fran Healy.
EDitorial ± 14-May-2019
Light Lunches: Lighthouse Diner, Lowestoft
<! - |entrytitle|Light Lunches: Lighthouse Diner, Lowestoft| -->
Week or so beforehand, I'd looked ahead, realised I was due a day's time off in the loo, and booked it off. Very deliberately didn't mention this fact to G. knowing that she'd be highly unlikely to secure that day off with so little notice. So it was that I awoke on 14-May-2019, to use my preferred date format, and rode out on my bright yellow bike for a day out in the sun. Happy 53rd birthday, me!
Up to station code IPS, lugged bike up and over the bridge and straight on to the 09:17. Through Woodbridge, Melton, "Wickham Market" (actually Campsea Ashe) and Saxmundham, then I'm off at Darsham on the stroke of 10am. Why? 'Cos the Darsham Hamper is dead and, after a hairy mile bike ride up the A12, I'm having birthday breakfast at its replacement, the Two Magpies Bakery. Excellent coffee and the best almond croissant I've ever had.
Hour later I've reboarded Greater Anglia's finest to pass through Halesworth, request stop Brampton and Beccles. Decided somewhere along the line to keep fit and get off one stop earlier, thus disembarked at Oulton Broad South. Brief tour of Nicholas Everitt park, bought a used paperback at the library, then cycled via Pakefield and over Lowestoft's mighty bascule bridge to reach unlovely Whapload Road (tyres, used cars, repeat). Why again? 'Cos it's home to the highly rated Lighthouse Diner, "the most easterly diner in the UK", a surely unique claim.
Slightly concerned that it's now 1:45pm and they're due to shut at 2pm but that's all fine. Order at the hatch -- double egg, double bacon, chips and beans -- and took my numbered slip. Bunch of customers inside ignoring the waiting-room style telly ("and now here on BBC1, Doctors"). My number's up, in a good way, so gave a few squirts of genuine HP and took my large plate of carbo goodies to the sun-drenched seating area outside. With a health giving bottle of mango iced tea to wash it down, all good, all very good indeed. No wonder they've nabbed a Trip Advisor certificate of excellence. And once you're sufficiently stuffed, work off some of those surplus calories with a stroll along the sea wall check out the Euroscope at Ness Point. There, you're truly east of Ipswich.
If it was a car -- used Kia Picanto from M&R Car Sales.
If they were passing by -- Laurie Sivell.
EDitorial ± 3-May-2019
Felixstowe Light Lunches: The Mad House
<! - |entrytitle|Felixstowe Light Lunches: The Mad House| -->
Fairly indifferent Friday, fahrenheit-wise, before the old SE beeped to inform me of an incoming stanza of free verse from Andy:
I'm parked outside your building no rush just call me when you're leaving I'm in the blue panda
Now he may have been up all night out of his head in his Boyton garret hoping that the man from Porlock didn't call, or he might just have dashed that off in the car. Note how he intially conforms to the haiku syllabic structure and then subverts it. Either way, that's top work, and I write as a published poet, ahem-hem.
Into the Fiat Lux and here's a Batey-esque couple of Cassys, both Mr and Mrs. More the merrier as we pootle down to the 'Stowe. Ever so slightly past the library to be dropped off outside Unit 4. American Diner? Nope. Steak 'n' Grill? Nope. Welcome to The Mad House, an Alice in Wonderland themed eatery opened by Amber and Hannah in March 2019. Nearly all tables occupied, pleasingly, apart from a four-person sized space on the couch in the corner. And here's Kev wearing a Cheshire Cat smile on his day off.
Extensive menu is an exercise in combination theory with so many possible permutations of outers and inners. Can't get chilli in a baguette, alas. Mid-sized all day breakfast for me, ta very much. Smiling young lady checks if I'd like that "with meat". Oh, yes. See, they offer all manner of vegetarian and vegan and gluten-free options here, which is no bad thing. Wall behind our sofa has whatever the collective noun is for many clocks. You could entertain the kids all day simply playing I-Spy in here.
Food takes a fair while -- the price of being freshly made and with the shop pretty much full -- but is vg when it comes. Mrs Cassy's veg bacon strip is everything it promised to be. Only me working today and my time's up, so have to make do with an excellent and highly calorific Bournville dream shake. And yes, I'll have the cream on top. You don't have to be mad to go there but it helps.
If it was a car -- Ford Falcon XB GT.
If they were passing by -- Mia Wasikowska.
EDitorial ± 12-Apr-2019
Light Lunches: Costa Coffee Drive Thru, Martlesham Heath
<! - |entrytitle|Light Lunches: Costa Coffee Drive Thru, Martlesham Heath| -->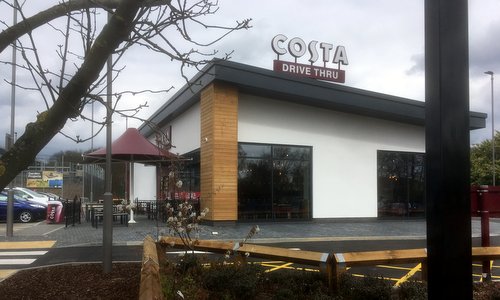 Not the first time that FindMyFriends has proved its worth. Reception at 1pm had been the agreement only for FMF to reveal that Parker the chauffeur was still Boyton bound at 12:55. Change of plan, I texted, suggesting I meet him at a new location. Hopped on my wheels, past Greggs on my right and M&S on my left, over the road and apply brakes. Bingo.
See, Costa,"the nation's favourite coffee shop" -- now owned by Coca-Cola, fact fans -- has now opened a swanky drive-thru (their spelling) about 400m from Adastral Park. Sure, there's another Costa store roughly 200m over there within Next but its second floor location makes ordering from your car more of a challenge. Already been here a day or so after its March opening with Kev for a perfectly pleasant panini, and again on a weekend with me mum and me son when chaos reigned with the hot drinks queue. Which brings us to today and the bearded one is waiting outside.
Easter hols, thought it would be choc-choc-chocka. Not so. Handful of tables are occupied. All is calm and light. Eyes are drawn to the drink plus main plus snack "lunch deal menu" for a relatively bargain £4.95. Full explanatory text so bear with:
Buy any Primo hot drink or over ice drink (excluding seasonal drinks) or any packaged drink, a Ham & Cheese toastie or Chicken & Bacon sandwich or Tomato and Basil Soup or Mozzarella & Sun-Dried Tomato Pasta Salad and either crisps, pop chips (excluding Pom-Bear and sweet potato crisps) or a piece of fruit for £4.95 between 11am-2pm in one of our participating UK stores from Thursday 7th March to Wednesday 1st May 2019 inclusive.
I found the chicken & bacon savoury, bag of upmarket Tyrells and confirmed with the patient young woman that I could have a flat white as the drink. Super. Andy, however, had picked up the ham toastie. Nope, said the woman. This is cheese-topped and not included. You want the basic ham & cheese, and off she went to find one. Chai latte too giving us a £9.90 lunch for two. Not half bad, Senor Costa. Shame it's a limited offering.
Ironically, when another woman brought us our sarnies, my chicken thing was very much cheese-topped and yet within the deal. Hats off to her for then fetching some cutlery and a glass of water. Good leaf on the flat white, and hot and strong. If you're an early bird, they're open from 5:30am. Beware how long you stay, though, if you're a motorist. People have already been in the local paper showing their £100 fines for staying more than two hours. As always, you're better off on a bike.
If it was a car -- Seat Arona.
If they were passing by -- Alberto Costa.
EDitorial ± 5-Apr-2019
Ipswich Lunches: St Elizabeth Hospice
<! - |entrytitle|Ipswich Lunches: St Elizabeth Hospice| -->
Already April, clocks have sprung forward, and finally time for a collectable light lunch outing. Kev's ruled himself out -- that lad doesn't know when to stop -- hence that ex-Defiants pairing of Broom and Cassy for the passenger and driver seats respectively. Both of us been to the hub cash machine. On y va.
Lack of prep due to trip rustiness means we're fairly aimlessly heading into central Ipswich down that l-o-n-g Foxhall Road. Approaching the Bixley Road roundabout with Nosh over there, we both notice big changes to the old Heath Road Post Office. There are folk visibly sitting at tables. Andy executes a slick Starsky & Hutch 180 to take us into the handy bendy layby to park outsize the snazzy new St Elizabeth Hospice shop. Charity doings to the right, contemporary cafe to the left. That'll do nicely.
All very smart421 within with those big windows. Apparently only been open for a few weeks, their savoury selection (to be expanded) currently comprises prepack sarnies or sausage rolls. Pas de probleme. Tuna & cu plus pack of Corkers crisps and a jolting Fentimans mandarin and seville orange jigger make for a fine Friday mini-feast. Folk at the other tables clearly have similar ideas.
While Andy's sorting coffee and cake, excellent chance to run my literary eye over the floor-to-ceiling shelves of books. Again, I'm not the only one doing this. Chauffeur returns with a large milky coffee and a slab of top notch carrot cake. Being of sounder mental strength than myself, Andy's going without. I'm now pumped to bike back to work at speed if only we weren't in the car. Most enjoyable outskirts location in which to catch up.
If it was a car -- Bentley State Limousine.
If they were passing by -- Claire Foy.
EDitorial ± 28-Jan-2019
Daniel Kitson, Keep
<! - |entrytitle|Daniel Kitson, Keep| -->
Talking to a culturally clued-up guy in the office last week, I chanced my arm. Later this week, I said, I'm off to see Daniel Kitson. He looked straight back at me. Who?
Let's not get too hipster here. Few years back, I came across this fella's name from various trusted sources. Go see him, they all said. Not really a comedian and doesn't really tell jokes but you'll laugh, you'll cry. Bit later I nabbed some tickets for a rare nearby performance in nearby Essex. There'll be no interval, he announced that night, so grab a drink now and buckle up. Quite an evening.
Quickly assembled DK gig list since that time:
June 2013 at Colchester Arts Centre -- After the Beginning
January 2015 at the Old Vic, London -- Tree with Tim Key
March 2016 at Cinema City, Norwich -- It's Always Right Now Until It's Later
October 2015 at Theatre Royal, Margate -- Stories for the Starlit Sky
December 2017 at Norwich Playhouse -- Christmas Show
January 2019 at Battersea Arts Centre -- Keep
Good Lady Wife's birthday happened to coincide with his most recent show in that London so we made a night of it and caught the 344 from Southwark Street to The Latchmere. Fantastically atmospheric place, the Battersea Arts Centre. Both of us had forgotten our specs so grateful to secure a second row seat. On the stage, a lone table, chair, and index card cabinet. Said cards in said cabinet were an itemized list of all, er, items in DK's home that he read aloud. A ceramic urinal. A birdfeeder. A brick. A brick. A brick.
Fifty drawers, two minutes a drawer gives a two hour-ish show. Would be a shame to give any more away. Crowd was enthralled. DK paced to and from the cabinet until all was revealed. I think. Get a chance, go see him. You'll laugh, you'll cry.