EDitorial ± 7-Oct-2019
Sound City Ipswich 2019
<! - |entrytitle|Sound City Ipswich 2019| -->
In 2009 eldest announced her wish to attend a workshop at "newly opened Punch Studios" down the road. Like Art Brut, she formed a band with BFF and other teens. They wrote some songs, recorded them, and played a gig, all in five days. Whole enterprise was masterminded by nice guy Joe Bailey.
In 2019 nice guy Joe Bailey together with Marcus "nonsuchdjs" Neal announced Sound City Ipswich, a one day multi-venue festival to encourage more touring bands to Go East. Four venues, 23 bands, with performances from 5pm to 2am. Within days of the late August announcement, I bought my £15 wristband. Come Friday teatime, I wolfed down half a spicy chicken kabuli and whizz-biked across town.
(18:30) Peaness at The Manor Ballroom
Managing to attach my bike to a big bin round the back of the club, jogged around to the main entrance and inside to catch the first notes of Peaness. Perky and poppy and oh-so-young, they harmonised and talked of Chester and smiled. "So we've not been to Ipswich before," one said, "Seems ... very nice. We had a coffee in Go Manila!" May the future bring them hap.
(19:30) Plastic Mermaids at The Manor Ballroom
Ballroom filling up with some familiar (and unexpected) faces, there's now stacks more equipment and lots more facial hair on stage. Off they go with a big warm psychedelic sound and it's very good indeed with some intense synth weirdness. Guy at the front says they're trying some new arrangements since he broke a finger earlier that week, hence he's on keyboards not guitar. Is it true, he asks the crowd, that you can catch a ferry to Amsterdam from here? Er, nope. Finishes far too soon.
(20:20) Ghosts Of Men at The Cornhill
Best fetch my bike to wheel it to the next venue. Except that someone's locked their Cannondale to my Raleigh. Best leave it there, then. Brief walk with Jeff, pausing for a takeaway coffee from a quiet Yates, and there's Ghosts Of Men playing outside at The Cornhill. Couldn't pass comment since he was between songs. Promise I'll listen to one of his tracks on Spotify to make up for it.
(20:30) Bessie Turner at The Corn Exchange
Ipswich's very own Bessie Turner takes to the big Corn Exchange stage. Have seen her couple of times before, both solo. Here she's accompanied by Dingus Tom the bassist and a drummer apparently called James Brown. Lovely voice with songs inspired by er, Lesley Dolphin and, er, John Stones. Also very self-deprecating: "Sorry if you've been pressured to come hear me by your friends."
(21:10) W.H. Lung at The Corn Exchange
I'm being told a story by a friend's wife when the music starts and I don't know whether to nod or laugh or frown. Serious young men, WHL, given a big build up by the slightly annoying emcee. Is that guy on stage playing an organ? They slowly construct a twelve foot wall of sound and proceed to jump up and down on it for ten solid minutes per track. Lead guy gives good gyrations with echoes of Jarvis, Ian Curtis and Future Islands.
(22:15) Emma-Jean Thackray at The Corn Exchange
Off goes Jeff and quite a few others to check out The Murder Capital at the Manor. I'm staying in the huge hall for an act endorsed by Gilles Peterson. Emma-Jean plays a mean trumpet but not in any conventional way. She loops and distorts it, sometimes sings. Oh, and there's a supercool guy on the keys, a great drummer and, naturally, a bloke wearing a sousaphone. Oh my. Brings back fond memories of Sons Of Kemet. An acquired taste, for sure, but I loved it. Did I really witness 40 minutes of experimental j*zz on one of the largest stages in Ipswich? Phenomenal. To counter tha, Will Young's due here tomorrow.
(23:20) Novelist at The Corn Exchange
Spoke to some other friends who'd also enjoyed Plastic Mermaids earlier. Stayed for opening Novelist track -- a thumping Thinking Thinking Dot Dot Dot with an appeal to "the Ipswich massive" -- before making my excuses, those excuses being my need to fetch my bike. Yay, now accessible. Paused to buy Smarties at ever open Majors Corner shop.
(00:10) Dingus Khan at The Corn Exchange
No better band for a late night up-for-it crowd. Dressed in their uniform white boiler suits, they have the gall to throw in some unfamiliar new tracks but thankfully give the people some old favourites too. "Ambulance" has people twirling like emergency lights, "Knifey-Spooney" has us yelling about cutlery, and "Made A List" is totes emotional. All this plus a male streaker joining in with the percussion and much drunken moshing. Can't You Hear Them Spinning?
(01:15) Snapped Ankles at The Corn Exchange
It's late-late-late when some curious looking figures emerge into the green smoke up there. They wear masks, said Jeff, but it's not just that. One on the left resembles a Sea Devil with the addition of a bright red light above his hood. Lead guy (?) carries a paganistic bent staff. A relentless thumping bass fills the room and the main man emerges into the crowd. I'm a little bit scared and more than a little bit tired. I'm done.
...and still missed The Stupids, Sir Was and Girls Of The Internet.
Both thumbs very much aloft for Joe and Marcus and everyone else who played a part. Same again next year?
EDitorial ± 27-Sep-2019
Ipswich Lunches: Clip 'n' Climb
<! - |entrytitle|Ipswich Lunches: Clip 'n' Climb| -->
Kev's not around today: he's attending to his tonsure. Yep, it still grows up top, apparently. One down, time for two amigos -- Dusty and Ned -- to saddle up. Talking of which, did you see that the actual Steve Martin and the actual Martin Short are doing some UK shows in March 2020? Top title, "the Funniest Show In Town At the Moment", and (restricted view) tickets at the actual Albert Hall could be yours for £49.88. Three figures and upwards for the decent seats.
One speedy VW emissions-laden drive finds us at l'Europark d'Ipswich. Past Toyota and Lexus and Vauxhall and Ford and Citroen sellers along the tranquil Havens to reach a big yellow cube (not far from Kings). H-o-o-o-g-e logo stares down at us: behold P&S who provide the catering here at Clip 'n' Climb, "the first purpose-built CnC in the UK" with "the highest CnC walls in Europe at 9.6m".
Downstairs are cherry pickers and candy dispensers and what Kev would call a plethora of money grabbers. Upstairs is a mahoosive sans-serif Paddy & Scotts "fuelling station". Their now-closed branch at Framlingham would be lost in here. Special today is the fish pie, ignored by both of us in favour of the roasted squash risotto (for him) and the Spanish style chicken and chorizo tortilla (for me). None of your Ginsters pre-packed sarnies here, matey.
Cafe area is on a floating mezzanine that affords great views of people shinning up multicolour walls before banging the stopwatch button near the roof. All eyes are on a guy being winched up to the top of a death slide. He's grimly holding on as his feet get further from safety. Nearing the top, he shouts "I can't let go! I can't let go!", before being lowered and then sliding the last few metres. Excellent entertainment at others' expense. Andy's plate arrives several minutes before mine, but this is some really good grub, a very long way from what I expected. Maybe that's the Purdey's Rejuvenate ("good choice") kicking in? Lots of wood, everything v. clean, with big screens either side of the counter to promote their brand. Corporate hire is obviously a thing.
Quiet-ish of a wet schoolday lunchtime, CnC is chop-chop-busy-busy of a weekend and requires pre-booking. Back to our picnic bench where now sit two fantastic flat whites. Red velvet cake went down well, too. Not sure about myself -- I was never one for arboreal ascent -- but Andy will be hitting the heights here on his next birthday.
If it was a car -- Ford Everest.
If they were passing by -- Anita Rani.
EDitorial ± 20-Sep-2019
Light Lunches: Deben Cafe, HMS Vale
<! - |entrytitle|Light Lunches: Deben Cafe, HMS Vale| -->
Wherever there is injustice, you will find us. Wherever there is suffering, we'll be there. Wherever there's a half-decent cafe nearabouts, you'll find The Three Amigos! Except that Lucky and Ned are stuck in Dusty's car which is itself stationary on the A12. Dusty has heard talk of onions on the road. Lucky and Ned suspect the hand of El Guapo.
Would have been quicker to canter around (Dead)Woodbridge. Finally, though, we trotted off Melton Road by equally equine The Coach & Horses. Tied up Dusty's car with a bag of oats at bottom of Dock Lane, walked over level crossing, looking both ways, then where? This is a working boatyard, darn your eyes. Right on the footpath and there she blows in the shape of HMS Vale, home to the Deben Cafe.
There be warnings a-plenty before boarding: mind the railings, the deck, the bollards, the chains, and you should be fine. Swedish patrol boat turned training ship then headed for the scrapheap, P155 arrived here in July 2018 at some expense. Today's trip is possible since they're now open not just at the weekend but Fridays and Mondays too. Me and Andy opt for the Sunday roast roll -- beef or lamb? -- while Kev favours the boatyard toastie. Captain Cate, impressively contactless, gives us each a chit and invites us to find a spare picnic table.
View on a blue sky September day is hard to beat. Tucking into our roast lamb baguettes, we gaze towards the opposite riverbank, the very spot where Raedwald's boat was possibly / probably dragged out of the water, up the bank and overland to its resting place at Sutton Hoo. That was over 1300 years ago. This very week, Andy's village has been occupied by a crew filming The Dig, all about local boy Basil Brown and Edith Pretty. While Carey Mulligan and Lily James have the female leads, Basil, the great mound detective, is played by none other than Ipswich-born Ralph Nathaniel Voldemort Quartermaine Twisleton-Wykeham-Fiennes.
What with our earlier hold-up, no time for coffee 'n' cake, alas, but time enough for those two to re-enact that scene from Titanic. Note that Kev says the on-board loo is to be experienced. As my receipt says, "fair winds and following seas and we look forward to seeing you again soon."
If it was a car -- Vale Special.
If they were passing by -- Arsher Ali.
EDitorial ± 13-Sep-2019
Ipswich Lunches: Hank's Deli
<! - |entrytitle|Ipswich Lunches: Hank's Deli| -->
Quarter to two on a pleasant Friday lunchtime, seated solo in Caffe Nero facing Marks and Sparks in central 'Swich. Good in-house wifi is letting me get on with some work of national importance while I nurse a £1.80 bottle of Coke Zero. Borrowed a handful of grapes and a satsuma from the office to keep me going 'cos who knows when Andy will ring?
At 15:36, the call comes. Great, I say. Meet you up Lloyds Avenue -- yes, through the archway -- at that odd place that was Powwow & Pip. I don't mention that it was Cafe de Montparnasse before that, and even earlier was the much-missed Enjoy. New in at 38 is Hank's Deli. Glossy fast-food style wall menu offers burgers, nuggets, quesadillas and fries. Oh, and everything is 110 per cent vegan.
Falafel wrap please, says me to the cheery bearded fella, and a can of Dalston's fizzy blackcurrant from the extremely well-stocked fridge. Just an organic cola for Andy since he's still digesting a large home-cooked lunch. That boy's a pro. Sat outside in the Lloyds Avenue wind tunnel, Andy asks: was that the guy from Carrot Cake? That was Avi; this is Geoff. Both clearly know their grub, both sport wild facial hair, both hail from Canada. Uncanny.
Inside for a warming filter coffee (with oat milk, naturally) and, as part of a fiver deal, a walloping Trivial Pursuit triangle of chocolate cake with icing boulders and bits of Oreo. Seating in the back, free water refills, many boxes ticked. Any number of folk turned up to buy plant-based goodies from the extensive shop while we filled our faces. What with Hullabaloo (now on St Peters St) and Felixstowe's Greenhouse Cafe to name but two, this non-meat thing could catch on.
If it was a car -- Soybean car.
If they were passing by -- Avi Kniznik.
EDitorial ± 30-Aug-2019
Light Lunches: Felixstowe Round-Up
<! - |entrytitle|Light Lunches: Felixstowe Round-Up| --> The tortuous toil of
last week
behind me, very much time to take some TOIL. A solid half-a-day would allow me and time-on-his-hands Andy to perhaps venture further afield. Needham Market? Stowmarket? Southwold, even? Pushed some virtual pencils around a.m. then headed hubwards to meet around half-twelve. I've got a bike, he's got a bike. Wot no motorised transport.
Right, said I. Let us coast to the nearest coast at Felixstowe and work our way through the new places. Much like Aldeburgh last year, we'll see how many we can tick off in one afternoon. First, though, gotta pedal there.
Hello to the heart-bothering Holeshot, salutations to the steady Stables and -- after a lengthy diversion down an official Quiet Lane from Waldringfield to Newbourne -- a nod to nifty Nourish. Spotted a sign to the sumptuous Smokehouse, over the A12 bridge to emerge near the Sausage Shop, my local merguez supplier, and carried on through the Trimleys. Said a brief prayer to the abiding Angel, a what's-up to the chill Cuppa and, wiping our brows, arrived.
— The Wool Baa —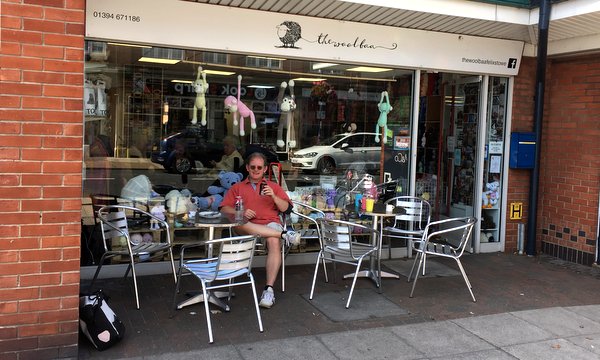 Next to the Co-op on Hamilton Road lives the slightly recessed The Wool Baa. Cute sheep logo, shop is piled high with Wendolene's favourite material -- we love a knit and a natter -- plus they also sell drinks and many kinds of cakes. Popular, too. Given our mission, I assumed we'd simply sup but no, Andy had his eye on the coffee & walnut.
So we sat outside, enjoying some shade and two cherry cans (one Pepsi, one Tango) while I made a reasonable stab at dividing a monster slice of vg cake. Happy to take on some calories that we'd expended on the journey. And who's this to meet us but the third amigo, young Kev, still very much on his staycation hols.
— Spud Hut —
Unlocked, wheeled and walked down and over the road for actual lunch at the Spud Hut. Sure, there are salads, but we're obliged to try a baked potato. Fan of the handwritten menus on large brown paper rolls. Andy opted for the Thai treat. Dahl's all done, alas, so was offered healthy alternative in the vegan chilli. Just a black coffee for Kev, note.
Mother and daughter business offer food that's homemade and healthy. We can now vouch for that. Good value at around a fiver each. Perhaps not the cleverest culinary choice while (again) sitting outside with the temperature in the mid to high 20s. Stuffed full of goodness with a spud-you-like.
— The Greenhouse Cafe —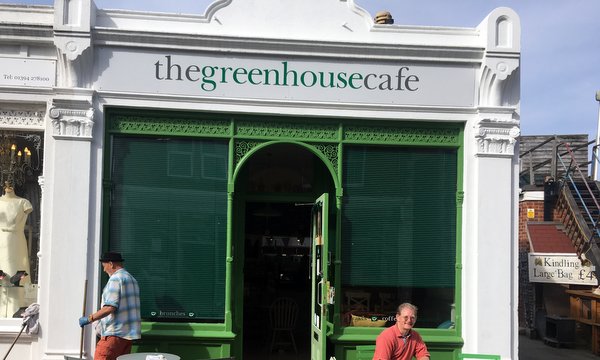 Half a mile of welcome cycling along York Road and Ranelagh Road brought us to Orwell Road. At Number 5 back in the day with its odd internal roof was Comptons. Then with its loss-leading cakes came Lillie's. As of late 2018 it's the The Greenhouse Cafe. Not vegan, note, since that word is too loaded, this place is "plant-based".
Andy just happened to know the smiling lady behind the counter, a former work colleague. Business is good, apparently, and no wonder with their innovative (and stylishly handwritten) menu that includes nossage rolls and celeriac salami. Once more we had to limit ourselves to liquid: fruits of the forest smoothie for him and a zingy kombucha tea for me. Once more Andy suggested some accompanying sweetness, a delicate slice of apple tart. With cream, naturally. Made mental note to return to better sample the food.
— Gulliver's Wife —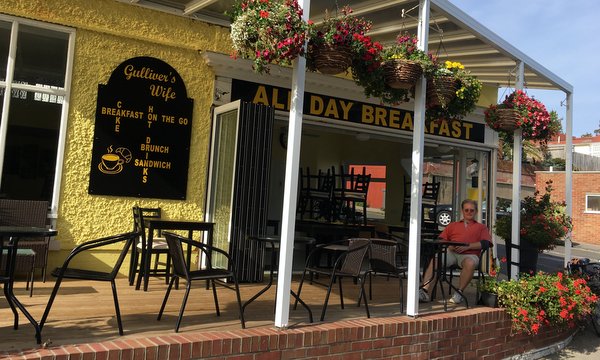 With the afternoon sun wearing off, thought we may have left it too late to turn our trio of visits into a quartet. Most chairs inside had been stacked by the time we hit Undercliff Road West. However, the charming French lady was sweet enough to serve us a hot coffee on the new decking area. For once, Andy declined a bun.
Previously the Corner House Cafe, the new owners are still making changes both inside and out. While he runs Gulliver's chippy in Trimley St Mary, she now runs Gulliver's Wife offering well-cooked straight-up food. Today's special was ham hock with fried egg and Savoy cabbage. That sounded good, especially with her previous experience as a chef at some high-end local restaurants. Maison Bleue, anyone?
Four caffs done, decent of Kev to offer the pair of us further refreshments in his own back garden, an unexpected oasis of sun-drenched calm. Really didn't need that small plate of sweet Greek treats. Andy helped himself before disappearing to try and catch a ferry back to Bawdsey. That left me and Kev to battle it out over the boules. Modesty prevents me for telling you the result but, for the return bike ride through Levington, I was smiling in the sun.
EDitorial ± 23-Aug-2019
Light Lunches: T's Bar, Levington
<! - |entrytitle|Light Lunches: T's Bar, Levington| -->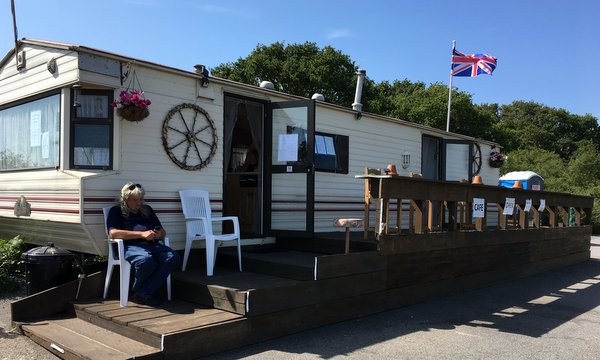 Trouble at mill -- it's not been a good work week -- but at least Andy's visibly moving on FindMyFriends and offering to drive the pair of us somewhere for a bite. Biking sweatily over to Felixstowe a few weeks back, I'd eyeballed a new one for the list. Allons-y.
Arrayed on top of each other on the A1156 (just past the Seven Hill cemetery) are a trio of signs:
(black on white) Levington and Marina
(white on brown) The Ship Inn with cutlery symbol
(black on yellow) Stack area
That brightly coloured final one points the way to the old Felixstowe Road, the one your ma and pa would have taken in their Triumph Toledo prior to the pervasive A14. This literal backroad includes a mile of dual carriageway. Pre London Olympics, circa 2012, you'd have found the Doubledeck Diner here. Now we find the comparatively less mobile T's Bar complete with hanging baskets, union flag and a portaloo, my-my.
Tracy's got it going on with her craftily adapted caravan. Wooden steps lead to the open doorway. To the left, comfy seating and a telly. To the right, the kitchen. Further right are more tables in a room bedecked with what? Fast cars? Nope. Inspirational views? Nope. Buddhas? Yep. Anyway, what form of all-day breakfast would you like? Takes our orders, does Tracy, and we grab some high seats outside.
No packs of hyena drifting regally across the savannah -- more distant views of long-distance DAFs -- but at least we're in the sun, and man, it's hot. First up, Andy's breakfast bap. Burger and bacon and sausage and egg: that's giving our boy three meals in one. My ham egg 'n' chips is, I like to think, more modest yet still fills a large plate. Fills one of Bernard Cribbins' holes and then some. Given their current planning permission spat, dunno if T's will endure. Nobody else is offering that service there so best of luck to 'em.
If it was a car -- DAF CF.
If they were passing by -- Donald Gee.
EDitorial ± 12-Aug-2019
Edinburgh Fringe 2019
<! - |entrytitle|Edinburgh Fringe 2019| -->
No longer a fresher after last year, I'm now a McSophomore. Friend Adam, by comparison, is a frequent flyer to the Fringe. Twenty years back he saw the Mighty Boosh before they even settled on that name. Didn't much like them but that ain't the point. He was there.
Weather forecast awful, it's the traditional 7:30am departure from England's book town then M6 / A74(M) / A701 and straight on to the Straiton park & ride. Tip of the tam to Lothian Buses for going contactless. First location confirmed and tickets printed -- the whole enterprise, leaflets and all, must account for a forest the size of Wales -- there's ample time for a large white and something sweet at the conveniently sited Richmond Cafe. Bite of baklava for him, gargantuan galaktoboureko for me, both bathing in the unpredicted Old Smoky sun.
(12:00) Gethin Alderman is: Sublime at Just The Tonic at The Charteris Centre
We were warned off the evil lemon. We gave careful thought to our favourite varieties of orange. We gawped at a pomelo. We were warned about mixing prescription drugs with grapefruit. We conga-ed. And we followed the fall and rise of young Regis. I had something in my eye at the end though that could have been the limey water. The character played by Orson Welles in The Third Man would have approved.
(14:25) Butterbum, J at theSpace @ Surgeons Hall, Haldane Theatre
Glacial queueing in the packed Pleasance Courtyard eventually yielded a pair of messy burritos. Kudos to Adam for choosing, as accompaniment, a citrus-based Sprite. Hauled ourselves to the Haldane for some actual the-a-tre and a lad on a bridge being harangued by a jaunty crow. What's in the box? What does the "J" stand for? Snappy production and sweet singing from the unexpectedly youthful cast of the Stargaze theatre.
(16:10) Wil Greenway: The Ocean After All at Underbelly, Bristo Square, Dexter
Fortified by peppermint tea and a chai latte at non-Potter Elephants & Bagels, down to the soporific depths of Dexter for one of last year's personal highlights: Wil Greenway, "writer, performer, failure machine" and over fifty percent hair. A salty bottle, a runaway Holden Gemini, VB stubbies, countless coconuts and the eye of a whale. What just happened? Note: excellent loos.
(18:00) Milton Jones: Milton Impossible at Assembly Hall, Mound Place
Enough messing around with tiny performance spaces. Over to The Mound to "the most prestigious venue on the Fringe". Joined a sizeable snaking queue to pile into the 840 seater main hall. Continuing the fruity theme, a small man in bright orange ambled on to the stage to deliver some highly crafted wordplay. Why did he lose his job as an MI6 interrogator? "I like to defy the odds," he said, and I laughed out loud. Shame about Adam's restricted view.
(20:40) The Establishment: Le Bureau de Strange at Heroes @ The Hive, The Bunka
Seven pm, sat on The Royal Mile to watch coaches of tattoists with the sky darkening. Ducked into a Subway for a six-inch tuna sub and a solid roof. The rain it raineth. Unanimously decided to take a chance on one last show. Into the bowels of Niddry Street. Chose seats next to two reserved places little knowing that Godfrey and Cecil would be sat next to us. Too much? Who thinks we've started? An absurd start with Gethin. An absurd end with The Establishment. Who thinks we've finished? Ra-ra-ra! Note: horrible loos.
...and still missed Javaad Alipoor, Spencer Jones and Lucy Pearman.
Waiting patiently for a bus, Adam pointed to a discarded lime on the pavement. Number 37 eventually came. Unfortunate that it was already full. Caught the tardy 47 standing near the boxes of fruit outside the Bismillah Food Store on Nicolson Square. At Abington services, my large Starbucks £3.39 latte (proferred through the hatch) was timed at 23:59:27. Huge thanks to the driver.