EDitorial ± 30-Aug-2019
Light Lunches: Felixstowe Round-Up
<! - |entrytitle|Light Lunches: Felixstowe Round-Up| --> The tortuous toil of
last week
behind me, very much time to take some TOIL. A solid half-a-day would allow me and time-on-his-hands Andy to perhaps venture further afield. Needham Market? Stowmarket? Southwold, even? Pushed some virtual pencils around a.m. then headed hubwards to meet around half-twelve. I've got a bike, he's got a bike. Wot no motorised transport.
Right, said I. Let us coast to the nearest coast at Felixstowe and work our way through the new places. Much like Aldeburgh last year, we'll see how many we can tick off in one afternoon. First, though, gotta pedal there.
Hello to the heart-bothering Holeshot, salutations to the steady Stables and -- after a lengthy diversion down an official Quiet Lane from Waldringfield to Newbourne -- a nod to nifty Nourish. Spotted a sign to the sumptuous Smokehouse, over the A12 bridge to emerge near the Sausage Shop, my local merguez supplier, and carried on through the Trimleys. Said a brief prayer to the abiding Angel, a what's-up to the chill Cuppa and, wiping our brows, arrived.
— The Wool Baa —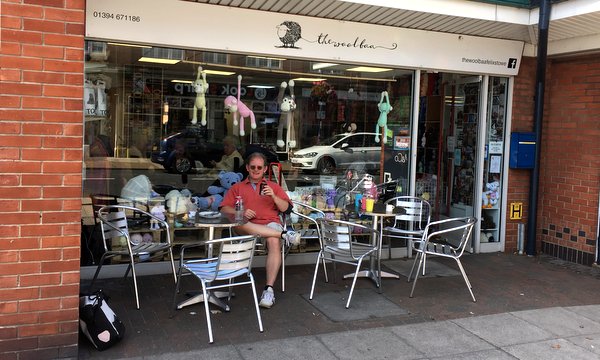 Next to the Co-op on Hamilton Road lives the slightly recessed The Wool Baa. Cute sheep logo, shop is piled high with Wendolene's favourite material -- we love a knit and a natter -- plus they also sell drinks and many kinds of cakes. Popular, too. Given our mission, I assumed we'd simply sup but no, Andy had his eye on the coffee & walnut.
So we sat outside, enjoying some shade and two cherry cans (one Pepsi, one Tango) while I made a reasonable stab at dividing a monster slice of vg cake. Happy to take on some calories that we'd expended on the journey. And who's this to meet us but the third amigo, young Kev, still very much on his staycation hols.
— Spud Hut —
Unlocked, wheeled and walked down and over the road for actual lunch at the Spud Hut. Sure, there are salads, but we're obliged to try a baked potato. Fan of the handwritten menus on large brown paper rolls. Andy opted for the Thai treat. Dahl's all done, alas, so was offered healthy alternative in the vegan chilli. Just a black coffee for Kev, note.
Mother and daughter business offer food that's homemade and healthy. We can now vouch for that. Good value at around a fiver each. Perhaps not the cleverest culinary choice while (again) sitting outside with the temperature in the mid to high 20s. Stuffed full of goodness with a spud-you-like.
— The Greenhouse Cafe —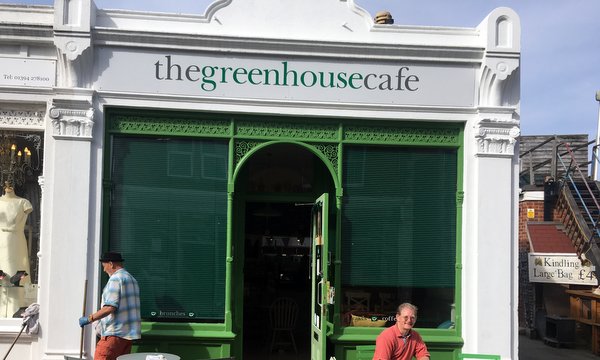 Half a mile of welcome cycling along York Road and Ranelagh Road brought us to Orwell Road. At Number 5 back in the day with its odd internal roof was Comptons. Then with its loss-leading cakes came Lillie's. As of late 2018 it's the The Greenhouse Cafe. Not vegan, note, since that word is too loaded, this place is "plant-based".
Andy just happened to know the smiling lady behind the counter, a former work colleague. Business is good, apparently, and no wonder with their innovative (and stylishly handwritten) menu that includes nossage rolls and celeriac salami. Once more we had to limit ourselves to liquid: fruits of the forest smoothie for him and a zingy kombucha tea for me. Once more Andy suggested some accompanying sweetness, a delicate slice of apple tart. With cream, naturally. Made mental note to return to better sample the food.
— Gulliver's Wife —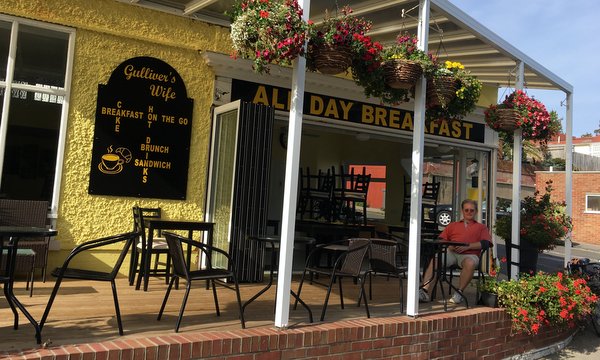 With the afternoon sun wearing off, thought we may have left it too late to turn our trio of visits into a quartet. Most chairs inside had been stacked by the time we hit Undercliff Road West. However, the charming French lady was sweet enough to serve us a hot coffee on the new decking area. For once, Andy declined a bun.
Previously the Corner House Cafe, the new owners are still making changes both inside and out. While he runs Gulliver's chippy in Trimley St Mary, she now runs Gulliver's Wife offering well-cooked straight-up food. Today's special was ham hock with fried egg and Savoy cabbage. That sounded good, especially with her previous experience as a chef at some high-end local restaurants. Maison Bleue, anyone?
Four caffs done, decent of Kev to offer the pair of us further refreshments in his own back garden, an unexpected oasis of sun-drenched calm. Really didn't need that small plate of sweet Greek treats. Andy helped himself before disappearing to try and catch a ferry back to Bawdsey. That left me and Kev to battle it out over the boules. Modesty prevents me for telling you the result but, for the return bike ride through Levington, I was smiling in the sun.
EDitorial ± 23-Aug-2019
Light Lunches: T's Bar, Levington
<! - |entrytitle|Light Lunches: T's Bar, Levington| -->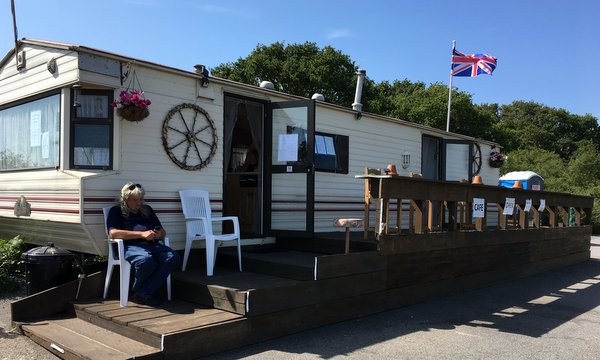 Trouble at mill -- it's not been a good work week -- but at least Andy's visibly moving on FindMyFriends and offering to drive the pair of us somewhere for a bite. Biking sweatily over to Felixstowe a few weeks back, I'd eyeballed a new one for the list. Allons-y.
Arrayed on top of each other on the A1156 (just past the Seven Hill cemetery) are a trio of signs:
(black on white) Levington and Marina
(white on brown) The Ship Inn with cutlery symbol
(black on yellow) Stack area
That brightly coloured final one points the way to the old Felixstowe Road, the one your ma and pa would have taken in their Triumph Toledo prior to the pervasive A14. This literal backroad includes a mile of dual carriageway. Pre London Olympics, circa 2012, you'd have found the Doubledeck Diner here. Now we find the comparatively less mobile T's Bar complete with hanging baskets, union flag and a portaloo, my-my.
Tracy's got it going on with her craftily adapted caravan. Wooden steps lead to the open doorway. To the left, comfy seating and a telly. To the right, the kitchen. Further right are more tables in a room bedecked with what? Fast cars? Nope. Inspirational views? Nope. Buddhas? Yep. Anyway, what form of all-day breakfast would you like? Takes our orders, does Tracy, and we grab some high seats outside.
No packs of hyena drifting regally across the savannah -- more distant views of long-distance DAFs -- but at least we're in the sun, and man, it's hot. First up, Andy's breakfast bap. Burger and bacon and sausage and egg: that's giving our boy three meals in one. My ham egg 'n' chips is, I like to think, more modest yet still fills a large plate. Fills one of Bernard Cribbins' holes and then some. Given their current planning permission spat, dunno if T's will endure. Nobody else is offering that service there so best of luck to 'em.
If it was a car -- DAF CF.
If they were passing by -- Donald Gee.
EDitorial ± 12-Aug-2019
Edinburgh Fringe 2019
<! - |entrytitle|Edinburgh Fringe 2019| -->
No longer a fresher after last year, I'm now a McSophomore. Friend Adam, by comparison, is a frequent flyer to the Fringe. Twenty years back he saw the Mighty Boosh before they even settled on that name. Didn't much like them but that ain't the point. He was there.
Weather forecast awful, it's the traditional 7:30am departure from England's book town then M6 / A74(M) / A701 and straight on to the Straiton park & ride. Tip of the tam to Lothian Buses for going contactless. First location confirmed and tickets printed -- the whole enterprise, leaflets and all, must account for a forest the size of Wales -- there's ample time for a large white and something sweet at the conveniently sited Richmond Cafe. Bite of baklava for him, gargantuan galaktoboureko for me, both bathing in the unpredicted Old Smoky sun.
(12:00) Gethin Alderman is: Sublime at Just The Tonic at The Charteris Centre
We were warned off the evil lemon. We gave careful thought to our favourite varieties of orange. We gawped at a pomelo. We were warned about mixing prescription drugs with grapefruit. We conga-ed. And we followed the fall and rise of young Regis. I had something in my eye at the end though that could have been the limey water. The character played by Orson Welles in The Third Man would have approved.
(14:25) Butterbum, J at theSpace @ Surgeons Hall, Haldane Theatre
Glacial queueing in the packed Pleasance Courtyard eventually yielded a pair of messy burritos. Kudos to Adam for choosing, as accompaniment, a citrus-based Sprite. Hauled ourselves to the Haldane for some actual the-a-tre and a lad on a bridge being harangued by a jaunty crow. What's in the box? What does the "J" stand for? Snappy production and sweet singing from the unexpectedly youthful cast of the Stargaze theatre.
(16:10) Wil Greenway: The Ocean After All at Underbelly, Bristo Square, Dexter
Fortified by peppermint tea and a chai latte at non-Potter Elephants & Bagels, down to the soporific depths of Dexter for one of last year's personal highlights: Wil Greenway, "writer, performer, failure machine" and over fifty percent hair. A salty bottle, a runaway Holden Gemini, VB stubbies, countless coconuts and the eye of a whale. What just happened? Note: excellent loos.
(18:00) Milton Jones: Milton Impossible at Assembly Hall, Mound Place
Enough messing around with tiny performance spaces. Over to The Mound to "the most prestigious venue on the Fringe". Joined a sizeable snaking queue to pile into the 840 seater main hall. Continuing the fruity theme, a small man in bright orange ambled on to the stage to deliver some highly crafted wordplay. Why did he lose his job as an MI6 interrogator? "I like to defy the odds," he said, and I laughed out loud. Shame about Adam's restricted view.
(20:40) The Establishment: Le Bureau de Strange at Heroes @ The Hive, The Bunka
Seven pm, sat on The Royal Mile to watch coaches of tattoists with the sky darkening. Ducked into a Subway for a six-inch tuna sub and a solid roof. The rain it raineth. Unanimously decided to take a chance on one last show. Into the bowels of Niddry Street. Chose seats next to two reserved places little knowing that Godfrey and Cecil would be sat next to us. Too much? Who thinks we've started? An absurd start with Gethin. An absurd end with The Establishment. Who thinks we've finished? Ra-ra-ra! Note: horrible loos.
...and still missed Javaad Alipoor, Spencer Jones and Lucy Pearman.
Waiting patiently for a bus, Adam pointed to a discarded lime on the pavement. Number 37 eventually came. Unfortunate that it was already full. Caught the tardy 47 standing near the boxes of fruit outside the Bismillah Food Store on Nicolson Square. At Abington services, my large Starbucks £3.39 latte (proferred through the hatch) was timed at 23:59:27. Huge thanks to the driver.
EDitorial ± 7-Aug-2019
Felixstowe Light Lunches: Cuppa
<! - |entrytitle|Felixstowe Light Lunches: Cuppa| -->
I've been away. Denmark, if you're asking, the land of Danny Kaye (d.1987). Andy's been away too. Greece, if you're asking, the land of Demis Roussos (d.2015). Kev's unavailable, pursuing his quest to become a late blooming chess grandmaster, hence today's two-handed outing. Took our eye off the Felixstowe light lunch scene only for half a dozen new and/or revitalised places to flower. Best we start eating into that list.
Digging through the digital archives, I see mention of fancy dress outfitter Chuckles in my review of the Walton Coffee House. Not only is WCH sadly gone, but Chuckles has giggled its last Branagh-esque titter. Here now is the colourful Cuppa offering gelato "from London's Borough Market" and "tea / coffee / cake / cool vibes". Don't want to give away the ending but it's all true. Their vibes -- and I've refrained from making an obscure Bonzo Dog reference here -- are indeed cool.
Smiling Sarah's happy to gather an assortment of (very reasonably priced) savoury goodies for us to share including focaccia, dippy oil, olives, vegan sausage roll, houmous and some misleadingly coloured Pipers crisps. We'll leave that comfy looking sofa for others to enjoy and take our salty snacks to the mezzanine among the Bowie posters, original artwork and books to browse. Large bay window here with a pleasing draught and a WiFi router. Sip of raspberry Fentimans, nibble of tasty bread: very agreeable.
There's more cakes in the display cabinet than on my mum's Facebook feed. Hi Mum! Lavender biscuits, assorted slices, Guinness cake, et cetera. Excellent slice of vegan carrot cake for yours truly with a vg flat white. Had to interrupt Andy's conversation with his old boss -- retired 23 years, his boss that is, not Andy -- to get his order for millionaire's shortbread and a spicy chai tea. Makes a change to be eating stuff this sweet and tasty on a Wednesday. Gotta go, I said, reminding Andy once more that some of us still gotta work. Shame. Anyway, go get a Cuppa.
If it was a car -- CUPRA Formentor Concept Car.
If they were passing by -- Eva Herzigova.
EDitorial ± 22-Jul-2019
Latitude 2019
<! - |entrytitle|Latitude 2019| -->
Bit of an odd one this year since we'd spent the previous day driving to Loughborough, unloading The Boy and his worldly goods, then returning in the failing light. I would recommend NOT attempting to turn a VW Crafter van at the top of Broom Hill Road.
A pleasant change, then, to be back behind the wheel of the comparatively quite small Qashqai and to take in a This American Life podcast about Bob Nelson's adventures in cryonics. Is that Blythburgh already? Five cars in from that fence, seven rows back from the longer fence, and pleased to be through to the arena for half-ten. Lured in by by the word "barista", I'm in a static queue -- darn, I've forgotten my KeepCup -- and arrive a few minutes late into the atmospheric set by Penguin Cafe. Was father Simon Jeffes at the stick, now son Arthur Jeffes. Mellow music, kicking coffee. Well placed to remain in the Music & Film arena for Charlie Brooker & Annabel Jones nattering about Black Mirror. Congrats to one festival goer who managed to get his laminated acting CV passed directly into their hands.
Emerged into the early afternoon sunlight to be one of the cool people smiling at Suffolk's own Alfie Indra, charming and unassuming as he talked of his wish to hook up with Sigrid. Waved my black card to grab a chicken stuffed paratha to consume largely in The Listening Post, a groovy new tent for podcast people. Very entertained by Dave and Cathy from The Cinemile as they chatted to Asif Kapadia about Ayrton, Amy and Diego.
Water and a wander before wending my way to the big BBC Sounds tent for the uncategorisable sounds of Sons Of Kemet. Classic line-up of two drummers, sax and tuba who together make a mindblowing noise. Would have loved to know what my dad thought of that tuba playing. Over one of the many bridges and into the woods to gaze enviously at the folk occupying the sofas surrounding the BBC Music Introducing stage. Enjoyed what I heard of Martha Hill while supping a builder's tea.
Back over the writers' bridge for fifteen minutes of the Latitude fixture that is Simon Armitage, current poet laureate, natch. Thank you for waiting, indeed. Left his set to sample some down-under Rolling Blackouts Coastal Fever sounds only to find they weren't for me. Great name, though. Once more into The Speakeasy, this time clutching a bap crammed with merguez sausage, for yet more podcast action, now with that Russell Tovey & Robert Diament talking art. Took me a while to figure out that the woman on the other sofa telling of her time as a teenage Jehovah's Witness was Deborah Frances-White, the Guilty Feminist herself. Gosh.
Eight pm and I need donuts. A pack of five, please, for £4.50, ready cooked for me to slip into my bag to nibble while watching LP. Boy, that Laura Pergolizzi can utilise her tonsils. Crowd were loving her as I stole away in search of hydration and further female-led bands. Sun's setting as I hit the Sunrise for The Japanese House. Stayed for the entire show, which says something, though I'd have liked a tad more grit. Still a big crowd standing in the Sunrise come 11pm for maybe my most anticpated band of the day, The Comet Is Coming, much fancied by Gilles Peterson. Featuring the mighty Shabaka Hutchings (seen earlier that afternoon with Sons of Kemet), TCIC generate waves of power that slap you in the chest, bit like Jon Hopkins from 2018. Bit of Sun Ra, bit of sci-fi, bit of sonic blasting. It's midnight and I'm done.
...and still missed Kermode On Film, Let's Eat Grandma and Ben Okri.
EDitorial ± 21-Jun-2019
Woodbridge Lunches: New Street Market
<! - |entrytitle|Woodbridge Lunches: New Street Market| -->
Once again doing the well-worn Woodbridge parking circuit up Church Street and into Seckford Street, right on to Market Hill (hello to the ground zero Wild Strawberry) and right again on to Theatre Street before heading down New Street. Wot no spot so it's a paid-for space opposite Savers.
Andy suggests a cheeky stroll behind the library to admire some rather expensive real estate then up the hill forwards to alight at the whitewashed archway leading to New Street Market. There's a plethora of plants plus a cornucopia of candles not to mention a smorgasbord of savon de marseilles. Billed as "a collective of local creatives", it's a slice of Shoreditch in Eno's old manor.
To the rear of the precious things we find the deli itself with refrigerated cheeses, freshly baked bread and other goodies. Let me quote you the first half-dozen lunch items in full:
sourdough reuben sandiwch with NSM salt beef, pineapple sauerkraut & homemade dill pickle
margerita pizzetta or pancetta & bocconcini with rocket salad & lemon dressing
paper dosa with sabhar & coconut chutney & red onion & turmeric salad
bombay potato with onion salad, coriander chutney
prawn chilli fry in a brioche bun -- goan street food
New Street Market cheese sandwich -- hot gooey runny loveliness with fennel & red cabbage salad
Where to start? Well, with the Rosa Farine pastries, as it happens, since they're flying off the counter and need to be bagged now for later. That done, let's select from the finery on offer and grab a Sole Rosso Bio bottle of Italian cola. Nice, and nicer still to be seated among the Woodbridge School mums and partners, all of whom have excellent hair. Spotted whats-his-face from the Riverside having a mooch around to evaluate the competition. Longest day of the year seemed even longer waiting for our food but, as per our visit to The Green Room, slow food is good food. My bombay potato was top-notch and remarkably generous, ditto Andy's strongly flavoured cheese sarnie. To be reminded of the nearby Cooks Shed is vg indeed.
Really didn't need any sweet things but we'd already bought 'em, and delightful they were too. A vanilla chiffon with berries and a chunky Eccles cake to make Andy think of home, both shared with a decent espresso. Another one of those times when we'd both much rather hang around chatting instead of (at least one of us) returning to work. What with Nourish and The Green Room, and now NSM, that's three Bridget-worthy eateries on the trot.
If it was a car -- Tesla Model X.
If they were passing by -- James Dean Bradfield.
EDitorial ± 15-Jun-2019
Ipswich Lunches: The Green Room
<! - |entrytitle|Ipswich Lunches: The Green Room| -->
Friday came and went with a sad and single and perfectly pleasant one man trip to the M&S caff. Late afternoon text arrived, though: I've got business in the 'Swich on Saturday, said Andy. Fancy meeting up? Interrogated my cerebrum and a proposed destination materialised. Yep, said Andy, see you there. By the way, I'm running a bit late. As per, as per.
Opened in April 2019, The Green Room occupies the old Hubbard's antiques premises on St Margaret's Green. Owner Su-Ling has inventively used the opening to the right for several open-air tables meaning you can be half-in, half-out. We ordered our jambon-beurre -- with remoulade and cornichons, natch -- and houmous du jour ("that'll take a while") and grabbed some external seats. Tres continental, sitting au soleil and getting beaucoup d'inquisitive looks from passing motorists. Le singe est dans l'arbre, vraiment.
Oddly enough, as we were soaking up the UV, the Google StreetView car scuttled past. I unashamedly leapt from my chair to further secure immortality in the June 2019 update and watched as it turned right at the lights before doubling back along Soane Street to come past again. Look out for the unassuming chap in the blue cycle top, folks.
My paprika-ed houmous was worthy of the wait accompanied by a mighty fine baguette. All the way from La France, evidemment, and shipped over here by road to avoid the nasty air miles. Nonsuch Shrub cold drink, blackcurrant and juniper, "with apple cyder vinegar", made for a curious match. Other patrons included a nuclear family who'd just bought a house up the road and a local character on a mobility scooter c/w shaggy dog. Try the coffee! he shouted to some passers-by.
Far from a simple caff, TGR is also an atelier, offering gallery space for aspiring artists and a space for community events. Currently on show was work by Madeleine Tapp. I was admiring her large abstracts before it was pointed out to me that she was sitting in the cafe itself. You don't get that at the Musee d'Orsay. Wonderful advantage of a Saturday outing is not having to return to the office. That somehow made it even better to sip a grand creme and share a sumptuous brownie and a jewel slice, being a sweet slab of candied fruit on a caramel bar. The Green Room? Merveilleux!
If it was a car -- Citroen DS 19 Cabriolet.
If they were passing by -- Vicki Michelle.