EDitorial ± 20-Mar-2017
Crinkle-Crankle Walls in Suffolk, 90-92
<! - |entrytitle|Crinkle-Crankle Walls in Suffolk, 90-92| -->
(visit the list of crinkle-crankle walls in Suffolk and view the accompanying Google map)
— (90) Worlingham, The Walnuts —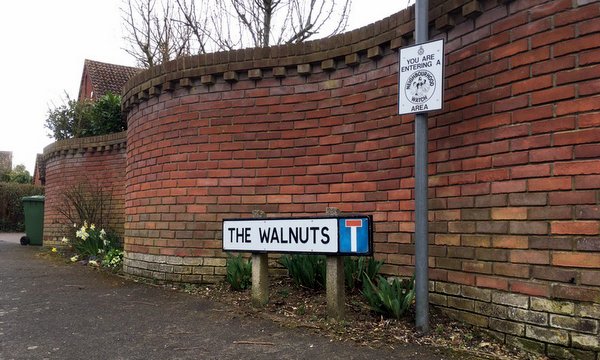 (visited 19-Mar-2017)
Up in the Bungay area recently, I revisited the phenomenal 12 foot tall monster crinkle-crankle on Garden Lane in Worlingham. It's an absolute wonder, sitting there in the midst of a modern estate, an isolated relic.
Mr Google suggested it was previously part of the grounds at Worlingham Hall. Their village sign even depicts a long snake-like wall in the background. Hoping to see said sign on Sunday 19th March, it wasn't there! Taken away for spring cleaning, perhaps?
More non-Bing-ing uncovered another Rightmove house where "the garden is enclosed by a crinkle crankle wall." Part of a neighbourhood watch area, a local resident of The Walnuts eyed us with interest as we parked half on the kerb and took snaps of the six-foot wall. Clearly nowhere near as remarkable as its cousin in Garden Lane, it sprouts a not unattractive coping (like Old Station Road in Halesworth) and featured a colourful bunch of daffs in one of the inner parts.
— (91) Rickinghall, Broomhills —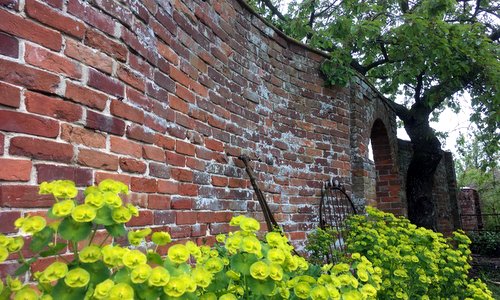 (visited 27-Apr-2017)
Within half a mile of Sue's wall at Snape Hill House stands another listed wall at Broomhills, not quite as tall but in no way inferior. That's a rare Rickinghall pun, by the way. Official wording says it's early 19th century of red brick with:
Lengths of about 25 metres and about 10 metres. Two to three metres high with inner pilaster strips, triangulated coping.
Starting alongside the driveway, it snakes along the garden taking in an arched opening before making a 90 degree turn left. We didn't have the best weather to fully appreciate it but the flowers still stood out in the drizzle. Thanks enormously to owner Susan for taking time out for me and my Mum to view her L-shaped wonder.
— (92) Nacton, Broke Hall —
(visited 28-May-2017)
Way back in March 2016, James Bettley (he of Suffolk: East and Suffolk: West) dropped me a line:
Thought you'd like to know that I've spotted, on Google maps, a crinkle-crankle wall along the NE side of the walled garden at Broke Hall, Nacton
As other easier to access walls have been steadily ticked off, Broke Hall (see its very own Wikipedia entry), with its Repton-designed gardens and views over the Orwell, has remained aloof. Until now.
Andy, who's already come up trumps with Boyton, Melton and Debach, scoured some OS maps and identified a path just to the north of the hall. So for the first time since my trip to St Edmund's Road, it's me on my bike.
Sure enough, veering off the driveway that leads to a bunch of other nearby properties puts you within view of the infamous serpentine. That bird's eye view seems to show a well-tended walled garden. Can't get too close but that distant wavy wall's a good 'un, apparently authentically vintage (house itself is dated 1792) and a decent height to boot. It also drops down rather elegantly to meet an ornate wooden gate and sweeps round a corner to become perfectly straight on its south-east aspect. Must be quite the view from inside that garden.