EDitorial ± 20-Mar-2017
Crinkle-Crankle Walls in Suffolk, 90
<! - |entrytitle|Crinkle-Crankle Walls in Suffolk, 90| -->
(visit the list of crinkle-crankle walls in Suffolk and view the accompanying Google map)
— (90) Worlingham, The Walnuts —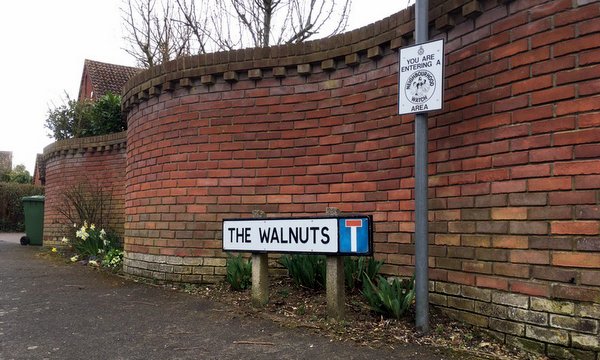 (visited 19-Mar-2017)
Up in the Bungay area recently, I revisited the phenomenal 12 foot tall monster crinkle-crankle on Garden Lane in Worlingham. It's an absolute wonder, sitting there in the midst of a modern estate, an isolated relic.
Mr Google suggested it was previously part of the grounds at Worlingham Hall. Their village sign even depicts a long snake-like wall in the background. Hoping to see said sign on Sunday 19th March, it wasn't there! Taken away for spring cleaning, perhaps?
More non-Bing-ing uncovered another Rightmove house where "the garden is enclosed by a crinkle crankle wall." Part of a neighbourhood watch area, a local resident of The Walnuts eyed us with interest as we parked half on the kerb and took snaps of the six-foot wall. Clearly nowhere near as remarkable as its cousin in Garden Lane, it sprouts a not unattractive coping (like Old Station Road in Halesworth) and featured a colourful bunch of daffs in one of the inner parts.