EDitorial ± 30-Nov-2007
Felixstowe Light Lunches: Regal
<! - |entrytitle|Felixstowe Light Lunches: Regal| -->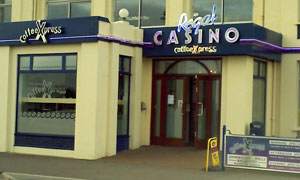 A blustery day and we easily found a spot on the front, for free, adjacent to a deserted pay-and-display car park. Being loo-cal, I remember when that same patch of tarmac was a putting green. In fact, I remember when this was all fields, zzz. Back in 2007 and a short stroll to (the) Regal -- as ever, see map. Note to Boyton Boy: just checked and Regal isn't on the map yet!
Someone must love that old Del Boy van 'cos you can choose from:
Regal Coffee Xpress
Regal Casino
Regal Rhubarb Growers
Regal Fitness Suite
(please ignore one of the above)
Straight ahead for the slots, take a left for the cafe. Ooh, newspapers and a cash machine. Light 'n' bright 'n' clean and a sea view from the window seats. Place feels like an early Madonna single, shiny & new. Not a world of choice but that's no bad thing: sometimes less is more. No waitress service here, no sirree, this is the new millennium. Stroll up to the counter and place your order, then sit down and wait. Takes the awkwardness out of attempting to catch someone's eye, anyway.
My strawberry milkshake had been flown in from Ice Station Zebra. Could feel my head slowly shutting down as I inhaled the frozen particles. Brrr. Freshly made filled baguette was fine if unremarkable.
Hastily and tastily consumed toasted & buttered teacake, accompanied by a weakish latte to go. Resisted chance to (a) throw away some hard-earned in the casino and (b) drop some calories in the health club. Bloke by the door endeavouring to fix cash machine as we left. He might still be there now.
If it was a car -- Skoda Felicia.
If they were passing by -- Nicholas Lyndhurst.
EDitorial ± 29-Nov-2007
TT0708, Week 11
<! - |entrytitle|TT0708, Week 11| -->
No disrespect to Kev (honest): sometimes you need your A-Team out -- Arvind, Andy and An Aspiring Author. Up against the only other unbeaten team in division 3, so forget your Rafa-esque squad rotation. Bring it on, Rosary Blue.
Terry and Brian and David brought along their bats and their sixtysomething percent averages. They gave it a good-natured shot and took the odd end, but the singles were over by 9:15pm. Points for them: zero. Points for us: nine. Oh yes.
Only the doubles to go, Andy stepping aside for that killer Arv+Ed pairing, and Rosary Brian was determined to leave with something. We went ahead, they levelled, they pulled in front and crossed the line first. They wanted it more. Our first doubles defeat of the season. One record gone.
On to the Tiles to wind up the nice young lady behind the bar with our inconvenient milkshake requests. Who'd work in catering?
EDitorial ± 27-Nov-2007
Four Legs Better
<! - |entrytitle|Four Legs Better| -->
He blinked. This was no dog delusion. This -- he gazed up shakily at the seemingly intact animal -- was a singular occurrence. A rum old do. A curious incident.
"Are you OK?," the tall lady enquired. "Let's get you up. Gently does it."
Down below, he remained at 90 degrees to the world, out of phase and fresh out of kilter, cheek brushing the footpath. Bearings would be good, he mused. Looming over there was the Control Tower museum, the one that doubled up as a kids' nursery. I *was* in control, he recalled, and then, I wasn't.
Jagged spokes of pain jolted him back to leaving work a full two minutes earlier. Six pm-ish, dark as an unfloodlit pitch, and dark means danger so Get Yourself Seen. Hence the Argos outing for that dazzling Cat's Eye front light. Look directly into that sucker and you'd become as blind as a watchmaker.
Five LEDs blazing, he'd sidewindered between the dozily reversing cars in the office car park, snaked up and over the hump-backed A12 footbridge and hared into the depths of Kesgrave like a Meatloaf album.
Ahead, he'd eagle-eyed a couple out for an early evening stroll. Man on left in walker's lane, good. Woman on right in cyclist's lane, bad. Without noticeably slowing and in accordance with the Pedal Bicycles Safety Regulations Act of 2003, he instinctively ding-dinged, mouthing Youre In My Hemingway!
At the last minute, she'd ducked aside, saying "There's a ..."
Thwack!
Now, rewinding over that ellipsis, he realised that the first dot was a D, the second an O, and the third a G. I've pranged a pooch, he thought. Mauled a mutt. Hammered a hound. Etc.
As she helped him to his feet, he in turn helped the bike to its wheels. "Blimey!," he exclaimed, "they've already done a chalk outline of me and the Raleigh!" There on the footpath, side-by-side and getting along fine in flatland, were the painted symbols for (a) pedestrian and (b) cyclist. Wish I felt as jaunty as that stick-man, he thought. Then he winced. Wasn't only that last remark that was lame.
"Dog OK?," he inquired, glancing towards Cujo, the four-legged tripwire. He wasn't good with dogs. Liked the Sony robotic version from a few years earlier with its built in camera and, most importantly, off-switch. Didn't care for the real world equivalents. Too smelly, too messy, too much responsibility. Had more than enough of that with the kids.
The walking man spoke: "No helmet?"
"Er, no," he answered weakly, "left it at home this morning." Curses. There went his moral victory. He'd had the same silver protective hat for years. Always wore it. Apart from when he didn't. Here I stand, he grimaced, handlebars on the huh and with a pain in all the diodes down my right side. For a conscientious cyclist, I'm not exhibiting too much proficiency.
"Any road up, best be on my way." Like the cowboy he'd unwittingly become, he gingerly climbed back on the gel-padded saddle and edged away, gears groaning, chain complaining and elbow aching in a non-humorous way. Still, he thought, be home in seven miles.
(C) Ed Broom 2007
EDitorial ± 23-Nov-2007
Felixstowe Light Lunches: Mrs Simpson's Tea Rooms
<! - |entrytitle|Felixstowe Light Lunches: Mrs Simpson's Tea Rooms| -->
Week to go before December but Christmas had already arrived at Mrs Simpson's Tea Rooms: miniature tree, gaudy baubles, reindeer, the Yuletide works. No turkey dinners going as far as I could see, though loads of choice on the menu. Had to send away the efficient solitary waitress while I prevaricated. Eyes got stuck on one particular item: "just a potato".
Walked in and felt like we'd stepped into a gathering place for the Felixstowe Rotary. Not too many folks present here in gainful employment. Factor in the attractive stained glass and olde worlde ambience, and I was compelled to order two poached eggs on toast. With a vanilla milkshake. Comfort food by the Cotman Hall.
Whatever they're doing here (named after The Mrs Simpson, who killed time in Felixstowe before she could divorce and marry King Ted 8), it's clearly working. Despite being out of the way -- see map -- the Tea Rooms were buzzing. Newspapers yes, free tables no. We secured a prime window seat, ideal on a drizzly day for idly watching the waves and distant rainclouds. Hello sea, hello sky. Look, there's Sealand!
Finally caught the young lady's eye to secure pudd: a large filter coffee (don't embarrass yourself asking for a latte: this is 1956) with a tiny jug of impossibly hot milk, plus a slice of sponge named after an actual queen. As so often happens on these Friday trips, what a drag to head back to work.
If it was a car -- Wolseley Six.
If they were passing by -- Geraldine McEwan.
EDitorial ± 21-Nov-2007
An Abject Lesson
<! - |entrytitle|An Abject Lesson| -->
Did you know that Euro 2008 has an official slogan? It's this: Expect Emotions. No shortage of those tonight as One Nation plonked its bum down on its most comfortable footy viewing sofa to watch Ingerland breeze through. Israel had somehow defeated Russia. Surely we, the inventors of the game, could scrape a draw against chequered Croatia?
That noise around 8:08pm was the collective dropping of men's jaws as our goalie executed a perfect playground swipe and miss. Poor Scott Carson. He's from Whitehaven, you know: isn't just the analogue TV they've switched off up there.
As Steve "Won't Resign" McClaren collected rainwater in an Evian bottle, further disbelief as one blue shirted chap ran between five white shirted chaps to make it nil-two. They deserved it: their fans had the better hats.
They were boo-ed off at half time in this household. The Boy happily joined in, calling them Pie Men for no good reason. Then the comeback. A debatable penalty and a delightful Beckham/Crouch effort. Phew, 2-2, we can all sit back now. Time for another sub: why did Peter Crouch? 'Cos he saw Darren Bent.
Fresh legs, that'll make the difference. Certainly did as the Croatian sub struck a sweet shot. As the ball sailed into the net, the hoardings displayed an ad for the FA: Got The Skills?, it read. They have, we haven't, game over.
EDitorial ± 19-Nov-2007
TT0708, Week 10
<! - |entrytitle|TT0708, Week 10| -->
No Andy again tonight -- couldn't risk spoiling that 100% -- so step forward (brain)AKE, comprising Arv, Kev and Ed. And what a start, (brain)storming into a faultless lead. That pre-match idle talk of a white(brain)wash might not have been quite so idle after all.
Then, snap, something gave. In a (brain)teasing back and forth match, Arvind went to five ends against mobility-impaired Eddie, losing out 11-9. Only The Viper's second loss of the season, so quite a scalp for Eddie.
Snap again: Kev played out of his (brain)box against Eddie -- ITMA -- before also going down 11-9 while pleading the fifth.
Showing great (brains)trust and with my own 100% record still not (brain)dead, I stepped out of the doubles to let A&K strut their stuff. Dodgy start, then they came good. Thankfully.
Final (brain)damage: a bifurcated 2 to them, 2 cubed to us.
EDitorial ± 12-Nov-2007
TT0708, Week 1
<! - |entrytitle|TT0708, Week 1| -->
Bloomin' cold tonight, both outside (one or two degrees depending on whose car you believe) and in the heater-free upstairs hockey club venue. At least the spectator friendly sofas were a comfort.
Four on our side -- me, Andy & Kev playing, Arvind observing -- versus three of them. They numbered two blokes and a lady, and she was scary: quick, aggressive and with a formidable forehand. Took a game off Andy before he recovered, looping his returns ever higher and securing his usual quota of nets and edges. Kev coulda shoulda beat her though, landing some fantastic backhands before going down in the fifth.
She so nearly had my scalp, too. Out of the blocks before I'd got going, she easily won the first (helped by three, count 'em, nets) and ought to have got the second too. I finally scraped my way back into it, limping past the post in the deciding end. So that'll be me and Andy clinging on to 100%.
Should mention Kev's fine five set victory over Happy-As-Larry. Best not to mention his out-of-ideas loss to What's On John. Nor the joke about the girl in the church with the shiny green shoes.
EDitorial ± 9-Nov-2007
Light Lunches: Brightwell Bus Cafe
<! - |entrytitle|Light Lunches: Brightwell Bus Cafe| -->
Like a younger Tony Slattery, sometimes you have to improvise. It's Friday, it's 12:15pm, it's the chauffeur's day off. No four wheels, no Felixstowe, no fussing. Where can we go that's within walking distance of CampusTown, aka Adastral Park?
Stroll out past the gatehouse (check you've got your pass else you're not getting back in) and, like cars don't, turn left. That's right, left. Best foot forward on the cyclepath past the nettles and within three minutes you've arrived at the Brightwell Bus Cafe. Clue's in the name:
we're nearish to Brightwell, a placelet south of Martlesham
yes, it's an MOT-ed bus that's not always there
this coach is home to a proper working caff
Walk round the rear, past the generator and up the steps. Whoosh, you're transported back to that school trip to the local zoo. Take a recently refurbed seat -- it's under new management, apparently having been a fixture for nearly 30 years -- and peruse the printed menu. Order from the bloke in the kitchen towards the back, sit down and flick through the EADT. Oh yes, they have newspapers. For that same day. Though not a kids' menu. Not that sort of place.
Got the impression that it's a favourite stop-off for passing van drivers and the odd trucker, ideal given the adjacent A12 layby. Our fry-ups were spot-on, included a cuppa in the price, and the service was fast and friendly. Best of luck to the new owners.
If it was a car -- Peugeot 504.
If they were passing by -- Ricky Hatton.
EDitorial ± 7-Nov-2007
Dolmio, October 2007
<! - |entrytitle|Dolmio, October 2007| -->
Friends and family for fireworks and a feast of food on Sunday. John instigated an initially dangerous looking bonfire on the patio, while I gathered lidded tins for basic health & safety. Large amount of rockets in a bucket: some weedy, some wonderful, often sent skywards two at a time. Spectator interest increased by placing fireworks in a leftover Halloween pumpkin, causing sparks out of its head like last month's Dolmio (Doings Of Last Month Innoparticular Order).

That is to say, an attempt to capture past(a) events before they slip... my... mind. October 2007 was spent:
further visiting Hollywood Cinema for the loud & reprehensible Transformers: two loo breaks, didn't miss a thing
catching the compelling Beautiful Young Minds on BBC about the (largely autistic) kids competing for the maths olympiad
playing marbles on the pristine carpet against The Boy
deciding whether to stick with the they've-nuked-us Jericho
admiring the sword play in Kill Bill Vol 2 plus Uma's underground break out
doing the half term outing to Bewilderwood
attempting to make burritos
being terrified of:

Ben Kingsley's unhinged turn in Sexy Beast
Viggo Mortensen mild mannered diner owner in A History Of Violence

giggling along to Danny Baker & Danny Kelly
keeping up with the latest in ELC's Planet Protectors
remaining unbeaten and top of the league at ping-pong
And that was October 2007.
EDitorial ± 2-Nov-2007
Felixstowe Light Lunches: Crow's Nest
<! - |entrytitle|Felixstowe Light Lunches: Crow's Nest| -->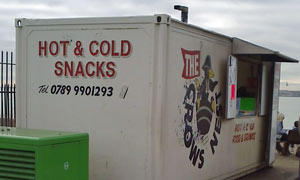 Should you find last week's Ferry Cafe too upmarket, then do as Martin "ABC" Fry-Up does and go from one extreme to another. Direct yourself dockwards and swim past the River Of Life into the appositely named Viewpoint Road, venue and vantage point of the Crow's Nest. As ever, check BoytonBoy's map.
Technically, you've entered the John Bradfield viewing area for "the largest container port in the UK" -- parking is free, there's big boats to see, so grab a tea. There's a lovely lady behind the counter who'll do you a hot mug, a slab of cake, or summat savoury. We had various varieties of all day breakfasts in a French stick: do you want your egg runny or hard, darling? Squeeze your own ketchup or mustard. Whole enterprise is quintessentially English.
Outdoor seating takes the form of two metal tables and bags of benches; indoor seating is provided courtesy of your own car. Had we been paying more attention while filling our faces with baguette, we'd have witnessed the departure of BG Antwerp (6362 gross tonnage, 121m long) to Cork at 12:37pm. Thank you, Port of Felixstowe website's sailing schedule. They've even got a webcam, you know.
Come here in the seasons that start with an "S" and you can catch the foot ferry over to Harwich or Shotley. Take your bike for a couple of quid more and continue on the Roswellian route 51. While you're waiting, try the home made bread pudding. It truly is the foodstuff that keeps on giving.
If it was a car -- Land Rover Series III.
If they were passing by -- James Bolam.
EDitorial ± 1-Nov-2007
TT0708, Week 8
<! - |entrytitle|TT0708, Week 8| -->
There are big games, and there are BIG games: tonight's was Rumble In The Jungle meets Le Crunch at Thunderdome. See, according to the latest results, four players, two from either side, were going into the match on 100%. There's no such thing as a draw in the gentlemanly art of ping pong -- you win or you lose. We're talking records gone, stats smashed, and male egos mauled.
Cutting to the chase and barely breaking a sweat, Andy easily secured his bragging rights, winning all games in straight ends (mind you, he's only turned up for less than half of our matches) with some down-the-line forehands.
I had more of a scrap, losing an end I should have won and winning an end I should have lost, but also kept my unbeaten and untouchable status. Hoorah!
With The Viper out of the country and Kev unavailable, hats off to Grenvyle for turning up and completing the classic BT Defiants 1996/97 line-up. He came, he stayed on his feet, and he even won an end or two before going home, sadly, with nothing.