EDitorial ± 31-May-2012
Fez
<! - |entrytitle|Fez| -->
Hats off to the word "fez". I've been seeing it everywhere lately, from fiercely competitive Words With Friends games with mother-in-law (and slightly easier games with my mum) to car number plates. OK, two places.
Three if you count some, not all, of those lovable cymbal-banging monkeys.
Four if you count Matt Smith as Dr Who:
It's a fez. I wear a fez now. Fezzes are cool.
He's right, of course: a fez is the biz. He's always right. Mostly. Except Amy then grabs it off his head and throws it into the air for River Song to shoot and destroy.
Five if you count the Laurel & Hardy classic, Sons Of The Desert, made way back in 1933, where our heroes are each seen sporting the red felt cap complete with tassel. Altogether now: Honolulu baby, where'd ya get those eyes?
Being an intelligent reader, you don't need me to tell you that Fez -- alternatively spelt Fes -- was once the capital of Morocco. With its Mediterranean climate, it sounds like the sort of place where you wouldn't be surprised to see Tin-Tin and Snowy running down the street. Or indeed that the fez is also known as ... anybody? ... the tarboosh.
Fez facts. Oyez.
EDitorial ± 30-May-2012
Woodbridge Lunches: Honey & Harvey
<! - |entrytitle|Woodbridge Lunches: Honey & Harvey| -->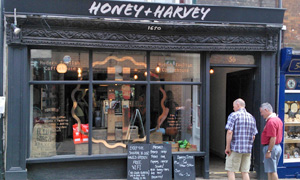 Eight months to the day since we hitched the horses at Honey & Harvey. They'd been open for about five minutes, that much was clear, and it wasn't great. I nearly didn't write it up: being negative is neither Big nor Clever.
Out from Blue 6 arrives an email -- hi, Sarah -- saying, rightly, that I should pay them another visit (and one or two more points besides). Spurred on, I saddled up the Boardman and trotted over. Board outside is funny: "Free WiFi (no Cloud rubbish)." Papers dotted around include the inevitable EADT and "the i", last spotted in St Nicholas Stores. Good start.
All much slicker with a new display unit showing off some fantastic looking baguettes of crayfish, egg, etc, plus racks of (local East Anglian) Fairfields farm crisps and soft drinks. Shame that the trip was impromptu so I'm here today for just the kaffee und kuchen. Those massive scones, alas, are cheese, not fruit. Huge slice of Victoria sandwich? Piece of lemony bakewell? No, I'll try that pecan ring thing, which goes down rather well with a classy flat white.
Too bakin' hot to sit in the walled garden: it was blinkin' warm last time too. Hats off for the help-yourself free carafes of cold water a la Nero. More comfortable in the conservatory-type area with the open door leading to the sunshine. Next time you're in that Woodbridge, coast past Costa, keep Nero waiting and give H&H a go.
If it was a car -- Renault Zoe.
If they were passing by -- Kenneth Cranham.
EDitorial ± 28-May-2012
Felixstowe Light Lunches: Winnies Cafe
<! - |entrytitle|Felixstowe Light Lunches: Winnies Cafe| -->
That Kev, aka Our Man In Felixstowe, has been laying low, shuffling around in exchanges. Try as you might, you can't read his poker face. Possibly his last lunch outing with our good selves was two years ago at the Flaming Fryer. Phone rings, contact is re-established, and he has a tip-off about a new place. Time to go to the 'Stowe.
Opposite the Leisure Centre is the Undercliff Road block of businesses. Still going strong are The Conservatory and the Little Ice Cream Co.. Looks like curtains, sadly, for Joe Crowley's, unless that's a refurb on the go. Right on the end, past Domino's, is a shop which has been a coins and stamps centre, a car rental place, etc. Now it's home to Winnies Cafe (don't spare the apostrophe).
There's an old bespectacled fella sitting on the side: happy Monday, Kev! Our trio takes a table in the window -- not a bad view of the sea on this glorious day -- and tries to read the big blackboards. Special is chicken and cranberry. Please order at the counter, it says, but then a waitress takes pity on the party of three. Between us we go for the scrambled eggs on toast (Kev), a stilton and bacon bap (Andy) and a bacon & egg sarnie (me). White bread only: no matter. Like a slightly more upmarket version of the Family Cafe down the road, which is no bad thing. Food arrives, disappears, everyone's happy.
Scattered around are some local flyers and the EADT and Sun, and there are some paintings for sale, much like the unfortunately now-closed Bonnet. Even a table or two outside if the wind's not too strong. We demand cake and coffee. I'll make a fresh pot, says the man behind the counter. Fine by us. Victoria or carrot cake? Strictly for reviewing purposes, we need to try a piece of each. Cake good. Coffee's fine though would have been better with some proper milk. Perfectly friendly, well placed: we'll see how they do.
If it was a car -- Renault Master.
If they were passing by -- Sophie Ellis-Bextor.
EDitorial ± 21-May-2012
We Like Your Blog
<! - |entrytitle|We Like Your Blog| -->
Hi Ed, we like your blog. Would you be interested in writing some content for us? Email me if yes.
That's how it started, my big break, that moment when the Hollywood producer wanders over and asks if you've ever worked in pictures before. Except, in this ever-changing world in which we live in, this was a Twitter direct message from the editor of a local magazine. No matter. Before the electronic ink was dry, I bit his hand off. So I wrote:
Yep, I'll happily write something for you -- what did you have in mind?
Then he wrote:
Your blog is generally funny, do you, or are you interested in writing serious stuff as well?
More compliments. All very lovely, though curious that he seems to be steering me away from the hilarity. So I wrote:
I'm far more comfortable *not* being serious. I struggle to take myself seriously.
Bit nervous now about his response. Then he wrote:
That's fine, we like your stuff because it's funny. Please come up with three ideas for blogs that you think would work on our website.
Ball's back in my court and with plenty of spin. Takes me a few days to assemble an answer. So I wrote:
(a) Dad's Taxi -- life as a father of 3 (one of each)
(b) When This Was All Fields -- why modern life isn't rubbish
(c) Yoghurt Of The Month -- lessons to be learned from the latest products in the supermarket chiller cabinet
Then he wrote:
Just to let you know that I'm on holiday so will get back to you in a couple of weeks.
I get up. I bike to work. I bike back. I eat. I sometimes shower. Then he wrote:
I need a bit more info on Dad's Taxi, as I don't quite get that one.

When This Was All Fields sounds good, particularly if it was historically based on Ipswich/Suffolk. Historically informative but also funny and stupid sounds like a winning and original combo.

Yoghurt of the Month is a bit too random for us... I should've mentioned that ideas should be in some way of local youth interest.
Er, OK, let's flesh it out a bit. So I wrote:
Dad's Taxi -- slightly fictionalised episodes from the life of a parent of three kids (inc. two teenagers). Would maybe show your youth readership what it's like on the other side.
There follows a brief period of deafening silence. Then he wrote:
This is going to sound really cr*p, but I didn't realise you were 43 [actually I was 45 at the time], and although this shouldn't matter, it in fact does.

You might not know about our set up but basically it is a youth media organisation, with specific objectives to provide opportunities in media production for young people from Suffolk (our target age is 16-25).

I wrongly assumed you were in this age group, from your general internet persona, and it was only when you mentioned the Dad's Taxi idea that I started to thinking maybe you are not the spring chicken that I thought you were. LOL!

Sorry to mess you about, and all I can say is that you are very young at heart.
Ouch. First it giveth then it taketh away. So I wrote:
Pass the Werther's. I'm off to write for the East Anglian edition of Saga magazine
That was my brilliant career.
EDitorial ± 17-May-2012
Light Lunches: Langers Snack Bar, Martlesham
<! - |entrytitle|Light Lunches: Langers Snack Bar, Martlesham| -->
Mid-May, as ever, is Walk To Work Week
Thus we came in this morning by Martlesham creek
He started from Boyton, I came from The 'Swich
We met at the Whistlestop, Woodbridge, which
Provided hot tea and some top bacon rolls
Then 4 miles to work, shake the dust off our soles
That was then - now it's lunch - must try out a new venue
Always good to peruse an unexplored menu
When you're ready to leave, says Andy, just phone me
No car, no bikes, we'll take Shank's Pony
Short stroll down the road is a snack bar named Langers
Whose motto proclaims "The Best Burgers And Bangers"
There's burgers and hot dogs and omelettes and baps
Even some salads - for the ladies, perhaps?
For me: egg, ham, sausage all in a French stick
It's a monster, a beast: lunch ain't gonna be quick
Taking a pew on the seating provided
Best give this man food attention: undivided
Slowly but surely, that stick disappears
(Fella's been working here 20-odd years)
Good grub freshly served in super fresh bread
There's a queue - no wonder - as word must have spread
Getting up's hard since we're starting to ache
One final purchase: two big slabs of cake
If it was a car -- Aston Martin Lagonda.
If they were passing by -- Alan Winstanley and Clive Langer.
EDitorial ± 15-May-2012
Mallow World
<! - |entrytitle|Mallow World| -->
Make the wrong chance remark at the wrong time and you know what you'll be getting for all future birthdays. I may have let slip once that I had a penchant for marshmallow. Come the next Christmas, this is what happens. Luckily this doesn't remotely apply to me 'cos I still love 'em.
You know they say that if you catch a kid smoking, you should force them to smoke the whole packet to rid them of the nasty habit? I've tried that with numerous packs of low grade Princess mallows -- only £1 for a double-size pack at your nearest Farm Foods -- and only come away with the slight feeling of nausea. Then I'm back for more like a less threatening Irvine Welsh character.
Quick review of birthday offerings:
283g pack of Kraft Jet-Puffed, "America's Favorite", complete with choking warning: "Eat one at a time"
280g pack of Little Becky Frootmallows
150g pack of Rocky Mountain marshmallows, "A True American Tradition"
box of Frosted S'mores Pop Tarts
8 pack of Boyer Mallo Cups with a "whipped creme centre", best consumed straight from the fridge
and a catering box of pink and white marshmallow mushrooms: I'm not too keen on these yet strangely there are very few left
Hugely grateful as I am to friends and family for providing these sweet treats -- I'm surrounded by feeders -- the biggest mallow news for me, Brian, was the discovery made by Eldest a week or so back. She returned from a bike ride to Woodbridge with a pack of Rocky Mountain Mega, probably the biggest marshmallows money can buy. For the mallow gourmet, these are awesome: every one is as big as your head. I made a special midweek trip on my bike to secure another pack, the last in Budgens. Needless to say, they're already gone. Now if only they stocked the RM Zebra brand, "bite size vanilla mallows drizzled with dark chocolate", my life would be 110% complete.
I'd like to think that if you were to ring the good folk at Doumak, who export the Rocky Mountain brand worldwide, they'd answer the phone with a simple "M'allow, can I help you?"
EDitorial ± 11-May-2012
Light Lunches: Suffolk Punch Trust, Hollesley
<! - |entrytitle|Light Lunches: Suffolk Punch Trust, Hollesley| -->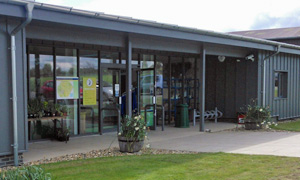 Horsin' around, as the great Paddy McAloon observed, is a serious business. Take that horseplay a little bit too far, however, and you could end up with the bad boys, Ray Winstone et al, in the Bet365 borstal. Such an institution was based at Hollesley Bay, out past Sutton Hoo (Andy's manor) on the edge of nowhere. The Bay had some rare breeds -- as you might expect from young offenders -- in the form of some Suffolk Punch horses.
Which brings us to the Suffolk Punch Trust, a charity which took over the stud of gee-gees from the jailers. We've scaled the office walls using a makeshift ladder made from discarded printers and run away to check out the cafe in the the visitor centre. Diagonally opposite the gift shop sits a string of colourful chairs, some of which are already occupied by other escapees. Young foals that we are, we find ourselves in the midst of the lunchtime stampede.
Clingfilmed platters don't promise much, and the nice lady informs me that the corn beef hash (hello, Tea Pot) is Shergar. There's soup, she says: French onion. Deux chevaux! She ladles two servings from the little urn and there's a choice of rolls, all for £2.95 a pop. How good and hot and tasty is it? Champion! Woah: I appear to have hit my exclamation point quota.
A leisurely canter through the soup sets us up nicely for sweet stuff, for we have espied the range of cakes. Mine's a sumptuous slice of moist ginger cake topped with runny icing. What with that and a cafetiere, it won't last furlong. Here at the Colony Stud, the going is good.
If it was a car -- Ford Mustang.
If they were passing by -- Jeffrey Archer.
EDitorial ± 10-May-2012
Basmati Art
<! - |entrytitle|Basmati Art| -->
How'd you like that picture on the right? The Boy had some art homework: do a self-portrait in the style of an artist that you admire. We'd watched clips of Banksy's "Exit Through The Gift Shop" film, part of which features Shepard Fairey, whose Obama poster you'll be familiar with. Middler, The Boy's arty older sister, had suggested to him that he could do something similar. So it began. Though it didn't begin until 9:30pm on the night before it was due in. Whereas it should have begun around 6:30pm that same evening. All great arts comes from suffering.
Dad had been left in charge of tea, which always goes down a treat with the kiddies. With only two of 'em to feed and all of us hungry, Dad hits upon the idea of some fried rice. Cook some Basmati, drain, heat chopped onion, coat rice in oil, add frozen peas, mix in soy sauce plus ingredient of choice, such as can of tuna, leftover chicken or chopped ham. Ready, steady, cook, done and on the table in 20 minutes.
In come the whippersnappers. Eldest gets down to it and starts piling rice onto plate. The Boy is less keen.
- What's that?
- Rice.
- What's in it?
- Rice.
- Where's the pizza?
- No pizza, we're having rice.
Dad moves things along and heaps two tablespoonfuls onto his plate. The Boy picks at it like he's a soap actor playing a dining scene and anxious not to make any continuity errors.
- I don't like it.
- You like it, it's rice.
- I'm not eating it.
- You are eating it.
- I'm not.
- You are.
- Not.
- Please eat it.
- No.
- You're not leaving the table until you've eaten your food.
- Fine.
He puts his fork down. Dad doesn't move. The Boy doesn't move. It's like an outtake from a Sergio Leone rice western. These two males, they're as bad as each other. One digs in, the other fetches a bigger shovel. Traditional end of teatime, 6:30pm, comes and goes. Now 7pm and Dad won't let him leave. Mum comes back, eats her rice and wisely refuses to intervene. Half-seven comes and goes. The Boy finds a kiwi fruit to eat instead and pointedly leaves the rice alone.
Come 8pm, Dad caves but says to The Boy that he's on his own for the homework. Fine, says The Boy, I don't need you anyway. Dad takes Middler to piano lesson. Returing at 9:30pm, Dad finds The Boy getting nowhere fast. Dad, can you help me with my art homework, please?
EDitorial ± 2-May-2012
Iceberg
<! - |entrytitle|Iceberg| -->
Another Saturday night -- cue Sam Cooke -- and another quiz. This one's raising money for FIND, a local Families In Need charity, and the Bolton Lane church hall is packaroo-ed with thirtysomething teams. Right at the back is table 29: four seats only, enough for the gleesome foursome. We've dropped those eldest kiddies from the line-up to become leaner, though heaven help us if there's a question about electrical charges.
Whole affair is very well organised with a pro questionmaster and a posse of independent markers and scorers, plus there's a half-decent chilli at halftime. No heads and tails tonight (played at Wivenhoe: guess result of coin toss, guess wrong and you're out until one person left) but a series of spot prizes instead. QM asks a question and whoever's first to raise hand and shout out the correct answer nabs a prize. My big moment came when QM asked: "Who wrote the words to Jerusalem?" I didn't think but yelled out William Blake! One big bar of Dairy Milk for us, thanks very much.
Selected questions we did well on:
how many cm in 10 hands?
who recorded an album called Slow Hand?
name the six Cluedo murder weapons
who won mens' 1500m in 1984 LA Olympics?
which was the first country to have an indoor ice rink?
the London 2012 Olympic games are which Olympiad number?
Selected questions we did less well on:
how many players in a handball team?
who played Dorian in Birds Of A Feather?
what's the only sport where you have to play right-handed?
Also this: "What fraction of an iceberg is above the surface?" It's 1/9, I said to the team, before the QM gave a multiple choice of (a) 1/3, (b) 1/7 or (c) 1/11. Well, it's (b) or (c), I said. No, said other members, it's definitely (a). I don't think it is. It's 1/3, they said. And that was another point lost. Here's what Wikipedia says. Thanks to that and numerous other poor answers, we finished about 2/3 of the way down.
EDitorial ± 1-May-2012
Light Lunches: Martlesham Cafe
<! - |entrytitle|Light Lunches: Martlesham Cafe| -->
Signs. Signs are lost. Signs disappeared. Turn invisible. So said Talking Heads some years ago. Recently though, signs have appeared. There's one directly outside the Adastral Park site. There's another near Kingpin. These signs say CAFE. We must follow the signs.
Follow them we do, into the Martlesham business park, and the signs are that the signs will lead to Barnes Catering, scene of a happy outing this time last year. But no. A couple of units along is a Lavazza board and an elegant white-on-black "Cafe" sign. Yes, we're open, says the guy inside. We have arrived.
They've been open for maybe a fortnight, he says, and they're still getting it together, finding out what works and what doesn't. I'm the first, he says, to order the double sausage, egg and chips from the long list of Big Breakfast options. Andy's a sucker for the full big breakfast. We take a seat (of which there's quite a few) away from the overhead telly and await our grub. Another good sign: proper Heinz and HP sauce bottles.
We're proper hungry when a lady emerges from out back (like A Cry In The Dark, that Meryl Streep film) with our platters of plenty. Big thumbs up, the food hitting that spot bang in the centre. By the time we're done, the front-desk bloke is looking to move us on and lock up behind us. It's been a busy day, he says. Not stopped. I'm glad we stopped by.
NB: I'm not absolutely sure what the name of this place is. Could be the Martlesham Cafe, could be Big Breakfasts, who knows.
If it was a car -- VW Caddy.
If they were passing by -- M Night Shyamalan.