EDitorial ± 27-Aug-2012
Another Day Is Over
<! - |entrytitle|Another Day Is Over| -->
Hello darkness, my old friend, I've come to bed in you again. Doors locked, milk bottles in the porch if I've got my thinkin' head on, and that blinkin' mog lured into the kitchen with the promise of half a pouch of Bite 'N' Chew. All lights out to keep ARP Warden Hodges happy. Rest of the house is asleep and now it's my turn. Goodness, is that the time? Shadrach, Meschach and Abedwego.
Oof — this bed cover's a tad floppy. I sit up and try to pull the duvet back into shape, aiming to align contents and cover in a snug right-angle. Once back in place, like a relocated dislocated shoulder, I pinch the corner in a sock puppet stylee while stretching the cover away, both above and below. That's better.
Oof — these pillows don't feel right. I lift my head and put both hands behind me as if I'm Rory Delap, raising and squishing those giant marshmallows down where the sheet meets the headrest. Don't like that loose pillow cover under my neck either, so that gets tucked back in under itself. That's better.
Oof — the duvet's resting over the end of the bed, leaving my feet exposed. I point my toes and flip up the cover before catching it and pushing it against the wooden end. Takes several goes afore nailing it. That's better.
Oof — this book light keeps flickering. I jiggle it about, gently flick the bulb, then resort to holding it down beside the bed while sliding the battery cover. Does the trick. That's better.
Everything in its right place at last -- ah -- I read until it's stupidly late(r) or until the peelers can't take it any more. Night, all.
EDitorial ± 24-Aug-2012
Ipswich Lunches: Kings Coffee House
<! - |entrytitle|Ipswich Lunches: Kings Coffee House| -->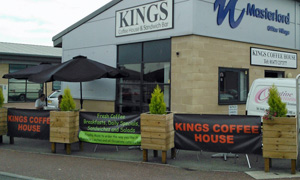 Fairweather Friday and us carbon-based lifeforms have no carbon-blitzing lift to hand. However, infused with the Wiggo spirit of Team GB, we saddle up, Trott off down Dobbs Lane and Hoy it over to Hall Road. Touch of the Pendletons along Purdis Road, up Woodhouse Lane and hey, let's catch up that fella on Bucklesham Road. Waddya know, it's our Defiants ping-pong colleague Steve. Kenny join us for lunch? Why, yes he can.
Past Sainsbury's and it's left hand out at the Burger King stroke B&Q roundabout where there's a big ol' banner pointing the way into Ransomes Europark, specifically to Kings Coffee House. Left again, up to the end and it's up here on the corner, thank goodness. Despite the name, I had visions of a temporary abode like Langers. Not so. Inside is neat and trim with smart wooden tables, a bit like Isaacs, with local papers and a few glossy mags too. Obviously popular with the takeaway crowd, there's a steady queue. Leaving aside the pre-prep-ed baps and boxed salads, we order from the list of specials and find a table (with parasol) outside.
View is everything you'd expect in the middle of an industrial estate. But the food, brought out on a posh square white plate, defies expectations. A wrap with spicy chicken goujons, plus garnish, is mighty tasty, and served with a smile. Coffee that eventually follows is perfectly fine, too. So if you find yourself in the area, perhaps picking up a parcel or getting that car serviced, do pop along.
If it was a car -- Oldsmobile Cutlass.
If they were passing by -- Willem-Alexander.
EDitorial ± 21-Aug-2012
Aldeburgh Beer Can Debacle
<! - |entrytitle|Aldeburgh Beer Can Debacle| -->
First up: it's not really called the Aldeburgh Festival Of Lights. That's what yon fella & family down the road call it. We're talking the Aldeburgh Carnival, one of the picturesque highlights of the Suffolk summer, and now into its 70th year, apparently. Sadly they don't hold the "greasy pole competition" anymore. Curse you, health and safety.
Sun's still out -- as it has been all summer long, narf -- as we follow the stewards into our £8 parking spot on Kings Field. Laden with lanterns and encumbered with coolbag, we amble down to the beach. En route, an incident occurs: let's come back to that in a sec.
Posh picnic on the pebbles. It'd be great to pretend that everything we ate began with the letter P, but that would be a Big Fat Lie. There was pre-sliced pork pie, certainly. And some quiche, which begins with a Q, which comes straight after P. I've lost my thread. Food was fab, though obviously required a walk to the nearby vans since The Boy Must Have Chips.
Later, that fat old sun pretty much done, we pack up to head into town. Not for the badger parade, alas, but the main event, the Chinese lantern procession. All lit up, we join the multicoloured throng (magical moment the first), bearing our lamps and bearing right into Victoria Road, then back onto the beach. Travel rug down, lanterns anchored in the stones, we await the fireworks. Meantime there's hundreds of paper lanterns being sent into the sky (magical moment the second). Fireworks are wonderful too. Part of the day which requires the patience of Steve Jobs is the long wait to get out of the car park. This requires some Zen mastery and a leftover chicken thigh or two.
So, back to That Incident. Strolling into town, I'd spotted a discarded beer can rolling around on the pavement. Doing my civic duty, I picked it up and saw a bunch of wheelie bins. As I was lifting the lid, a woman called out from a nearby garden: "Just to let you know, those bins aren't for use by the general public." In that situation, what would YOU do?
EDitorial ± 16-Aug-2012
Ipswich Lunches: Billsberry's
<! - |entrytitle|Ipswich Lunches: Billsberry's| -->
If, say, a humble inventor by the name of Kev devised a means to travel in time, and if, say, for inexplicable reasons, you chose to travel back three decades and saunter along St Matthew's Street, you'd encounter Howes of Ipswich, "motor car agents and dealers". Inside their snazzy glass-fronted showroom, you might glimpse the latest Sunbeam Rapier or Hillman Avenger or Chrysler Alpine. Heady days. Don't look for it now, kids: it's long since dulled into Blockbuster, home of The Fast & The Furious.
Similarly (Simca-larly?), that awkwardly shaped corner unit between Blockbuster and the funeral place has had many guises, from Bendix launderette to ladies' outfitters to pine place to Polish deli. Since the turn of 2012, and not quite catching the eye of Star Express over the road, it's been Billsberry's -- Eat Fresh, Eat Tasty!
Friendly fella running the place thinks there's a shortage of takeaway lunch places up this end of town, and so offers a huge range of savoury goodies on his huge blackboard. Tough to decide: used to be even more choice, he says. My eye alights on the burrito -- must check if the Buttermarket's El Taco Loco is still going -- while Andy plumps for the panini. We had some seating outside, says the owner, but the council wanted T pounds per table and C pounds per chair, algebraically speaking. Couldn't afford that, so we're inside away from those harmful rays of the sun. Burrito is freshly made, spicily good, and wrapped in foil on a paper plate. Not too many home comforts for those eating in.
That Andy's a sucker for a shake and goes for something with Snickers. Generous portion, blended on the spot and works for him. While he's slurping away, I move on to a cellophane-wrapped brownie. Prepared to be underwhelmed, I'm v. pleasantly surprised: it's a fine thing. Coffee's half-decent too. Better than expected all round, and with free WiFi.
If it was a car -- Matra-Simca Bagheera.
If they were passing by -- Pillsbury Doughboy.
EDitorial ± 13-Aug-2012
Velorail
<! - |entrytitle|Velorail| -->
Nestled among the brochures in our French holiday maison -- mais oui -- was one showing a bunch of nuns cycling along a railway track over a level crossing. Qu'est-ce que c'est que ca?
Big letters on the front said this was Le Velorail du Perigord Vert. Rather than pull up their disused tracks, it seems that they like to leave 'em be and use 'em for leisure purposes. Bonne idee, Jean-Paul. They've devised these pedal powered sit-on metal carriages, conveniently holding up to five folk, two of which perch on saddles and provide the driving force. Bits of said leaflet were in English, including the phrase "booking necessary" together with a ten digit phone number. Over to good ol' yours truly, then, for two simple tasks:
figure out how to dial a French landline from an English mobile,
and make a reservation for the family on Wed 8th August
Wasn't easy but did both, so we're up and out by 11am, complete with coolbag, en route to a village called Corgnac. Bloomin' hot today. Our name is on the list -- well done, me -- and we hand over our fistful of euros. Crossing the track, it's a half hour wait while the earlier travellers return and their vehicles are turned around. High noon and it's all aboard. We've got the last of about ten carriages.
Ahead of us is another non-native family, perhaps Scandinavian, so the guard dusts off his rather good English and talks us through the upcoming journey. It's uphill on the way out, keep your distance, and expect four crossings. What?! Should be fun. Then we're off, initially propelled by me and The Boy. Initially flat, we start to feel the incline. Did I mention that darned heat? It's hard work, and those of us in the engine room are soon demanding bottles of water. Relief to hand over to one of the girls and take a more relaxing rear seat.
The two cars immediately ahead of us also seem to be finding it tough going. We're happy to hang back and feel the breeze. Here's the first crossing: two of us dismount and push the carriage over, watching out for revving Renaults. Next one requires a barrier to be lifted. Another needs a rope raised. Past old rusting rolling stock, over a bridge, through a tunnel and we reach turnaround point at Thiviers. That's taken the best part of an hour. Time for some well-deserved ices in the shade of the refreshment area.
Girls have bagsied the saddles for the return journey. Course, it's downhill and we can all but freewheel. Whee! Brake! Far easier, much quicker, barely 20 mins. Top fun. Hey, UK: when we can a Velorail over here?