EDitorial ± 27-Sep-2012
Tim Key, Coward Or Chicken
<! - |entrytitle|Tim Key, Coward Or Chicken| -->
I was going to explain to you who Tim Key is, but you lot, being highly educated ABC1s and Archers fans, may well already know. He's that bedraggled chap who sometimes has a late night poetry programme on that there Radio 4. Though his appearance may not be apparent from your wireless, even if it one of those super new DAB jobbies.
I know him (i.e. first saw him on telly) from one of Charlie Brooker's BBC4 'Wipe programmes. In between CB ranting from his sofa, this awkward bloke would appear, almost claustrophobic, to recite one of his poems in a most amateurish manner. It was great, the delivery as much as the words. Since then, he's popped up as Alan Partridge's sidekick, et cetera. Now's he doing a tour named Masterslut, "a play on Mastermind or Masterchef".
Before the show in Colchester, he's standing at the bar. Me being me, I have a little chat:

[EB] I Googled you earlier and saw you were in Cowards. That was really funny.
[TK] Thanks very much.
[EB] Shame they only made that pilot episode.
[TK] Er, we made about three, I think.
[EB] I only saw that single show on Channel 4.
[TK] Er, it was on the BBC.
[EB] Cowards. The one about the conscientious objectors. With Jonny Sweet?
[TK] Er, no, that was called Chickens. Mine was called Cowards.
[EB] Oh.

Putting that Notting Hill bookshop "Ghost" moment to one side, Mr Key, if I can call him that, does a terrific show. We learned what not to do on a first date in Pizza Express. We admired him gamely trying to fashion a work of fiction, one word at a time, from the first two rows of the audience. We enjoyed the close-ups of his risque playing cards. We held our breaths as he made full use, very cleverly, of the on-stage bath.
And as he demonstrated the painstaking creative process involved in writing a four line poem, I was laughing more than was good for me. Draft XVI? No! Draft XVII? No! He's a clever man with a touch of the Izzards: go see him.
EDitorial ± 25-Sep-2012
TT1213, Week 2
<! - |entrytitle|TT1213, Week 2| -->
Princess Ping-Pong, she can be a cruel mistress. From the euphoric highs of last week's victory to the painful (literally, for one of us) lows of this week's defeat. That's what you get -- that's what we got -- when you do battle with a couple of guys who were playing in division 1 last year. Recall that we were in division 3.
Four Felixstowe Triers (Trimley table tennis no longer exists) turned up: Tony and David with their pimply bats to upset Kennedy, and the Long son-plus-dad combo of Michael and Dennis, still going strong-ish.
Separate paragraph for the boy Cassy who, midway through his opening game, trapped something he didn't oughta trap (previously). Sciatic nerve, ahoy. Limping on for a few more points, he then retired hurt to seek solace under the spare table next door. Apparently, the pain is excruciating, advised my mother-in-law when phoned for first aid assistance. Goodnight, Andy, and hopefully the feeling will return soon. In brief:
both Ed and Kennedy beat rusty Michael in straight games
neither Ed nor Kennedy could get anywhere near David or Tony, whether singles or doubles
Defiants live to fight another day.
EDitorial ± 19-Sep-2012
TT1213, Week 1
<! - |entrytitle|TT1213, Week 1| -->
Mid-September. Chilly mornings with temperatures in single digits, plenty of good stuff on the goggle-box, and a new ping-pong season. Those with six-month memories may recall that team Defiants had some success last season, cruising through division 3 -- er, the bottom one -- to gain promotion to division 2. Cue Suggs: it's gonna be rougher, it's gonna be tougher, but hopefully we won't be the ones that are gonna suffer.
Strict financial management has prevented any big money signings over the summer, so the 2012/2013 line-up remains Broom, Cassy, Cheng and Willett, alphabetically. No Cassy tonight at Rosary: much more convenient for the three Ipswich-based players to do battle against Tony, David and speedway Bob. In brief:
Ed beat David in four and scrambled back from 2-0 down to beat a tiring Bob in five
Steve played really well to beat David in straight games, but lost out to Bob in four and was edged out by Tony in five
Kennedy lost on a fifth end deuce to Bob, so close, then took five ends to beat David
Unfortunate that Tony had to leave us after a single game to attend to a sick relative -- hope your Dad's OK -- but on with the show, Ed and Kennedy making short work of the doubles. Winning start: nice one, us.
EDitorial ± 18-Sep-2012
Louisiana 16th
<! - |entrytitle|Louisiana 16th| -->
As doubly wonderful as Copenhagen is -- Amalienborg, bikes, Christiansborg, Danish pastries, etc. -- one of the top tourist tips for culture vultures (like what we are) is found 25 miles up the coastline. Buy a combo ticket, says the Time Out guidebook, to cover both the train fare and entrance fee. Here we are, on a surprisingly sunny Sunday, strolling along Humlebaek Strandvej in search of some modern art.
Situated in an unassuming suburb, the Lousiana Museum is a marvel. Before we do the giftshop, best we survey some paintings 'n' stuff. First up for us is New Nordic, showcasing some cutting edge Scandinavian architecture. Glossy photos, clear text, and lots of intricately detailed scale models of schools, embassies and any number of visitor centres. Makes this part of the world look mighty attractive.
Priorities being what they are, it's off to the cafe for an pricy open sandwich. Which is when you discover that you can happily sit inside, most pleasant, or take your food to an outside table (or on the grass) and admire the sea views. That, over there, past the huge bronze sculpture, is Sweden. Score one over the Tate.
Next up is Self Portrait, over 100 works of artists depicting themselves. Yes, Mr Warhol, and yes-yes, Mr Munch, yet some of the stand-out pieces are by arguably smaller names such as the tragic Felix Nussbaum with his ID card, or Marc Quinn's head made out of frozen blood -- ugh -- or the giant photos from Chuck Close. Cleverly, the curators have also assembled same-size framed photos of all the contributors in a separate room, next to the worrying diving board by Elmgreen and Dragset.
Elsewhere there are Giacomettis galore, video clips, pottery, and a troubling installation down in the basement, complete with warning signs. After going down there, it's good to get out in the garden and feel the wind on your face.
We came away around 5pm, up to here with culture, and took an equally efficient train ride back to Copenhagen Central. Even their public transport works like a dream, darn 'em.
EDitorial ± 13-Sep-2012
Light Lunches: Kingpin, Martlesham
<! - |entrytitle|Light Lunches: Kingpin, Martlesham| -->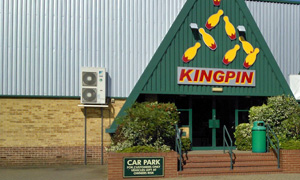 In the Festive 50 from 1986 -- tracks of the year as voted for by listeners of John Peel, you'll remember -- there were, as ever, many fine songs. Putting aside the landslide of Smiths, Fall and Wedding Present entries, there was an especially memorable tune at number 47. Great bandname, great songname:
Some people say that bowling alleys got big lanes
Some people say that bowling alleys all look the same
— Camper Van Beethoven, Take The Skinheads Bowling
Wanting to check this out for ourselves, and in need of somewhere walkable offering a hot lunch, we sauntered over the road to Kingpin. Dead quiet inside apart from all the noise: shoes being sprayed, skittles being struck, and short orders being prep-ed on the griddle. Quick glance of the laminated menu shows burgers (2/4/8oz), jackets, nachos, and even a curry of the day. Handy Andy goes straight down the middle for a "Bowlers" all-day breakfast. I'll take a split of an egg & bacon bap with some chilli chips on the side. Young chap taking our order is disconcertingly helpful and friendly.
Ought to mention that they sell cold Coke in glass bottles: this is a very good thing. Taking a seat in the anonymous bar/dining area next to the fruit machine, our friend brings us cutlery, then condiments, and finally two big plates o' grub. Andy's is generous while mine is momentous: that's extra chilli, he adds, pointing to my mound of Mexicana. Those chilli-covered chips are a family meal in themselves, never mind the bap on the side. Knife and fork in hand, we hunker down to some man's work. Very good indeed.
Ten pins later, we're sated, stowed and stuffed. We stagger up to pass on our thanks to the fella, noting that he should be up the road at Milsoms instead of here on his minimum wage. Too kind, he says, before making us a not half bad cup of coffee. Just time to drink it as we applaud an elderly gent who's cleared a tricky looking spare.
If it was a car -- Fiat Dino Spider by Pininfarina.
If they were passing by -- Mark Roth.
EDitorial ± 11-Sep-2012
What You Talkin' About, Willis?
<! - |entrytitle|What You Talkin' About, Willis?| -->
Second weekend in September means Heritage Open Days, that one chance in the year to visit somewhere usually out-of-bounds and with free admission. Our local one is pulled together by the Ipswich Society, bless 'em, who this year arranged for over 30 destinations to open their doors. Loads of churches, obviously, Broomhill Pool up the road, Freston Tower out in, er, Freston, and many more.
Perhaps the jewel in the crown, though, is the Willis Building (very good aerial view here). Grade I listed and plated in bronzed glass, it's no wonder that it recently caught the attention of Oscar Niemeyer. Those of us who've been around a while may still refer to it as Willis Faber. Those same folk have no excuse for never having been inside: that was me until Saturday.
Considering that we walked into town, me and the kiddies did well to beat the 2pm closing time by a good 10 minutes. Welcomed inside to the atrium, and one, two, three escalators later, we were at the coffee bar -- serving Starbucks, note -- then out the door and onto the grass. That's right, the spacious flat roof is luxuriantly turfed. Rather nice up here in the sun.
Right smack dab in the middle of town
I've found a paradise that's trouble-proof
Up on the roof
— The Drifters, Up On The Roof
Better still, there's a walkway around the perimeter with fine views of St Nicholas church, the (also Grade I listed) Unitarian Meeting House next door, and the water-filled roundabout at the bottom of 60s tinged Civic Drive. Feels like a different country up here. As the official English Heritage listing text notes, this is "an exceptional building". Must arrive lunchtime-ish next year and remember to pack a picnic.
EDitorial ± 6-Sep-2012
Tour Of Britain
<! - |entrytitle|Tour Of Britain| --> It's starting, like so much throughout history, in Ipswich. This Sunday. The
Tour of Britain
, that is. Many men on many bikes. Men including Bradley Wiggins, this year's household name. Doing my bit, I thought it'd be fun to pre-trace the opening few miles while remaining vaguely en route to work.
See this Google map of the route I took.
— Neptune Quay —
Only 7:37 and I'm down on the Waterfront clutching a cutting from the EADT showing the town centre route and beyond. Start is Neptune Quay, it says. I'm guessing they mean in front of the Custom House, but, taking no chances, I'm choosing UCS as my launch location. As I'm readying myself for the epic journey, a lady cyclist with hi-vis top and helmet shoots past and disappears past the Salthouse. I set off, already going against the (non-existent) traffic. Nice down here.
— St Peter's Street —
Decision needed already: how to get to St Peters St? I turn right into Key St opposite the under construction Premier Inn and gingerly join the (very much existent) traffic on the busy-busy one way system. Into right hand lane and on past ancient Wolsey's Gate next to the church. I'd normally take the crossings into St Peters St, but I can't imagine the peloton doing that, so round the Novotel roundabout it is, risking L&L.
Left into the relative calm and nice of St Peters St.
— Buttermarket —
Along the best shopping street in Ipswich and naughtily head up St Nicholas St -- tut -- and Queen St -- tut tut. I spy Costa no.1!
Right into the pedestrianised Buttermarket. Ooh, new place, Patisserie Valerie, opened only yesterday. Quick in & out for a takeaway almond croissant. Haven't quite earned it yet.
— Northgate Street —
Left and legally up Northgate Street -- I spy Costa no.2! Giving us power over there is the library. No right turn allowed at the top here. Wheel onto pavement and over two crossings to where I watched the riders speed through the town last year.
— Christchurch Park —
Like the 'clists last year, I'll be cutting sharpish left into Christchurch Park. Unlike them, I'll be keeping a watchful eye out for Percy The Park Keeper since I don't think cycling is permitted past the mansion. All quiet so stay on the pedals and power up horrible hill by Reg Driver centre and out into Bolton Lane.
— Westerfield Road —
Continue climbing up Westerfield Road -- hello, Woolpack -- and aren't these houses all rather lovely and all rather expensive? Past the park, past Park Road, and past Birkin Haward's Spinney over yonder on the right.
— Colchester Road (1) —
Fortunate to find a break in the traffic to pull out and turn right onto my normal route to work, the efficiently dull Colchester Road, aka the A1214.
One positive point: cycle lane is generously wide. Though probably not enough to accommodate all of 'em come Sunday morning.
— Colchester Road (2) —
Tuddenham Road roundabout brings the challenge of the gradual hump over the railway track. I think they'll manage. Though you do need to watch out for the pedestrian crossing used by all the Northgate kids. Bummer to stop there on the downside of that railway slope.
And if you look over there to the left, you'll see the site of the former fire station. Flat as a Kansas pancake at the mo'.
— Colchester Road (3) —
Next roundabout, this time with Rushmere Road, and that cycle lane magically disappears, leaving cyclist and car drivers to battle it out for supremacy. They tend to win.
— Woodbridge Road (1) —
Here's the ex-Shell petrol station, now curiously unbranded. What's that, they serve coffee here? I spy Costa no.3! Some advice for the chaps when approaching this junction: there's a legitimate bike path on the pavement alongside the main road: take that, watch out for cars leaving the garage, then nip along past the bakery and other shops.
Best of all is a dropdown kerb just shy of the bus stop, thereby cutting off a corner and giving you a wee bit of acceleration into the start of Woodbridge Road.
— Woodbridge Road (2) —
On we go away from Ipswich Borough Council's jurisdiction. Watch out for the cycle lane magically reappearing for a full 10 metres, if that, by the Beech Road traffic lights. Somebody was clearly having a laugh with the last of their standard issue white paint.
You can tell you're in Kesgrave when you see Kesgrave Fisheries and the Kesgrave Kitchen. There's the Bell pub -- my usual turn-off, if I'm awake enough. Going straight on? No, you're not. The gravitational force of the ever-growing Grange Farm is pulling in the entire Tour of Britain, who are obliged to do the lengthy loop around Ropes Drive. Over the underpass, round the top bit, over the other underpass and back onto Main Road.
— Main Road —
Phew, back on a proper road. Motorists on this bit of the A1214 don't much like bicycle riders. Those in the know exercise a little bit of patience since they know that the cyclist slowing them down could be a policeman on their way to work at the Martlesham HQ.
Left hand out, everyone, and into Hall Road.
— Hall Road —
The ToB website talks about stage 1 of the race having a "largely flat profile". Whoever wrote that should cycle down and up Hall Road: it's a pig. Cars avoid this on icy days in the winter knowing that they can get stuck in the dip.
Anyone having (a) the time and (b) the money is advised to call in at Milsom's for breakfast, by the way.
— Martlesham Road —
Where are we now? Bealings? Playford? Martlesham? It's another right, no doubt signed to Woodbridge, along the rat run that is the Bealings Road. Over the chocka A12 and there's the joy of a downward slope all the way to the Red Lion pub on the corner. What kind of coffee do they serve here? I spy Costa no.4!
That'll do for me. Those pro-riders head left at this point, taking Sandy Lane into Woodbridge and beyond. Whereas I need to show my face at the office. Oh, joy, it's the severe hill up Main Road to Crown Point. Change down now!
More than enough miles for one morning.