EDitorial ± 31-Oct-2012
Woodbridge Light Lunches: The Table
<! - |entrytitle|Woodbridge Light Lunches: The Table| -->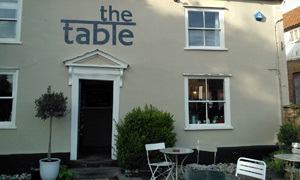 There isn't much time -- it's all chop chop busy busy work work bang bang -- but it's Andy's turn to have the car. What's the name of that nearby-ish place where we started this whole light lunch lark? Ah, yes, that Woodbridge. We can be there in 10 if we don't spare the VW horses.
Once upon a time, before the Bridge of Wood sold out to Costa and Nero, there was, on Quay Street, an institution of a restaurant called (a) The Captain's Table. Fishy, I believe, but don't quote me on that. Then the captain, much like him in charge of the Costa Concordia, jumped ship. In its place manifested (b) The Moorish Lounge, with its exotic if sluggishly delivered morsels. Then Othello, the original Moorish captain, fell on his sword. In its place teleported (c) The Table: let us go grab one.
Assumed we'd have the run of the place on a keen half-term Tuesday lunchtime. Very much not so, for the place -- far more of a restaurant than a cafe -- was rocking with LTL, leaving us to squeeze in to the room with the mismatched furniture at the rear. Fentimans dandelion and burdock, ta very much, as the friendly if slightly harried chap takes our orders. And if you can speed up our food, so much the better.
Business is booming today, certainly, and our plates pop up. My curried fishcakes with a handful of leaves and some lemon mayo are rather good. Plus they can be eaten fairly rapidly, unlike Andy's laksa, the spicy noodle soup. It's classy stuff. No time for coffee in a cup, alas, and they don't yet offer takeaway drinks. We console ourselves with takeaway cakes instead, two shared slices of rocky road and carrot cake. That was good, too, albeit wolfed down back in the office. Not cheap, and not a caff, but well worth checking out for a treat.
If it was a car -- Bristol Brigand.
If they were passing by -- June Whitfield.
EDitorial ± 30-Oct-2012
TT1213, Week 7
<! - |entrytitle|TT1213, Week 7| -->
Now that Team Defiants have wrenched themselves from the bottom division of the IDTTL, we're seeing faces that we haven't seen in a while.
Exhibit A: Britannia Eagles, who used to hang out at St Matthews. Then someone pulled the plug on The Baths and they set sail for The Dome. Three of them tonight -- Chinese Ray, lefty John and Guess Who Rob -- but only two of us, being Kennedy and Ed. No matter. In brief:
2/3 for Kennedy, fighting back from 2-0 down against Ray
2/3 for Ed, back to form somewhat after last week's big fat zero
Add a solid doubles win to give us a 5-5 draw: good result.
EDitorial ± 26-Oct-2012
Ipswich Lunches: Travelodge
<! - |entrytitle|Ipswich Lunches: Travelodge| -->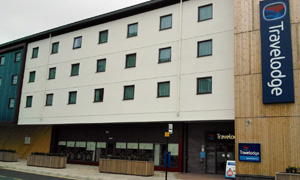 Always exciting when there's a New Kid On The Block, esp. so in this case when there's a whole new block, full stop. What was once an unremarkable and poorly surfaced temporary car park next to Bargain Booze -- and which may or may not have had four small green plastic houses on it -- has yielded to, drum roll, a new hotel.
Rising fairly fast on that there Duke Street, a fishbone's throw from Loch Fyne, has been a shiny new Travelodge. Can't think of too many other hotels that we've done -- maybe Milsoms? -- but this one's in 'cos that windowed area down the front is a "bar cafe". Off to a good start with a very reasonably priced Appletise from the bar, then we're presented with the laminated menu. Which is suspiciously extensive with its starters, burgers, large choice of mains, curries, pizza and salads. Gosh, they must have a shedload of grub round the back.
Paralysed with options, we go for the one with the biggest picture, the burger platter for two. Right you are, says the lone serving chap, and disappears for a bit. Can easily imagine that this area might be humming for the all-you-can-eat £7.65 breakfast buffet, though just us for lunch. Bit of a chat pre-food while trying to talk over BBC's Doctors, blasting out on the wallscreen TV. Here's grub from the mystery kitchen: mini burgers, corn cobs, and a handful of chips. It's OK, much like a Little Chef plateful. Careful with those fiendish dipping sauces, Eugene.
Food finished and free WiFi consumed, we hotfoot it out of there, not seeing another soul. All a bit Eleanor Rigby. And since we'd welcome some atmosphere and the sight of other folk, it's down to the waterfront to the always good Coffeelink for coffee and cake. Moral of the story: sometimes it's better to arrive than to Travelodge.
If it was a car -- Morris Traveller.
If they were passing by -- David Lodge.
EDitorial ± 24-Oct-2012
TT1213, Week 6
<! - |entrytitle|TT1213, Week 6| -->
Down to Rosary -- again -- and the weather is unseasonably mild, making for warm playing conditions. Last time was against their Yellow team; tonight, in keeping with the downs and downs at Portman Road, we're battling Blue. So that's choppy Colin, spinny Adrian and ex-Baylham nice-guy John.
Unusual order with Kennedy needing to head off early, hence playing games 1, 3 and 5, the rest of us happy to work around that. In brief:
2/3 for Kennedy, beating Adrian in four and John, impressively, in five
1/3 for Steve, out of his skin to also beat Adrian and then to give John a real scare, losing out in the fifth and final end
0/3 for Ed, huffing and puffing but losing all three in straight ends: poor
Their star player was Colin, losing a single end the whole evening. Thus Steve (deservedly) and Ed (less so) in the doubles, getting oh-so-close but ultimately losing. Another night, we might have not done so well, though hopefully we'll pick up some more points on the return match. We shall see.
EDitorial ± 22-Oct-2012
What Did Deller Wear?
<! - |entrytitle|What Did Deller Wear?| -->
Isn't every day that an artist Of Some Repute is in the area. That Jeremy Deller is a fella who, back in 2004, won that there Turner Prize, the prestigious and well-respected art prize, ahem. Can he paint? Dunno. But he can throw a half-decent video together, and he was the inspiration behind Acid Brass, where he got the Williams Fairey brass band to release a CD of tracks by the likes of 808 State and A Guy Called Gerald. For that alone, he's a hero.
(Stop Press: I have discovered in the last 5 minutes that a follow-up CD, Acid Brass II, was released by the Fairey Band last year: straight to wishlist)
JD's at firstsite in Colchester on a wet and windy Sunday afternoon to introduce a new documentary what he has done made (with Nick Abrahams). It's called The Bruce Lacey Experience and is all about the life and times of one Bruce Lacey, as you might suspect. Like most people, I'd never heard of this guy, this peculiar British eccentric, but he's done it all from appearing in The Beatles' Help! to working with The Bonzo Dog Doo-Dah Band to being namechecked by Fairport Convention.
At the start of the film, we see him lighting fireworks. What doesn't become clear until later on is that each one has an action figure strapped to it, and that somehow these represent his grandchildren. Also loved his 1973 piece, British Landing On The Moon, which predates Wallace & Gromit with its astronauts taking a leisurely picnic. Not to mention his mechanised robots, or the slapstick films, or indeed the bizarre earth rituals. Comes over as quite a character. Lives locally-ish too, up in Norfolk.
Very decent of JD to come over to our neck of the woods. Afterwards, chatting to him, artist to artist, he invited me to co-produce a new giant Lego work. Not really. He did a brief Q&A about the Lacey film. What did Deller wear? Well, it looked like a corduroy jacket, plus trousers and a shoulder bag. Though I was quite a few rows back from the front.
EDitorial ± 18-Oct-2012
Light Lunches: Poppies, Sutton Heath
<! - |entrytitle|Light Lunches: Poppies, Sutton Heath| -->
Mostly, I gets it easy on these lunchtime outings, maybe nabbing a lift in Andy's EcoMobile or doing a 10 minute bike ride into Ipswich from home. Squeezy lemons. Conversely, it's usually that Andy who's either at the wheel or riding his bendy bike into the wind.
All change this week: Andy's "working" from home and I'm doing the 7.5mile cycle ride to meet him nearby. Nobody told me about that hill from the Wilford Bridge roundabout up past Sutton Hoo: deploy low gear now. Left at the fork in the road and along the interminable Heath Road towards Hollesley, though thankfully not going quite so far as the Suffolk Punch Trust. Relief to finally turn left into Sutton Heath, "home of Rock Barracks 23 Engineer Regiment (Air Assault)", or so the sign says. Past the Mace shop and Friston Road -- clearly a typo -- into Easton Road, and there's the community centre on the RHS. Phew: somewhere in there is Poppies.
Because he didn't want his food to go cold, Andy's already inside devouring his soup and toastie, an absolutely bargainous £2.75. Me too, please: tasty carrot & coriander soup plus tuna toastie. Not forgetting Yazoo (Only You). Coincidentally passed Poppy's Pantry in Melton on the way here. No relation, says the smiling lady, since this is MoD owned. Room reminds us of Cafe 66, though that didn't have doors open to a decking area by a football pitch. Also spotted some paninis and a colourful looking salad.
There's signs for the forthcoming Big Brew to be organised by the Soldiers' and Sailors' Families Association, minding your apostrophes. About to order dessert, we have to tuck our shirts in as some proper soldiers walk in wearing camouflage gear. Can't be that effective since we can see them clear as day. Back to counter for a rather nice piece of lemon sponge and a half decent Americano, c/w Rioba caramelised biscuit. If you're nearby for the monthly craft fair, do pop in to Poppies.
If it was a car -- Willys MB.
If they were passing by -- Ross Kemp.
EDitorial ± 16-Oct-2012
TT1213, Week 5
<! - |entrytitle|TT1213, Week 5| -->
Well, well, well, if it isn't our old buddies, the Manor Club, who've joined us in dragging ourselves up from the depths of division 3. Look at us now, scoring points for fun when we're not being taught a solid ping-pong lesson in consistency and accuracy. There's Winsley, struggling with a strained back, and brother Michael, always tough, plus hot new signing Kevin (previously).
Bit of a late start, and the band is rehearsing down the corridor, so conditions are optimal. Star of the night was undoubtedly nice guy Kevin taking away a surprising maximum. In brief:
2/3 for Ed, overcoming Michael, finally, but going down to Kevin
2/3 for Kennedy, ditto
1/3 for Steve, doing well to defeat Winsley and giving Michael a scare
Cracking final game of doubles went to 9-9 in the fifth and final end before Kevin and Winsley took turns to play their winning shots. Late finish, honours even, good night.
EDitorial ± 15-Oct-2012
We Remain Dingus Khan
<! - |entrytitle|We Remain Dingus Khan| -->
I confess, I'm obsessed. With a band. A local band. A local band whose first two singles I've played so much that I find The Boy humming them.
They are and they remain Dingus Khan. I first caught the eight of them back in July up at that Latitude. Not many bands make you grin from ear to ear from the word go; they did. Ambulance choreography? Check. Cutlery related lyrics? Check. References about morphing into Elbow mid-set? Check. Vaguely shambolic and chaotic? Check. There's your whole package.
Big thanks are due to the fantastic BBC Suffolk Introducing podcast, presented by Graeme Mac and Richard Haugh, who've provided a sweetshop of sugary goodness in the form of most of DK's actual Latitude set, numerous rambling live appearances and the most recent Love Me Do Beatles tribute track. I was stupidly excited to find a bonus track (Bird In The House) on the 9th March podcast just last night. Ridiculous.
Then, somehow, I found myself at three of their gigs in as many weeks. I Made A List:
[Sep 25] UCS Kai Bar, Ipswich: convinced I'd missed them due to a ping-pong game, then swung past on way home about 11pm to find them just about to play, quite the result
[Sep 28] Steamboat, Ipswich: headlined a sweaty night of four bands ending with a stage dive and crawl to the exit
[Oct 10] Epic, Norwich: on at 7:30pm prompt as part of a John Peel benefit gig followed by Bearsuit, Undertones and none other than The (Mighty) Fall -- highlights here
For once, Eldest said it best:
Dad's a total Dingus Khan fan girl.

— Ella Broom (@Shrimpella_) October 11, 2012
At UCS, it was satisfying to overhear one of the guys on the door dismiss what was coming out of the speakers as "noise". He was right, of course. But it's a joyful sound full of plastic flowers, sinking ships and only the occasional mass murdering maniac man. Like a Caterham 7, their live performance goes from 0-60 in about 5 seconds and certain bits could well fly off. Their sheer energy could fuel a small town, maybe the size of Manningtree.
Debut album, lovably entitled Support Mistley Swans, is out on 22nd October.
EDitorial ± 12-Oct-2012
Ipswich Lunches: Tea Boutique
<! - |entrytitle|Ipswich Lunches: Tea Boutique| -->
This place has been bubbling under on The List (makes mental note: would be darn useful to have an actual written-down list) for a goodly while. Central Ipswich, classy-sounding, and then there's their blurb: "Beautiful women's clothing and a vintage tea room." You had us at women's clothing.
Andy's there before me in our ongoing first-is-the-worst campaign, p'raps 'cos he's spent the morning "working" in town while I'm doing the 7.5mile bike ride from the 'Sham. He's sensibly attired, unlike myself who's hoping there's no dress code along the lines of "no loose fit wicking cycle shirts, no cut-offs". In I go, not getting too many looks, to join the man upstairs. Like Paul Hollywood crossed with Jason Bourne, he's nabbed a prime corner table twixt the window (that's St Nicholas Stores over there) and the cakes. Welcome to the Tea Boutique, says the smiling young lady: what can I get you?
Ooh, Fentimans Orange Jigger for me, ta muchly, and some coronation chicken sandwiches. You could soft-boil an egg in the time it takes that other fella to decide. Should have mooched over to the table by the stairs to flick distractedly through Vogue or Red or Hello! Bit of gossip then here's our proper sarnies on a proper plate on a proper tablecloth. Fancy. Just about to ask for some salad dressing when I spot the teensiest floral pot right in front of me. Lo, the dressing was gooey and good, ditto the chicken. Not often we encounter Berridges-esque levels of sophistication.
All this time, my eyes have been wandering to the tarts. Fantastic array of sweetness on the adjacent table includes apple tart, coffee cake, scones, and some frankly magnificent meringues. Be still, my pumping heart. Cafetiere for two, please, and a choc & cherry delice, a manly choice if ever there was one. Scone plus jam plus Cornish cream for Andy, who's already created an account on sconeadvisor.com. My oh my. As we're rolled back down the stairs, we suggest they should branch out to menswear, maybe a range for MAMILS such as us: middle-aged men in lycra. Go: it's lovely.
If it was a car -- Iso Grifo.
If they were passing by -- Sally Phillips.
EDitorial ± 9-Oct-2012
Pulitzer Prize Pursuit
<! - |entrytitle|Pulitzer Prize Pursuit| -->
I'm sitting in coach C of the 21:00 train to London. Behind me in the guard's van is the Boardman bike which has just brought me from UEA to Norwich station. Ahead of me is, most likely, a Pulitzer prize winning author by the name of Michael Chabon (who?) Let's go find out.
Through the alphabet I stride, D-E-F to any objections, iPad in hand. Can't leave that amount of tech sitting on the table, can we? Figure that I can quite legitimately head up to the buffet car -- I'd love a coffee and nearly went back to the AMT at Norwich at 20:57 before sense kicked in -- and idly check all passengers, visually, for their writing skills. And, if unsure, their curly hair.
Mr Chabon was tonight's guest speaker at the university's International Literary Festival, one of two such shindigs they hold each year. Get them, ay what, up the A140 in their City of Literature. He's American, late 40s and has a way with words. If you've got a blank couple of weeks, go read Kavalier and Clay. In lecture theatre 1, he was being asked about the 12 page sentence in his latest book and was discussing a possible upcoming series on HBO. His book, Wonder Boys, was made into that film with Michael Douglas and Tobey Maguire; MC was also one of the screenwriters on Spider-Man 2. What a guy. Then, after a brisk book-signing session in the campus Waterstone's, he was whisked away in a car while I did the same journey on two wheels.
Buffet is shut since there's obviously no demand for hot drinks gone 9pm. On into 1st class, picking up a few looks en route. Cool klaxon: murmuring away on his iPhone, there on the left, is MC himself. Opposite him sits a lady, presumably an assistant while he's in the UK. Staying calm, I go past and find the next loo, since that's a perfectly rational thing to do for someone with a seat in coach C. In and out, then the journey in reverse. The Famous Author has now finished his conversation. I briefly make eye contact -- look, it's me again, the guy in The Flash T-shirt who asked you to sign The Astonishing Secret of Awesome Man -- then walk back to my own more humble place.
Next stop, I'm off, bike and all. Michael Chabon has now left Ipswich. I am very much still on the platform.
EDitorial ± 5-Oct-2012
Felixstowe Light Lunches: Crafty Coffee
<! - |entrytitle|Felixstowe Light Lunches: Crafty Coffee| -->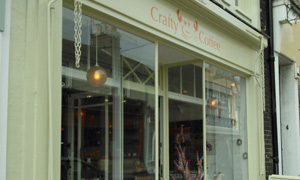 Leipzig is calling. Diplomatic bag from from Our Man In Havana -- though why he'd know, we don't know, being over 5,000 miles away -- hints of a new location for lunch. Errata: for Leipzig, read Felixstowe; for Havana, read Felixstowe; for Felixstowe news, read the Ipswich Star.
Full throttle finds us a fine free spot on Wolsey Gardens. Sun's out, too, as we remove our bowlers in Bonnet. Except that Bonnet is gone, eh? In its place stands Crafty Coffee -- Arts And Crafts By The Sea -- open for less than two months. Quite the transformation from vintage to modern with low hanging lights, modern art and a groovy Karlsson clock. Plus large display cabinets and shelves of objects to decorate, for that is their angle. We're in All Fired Up stroke Jars Of Clay territory.
In keeping with the ceramics cafe culture, savoury offerings are limited, so it's a welcome pack of chilli kettle chips while we lounge on the comfy chairs in the window. The furniture's bright, the furniture's orange. Back on the counter is a modest selection of good-looking cakes. Would be wrong to have an orange without its nursery rhyme counterpart, hence lemon drizzle for me with the ever-present Americano on the side. Can't say I'm any the wiser about the do's and dont's of decopatch but the cafe and coffee are very good.
If it was a car -- V70 Caresto.
If they were passing by -- Neil Buchanan.
EDitorial ± 2-Oct-2012
TT1213, Week 3
<! - |entrytitle|TT1213, Week 3| -->
What with Andy ruled out after last week's ping-pong pain, the team picked itself tonight with Kennedy stepping up to that coveted Armstrong spot (by virtue of arriving first). Leaving Steve as Buzz to Ed's Michael Collins. Week 3, no pun intended.
Venue is the Britannia Dome and immediately we're 3-0 up since those Buzzards are a man down, alas. Pitting their rubbers against us are happy-go-lucky Ken, a former team-mate of Kennedy, and, er, Peter, laughing off every net and edge. In brief:
2/2 for on-form Kennedy, beating Ken 11-9 in the tightest of deciders
1/2 for Ed, edging his way past Peter in an abysmal game of chicken
0/2 for Steve, who had his chances against Peter
Doubles on a plate for the Defiants too, handing us an unlikely 7-3 win. That score may look somewhat different in the return leg next year.