EDitorial ± 3-May-2011
Open The Priesthole
<! - |entrytitle|Open The Priesthole| -->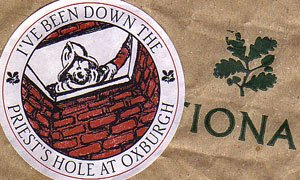 Sure, there are superficial similarities:
yes, they're both heavily fortified
yes, they're both well located
and yes, they both have hidey holes, as we'll see
But let's be as clear as an April sky: Oxburgh Hall is no Abbottabad and the NT is no ISI. There's nothing shadowy about the Trust's intelligence.
So happened that on the big news day that Obama got Osama, four-fifths of the family found themselves in Fry's County. There before us, one extremely well-mannered and remote moated manor house. Time to take the tour. Don't sit on this, don't touch that.
In the corner of one upstairs room, there's a small queue waiting to take a gander at one of the house's star turns, their very own priesthole. Females don't fancy it. We'll catch you up, I say, clinging on to The Boy. This'll be good, I say.
Dial the combination
Open the priesthole
And if I'm in I'll tell you what's behind the wall
— Pink Floyd, The Final Cut
Very soon, we're in the first anteroom. The Boy is less than keen. Down the steps emerges a family, including a young girl. If she can do it, I whisper, I'm sure you can. NT guide points out that a Catholic priest may have hidden for up to two weeks. Our turn. Come on, I say, we'll take a quick look.
Up the steps into the second anteroom and there's the hole in the floor. Right, I'm going down, I tell him. Squeezing through the space, I realise I've made a dreadful mistake. I don't feel good. I stand up (there's plenty of headroom) and take a deep breath. No windows, obviously. I need to get out. I'm coming down too, says The Boy, joining me. No sooner has he come through then I'm scrambling back up. Taking his sweet time, here comes The Boy. My panic wave slowly lapses.
Well done, says the NT guide, looking at The Boy. Phew, thanks, I say, accepting his "I've Been Down The Priest's Hole" sticker.