EDitorial ± 5-Feb-2015
Light Lunches: Laurel Farm Cafe, Ipswich
<! - |entrytitle|Light Lunches: Laurel Farm Cafe, Ipswich| -->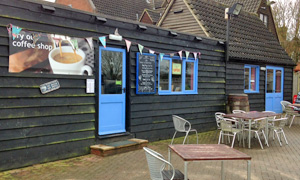 As much as I may mock that whole treehugger vibe, it's really rather cool to nip out for a lunchtime lig in Andy's Duracell powered device. Not quite at the driverless stage yet but it'll more than suffice until they build that Martlesham to Ipswich monorail over Kesgrave. We've got to start construction soon to stay ahead of Shelbyville!
Zoe, take us past Lux Farm and the going-going-gone Garland to Westerfield and thence towards the 'Swich. Take that awkward left-turn on to Henley Road and lo, here's Laurel Farm, a garden centre. Word, confirmed by modest signage, is of an eatery within. May have been a wrong turn or two before we emerged like Mr Benn from the rear exit to cross the canyon and face a separate blue-doored outbuilding. Bypass the alfresco seating and ruddy heck, it's another Ruddy Duck as we're ensconced in warmth.
Kitchen and attractive cake-lined counter to the left, seating to the right, a fair few tables already taken. Teapots and Keep Calm paraphernalia brighten up the place and orders are ordered: warming bowl of thick tomato and mushroom and pepper soup for the driver, plus hunk of bread on the side, and it's the "Italian-styled bread" with bacon and brie (and cheeky cranberry jam) for il passeggero. Edibles, freshly prep-ed by the non-stop lady, are presented on classy china with coleslaw and dressed salady bits and include, in a possible light lunch first, crisps in a cup. I wasn't alone in making this observation.
More than satisfied with savouries, those cakes (see above) require closer inspection. Someone's been busy baking given the extensive range on show from cupcakes to Vic sponge to lemon drizzle et cetera. Having consumed man-slabs for each of the two previous weeks, it's time for a sensible portion of cherry cake with a pleasingly strong flat white, though I'd have been equally happy with Andy's Americano and carrot cake combo. Cold outside but toasty and tasty within: green thumbs aloft.
If it was a car -- Nissan Laurel.
If they were passing by -- Charlotte Bellamy.