EDitorial ± 29-Jan-2016
Woodbridge Lunches: Christine's
<! - |entrytitle|Woodbridge Lunches: Christine's| -->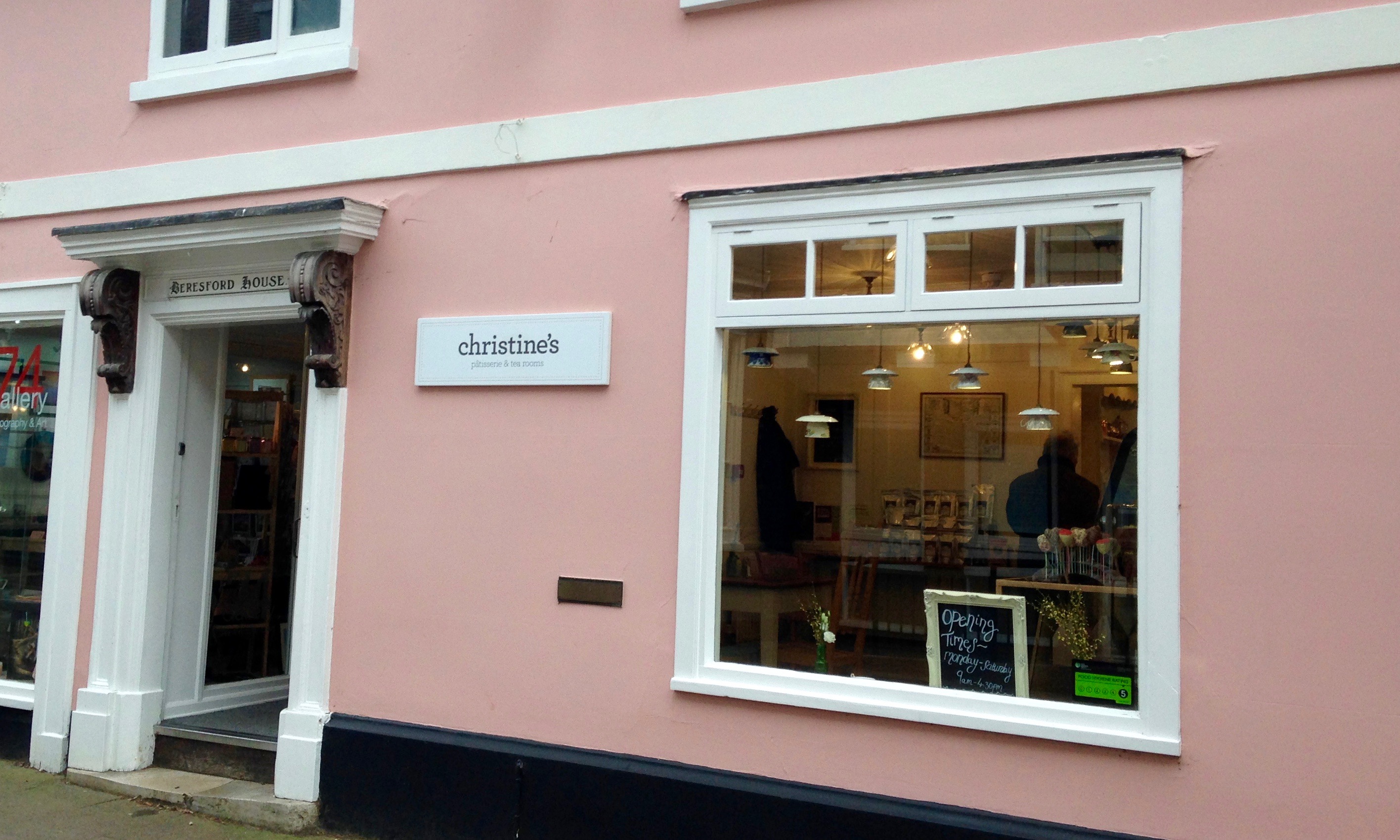 In our time, visiting ye olde yet classye Woodbrydge, we've done it all along the length of the Throughfare, whether following Mrs Piper's or chaining it at Costa or booking it at Browsers or chomping at the Cake Shop or waiting for Caffe Nero or living the sweet life in Honey & Harvey or even vegging out at the Firestation. Done. The. Lot. Or have we?
Ever vigilant Andy's spotted a new 'un opposite the job centre at the unfashionable end of the 'Fare. Classy paint job, classy signage and even classier business cards. Feel that heft at Christine's. Menu has all the esses from salad to sarnies to soup and quiche, the odd one out. French onion soup for the very nearly birthday boy -- and boy, it's a big one -- and egg mayo for yours trult. Granary? Please, I interrupt, before the lady surprises me by then offering sourdough. Ooh, that one, thanks. No Whitehouse white bread here, no sir.
Food picked, it's then time to pick a room. Smallish one at the front by the big counter, medium square room next, and a garden room (with Sonos and courtyard view) for us. I'm liking the arty minimalist feel with the odd mirror and bit of jewellery, plus the cracking choice of papers and mags to browse. Not a D***y M**l in site, for which we are truly grateful. Top nosh, too.
Chatty lady running the show has plans for chocolate making lessons, BBQ instructionals, you name it. And everything's made on the premises, a boast few establishments can make. Cafetiere with Honduras is fine and, oh my, the cakes. Quite the tart. All very good indeed, all very Woodbridge.
If it was a car -- Aston Martin One-77.
If they were passing by -- Ella Woodward.