EDitorial ± 27-Sep-2019
Ipswich Lunches: Clip 'n' Climb
<! - |entrytitle|Ipswich Lunches: Clip 'n' Climb| -->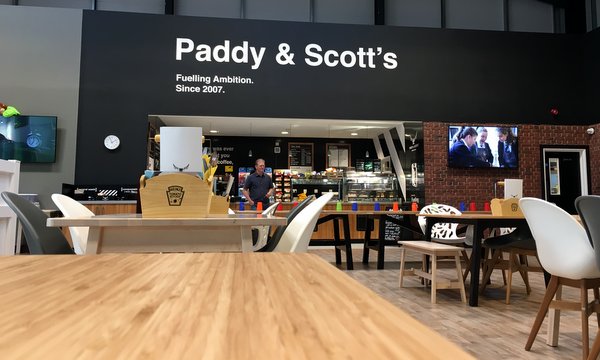 Kev's not around today: he's attending to his tonsure. Yep, it still grows up top, apparently. One down, time for two amigos -- Dusty and Ned -- to saddle up. Talking of which, did you see that the actual Steve Martin and the actual Martin Short are doing some UK shows in March 2020? Top title, "the Funniest Show In Town At the Moment", and (restricted view) tickets at the actual Albert Hall could be yours for £49.88. Three figures and upwards for the decent seats.
One speedy VW emissions-laden drive finds us at l'Europark d'Ipswich. Past Toyota and Lexus and Vauxhall and Ford and Citroen sellers along the tranquil Havens to reach a big yellow cube (not far from Kings). H-o-o-o-g-e logo stares down at us: behold P&S who provide the catering here at Clip 'n' Climb, "the first purpose-built CnC in the UK" with "the highest CnC walls in Europe at 9.6m".
Downstairs are cherry pickers and candy dispensers and what Kev would call a plethora of money grabbers. Upstairs is a mahoosive sans-serif Paddy & Scotts "fuelling station". Their now-closed branch at Framlingham would be lost in here. Special today is the fish pie, ignored by both of us in favour of the roasted squash risotto (for him) and the Spanish style chicken and chorizo tortilla (for me). None of your Ginsters pre-packed sarnies here, matey.
Cafe area is on a floating mezzanine that affords great views of people shinning up multicolour walls before banging the stopwatch button near the roof. All eyes are on a guy being winched up to the top of a death slide. He's grimly holding on as his feet get further from safety. Nearing the top, he shouts "I can't let go! I can't let go!", before being lowered and then sliding the last few metres. Excellent entertainment at others' expense. Andy's plate arrives several minutes before mine, but this is some really good grub, a very long way from what I expected. Maybe that's the Purdey's Rejuvenate ("good choice") kicking in? Lots of wood, everything v. clean, with big screens either side of the counter to promote their brand. Corporate hire is obviously a thing.
Quiet-ish of a wet schoolday lunchtime, CnC is chop-chop-busy-busy of a weekend and requires pre-booking. Back to our picnic bench where now sit two fantastic flat whites. Red velvet cake went down well, too. Not sure about myself -- I was never one for arboreal ascent -- but Andy will be hitting the heights here on his next birthday.
If it was a car -- Ford Everest.
If they were passing by -- Anita Rani.