EDitorial ± 29-Feb-2008
Felixstowe Light Lunches: Family Cafe
<! - |entrytitle|Felixstowe Light Lunches: Family Cafe| -->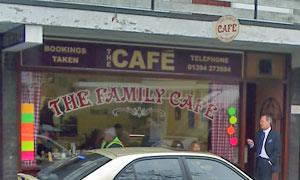 Combine (a) an album by David Bowie with (b) a single by the Pet Shop Boys and you may find yourself Outside Suburbia. Equally, and more pertinent to this review on 29th Feb, you might leap to the phrase Low Rent. Welcome to the Family Cafe, where bookings are taken.
I'd usually refer you to the map but the FC appears to have disappeared, maybe 'cos I was chiding BoytonBoy that there's no such venue. We'd intended to drop in at the Ordnance Fish Bar and were parking up outside a row of shops when, voila, I spied a cafe sign. Would take no more than a lick of paint to fix that final "E' to an "F".
Although we had the window seat, there were no herds of wildebeest sweeping majestically along Undercliff Road. Today we are mostly having all day breakfasts:
small -- one of everything
medium -- two of everything
gutbuster -- three of everything
Medium for me and Grenvyle, including mug of tea plus bread & butter, all for £4.90: pretty good value. Kev's scrambled eggs turned up before our meal deals which took a reassuringly long-ish time to come. Took full advantage of the HP and Heinz table sauces, both with Stay Clean tops, note.
Popular place with the van driving hi-vis brigade, and those boys can scent value a mile off. There may even have been the odd newspaper floating around too. And 20 points for a rare sighting of those green and yellow and orange and pink fluorescent stars, saying things like "tea and two crumpets, £1.20" in scrawly writing.
If it was a car -- Mazda 626.
If they were passing by -- Phil Daniels.

EDitorial ± 26-Feb-2008
TT0708, Week 15
<! - |entrytitle|TT0708, Week 15| -->
Concerned that we might only field two players against Sidegate Lane, we agreed a postponement and arranged to play a previously called-off game instead. With Andy "unavailable", i.e. anxious to protect his sub prime average, our line up heralded from the golden age of the Defiants: me, Kev and Grenvyle (free to turn out due to it NOT being a dialysis night).
Some 22 minutes before the official match kick-off, caffeinated Kev calls off due to family illness:
there's me, at home, waiting for wifey & child before I can head out
there's Grenvyle, all on his Toblerone, waiting for company
I arrive 8:20-ish to see big G. playing his 3rd game on the trot while claiming his 2nd point of the night: that equals (if not betters) his total points tally over the past three seasons. I kidney you not. Plus, the one he lost went to a deuce in the fifth end, not unlike someone last week.
Straight ends wins for me -- hey, they're a weak side, bless 'em -- and Kev's absence greatly simplified the doubles selection process. Did our best to lose the twosomes, again going to deuce in the fifth, then came good. Thus with only a brace of bats, we held on to our unbeaten record. Go us!

EDitorial ± 22-Feb-2008
Felixstowe Light Lunches: Orwell Fisheries
<! - |entrytitle|Felixstowe Light Lunches: Orwell Fisheries| -->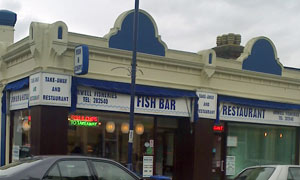 Seven days ago, the Bakers Oven was number two on the list of possible destinations. Number one was Orwell Fisheries -- head straight outta Comptons and you're pretty much there (see map) -- but it was heaving. Took no chances this time and sent our very own Eco Warrior ahead to secure us a place, texting our order ahead while en route in the G-Wagon.
Takeaway's one side, sit-down's t'other. Found Andy, rolled up the seat-warming beach towels and awaited our grub. We seemed to be occupying the young people's table, sharing a King Arthur affair with another couple. Not a spare chair in the house: it's the quick and the nearly dead in there.
Yep, it's fish and chips. Is that a light lunch? I don't make the rules about our vendredi venues. Whatever, a nice lady brought us our F&C and in we leapt, mushy peas all round. Quality looking piece of cod for me, peculiar cod roe thing for Andy. Pleased to both see and use the unbranded squeezy ketchup bottle. Each of us had a cuppa too, though according to the menu, bizarrely, we could have had an accompanying whisky or beer. Unstinting portion sizes mean that the Fisheries is licensed to fill.
Menu also offered double cod and chips: who'd want two fish to one chips? Wall above our table proudly displayed a Radio Suffolk salt & pepper award. Hugely popular with the oldies, obviously. They know what they like and they get it by the plateful here.
If it was a car -- Rover 3500.
If they were passing by -- Derek Batey.

EDitorial ± 21-Feb-2008
TT0708, Week 20
<! - |entrytitle|TT0708, Week 20| -->
Was all ticking along nicely before The Incident. Kev, powered by Caffeine Boost Lucozade (Fuel / Hydration / Focus) had done well to beat their man Y, Andy had got past their man B, and their man S presented no problems. Then came Kev against B.
So let's imagine You Are The Ref. Holding an 83% average, their man B is clearly no pushover, but Kev is battling hard. Game is 6-6 and Kev comes out top in a rally ... at the same moment that a second ball appears from the game on the other side of the room. Who's the umpire? Why, it's our man Andy. He calls a late "net" and calls the score unaltered at 6-6. Kev's unhappy, B shrugs his shoulders, counts his blessings and goes on to win (a) the next point and (b) the match.
Two games on finds Andy playing Y. There's a moment when Y serves, possibly raises his arm to indicate a let, Andy returns the ball into the net and umpire Kev awards point to Y. Best served cold, they say. Shockingly, this game enters a fifth end, Y defending like a demon. Few loose shots from Andy and he's 10-8 down facing two match points to someone that Kev's already beaten! He grabs the next two points to claw back to deuce, only to miss another. Again, he pulls level. This, for the neutral (and us) is entertainment. And on it goes until Y deservedly wins 15-13 in an epic encounter, only the second defeat of the season for our man. Shocker.
Andy maybe wisely sits out the doubles, leaving me and Caffeinated Kev to land another win. What an evening.

EDitorial ± 18-Feb-2008
See Films Differently: Bourne Identity
<! - |entrytitle|See Films Differently: Bourne Identity| -->
Half term trip last week for some family flicks: our chosen film, Alvin & The Chipmunks. Among the lead-in ads was one where a bloke sits talking about Die Hard, about how it's an anti-fashion film. Funny enough.
It's from a VW endorsed campaign entitled See Films Differently, apparently, and I see the next day that there's a tie in competition. You have to write your own take on what's going on in any film. I can do that, I think. One late night and several takes on, here's my tuppence halfpenny on why The Bourne Identity is really a straightforward remake of ... Finding Nemo:
And in anticipation of the inevitable two disc DVD edition, some out-takes:
You think you can do these things, Ed, but you just can't.

EDitorial ± 15-Feb-2008
Felixstowe Light Lunches: Bakers Oven
<! - |entrytitle|Felixstowe Light Lunches: Bakers Oven| -->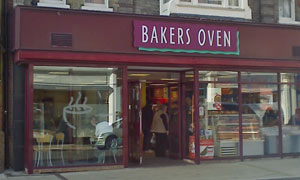 It may not have the vintage views of the Spa or Mrs Simpsons. It may not have the homespun homeliness of Comptons or Hamiltons. It certainly doesn't have the cultured class of the Oaks, no sirree. None of the above stops a baker's dozen of Felixstowe folk queueing outside in the biting wind for a takeaway bite from the Bakers Oven (see map).
We skipped the line -- don't you know who we are? -- which you're entitled to do if you're eating in, and were then faced with a Woolies' caff situation. There sat several sad permawarm square white dishes, unpromisingly occupied by pastry-clad savoury items of questionable meat content. Grenvyle, brave man, leapt in with his order for two sausage rolls. Breakfast bap for me, please: certainly sir, would you like bacon or sausage with your egg? Or? OR?! Must I choose? Wasn't like this down at the Crow's Nest.
No shortage of places to plonk yourself down in the BO. We landed a window seat, offering, if you will, a window on the world. Good to watch the neverending quest for a decent parking spot coupled with the possible abuse of disabled badges. Freshly assembled bap delivered to table: good to note two sausages; surprised to note the egg was scrambled. Hey, it's all good with a complimentary sachet or two of Heinz's red finest.
Done firsts, now for seconds. Faced with an array of pre-plated cake-y goodies of unknown age. In the end, was influenced by the choice of two people ahead of me who both went for a pink iced bun -- ummm, retro tastiness straight out of Life On Mars. Was tempted to pass on the coffee but, like way back when in the Coffee Shop, eyeballed a "proper" machine. Minute or two later was sipping a pretty good cuppa latte. Now who can change CHAV to SNOB without using *too many* dodgy words?
If it was a car -- Ford Escort RS2000.
If they were passing by -- Robbie Savage.

EDitorial ± 11-Feb-2008
TT0708, Week 19
<! - |entrytitle|TT0708, Week 19| -->
Back in mid October, we were fortunate to thrash the Owls of Hadleigh 10-0 (ten-nil, confirms the BBC final score videprinter). That was with me, Andy and Arvind, ex of this parish. Surely we couldn't repeat such a result with Kev in the team?
Some concern at first that we might be locked out of Holton St Mary village hall, situated in central Nowheresville. Then good old Rupert located a key, and in we trooped.
Here's how the games panned out: 1-0 to us, 2-0, 3-0, ... -- see a pattern? -- 7-0, 8-0, 9-0. All nine singles went our way, including a landmark three for Kev: neither he nor Andy lost an end ... unlike me, giving one away to Rupert. I felt obliged to decline my place in the doubles, but ended up accompanying Kev to another win. Result: 10-0, again.
Sure wasn't like this same time last season.

EDitorial ± 8-Feb-2008
Felixstowe Light Lunches: Tchibo
<! - |entrytitle|Felixstowe Light Lunches: Tchibo| -->
On previous write-ups there's been the odd soupcon of consternation concerning apostrophes (Pickwicks, Mrs Pipers), poor spelling (The Conservatory, Tea & Antiques) and downright stupid names (Froffee Coffee). This week, for your pleasure, we present Tchibo (see map). Waddya reckon? Shy-boh? Chee-boh? Itchy-back? As my mum might say, the T is silent as in table.
Chauffeured down to a blindingly sunny Felixstowe. Car park drop off left us with a stretch-your-legs stroll past Comptons and up to numbers 74-76 on trusty Hamilton Road, the 'Stowe's very own Regent Street. Enter a bright and light and inviting shop. Confuzzled: is it a coffee shop that also sells stuff or a store that also has a cafe? Trouble getting my brontosaurus brain around what's being sold -- there's comfy PJs, yoga equipment and pineapple slicers. Together at last!
Grab one of the half-dozen or so circular tables by the front of the shop. Wot no menu, so up we get to peruse the goods under the counter: limited savouries, a salad or two, and cakes galore. Meal deal for me, comprising bacon and avocado sandwich plus Tyrrell crisps plus choice of cake plus choice of drink for £5.50-ish. Smells like good value to me, though took friendly staff a few mins to figure out the appropriate till keys to press.
Snaffled OK pre-packed sarnie while still trying to agree criteria for a light lunch visit. As Barbossa says, "the code is more what you'd call guidelines than actual rules". Seating: check. Cake: check. Pot of tea: check. At Tchibo, Grenvyle's tea arrives in a glass. Like Uri Geller's cutlery, rules were made to be bent.
This place is popular with the punters. Most agreeable venue for a quick cuppa java and a sitdown. Good and strong coffee, tasty and more-ish carrot cake. PWEI were right: Oh Tchibo, I Think I Love You.
If it was a car -- Kia Picanto.
If they were passing by -- Kirsten O'Brien.

EDitorial ± 7-Feb-2008
TT0708, Week 18
<! - |entrytitle|TT0708, Week 18| -->
Was already running late en route to ping pong. And once you're late, you don't get any earlier. Thinking ahead to the Tiles, stopped at a cashpoint and slotted in my card. In with the PIN, I'll have £XX please, and nowt happens. Will it retain my card? What's it doing? What's it thinking? After what felt like two minutes, it spat out my card, no cash, saying "Sorry, there is a fault with this machine". Weird. So into Co-op for choccy malted milk biscuits and to take advantage of some Alan Partridge style cashback. No surprise to receive Andy's standard On My Way SMS while waiting in queue.
Arrived to find Kev well into his opening game, struggling with Jim's super sidespin serves. He blatted some back v. effectively but went down 3-1. Cutting to the chase, we won all the remaining games: aren't we great? That'd be eight singles and one doubles (K&A's turn), each one of us playing well. Though, as Andy observed, tonight's opposition most likely had about 200 years between them.
Kev was obviously inspired by the self-help video on his iTouch, How To Succeed At Table Tennis. Andy has the sequel which has the same title but with the additional tag Without Really Trying.
NB Pic showing BROOM E F of RT5643 is from an ancient email that I sent way in 1989, nearly 20 years ago. Distribution list was:
COCKERILL K -- Kev!
OXBORROW A M -- Andy O.
ROB_S -- Rob Sherratt
G_SCOTT -- Grenvyle!
STEWARD M J -- Matty S.
I'm asking for £6.58 per player for TT subs. And to demonstrate that some things never change, the subject line reads Defiants Are Go!

EDitorial ± 4-Feb-2008
Dolmio, January 2008
<! - |entrytitle|Dolmio, January 2008| -->
Late Saturday afternoon, another cathartic charity shop trip to Woodbridge and another cuppa Costa. Short walk to the car park and there's a woman asking for help starting her car. Nobody else around: call me muggins. She's got jump leads, which is helpful if a worrying sign. I pull alongside her motor and the leads don't .. quite .. reach. Out and in to the other side. Better but tricky to see for the blinding headlights. Neither of us has a torch. Not sure which lead to attach first. Fails to start. Suggest I push her car down the slight slope. First I have to push it slightly uphill. Finally, she starts, and finally here's last month's Dolmio (Doings Of Last Month Innoparticular Order).

That is to say, an attempt to capture past(a) events before they slip... my... mind. January 2008 was spent:
watching Christopher Eccleston get his comeuppance in 28 Days Later
crawling to bed through a bedroom overcrowded with unwanted furniture
following the misadventures of Malachi Constant through Kurt Vonnegut's Sirens Of Titan
trying to aid eldest to nail an ollie
watching the wonderfully watchable Bill Murray in The Life Aquatic
eating far too many Lindor
welcoming the return of Torchwood
breezing through Naive, Super by Erlend Loe: we all need a hammer and pegs
listening to the before-they-lost-it sounds of Simple Minds Sister Feelings Call
catching bits of BBC4's Pop On 4
downloading some "ideas worth spreading" from TED
being swept along by BBC's pacy Sense & Sensibility
And that was January 2008.

EDitorial ± 1-Feb-2008
Felixstowe Light Lunches: Hamiltons
<! - |entrytitle|Felixstowe Light Lunches: Hamiltons| -->
When the wind blows, the lorries slow and the Port of Felixstowe is no-go, so down to Hamilton Road we go. Number 134, to be pedantic, home to Hamiltons, "traditional tea rooms". As ever, check out the occasionally flaky map: who knows, you might find it on there.
From the moment you enter, you realise that this place is a cut above, being at the top of a flight of stairs. Head through the door marked "Restaurant" and you've landed. Easy to imagine the chintzy interior featuring in a BBC Sunday teatime drama series, perhaps in a tea dance scene with the customers unwittingly acting as extras. How did some of these folk make it this far? Up the stairs, I mean.
For lunch there's roasts and pies. My request for scrambled eggs on toast was politely declined and nearly gave rise to a Falling Down moment: sorry sir, that's not available after 11:30am. Opted for the available veggie sausages instead while the chaps chose fried Friday fish. My bangers were OK; the accompanying roast potatoes were terrific.
Between courses, you can occupy yourself identifying all the famous Hamiltons on the wall: there's Neil & Christine above the window seat, FA Cup semi-final scorer Bryan in the corner, the 2007/2008 Academical team by the door, and, in pride of place above the fireplace, F1 Lewis. None of this paragraph is, in a strict sense, true.
As you'd expect from a tradcaff, pudds are prolific. I heard myself ordering a bakewell pudding with custard, plus latte on the side. Well-presented coffee, lovely old school almond sponge. Next time you're passing Hamiltons, drop in.
If it was a car -- Mercedes-Benz 240D.
If they were passing by -- Jim Broadbent.