EDitorial ± 22-Feb-2008
Felixstowe Light Lunches: Orwell Fisheries
<! - |entrytitle|Felixstowe Light Lunches: Orwell Fisheries| -->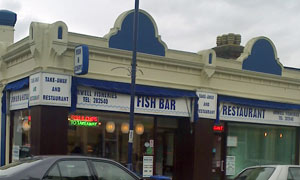 Seven days ago, the Bakers Oven was number two on the list of possible destinations. Number one was Orwell Fisheries -- head straight outta Comptons and you're pretty much there (see map) -- but it was heaving. Took no chances this time and sent our very own Eco Warrior ahead to secure us a place, texting our order ahead while en route in the G-Wagon.
Takeaway's one side, sit-down's t'other. Found Andy, rolled up the seat-warming beach towels and awaited our grub. We seemed to be occupying the young people's table, sharing a King Arthur affair with another couple. Not a spare chair in the house: it's the quick and the nearly dead in there.
Yep, it's fish and chips. Is that a light lunch? I don't make the rules about our vendredi venues. Whatever, a nice lady brought us our F&C and in we leapt, mushy peas all round. Quality looking piece of cod for me, peculiar cod roe thing for Andy. Pleased to both see and use the unbranded squeezy ketchup bottle. Each of us had a cuppa too, though according to the menu, bizarrely, we could have had an accompanying whisky or beer. Unstinting portion sizes mean that the Fisheries is licensed to fill.
Menu also offered double cod and chips: who'd want two fish to one chips? Wall above our table proudly displayed a Radio Suffolk salt & pepper award. Hugely popular with the oldies, obviously. They know what they like and they get it by the plateful here.
If it was a car -- Rover 3500.
If they were passing by -- Derek Batey.