EDitorial ± 30-May-2008
Light Lunches: Waldringfield Golf Club
<! - |entrytitle|Light Lunches: Waldringfield Golf Club| -->
Everyone enjoys a leisurely nine holes of put-put-putting. Fact, we seek out Le Minigolf when en vacances in France: c'est tres populaire. Did a few rounds of pitch and putt up Chantry Park but grew frustrated at not being able to hit the bloomin' thing. Which links (see that?) us to this week's vendredi venue.
A short drive round the back of the site, past the quarry, left towards the Moon & Sixpence then right into Waldringfield Golf Club. Thankfully non-members are welcome. Andy made sure not to use the parking spaces reserved for the club pro or the W.A.G. captain, Cheryl Tweedy. Into the clubhouse we blundered despite brazenly breaking the dress code: "shirts must have a collar ... trousers must be tailored ... socks must be white and above the knee." We'll have a temporary concession, if you'd be so kind.
Didn't take long to order at the bar, paying upfront, then grabbed a table in the conservatory. Sunny outside; stuffy inside. We'd each gone for a giant bap, maybe as big as your head. Impressed that my modestly sized roll contained a whopping three sausages, plus fried egg (40p extra). Well done. Breakfast baps behind us, we badgered Andy for the results of his recent travel plan competition. Apple, anyone?
Here's a shocker for a Friday lunchtime: no cake available. That being the case, didn't hang around for coffee. All in all, sad to say, this was an Asda outing compared to the Waitrose delights of Seckford Golf Club.
If it was a car -- Matra Rancho.
If they were passing by -- Andy Townsend.

EDitorial ± 26-May-2008
Bawdsey Battles In Time
<! - |entrytitle|Bawdsey Battles In Time| -->
Stereotypically lousy Bank Holiday weather. Hey kids, I know, let's head out somewhere really wild & woolly and go make ourselves a Dr Who video!
There followed a gathering of props and a discussion of who'd do what with surprisingly little dissent. False start at Shingle Street, our intended location: impossibly windy. One title rewrite later and off to nearby Bawdsey. It's a wrap:
Now who's for coffee, cake and a little regeneration at the Boathouse?

EDitorial ± 21-May-2008
Inadequacy Of The Left Foot
<! - |entrytitle|Inadequacy Of The Left Foot| -->
Bad Dad didn't attend Middler's musical evening -- after all, when there's recorders involved, no jury would convict -- preferring to point an armchair at the moving pictures from Moscow. An astonishingly portentous and pretentious ITV trailer, c/w risky Russian talkover, promised us The Game Of Games on This Night Of Nights on My Telly Of Tellies:
Grant-aided Chelsea v. Man Utd
Samsung, purveyor of poor player-strewn ads, v. AIG, creationist proponents of Answers In Genesis
future's bright orange-clad Cech v. eco-green Van der Sar
Much blood in the first half, what with the tongue of Drogba and the nose of no-goals Scholes. The Boy relished each clash or falling over, re-enacting selected fouls and clutching of shins on the carpet. Seeing the shirts of "a. cole" and "j. cole" for The Blues, would have been good to see them bring on another player named Kevin Cole. Think it through.
Whole event was much more exciting than we had any right to expect. Goals, dust-ups, strikes against the woodwork, and gratuitous shots of Roman A. Lovely to see Ronaldo have his penalty saved. Gutted to see Terry skid. Did Anelka really want to be there at all: Shevchenko, anyone? And only 16 days, 15 hours and 55 minutes until Euro 2008 kicks off.

EDitorial ± 16-May-2008
Felixstowe Light Lunches: Sangha The Coffee Shop
<! - |entrytitle|Felixstowe Light Lunches: Sangha The Coffee Shop| -->
The 'Stowe, we suspected, was sorted. Not so, said Kev, pointing us towards a Felixstowe TV article headed New Coffee Shop Opens. That'll be Friday's venue sorted, then, chauffeur willing.
Regular parking spot and the briefest of strolls past number 5, Comptons, then 9-11, Orwell Fisheries, and look both ways before crossing Victoria Street. Stop at the "OPEN" pavement sign, gaze at the non-shouty gold lettering above the doorway and follow the arrow inside to Sangha The Coffee Shop.
Quality atmosphere with loads of natural light and a good assortment of seating: high chairs by the window, ideal for pedestrian watching, plus tables and comfy chairs. With the staff doing well to ignore Andy's business start-up book, the provocatively titled Starting And Running A Sandwich-Coffee Bar, we looked for a menu. No menu. For savoury stuff, peruse (a) the board for the full run-down and (b) the chiller cabinet for what's actually left. I grabbed an egg & bacon tiger bread baguette -- yum -- and some Patatas Bravas flavour (you tell me) Real Crisps. These aren't imaginary potato products; they're really realistically real.
While Andy supped his purple-ish fruit smoothie and Grenvyle poured tea from his futuristic teapot, we flicked through some tick-in-the-box local and national papers. Noticed a handful of paperbacks dotted around too. Relaxing place to be. Blow-up photos on the wall were striking -- good -- but of London -- not so good. C'mon, photographers of Felixstowe, make yourself known.
Plenty of space left for dessert. Tough to choose from carrot cake, muffins, cookies, chocolate cake. It's all good. Closed eyes and pointed at maple & pecan slice. Here's where that whole "coffee house" thing comes into its own, 'cos my Americano was excellent: looked good, tasted good, and by golly it was good. Triple certified, too, which I'm sure is the way forward. Best of luck to all at Sangha. May they thrive.
If it was a car -- Toyota Prius.
If they were passing by -- Nick Hornby.

EDitorial ± 12-May-2008
Dolmio, April 2008
<! - |entrytitle|Dolmio, April 2008| -->
Round for Sunday lunch at the Lionel Bart musical friends down the road. Given (a) they've got kids and (b) we've got kids, thought it might be vaguely diverting to knock up a wordsearch to complete between courses. Had to include, as a minimum, everyone's name (there's ten for starters), plus one or two words related to each person. Decided on a 16x16 grid to accommodate some of the larger entries. Trick is to place the longest ones first and work your way down in length. Becomes quite a challenge. But that was last month, much like last month's Dolmio (Doings Of Last Month Innoparticular Order).

That is to say, an attempt to capture past(a) events before they slip... my... mind. April 2008 was spent:
prep-ing maths test papers for forthcoming Middler's SATs
being mesmerised by Amplive's Rainydayz remixes of the mighty Radiohead's "In Rainbows" album
identifying the saints in the hugely charming Millions
welcoming the return of the firm family favourite Dr Who
reading Neil Gaiman's weirdly wonderful Stardust
urging Eldest to do any languages homework: hasta la pasta
overplaying Just A Song About Ping Pong by Operator Please
And that was April 2008.

EDitorial ± 9-May-2008
Light Lunches: Seckford Golf Club, Woodbridge
<! - |entrytitle|Light Lunches: Seckford Golf Club, Woodbridge| -->
End of the working week that saw a mini May heatwave. With no driver, hopped on two wheels and scooted down The Street (hello Red Lion), then Top Street, and up a zigzagging footpath to the roundabout where the B1438 meets the A12. Yep, that A12. Gripped handlebars tightly, closed eyes and didn't reopen them until we'd parked & locked by the buggies and the shoe valet. It's tee time at Seckford Golf Club.
Would have chosen outdoor seating but seemingly not enough parasols to go around on The Terrace. No problem: plenty of space in the light, airy and affluently vibed interior. Liked the simple black & white printed menu. CSO: Counter Service Only. Eye caught by the daily specials. That'll be two chicken caesar wraps, if you'd be so kind.
Sipped, chatted, tried to work out the relationships at other tables, and waited. Thought our order had been lost in a bunker when finally our two plates emerged. Now, on these Friday trips, it's rare for the food to speak for itself: step forward the Waterfront and the Oaks. But this is good golf grub. Full of taste, imaginative side salad, well presented ... and, surprisingly good value too. Who'd have thought?
Cleared plates and found that some ladies had lunched and left. Took terrace table for a kicking latte and a gooey wodge of carrot cake while gazing at the landscaped first few holes. Somewhere in the 1:30pm haze could be seen the otherwordly Adastral Park radio tower, a reassuring distance away. Sorry to leave and face cutting across both lanes of a major trunk road.
If it was a car -- Lexus SC.
If they were passing by -- Gary Lineker.

EDitorial ± 7-May-2008
Follies Of Middle Age
<! - |entrytitle|Follies Of Middle Age| -->
Sun's out, all the time in the world and the kids are sixty-five miles away. Headley & Mellenkamp book to hand, let's go folly hunting in North Norfolk.
Destination 1: Belle Vue Tower, a five storey circular beast near Briningham on the binary B1110. Surely not hard to spot. Fail to spot it. Ask directions from a friendly couple out for a walk, and the chap points to a silo-like building in the middle distance. Follow his "back to the main road" advice and park on a track to take a closer look. Brick body, wooden viewpoint on top. Somewhat put off by the Strictly Private: Guard Dog sign. Obviously privately owned, alas.
Destination 2: Randall's Folly, aka The Rocket House. Parked by Salthouse beach, avoiding the trendies grabbing their takeaway lobster from Cookies Crab Shop. Good news is that there's a resourceful fella selling proper coffee from the back of his van. Bad news is that we're over 50 years too late to view the unique sounding folly built by one Onisipheros Randall to entertain his lady friends: it was swept away by the 1953 floods. Darn.
Destination 3: Leicester Monument and the Obelisk at Holkham Hall. Had seen something poking its head out of the trees on the walk back from Wells. That something turned out to be the 37m tall cow-laden edifice to Thomas Coke, 1st Earl Of Leicester, and a dab hand in animal husbandry. Each of the four plinths has an inscription:
small in size but great in value
live and let live
the improvement of agriculture
breeding in all its branches (my favourite)
Head back past the perfectly symmetrical Hall, saying hello to the sculptured chap and dog on his bench, and you'll find the perfectly aligned Obelisk. Big needle, points straight up into the big blue sky, no inscription required.
Well earned cuppa and a scone in the stable block cafe. Gift shop was selling various "exclusive giftware" including a series of mugs hailing Heroes of Norfolk. Nelson, of course, plus Coke Of Norfolk and Elizabeth Fry. Even money that future road signs will be welcoming the careful-driving motorist to Fry's County. That'd be another local boy made good, Mr Stephen Fry.

EDitorial ± 2-May-2008
Felixstowe Light Lunches: Corner House Cafe
<! - |entrytitle|Felixstowe Light Lunches: Corner House Cafe| -->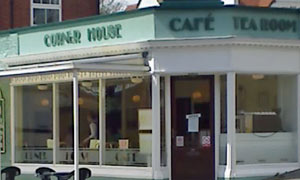 We set off into the eye of the storm at 12:20 today, determined to nail one of the last remaining coffee shops in Felixstowe despite the donner und blitzen. Plus it's now safe to walk the streets down there once more now that the lost-and-found bomb has finally gone orf. Sound the all-clear.
Sunny by the time we strode down South Hill and into the Corner House Cafe, not to be confused with its mirror image over the road, The Conservatory. Talking of which, kinda, the CHC has a mighty white megalith of a mirror on its far wall giving the impression of lots of space, or some sort of weird Frangipani-style double seating area. Attractive old clock on the wall, too. And a sign advising customers not to rearrange the chairs, thank you very much.
Had our pick of the tables initially, the serving staff poised like poised people ready to pounce on our orders. Shortly after, more punters came & went. Various brekkies to be had, soup, jackets, and mini versions of most items for tinies. Don't want chips, have the mash instead: they're flexible. Chose a brown bread sandwich: perm any two fillings from fried egg or sausage or bacon. Adorn with squeezy sauce. Result. Wot no leaves or crisps or melon chunk on the side?
While Andy did for his ham/egg/chips and Grenvyle cleared his haddock, my eyes wandered to the home baked goodies. Pleasantly full after a generous slice of choc cake and a well-presented latte, the coffee gently undulating, not unlike a lava lamp, at the bottom of its tall glass. Restful and yet highly caffeinated. Did I mention they're closed on Fridays?
If it was a car -- Mercedes-Benz A-Class.
If they were passing by -- Ruth Jones.

EDitorial ± 1-May-2008
TT0708, KO Cup, Semi Final
<! - |entrytitle|TT0708, KO Cup, Semi Final| -->
It had to end. Our magnificent one game unbeaten run in the 2007/2008 Knock Out Cup has come to an end, leaving us free to concentrate on the league. Which we won, ha!
Up against it from the start, tonight's opponents from Trimley having finished runners-up in the Premier Division: gulp. Our handicap -- apart from Grenvyle in the team (copyright cheapgags.com) -- meant that if they won a game 21-9, the adjusted points would be level. Not the best of starts when G. went down 21-2 in the opening game.
Didn't really get a lot better for us as the evening wore on and the points ebbed away. Then their third "weak" player turned up and proceeded to hit the ball about as hard as anyone I've ever seen.
Still, Andy had one or two terrific purple patches of play, and big G. put away the odd quality backhand too. I kept on spinning and felt pretty drained after each defeat. Doesn't sound like much fun, but it was.