EDitorial ± 27-Feb-2009
Light Lunches: Kesgrave Fisheries
<! - |entrytitle|Light Lunches: Kesgrave Fisheries| -->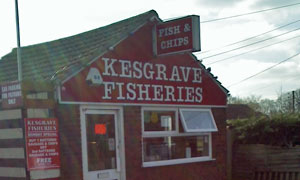 Dunno if I pointed it out to the kids or the kids pointed it out to me: on the main A1214 to Woodbridge, there's more than a fair few businesses prefixed with the K-word. Which is absolutely as it should be as This Is Kesgrave. Already ticked off the static tables of the alliterative Kesgrave Kitchen this time last year. Take an Usain Bolt jog down the road -- much like that PM fella did the day before -- -- and you won't miss the upper case delights of Kesgrave Fisheries.
You're right, it's a chippy, though there's something admirable about that "fisheries" phrasing. No piscine puns in this particular parish, ta very much. Plenty o' parking -- patrons only, says the sign -- and be sure to keep one fish-eye on that bike lane stroke path stroke pavement. Can be perilous cycling past this place (hey, no "i" before the "c") around 6pm when you can easily get yourself battered.
Four days late for the Monday special: "buy 1 battered sausage & chips get 2nd battered sausage & chips FREE". Nonetheless, one S&C for me, please, and I'll take one of your (non-Heinz) ketchups too. Ooh, and a playground-sized bottle of Tuck Shop dandelion and burdock, as recommended in a recent Good Food magazine. Declined the healthy option of deep-fried pizza and scollops (sic). Had to wait for a while for fresh chips and Grenvyle's fish. Unlike Andy, I opted out of the mushy peas: them marrowfats ain't practical.
Back in the limo and away to K. Community Centre: you know, the one near the guided bus route. Maybe there'd been some seating in the bandstand prior to a vandal visitation. We settled for a bench by the side of the playing field, thankfully warmer than that by the Tidemill. We tunnelled our way in to our well-wrapped lunches and got down to some serious scoffing, rising to the challenge of our mightily generous portions. Phew, stuffed. Then nicely topped off from a takeaway coffee from Tesco's mechanical Turk of a Coffee Nation machine. Seriously, you could fit a man (or several trainee kid baristas) in there.
If it was a car -- Triumph Dolomite.
If they were passing by -- Craig Cash.

EDitorial ± 24-Feb-2009
TT0809, Week 21
<! - |entrytitle|TT0809, Week 21| -->
Tonight's opposition comprised John, Colin and Bill, aka JCB. Already done the Nizlopi reference too, so that's out. Let's hope that we can excavator few more engineering vehicle references.
Ever onward with the ERA-defining team of Ed + Rob + Andy, as compactor line-up as you'd wish for. Lost the chance of repeating last week's maximum with Ed losing to big-hitting Colin in the opening encounter, the latter putting away his smashes with the precision of a cherry picker. Then Rob steamrollered past Bill and Andy powershovelled past John: 2-1 to us.
We carried on roadrollering along: Rob demonstrated some heavy hydraulics to dump Colin, Andy dredged a win against unlucky Bill and Ed forklifted his efforts to restrict John to nine points over three games. By this time, they were beginning to hit the skidder: 5-1 to us.
To cut a tunnel boring story somewhat shorter, we won all the remainder, Andy somehow tractor-scraping past Colin to land an unlikely hat-trick and Ed/Andy (Rob retired early-ish) scooping out a doubles victory: 9-blinking-1 to us.

EDitorial ± 19-Feb-2009
Light Lunches: Glasswells, Ipswich
<! - |entrytitle|Light Lunches: Glasswells, Ipswich| -->
[presenting a further guest review by Margaret Broom]
This coffee shop/cafe (The Place to Eat) is situated in the new Glasswells furniture store, which is very stylish and well designed. It's located on the first floor, and there is an escalator (which tells you to hold on etc as if you were a child) and if you have a seat next to the large windows you can watch the comings and goings of people in the car park below. The seats are comfy and there is waitress service, and also the ubiquitous daily papers to read while you wait, although the wait is negligible.
The day we visited, my companion and I both went for a jacket potato, he a Coronation chicken, and a chilli one for myself. Now we are not without experience in the jacket potato field (!) and I'm afraid that not only were they expensive, they seemed rather dry (more butter needed) and horror of horrors, there was no vinegar for my salad (I realise this is a personal choice, but the young waitress looked as if I was speaking a foreign language when I requested it - they had "run out"). This was a rather disappointing meal as we had been there on at least two previous occasions and the food had been excellent.
There was no solicitous query when we paid as to whether we had enjoyed it, so on the Mrs B scale I rate this visit as a 7 out of 10.
The furniture and other items are top notch and I covet a Teddy bear that's for sale, but at a price of £118 I doubt whether he will be living here!
EDitorial ± 16-Feb-2009
TT0809, Week 20
<! - |entrytitle|TT0809, Week 20| -->
Now this is odd. Venue is the snappily named SPSSSC, sandwiched on Civic Drive between Anglia TV and the two week old Tesco (ex-Durham Pine). Lock the bike, in the front door, up some stairs, into the main room ... and flippin' 'eck, this is (or rather was) St Matthew's Baths. I used to come swimming here when I were a lad, up on the coach every Friday from Whitehouse Juniors. Still the same nicely detailed roof and fans, though sadly the Speedo clock has vanished. Tonight sees a performance from the hard-rockin' BT Defiants. Back in November 1971, you'd have seen Led Zeppelin.
Same crack team of Andy plus Rob plus Ed looking to amend for last week's disappointments. Off to a flier with a clinical win for Rob and a laboured Cliff-hanger for Ed, and here's Andy with an edge of the seat victory to make it 3-0. We all go again, we all win again and it's 6-0. Repeat to fade (opposition downright demoralised) and behold, 9-0.
Doubles time: step forward Rob and Andy, our answer to the Chuckle Brothers. They can both hit it, they can both defend. On a good day. We're up, they're up, some terrific hits, and it comes down to the fifth & final. Tension, nerves, 9-7 to them, two points to win ... and our boys nail four in a row to seal an improbable 10-0 scalping. If the water had still been there, we might have all jumped in.

EDitorial ± 13-Feb-2009
Light Lunches: Cherry Tree, Woodbridge
<! - |entrytitle|Light Lunches: Cherry Tree, Woodbridge| -->
Sun's out after a damp start, it's 12:15pm on a Friday, and where's our driver? Been ordered to work from home: bloomin' doctors. Up to me and Andy to form a petit peloton, pushing past Landypart along a soggy Sandy Lane into Woodbridge. Not Notcutts, but dead opposite into the Cherry Tree. Yeah, I know it's a pub, but pedallers can't be choosers.
There's a duet of Sheffield stands for the horses, and in we go to a busy-ish beamed bar. I'm already impressed by the free WiFi plus the range of soft drinks, salty snacks (scampi fries!) and choccy bars on display. Given some menus, we take a free table and you can't help but notice a scattering of board games. More of that in a bit. Meantime, there's pages and pages of potential eats, a gamut of grub, a suspiciously extensive selection. What to have? Summat I've not had on any of our previous outings: the meatloaf. Should really have some B.O.O.H. reference here.
There's dominos, a Rubik's Cube, but it's my bright idea to challenge Andy to a lunchtime game of Scrabble (not allowed to play at home since The Incident). Orders placed, off we go and the tiles aren't with me. Me to start, and my first word, like so many before me, is POO. Which is poor without the "R". Thankfully the food arrives during the early stages. Very sociable to dine 'n' play. More-ish meatloaf and mash. Bob, I'll have some peas, please.
Now I'm convinced I'm way better with worms (thanks, Ronnie Barker) than my opponent. Nonetheless, he draws and places the biggies:
the Q -- QUID on double word with Q on double letter
the Z -- ZIT with Z on triple letter
the X -- AXE on triple word
the J -- JAW
All of which leaves me floundering like a flat fish on a salt flat. I claw back with HARSH on a triple word, pull one point ahead and still lose. Narrowly. Did I mind? Is the Pope German? Not to worry: good fun, good food and most hospitable.
If it was a car -- Citroen DS.
If they were passing by -- Clive Doig.

EDitorial ± 12-Feb-2009
TT0809, Week 19
<! - |entrytitle|TT0809, Week 19| -->
A snowy Thursday, a return game v. Rosary Yellow (who we freakishly thumped 8-2 back in November) and a welcome return for Ooh-Me-Back Cassy, completing the unstoppable ABC triumvirate of Andy/Broom/Crawford.
Let's see some pictures that viewers have sent in. Cue gentle fade-in of Cavatina by John Williams:
Turned out to be a long and frustrating night on our one Butterfly table. Of the nine singles games played, five went all the way to the deciding fifth end ... and we lost 'em all. Then Rob did his Captain Oates, leaving Ed & Andy to go the full distance in the doubles ... and win. Salvaged a point and still lost overall. Let it snow, let it snow.

EDitorial ± 2-Feb-2009
Light Lunches: Friday Street Farm, Farnham
<! - |entrytitle|Light Lunches: Friday Street Farm, Farnham| -->
[presenting another guest review by Margaret Broom: hello again, Mum!]
Friday Street Farm Cafe is just off the A12 in the Aldeburgh direction. There is plenty of parking and if you are lucky you can park right alongside the cafe. It's a popular place, serving good wholesome food at very reasonable prices. There is usually a choice of 4 or 5 main courses although we have found that the popular ones (steak and kidney pie, for example) tend to sell out quite quickly. We did book recently but whether you can also stipulate what you'd like to eat I'm not sure, but fortunately the steak and kidney was still available!
A ramp leads up to a nice bright and light building with tables alongside the windows if you're lucky, and tables outside on a raised platform arrangement for when the weather is above freezing. There is the odd daily newspaper to read while waiting although the waiting time is normally quite short, and the good old Suffolk magazine is for sale. So this is the place for non-adventurous food although I did notice duck breast with cherry sauce was on the menu last week if that counts!
So all in all nothing much on the downside EXCEPT the heavyweight chairs which need a few weeks of lifting weights to be able to move them, they are that solid. Otherwise 9 out of ten on the Mrs B scale.
Nobody famous passing by but of course with Aldeburgh a few miles away you never know. Also the farm shop is well worth a look either before the steak and kidney or after!