EDitorial ± 28-Oct-2009
TT0910, Week 8
<! - |entrytitle|TT0910, Week 8| -->
Andy W. says:
"...enjoyable match last evening although we lost 7-3. Anshul won his 3 and we had a good doubles match despite just being beat."
Rene says:
"...my games went well, pushing both Clive and Bob! into 5 sets and losing to Clive with 12-14 in 5th. Also, I can confirm that sweets are bad for your teeth. Eating a Twix broke bits of a tooth off... and I left the doubles to AndyW and Anshul. Apart from the tooth it was another very enjoyable night."
Cheers for the words, chaps.

EDitorial ± 22-Oct-2009
Ipswich Lunches: Edward's
<! - |entrytitle|Ipswich Lunches: Edward's| -->
Me, myself, Ipswich. Memo to moi -- it's all about old little me. Disappointingly, there's no sign in town of a Cafe Freston (home of the six layer Burger Tower) nor the Broom Brasserie (site of the Sensational SandWitch), leaving one possibility -- Edward's. BTW, a little bird tells me that this place is due for an imminent refurb which will most likely spell the end of the current kingly name. Let the record show it was still regally titled on our state visit.
Following the Institute and the St Lawrence Centre, this is Grenvyle's hat trick nomination, his nose for a bargain having already been drawn in by the poster proclaiming a pot of tea for 89p. When I ambled in, he was already ensconced on a comfy sofa selecting his mains. Ample venue, handful of customers: I wouldn't have blamed the bloke behind the bar for being a bit grumpy, but he was most cheerful and helpful. Big green ticks for selection of (a) soft drinks, inc. Pepsi Raw and fizzy fruity Suso, and (b) reading material, inc. newspapers and trash mags.
Bit like Museum Street, there's a steady stream of borough buses, what with the stop right outside. Time to absently watch a few MOR pop vids (Coldplay, Maroon 5, that Put Your Records On girl) on a big screen before food came, a Reggae Reggae chicken baguette with chips and lightly dressed leaves. Most acceptable. Kept trying to remember what was where when this was Everybody's Hobbies, full of Scalextric, balsa wood and N-gauge locos.
Odd that they don't attract more people here of a lunchtime, given its central location down from the library and the more than reasonable prices. Being a pub, maybe it comes alive of an evening. No complaints about my 89p cafetiere either, enough for two cups. Had I wanted, I could have helped myself to a free satsuma from a bowl on the counter. Oranges aren't only for Wednesdays.
If it was a car -- Renault Espace II.
If they were passing by -- Mike Liggins.

EDitorial ± 20-Oct-2009
TT0910, Week 7
<! - |entrytitle|TT0910, Week 7| -->
Right: just as I left the house tonight, I heard a distant cheer. Turning on the car radio confirmed that Ipswich had scored, going 1-0 up against Watford, I believe. That would be the very same Tractor Boys who've so far won 0 out of 12 matches and lie bottom of the Championship. In the car, I promptly crossed my fingers and turned on the iPod. Quite deliberately, I've not yet found out the final score, but I took it as a good omen for tonight's TT game. I'll read the result once my match report is complete.
First Rene, then Anshul, and now Andy, dragged out of a remote village hall and signed up for the team by Mr Cassy, our bad-backed secretary. He's not played competitively for, ooh, around 30 years, and thus lacks match practice. A baptism of fire, then. Still, I think/hope that he enjoyed his brief stints at the table and that he'll be back for more. Stick in there.
Meanwhile Anshul, no longer the new boy, had already lost a tough 5-ender by the time I arrived. Straight victory in his next game, then went 2-0 down in his final game before displaying some fight, winning 3-2. Nice one.
I got good value tonight, all three games going the distance. Had to really dig in, coming back from the dead twice: p2, w2. Last match against Peter, who'd already scalped Anshul. What a slog. Took ages and ultimately lost in the fifth. Maybe next time.
Needed to win the doubles to grab a draw, and we did, Anshul and me going well together. Very satisfying.
So, let's check out the ITFC match, shall we? I predict ... er ... hey, let's be positive and say that they won. Looking up now: what, Watford equalized four minutes into injury time? Ipswich remain bottom, "the only club in the English leagues to be without a win." Who's not so Keane now?

EDitorial ± 16-Oct-2009
Ipswich Lunches: St Lawrence Centre
<! - |entrytitle|Ipswich Lunches: St Lawrence Centre| -->
Having taken the role of passenger for most of these outings (despite doing most of the driving), Grenvyle's now busy seeking out reasonably priced tea shops in The Swich. His idea to enter the Institute last week, his idea to take a pew in the St Lawrence Centre this week. Maybe he feels an affinity with its former redundant status? There we are in that blue sky photo, bolting a bacon buttie in the belfry. Well, not quite -- this is no cathedral:
like Pickwicks, it's super centrally located on Dial Lane
like Saints, it's piously though singularly titled
like The Sanctuary, it's in a disused church
(consult Simon Knott for more about this place, obviously)
First time I've been in here since buying charity Christmas cards pre The Restoration (misleading capitals). Must have had the patience of Job to do such a fine job. Love that wraparound Letraset wall sermon: blessed are the cheesemakers, and indeed all food producers. Catering here is provided by "Created 4 You", a Social Enterprise, which has the ring (dem bells) of a Good Thing.
Some service, too, as befits its previous existence. He's no Carl Lewis, but G's food arrived before he'd made his way back from the counter. Two-thirds of us went for today's special of "hot meal plus free dessert". Aisle not say no to a big white ADB bap of bacon and runny egg. Top marks for making the breakfast selection available until 1pm, and for making available a couple of PCs with free internet access.
Room on the broom so back underneath Psalm 132:9 to order a coffee of the ho-hum push-button variety. Ho-ho, though, for the heavenly choir of cakestuff. Lead me not into temptation from the cherry slice, chocolate cookie and cappuccino bake. Yielded finally to a wicked custard-yellow iced bun with sprinkles. Excellent value, too, esp. given its plum location. Does it offer the best prices in town? Well, that would be an ecumenical matter.
If it was a car -- Austin 7.
If they were passing by -- John Craven.

EDitorial ± 9-Oct-2009
Ipswich Lunches: Chapters, Ipswich Institute
<! - |entrytitle|Ipswich Lunches: Chapters, Ipswich Institute| -->
Three games of chess he'd started that morning. Three games he'd failed to win. One drawn-out draw was acceptable. Two quick-ish defeats less so. He ruminated on what might be for lunch: pawn cocktail, then chicken a la king with queen of puddings to end? Ah, his endgame had always let him down. Would he pick up the check?
Enough of Grenvyle's morning at his club. After Jack's last week, another Ipswich institution. In fact, this is the Ipswich Institute, no less, where Grandmaster G parades his pieces most Friday mornings. Courtesy of Bobby Fischer signing us in, we're in the blue-plaqued Admiral's House, around the corner from the II's better known premises on Tavern Street. Round there, they have the lending library and Pages Cafe. In here, they have study rooms and Chapters licensed restaurant.
Through to the back we go, pausing only to read the sign advising you to have a word with the waitress if you're in a hurry. Nice touch, and one that other eateries would do well to emulate. There's a free table and the waitress scampers over with menus. I'd been advised that, given its nature, we could be the youngest people in the room. Tick, just about. I envisioned a predictable range of jaded jackets and uninspiring omelettes on offer. Not so. Goat's cheese salad, feta goujons, Thai fish cakes, anyone? Score one for whatever is the noun form of "contemporary".
Friendly lady takes our order -- what'll it be, gents? -- and heads to the shielded corner area that protects us, like an Oz curtain, from core creative catering. Etchings of Olde Ipswiche (Sparrowe's House, Golden Lion) and the odd mirror can't disguise this windowless room's unfortunate lack of character. By contrast, there's a delightfully comfy coffee lounge by reception giving views of trees and St Mary-le-Tower and containing an impressive range of reading material, from The Times to Suffolk Life and, er, back issues of the Saga magazine. Kudos to the lady at the next table, by the way, eating her meal while flicking through The Guardian's Film & Music section.
No need to hurry along the staff, for here comes our grub. My, that's a sizeable plate of salmon & sweet potato fishcakes, new pots and side salad. Yes, please, a vinaigrette dressing would be lovely. Dead classy, here. I'm full -- no dessert for me -- though that doesn't stop Kasparov from attacking a defenceless black forest sponge pudding. My indifferent coffee may have gone down better in the front lounge. Still, good service and quality food in a unique members-only location.
If it was a car -- Alvis TD 21.
If they were passing by -- Nigel Short.

EDitorial ± 7-Oct-2009
TT0910, Week 5
<! - |entrytitle|TT0910, Week 5| -->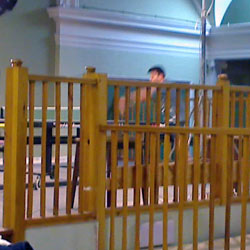 Last time we played at The Baths, the opposition scored a whole lotta love. Tonight's opposition, though, floated down from div 1 last season and so would not be push-overs. To round off a soggy day, things did not go swimmingly.
Andy, fresh from London with his Brompton and first to arrive, was anxious to catch a train upstream. Playing his three games upfront, he floundered in his opening couple before surfacing with style to secure one point. Like Tesco round the corner, every little helps. Then off he paddled.
Which left me and unbeaten Anshul to alternate. We both bellyflopped against Bulldog Bernie -- out of our depth, couldn't fathom him at all -- handing Anshul his first defeat and so welcoming him properly to the Defiants. Against Rob, we both failed to take our chances too. Not going to plan.
That leaves Pete. I'd whipped him 11-1 in an earlier end and was 10-8 up in the 4th end, two matchpoints to me. Lost those, lost the next two. Game to him and into the 5th and decisive end. Great start, 5-1 up, then 10-4. Picture me silently drowning as those six matchpoints floated away. Hang on, there's a lifebelt, yet another matchpoint. Whoops, lost that one too. He won. Couldn't land a single one of my nine, count 'em, matchpoints. Poor.
Thank goodness for Anshul who finally came good, getting a much-needed win before once again we performed our synchronised doubles victory routine.

EDitorial ± 1-Oct-2009
Ipswich Lunches: Jack's Cafe
<! - |entrytitle|Ipswich Lunches: Jack's Cafe| -->
Why do certain buildings / shops / locations become landmarks? Because they've been there, exactly there, for a generation or more? Because they provide a verbal shortcut for getting to somewhere nearby? Because you can happily take them for granted knowing that they'll most likely still be around in another 5/10/25 years? I put it to you that Ipswich landmarks would have to include a brace of bridges, (a) Orwell and (b) Ferodo, plus Martin & Newby (I know, I know), and maybe possibly arguably perhaps this week's venue: Jack's Cafe. Surely there's no other eatery from the 1958 Kelly's Directory of Ipswich and Neighbourhood that's still operating in 2009? That's longevity.
You must know Jack's. It's the caff that's marooned in a huge orange island of try-something-new at the bottom of London Road, acting as a surrogate West Gate for the town. Bike parking is provided by a lean-to wall, while round-the-back car parking is plentiful thanks to Senor Sainsbury. Through the hallowed front door we go, underneath that bold lettering and very deliberate apostrophe, and the interior goes back and back and back, like Al's Cafe.
Like its (one-time?) relation, the Neptune, they don't bother with individual menus. Instead there's a series of vast boards offering all day breakfasts and full blown meals from the traditional (liver & bacon, sausage & onion pie) to the Anglo Italian (lasagne and chips). There's booze, too, if a Bud or Becks is your cup of tea. In homage to the inspirational EBCB -- not the Evangel Bible Church of Berkeley, but the fabulous eggbaconchipsandbeans, mine's the E,B,C&B with a choccy Yazoo on the side. An unverified sighting of Nesquik was claimed. Order at the counter then hold on tight to your raffle ticket. Plate arrived, squirt of sauce, food consumed, job done.
At Jack's, a man can sport his tattoos and dwell on odd-numbered pages of the Daily Star while feasting on fried food. Cliche, of course, since the single blokes also shared the cafe with couples, children, you name them. All bonus areas ticked too with kids' meals, newspapers and free (!) WiFi, much like the Mega Byte, never mind the tournament play Indiana Jones pinball, fruit and ciggy machines.
Too full for even a KitKat, I chose a milky coffee: no microwave needed here, as the lady used her un-little urn to top up a mug of milky Nescafe. Next time, I'll stick to the tea. Big banner out front talks of the £22 bed and breakfast, inc. satellite TV. Usually they'll accommodate you upstairs. If they're busy, it's down to the basement at Jack's.
If it was a car -- Standard Vanguard.
If they were passing by -- Jack Duckworth.