EDitorial ± 30-Nov-2009
TT0910, Week 12
<! - |entrytitle|TT0910, Week 12| -->
Thanks to Andy Cassy for this guest report:
Well, it was worth turning out after all - just.
Anshul got off to a flying start vs Long Junior (Michael). Poor PC Andy up against their best player, Tony, getting 11 points (in total) between the three games before game ends. Then Long Snr vs Cassy – close but still couldn't get past three ends either.
Things happened rather quickly this evening, with all games bar two needing the minimum 3 ends to conclude. Come 21:30 we'd finished and on our way to the pub having bagged a total of 3 points between us (Anshul 2, Andrew 1 and Andy 0) plus a well earned surprising doubles against their best two thanks to Anshul's dead-drop shots literally leaving Denis standing.
So we are just about holding our own and top of the bottom half or thereabouts.

EDitorial ± 26-Nov-2009
Ipswich Lunches: Berridges
<! - |entrytitle|Ipswich Lunches: Berridges| -->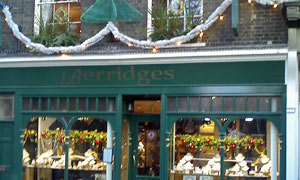 On a wet-as-wet-can-be day back in July, Team Light Lunch descended on a home furnishings store, Glasswells, not to behold the bedding but to blag a butty. On a particularly parky day in November, TLL transported itself to a jewellers, Berridges, not to have a butcher's at the bling but to bag a bite.
Not a long thoroughfare is Dial Lane. Nonetheless, this'll be our third time here after Dickensian Pickwicks and the landmark that is the St Lawrence Centre. There's a teensy clue as to the class of clientele from the board outside proclaiming "today's price for 9ct gold": £5.22 per gram, if you need to know. Almost as an afterthought, that same board mentions the (hidden away?) coffee shop and restaurant upstairs. I seriously wondered if we'd find a seat -- dining area is nothing if not compact and bijou -- but the boy Grenvyle had done well to land a corner table. It's ours as long as we vamoosh by the next reservation at half-one.
All very lovely inside and dead Christmassy. Why, even the condiments are seated in their own petite wooden sleigh stroke cruet. Sold on the season, I order one of the specials, the turkey & stuffing & cranberry & mayo sandwich with an Appletiser on the side. Could have had some blinis, it's that posh. Looking around, there's a light lorry load of ladies who lunch, plus us. Since we're effectively on a timer, I ask the nice lady waitress why the clock directly above us is a good five minutes out. Oh, it loses throughout the day, she says, so they put it fast.
Sarnie is served and is sumptuous, crammed with flavour. Nice here, among the tasteful artwork and people of influence. I believe this place was a breakaway from the long-gone and much-missed Croydon's restaurant. Certainly they're from the same mould. One fine tradition is the cake trolley, a sweet-toothed tumulus filling the centre of the room like a confectioner's dilithium reactor. Huge choice, all good. Plump for the bakewell tart -- ooh, yes, slightly warmed, please, with whipped cream. No need to rush, says the lady, we've moved the reservation to another table. And yes, a pot of coffee would be super. It's good. As long as you've got the money, it's very good.
If it was a car -- Rolls-Royce Silver Cloud.
If they were passing by -- Prunella Scales.

EDitorial ± 24-Nov-2009
TT0910, Week 11
<! - |entrytitle|TT0910, Week 11| -->
Home v. Britannia Sparrows tonight featuring the non-playing John Sparrow. Which took me back to the Duryard halls of residence around 1986, listening to late night John Peel and singing along to a track by The Mighty Sparrow. Song was called Invade South Africa. May well have discussed it next day while sipping coffee in the Nelson Mandela lounge. Not on Spotify, that track, so I've had to settle for a similar effort called Isolate Racist South Africa. Where's the World Cup next year?
Back to the not quite so mighty Defiants ping-pongers:
2 for Anshul -- beat Puffing Billy Boyland in straight ends
1 for Ed -- could only beat Bill in the final singles
0 for PC Andy -- good in the warm-up, less so in the proper games
Ed and Anshul, previously unbeaten as a doubles pair, faced the power of Colin and Mark. Went 1-0 down, 2-1 down, into the fifth end and a scraped 11-9 win: oh yes!

EDitorial ± 19-Nov-2009
Ipswich Lunches: Co-op Education Centre
<! - |entrytitle|Ipswich Lunches: Co-op Education Centre| -->
Does 19th November ring a bell? Did you remember to send a card to both Jodie Foster and Meg Ryan? Were you still mourning Schubert's death, or in the loo thinking about World Toilet Day? You may not have realised that 19-NOV-2009 (in VAX speak) was Social Enterprise Day, part of Enterprise Week, a constituent of Bridge Month in the Year of Kirk(2).
Being decent folk, we decided to join other right-thinking people and partake in C4SED, aka Co-operating for Social Enterprise Day. If you want to learn about getting along, there's no better location than the Co-op Education Centre. What's that, you say? There's a cafe run by the Princes Trust? It may only be in operation one day a year but that level of presenteeism puts Brigadoon to shame.
Their place on Fore Street is busy and bustling today with a whole register of schoolkids, and the makeshift caff within has as many assistants as customers, reminiscent of over-the-road Martin and Newby's in their heyday. Order your lunch from a single sheet large type laminated menu, a less-is-more attitude that the likes of Blends should consider. Bargain bacon butties and toasties on their way, our Co-op condimented is hassled by the inevitable raffle ticket seller. She's very nice, actually -- no sir, the star prize isn't a speedboat -- and it's all for a Good Cause. Odd blinged-up bloke at the next table: that'll be David Goldsmith, the current mayor of Ipswich. From teashop to coffeehouse, he won't leave us alone.
We're bombarded by youths wanting to help, so it's only right to summon up tea and sweet stuff, in my case a lovely lemon cupcake, possibly direct from the Co-op's finest range. Tea seems to be accompanied by a random number of biscuits, though nobody's complaining. There's business advice upstairs, handmade crafts downstairs and that slightly ramshackle feeling you get at a church fete. We tally up, press money into helpers' hands and depart, having done our bit.
Home, knuckle down to work, phone rings: Is that Mr Broom? It's the Co-op Education Centre here -- you've won the hamper.
If it was a car -- Citroen 2CV.
If they were passing by -- Stephen Tompkinson.

EDitorial ± 18-Nov-2009
Light Lunches: Woodlands, Hollow Trees, Semer
<! - |entrytitle|Light Lunches: Woodlands, Hollow Trees, Semer| -->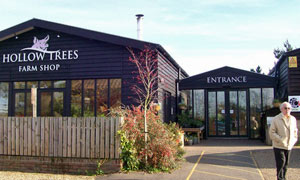 Presenting a further guest review by Margaret Broom following on from:
Woodlands Coffee Shop is part of Hollow Trees Farm shop which is at Semer in Suffolk. The farm shop has been in existence for years, although now in a new building, while the coffee shop is a relatively recent addition.
This reviewer has visited several times now, and is always impressed with the food and service. The cafe contains several tables while in the corner there are some easy chairs which can be used with a smaller table for food or drinks or while waiting for an empty table, and an outside area which is lovely in the warmer weather. Today we had to wait for several minutes before we could sit down. The place is very popular and often there are small children there with their Mums.
On this occasion I had carrot and parsnip soup with a chunk of wholemeal bread and butter. Their soup is wonderful - thick thick thick with a lovely taste and some chunks of carrot and red hot to boot. My husband had Stilton and bacon quiche which came with salad and coleslaw, and was judged to be "very tasty". The youngest member of our little group (who had stated his preferences on the way there) had a child's cheese sandwich which arrived with some crisps, a chocolate milk shake and most of the icing off one portion of chocolate cake which we shared. The cakes on display always look great. He likes the waitresses (and one particular one!) in their pink aprons who are very pleasant. Service is swift and thoughtful, with a smaller beaker brought out for the milk shake drinker in our midst. There are lots of options on the menu with daily specials which are all reasonably priced. Once we bought some cupcakes decorated with little pigs from the counter which were nice but haven't seen any lately unfortunately.
So thus refreshed, a stroll round the shop with its vegetables, jam, Christmas cake display (at least at the moment), chilled food, and lots of other things, and a dinky little watery stream in one corner where a lone goldfish has been sighted once or twice, and time to emerge into the rural surroundings of the car park. One (not meant to be) amusing notice on a wall is for "Less Able Parking" which I really think is aimed at me.
If it was a car -- Mercedes A Class.
If they were passing by -- Clarissa Dickson Wright.

EDitorial ± 17-Nov-2009
TT0910, Week 10
<! - |entrytitle|TT0910, Week 10| -->
Up at the Camelot Dome tonight to face the Merlins, or, as we'd call them in my house, the Melvins. Another new team combination of:
Anshul -- two easy-ish wins then lost a corking match to hot 'n' cold Paul
Ed -- undefeated, somehow, though helped by a Cassy's worth of nets and edges against Andrea
Rene -- the evening's star with 2 out of 3, tripling his season's tally and inevitably losing the other game in the fifth end
Keenest to play doubles was on-song Rene joined by hat-trick Ed. Close but not close enough. Still, a most pleasing result.

EDitorial ± 13-Nov-2009
Felixstowe Light Lunches: Bonnet Cafe & Chocolaterie
<! - |entrytitle|Felixstowe Light Lunches: Bonnet Cafe & Chocolaterie| -->
My semi-official list of Felixstowe coffee shops lists a full 35 places. A handful of these -- farewell Froffee, so long Silks, take care Tchibo -- are no longer with us. Most of them steadfastly remain. First ever one to which we took the light lunch roadshow was the grandaddy of them all, the venerable Bonnet.
Our previous visit, long ago on a sunny September in 2007, was decidely underwhelming. Word on the prom, however, was that the old fella was Under New Management. Handy, then, that another old fella, our chauffeur Mr Scott, was offering a limited offer lift to the seaside. Twice round the block before we secured a parking spot on Wolsey Gardens, quickly up to the cashpoint, then out of the rain and into the warmth of the cafe.
Free table upstairs by the window with a fine view of the China Garden and the anonymous cabbies' across the street. Wall art is in conjunction with the Reunion Gallery and is thankfully free of beach huts. Hey, here's someone to take our order already, and G's teapot is scaldingly hot, a sure sign of improvement. Leaf tea (!) with strainer and extra water too. James White has fallen to Fryers of Ardleigh in the battle of the locally sourced juices.
Revamped menu seems more reasonably priced now with quite a few firm favourites, as Frank Sidebottom would say. Chilli for him, sausage & red onion baguette for me. Does the job nicely on a grotty day. Time enough for a top quality Americano -- hot milk on the side, naturally -- and a moist more-ish slice of Victoria sponge, peculiarly served on what looks like a pilau rice silver plate.
Personal preference would be to kill the piped Richard Clayderman-esque music, otherwise it's all good. Friendly, filling, and most pleasant. Hats off to Bonnet.
If it was a car -- Jaguar XJ6.
If they were passing by -- P.D. James.

EDitorial ± 6-Nov-2009
Light Lunches: Black Tiles, Martlesham
<! - |entrytitle|Light Lunches: Black Tiles, Martlesham| -->
Two of us were free on a Friday. Both of us had two legs and two wheels at our disposal. One of us had a two-for-one voucher from the EADT. Boarding the Brompton and Boardman bikes, we set off past Tesco and cut along the bridleway that runs parallel to the A12. Yonder, behold the Black Tiles.
No excuse for not coming here before: sure, it's a pub, but that didn't stop us doing the Scrabble-icious Cherry Tree or the Chef & Brewer Red Lion. Also, this completes our ABC tour of the hip-hop Yeo chain that includes:
Had to declare our BOGOF vouchers upfront (gets us the cheaper main course free) and book a table, and in we're taken to the airy dining area. Winter berry J2Os all round would seem to be the order of the day. Specials include partridge, gnocchi and skate, alerting you to the fact that you're not at Jack's. More humble fare for us: fish for him, pie for me.
Unlike Blends yesterday, service takes its time, though this is a horse of a different colour. Good half-hour for food to hit our table ... and it's quality stuff. Super steak and mushroom pie is generously sized and filled with Laughing Gravy. Felt a Mr Pastry warm glow inside as I slowly worked my way through it, chips and peas and all. It's what November was made for.
If it was a car -- Lexus ES.
If they were passing by -- Lynda Bellingham.

EDitorial ± 5-Nov-2009
Ipswich Lunches: Blends
<! - |entrytitle|Ipswich Lunches: Blends| -->
In the year Y2K, I became an early adopter and spent several hundred quid on my first proper digital camera, a snazzy 1.3 megapixels (!) Kodak DC240i in a fetching iMac translucent blue. I loved it. A year or so later, out with Eldest, we contrived to drop it onto the pavement. Repairs at Jessops cost me £120 -- ouch -- and I had a consolation cappuccino at the nearly next door cafe, a place called Blends on the Buttermarket.
I was a demi-regular here once, when I was IT-ing in town, hence its mention in my original list from 2001 with these prophetic words:
Opposite BHS is Blends, normally with a couple of tables outside... Can get busy. One of the few places to offer a pot of leaf-tea, and with one of those removal filters to prevent stewing. Try the sizeable Bakewell tart.
Glad that Grenvyle got here first to secure a sit-down place, 'cos it's heaving (pinned to the counter is a sign describing their next-in-line seating policy). Although he's been here for all of five minutes, he's already pouring his tea and nibbling his sarnie. There's pages of sandwiches, jackets and hot/cold wraps from which to choose, and it's a tough call when the waitress appears. Before you know it, my drink (bitter Fentiman's lemonade) and food (sweet chilli and chicken baguette with unadorned salad) appear. My, they're efficient here, ideal if you're pushed for time.
Plates are cleared away -- people are waiting -- and dessert orders are made. Breakfast menu also looks good, and includes Staffordshire oatcakes. Couldn't resist the fatboy option of the Belgian waffle with warm maple syrup & dollop of Movenpick ice cream: yum. Hey, I'll bike this off on the way home. Wide ranging coffee selection too, and my double shot Americano should gain me automatic admission to Timmy Mallett's Wacaday. Still going strong: nice one, Blends.
If it was a car -- VW Jetta.
If they were passing by -- Anne Charleston.