EDitorial ± 30-Aug-2010
You've Had Some Cowboys In Here
<! - |entrytitle|You've Had Some Cowboys In Here| -->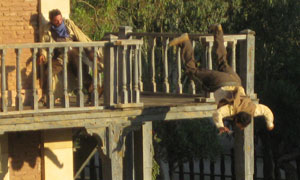 Doing a wee bit of Googling before our Spanish hols, I discovered that we'd be fairly close to Mini Hollywood. Except, my well-informed colleague told me, it was now called Oasys and incorporates a zoo. Former name gives you more of a clue: it was a purpose built film set, initially for Sergio Leone's spaghetti westerns. Ay-ee-ay-ee-ay!
Presumably 'cos it was much cheaper than filming on the USA/Mexico border and because of the similar mountainous desert landscape, a full size cowboy town was constructed near Tabernas in Andalucia. Jail, bank, saloon, general store, the whole Kit Carson and caboodle. Clint himself, plus poncho, was here to make For A Few Dollars More. He strode through the dust of these very (fake) streets. Check out the comparison shots on my mate Ray's website.
Despite the 30-degree heat, out we drove, on and on until there it was. Paid our monies plus a bit extra to park in the shade, walked up a path, and turned right onto Main Street. It's quite something. You can stroll into the sheriff's office, have a drink in the Yellow Rose, and admire the many film posters on the walls of the movie museum.
Best of all, though, is the three-times-a-day show. Crowds gather around the town square, trying to keep out of the sun and still get a reasonable view. Sheriff appears driving his wagon, and attempts to escort his reluctant long-coated prisoner into jail. Punches are thrown, more horse-riding baddies turn up and loud shots are fired. Yee-hah! There's even a hanging to entertain the kids, though thankfully the villain isn't killed. In fact, presumed dead, he recovers but is then shot dead.
Kids were that impressed that we saw it twice, once mid-afternoon and again for the final pre-closing performance. You watch the action and instinctively feel the need to go buy a rifle or pair of pistols from the gift shop. Until you see the prices, that is, and emerge with a small penknife instead.

EDitorial ± 26-Aug-2010
Felixstowe Light Lunches: Wimpy
<! - |entrytitle|Felixstowe Light Lunches: Wimpy| -->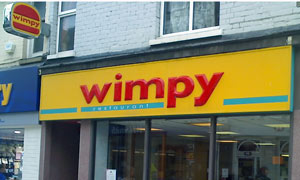 Ah, for simpler times, when you'd turn on the TV, flick through the latest Look-In while waiting for the set to warm up, finish off that can of OneCal and settle down to watch Lucinda Prior-Palmer compete in the Horse Of The Year show. No Xboxes or Big Macs for us back then, I can tell you.
Though we did have the Wimpy. There was one in Ipswich somewhere between Youngsters and the ABC, and Andy, as a lad, was taken to his local joint in Sheffield. Down in Felixstowe, we'd agreed to meet up at the always reliable Sangha when I spotted it, right there on the high street. Its patty-powered cloaking device temporarily disabled, those lower-case ketchup letters on a mustard backdrop beckoned me in. I texted Andy: C U @ the Wimpy.
My my, busy busy within. Fortunate to get a table near the front, though it goes back further than a reminiscing relative. Very friendly girl presented me with a couple of menus: these aren't just menus, they're glossy laminated catalogues of saturated temptation. In a nod to the current day, every item is given a thorough nutritional breakdown. Choices, choices. Meantime, impressive vanilla shake for me, freshly made smoothie for him.
Torn between the pork rib and the retro spicy beanburger, I resist the chance to order a "bender in a bun" and go with the Club & Chips. That'll be 907 calories of bacon, egg, cheese, burger and lettuce (the goodness) in a layered toasted sandwich. Less of a sandwich, more of a manwich.
Doesn't this section include the term "light lunch"? Not today, my friend. Some foodstuffs hit the spot; this plateful (distressing metaphor alert) clubbed it like a baby seal. No toasted teacake necessary, no sir. I see from the Wimpy website (really) that Norfolk has a solitary site while Suffolk boasts five of the fellas. Find one and feed your face like it's the 50s.
If it was a car -- Armstrong Siddeley Sapphire.
If they were passing by -- Mark Kermode.

EDitorial ± 9-Aug-2010
It's About The Taking Part
<! - |entrytitle|It's About The Taking Part| -->
Sufficient time has now passed for me to make this announcement: I did not, repeat not, win the Ip-art short story competition this year, 2010. That will have been obvious to anyone passing by the Ip-art website but I've only recently digested this nugget. Time to drop it and move on.
Indulge me further while we run through a potted history of my Ip-art fiction:
So having been accelerating downhill for the last couple of years, it was gratifying to slam on the literary brakes and find myself shortlisted this year:
Had an enjoyable if tense evening at the groovy UCS building, back at the end of June, in the company of the judge, Kate Pullinger. After passing a quick comment on each of the dozen entries, Canadian Kate named the runner-up as Sheila Preston -- well done, polite clap -- and the winner as ... drumroll ... Kate Thurlow. Hearty congrats to Kate, who I've seen at more than one local writers' cafe.
Didn't quite manage to get myself sorted for the Guardian's summer fiction comp this time around, nor indeed the more parochial Let's Talk mag. Bit like the footy, there's always next year.

EDitorial ± 4-Aug-2010
Frank Walter Talbot RIP
<! - |entrytitle|Frank Walter Talbot RIP| -->
A few bits and bobs that come to mind when thinking of Mr F.W.Talbot, my Grandad, whose funeral we attended on Wednesday 4th August:
that finger trick -- was he really pulling the top off his thumb?
Town & Country -- during the inevitable olde-fashioned party games at Christmas, he would cheat terribly while playing Town & Country, claiming, for example, that Asia was a country beginning with "A"
1980s European Cup Finals -- me and big brother cycled up to Hatfield Road to watch the footy with him
10p pieces -- mercenary highlight of Christmas was receiving a sizeable stack of shiny silver coins
Walnut Whips -- and we always gave him these in return: wouldn't be surprised if he'd once mentioned in passing that he quite liked Walnut Whips, only to then get them as gifts forever after
For posterity, here's a brief biography from his order of service as written by his three children:
Dad was born in Anness Yard in Ipswich in 1917, later moving to Austin Street, both places being known as "over Stoke". His mother having been a former Salvation Army officer, he was sent to Sunday school at the Citadel in Tacket Street with his brother Fred, his other brother Maurice having had polio as a child and could not get there.

Dad joined the YP Band and later at 16 became a Senior Bandsman. He was also Singing Company Leader when he was 19.

Dad had a varied working life - he became a policeman in 1938 and was stationed in Grays in Essex initially, later being called up by the Government, and being sent to the Suffolk Regiment Gibraltar Barracks in Bury St Edmunds. Then it was off to Africa where he helped train the King's African Rifle Brigade. He did say that the uniform he wore was washed with so much starch he dare not turn his head too quickly in case he cut his throat! One Christmas morning while he was there, he saw people on the march and spied the Salvation Army flag at the head of it; they had come from a village some way away and strange and various instruments were being played. After this he was a Camp Labour Officer at a German prisoner of war camp at Debach, until the Germans were repatriated.

He then worked for Ipswich Borough Council and Suffolk County Council, but while waiting for the first job he was a mortuary assistant for one week only, as the pathologist was asking for things to be done that he could not face!

Other short occupations were raking over the ashes at the Speedway circuit after the races, and being an ice-cream seller on a bike to earn some money.

He was the Treasurer of Cancer Research locally for some years, became the President of the Ipswich Co-operative Society as it was then, and also with Mum took on the job of Divisional Envoys with the Army, covering several corps in the area and taking meetings. He always provided for, and took an interest in, his family and we will all miss him.

Margaret, Jean and Peter.
A full life. RIP, Frank.