EDitorial ± 20-May-2011
Felixstowe Light Lunches: Cafe On The Corner
<! - |entrytitle|Felixstowe Light Lunches: Cafe On The Corner| -->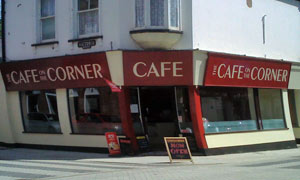 That "x" in Felixstowe tells you that this is one angular town. We've had previous pontification on the scalene Triangle. Being beside the tangent of the prom-prom-prom makes you acutely aware of the perpendicular normal of The Pier. Criss-crossing streets cause a volume of vertices, meaning it ain't hard to find a cafe on the corner. There's the righteous River Of Life, super Sangha and outstanding Oaks. Bottom of South Hill sees The Conservatory square up to the aptly named Corner House Cafe: wonder what they'll think to the geometrically monikered Cafe On The Corner?
On such a glorious day, the sunnier spots nearer the door are spoken for; no matter, it's the cheap seats for us. Those old-fashioned dark red menus are as Felixstowe as Charlie Mannings (RIP). Driver and passender both opt for all-day breakfast variants -- nowt too fancy here -- and place our orders at the counter. Might be a bit of a wait, says the man: busy today. Not surprised given the mightily reasonable prices. Like the original kiddies' artwork on the wall.
My sausage, egg and chips combo, embellished by proper branded condiments (Herr Heinz and Senor Sarsons), is well worth the none-too-protracted wait. Milkshake is more than acceptable too. Glancing up, my heart skips a slight beat when I see the nice lady from Kev's poker club. Clear that all the best people and finest cardsharps come here. Wasn't very gentlemanly of me to remind her that I'd knocked her out with a pocket pair. Of 2s, natch.
Laden with carbs, there'll be no pudd, just a filter coffee. Man heads over to our table: sorry, it'll be 10 mins wait for a fresh pot. Ah: straight coffee is fine, thanks. Sixty seconds later, waitress appears with my mug and 10p change. I take a sip. Should have hung on for the good stuff. Never mind: top value, central location and decent grub. If you're looking out for it, you can't miss it -- it's the one on the corner.
If it was a car -- Citroen Berlingo Multispace.
If they were passing by -- Victoria Coren.

EDitorial ± 9-May-2011
Ipswich Lunches: Theta, UCS
<! - |entrytitle|Ipswich Lunches: Theta, UCS| -->
Gorgeous day down at the docks, oops, waterfront. Locking my bike, I read that UCS won't be remotely to blame if it ain't there when I get back. Like Smiffy's mate, George Michael, you gotta have faith.
Ian Fletcher from BBC's 2012 -- I mean Andy from BT's Grassroutes -- is already at the counter, Brompton in tow. To cut a long story short, we're in Theta, the ground floor cafe at the base of the flash University Campus Suffolk building. Not sure what happened to Couture, the posh brasserie opened by Tony Hadley, though I'd guess they didn't strike gold. Inside there's red & white plastic chairs & tables by the score. Normally they'd have other tables outside but apparently they're on loan to Kai, the UCS bar along the quay. No matter, we'll drag some seating out into the sun.
In keeping with Wicked, their underwhelming eatery upstairs, you're in luck if you'd like to test your knowledge of the Ginster's product range. Them thar students can also go for an Urban Eats prepacked sarnie. Thankfully, before we all head back to Greggs, I see that they also make baguettes to order. Ten-inch brown, please, with tuna mayo. Sorry, only seven-inch white. Er, I guess that'll do, thanks. Handmade and on a plate, good. Not a hint of a leaf or a crisp, less good. Drinks-wise, it's apple or OJ, else it's the vending machine over there. Oasis fruit punch for £1.20 is a reasonable price.
Outside on the patio-type raised area, life is good and the vista of bobbing boats is quite something. For once, nobody's in a hurry. Well, maybe that pair of joggers. Inside, if your brain needs feeding, there's artwork by John Fazakerley et al. Chocolate tiffin slice wasn't the wisest option under a fiercely beating sun. Asked for a straight coffee: glad we weren't kettled.
If it was a car -- Lancia Theta.
If they were passing by -- Gary Kemp.

EDitorial ± 6-May-2011
Ipswich Lunches: Greggs
<! - |entrytitle|Ipswich Lunches: Greggs| -->
Friday May 6th, 2011. Dear Diary, strolling through the centre of our busy little market town this lunchtime, I did but feel a shade overdressed in my humble T-shirt and lightweight Gap cargo trousers. Another day of this wretched heat. Another day without rain. As ever, my companion and I must travel in our eternal quest for both liquid and nourishment.
'bout halfway between highbrow Museum Street Cafe and lowbrow Star Express is 51 Westgate Street, once home (circa 1967) to J. Sainsbury. In 2010 it was GW Timeless Tailoring. In 2011 it's Greggs, "the home of fresh baking", reg'd trademark. Quartet of high chairs in the corner plus hot drinks has ensured their priceless inclusion in the expanding list.
Instant impression is, unexpectedly, one of cleanliness and space, unlike, say, Baker's Oven in that Felixstowe, though I've read that Greggs bought out the BO chain a while back. Savoury options abound. Free sample sliver of their sausage and bean melt would have made Gregg Wallace smile. Size being everything, I'll take the chicken club baguette: Kermode warning, contains mayo. Good 'n' fresh.
Occupying exactly half of the available seating, there's visual candy as we observe the beautiful people of Ipswich entering and exiting Superdrug. Andy's succumbed to the £2.99 bloomer meal deal, inc. crisps and drink. Couldn't have a meaningful argument with these prices. Pocketful of change left over for a more-ish maple and pecan swirl and a perfectly fine push-button latte. He's so committed to quality, that Mr Gregg, that he even hand-twists his yum-yums.
If it was a car -- Ford Kuga.
If they were passing by -- Greg Dyke.

EDitorial ± 3-May-2011
Open The Priesthole
<! - |entrytitle|Open The Priesthole| -->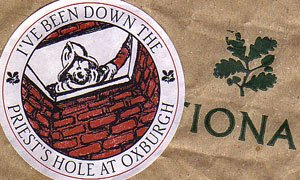 Sure, there are superficial similarities:
yes, they're both heavily fortified
yes, they're both well located
and yes, they both have hidey holes, as we'll see
But let's be as clear as an April sky: Oxburgh Hall is no Abbottabad and the NT is no ISI. There's nothing shadowy about the Trust's intelligence.
So happened that on the big news day that Obama got Osama, four-fifths of the family found themselves in Fry's County. There before us, one extremely well-mannered and remote moated manor house. Time to take the tour. Don't sit on this, don't touch that.
In the corner of one upstairs room, there's a small queue waiting to take a gander at one of the house's star turns, their very own priesthole. Females don't fancy it. We'll catch you up, I say, clinging on to The Boy. This'll be good, I say.
Dial the combination
Open the priesthole
And if I'm in I'll tell you what's behind the wall
— Pink Floyd, The Final Cut
Very soon, we're in the first anteroom. The Boy is less than keen. Down the steps emerges a family, including a young girl. If she can do it, I whisper, I'm sure you can. NT guide points out that a Catholic priest may have hidden for up to two weeks. Our turn. Come on, I say, we'll take a quick look.
Up the steps into the second anteroom and there's the hole in the floor. Right, I'm going down, I tell him. Squeezing through the space, I realise I've made a dreadful mistake. I don't feel good. I stand up (there's plenty of headroom) and take a deep breath. No windows, obviously. I need to get out. I'm coming down too, says The Boy, joining me. No sooner has he come through then I'm scrambling back up. Taking his sweet time, here comes The Boy. My panic wave slowly lapses.
Well done, says the NT guide, looking at The Boy. Phew, thanks, I say, accepting his "I've Been Down The Priest's Hole" sticker.