EDitorial ± 26-Apr-2013
Ipswich Lunches: Just Eat, Hospital
<! - |entrytitle|Ipswich Lunches: Just Eat, Hospital| -->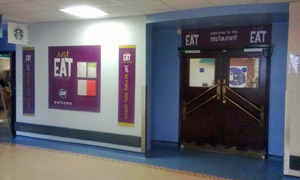 All credit to the lad Andy. He's been busying himself creating a Googlemap of cafes still to visit. That'll be dead handy. While it would be super to visit Sizewell's Tea Hut or Stratford St Mary's Hall Farm Cafe, that would require not only an ultra extended lunch break but also an automobile. Today, we have the bicycles. What's nearby that we've not done?
Twenty minutes later we're locking our 2x2 wheels to the stacks of racks off Heath Road. Last week was M&S, this week it's A&E. Andy confidently leads the way past WH Smith and a Costa -- there's a thing you see -- then 90 degrees right and straight on until you're in need of a glucose drip. Three years back the two of us did Cafe Tempo, since renamed; this time it's the turn of Just Eat at the Courtyard Restaurant and Coffee Lounge, or JEatCRaCL for short.
Quite hungry, what with the cycling and the walking. What we have here is an old-style department store restaurant with pre-served portions of lasagne, battered cod, etc. Or some pre-packed sandwiches. Everything's pre something. Not a lot grabbing me, I ask what the hot filling to accompany the baked potato: serving lady points at a big ol' tub of baked beans. Guess that'll do. Serve yourself, extracting spud from mini oven, cutting, adding butter and ladling them pulses. On the plus-side, there's some free greenery to lessen the orangeness. On the doubleplus-side, jacket plus beans with a 600ml Pepsi set me back less than £3. More than reasonable.
Pay the cashier then take tray through to, wow, a rather nice open room with space to spare. Even a go-faster purple stripe around the wall. There's Andy tucking in to his jam pudding with custard like the ex-GPO employee he is. He's skipped savoury, the minx. Some of the punters obviously work here while others, bless 'em, are visiting. As you'd expect, it's an odd atmosphere.
Best part of the experience is to come. As well as a cheapo vending machine, JEatCRaCL includes a mini Starbucks franchise. They can't offer me any chai tea, sadly, but the latte is hot and strong. Those pre-sliced cake portions aren't doing it for me, then I spy various produce from north of the border Tunnock's. Not sure which of wafer or teacake or snowball to have so let's take the lot. Yum. Very much in keeping with the spirit of Aneurin Bevan.
If it was a car -- Ford Escot Iris GT.
If they were passing by -- Charlotte Salt.

EDitorial ± 25-Apr-2013
TT1213, Week 4
<! - |entrytitle|TT1213, Week 4| -->
OK. Final game of the season. We're in the how-did-we-get-here position of needing to win this 10-0 in order to guarantee remaining in div 2. That's really not going to happen given the quality of the opposition, our buddies from Capel.
Turning out tonight are Levi Strauss Matt, Mitre James, and, in a change from last week, Marcus Evans Ben. Game started late -- wrong turn for Kennedy and Ed en route -- and didn't get any earlier as we went on. In brief:
0/3 for Ed, on the wrong end of multiple deuces and underperforming
0/3 for Steve, making Ben and Matt work hard for five-end games
3/3 for Kennedy -- star of the night, digging in hard to pip Matt and James in more five-enders
Way past 11pm before the doubles started. Steve generously opted to score leaving Ed and Kennedy to battle James and Matt. Another five-ender, of course, match completing sometime around 11:30pm with E&K emerging victorious for a change. A few more doubles wins and we wouldn't be staring relegation in the face. Been a tough season.

EDitorial ± 20-Apr-2013
Light Lunches: M&S Simply Food, Martlesham
<! - |entrytitle|Light Lunches: M&S Simply Food, Martlesham| -->
Of a lunchtime, you can see them, the BT drones, gliding along the well-worn path out from Adastral Park, right along Gloster Road and down to the big Tesco. Some will take a brief detour to purchase pet supplies. Others will gawp at the gadgetry in Bennetts. Yet all will return along the rut clutching their biodegradable meal deal bag.
As of April 2013, a new offshoot may well form. Lo & behold, ladies & gents, M&S has sprung up in Martlesham Heath (Glasswells was here before moving to Ipswich). However, don't go there looking for undies or slacks. This is Simply Food. And, to judge by that crammed car park -- and much like Thomas Hardy's novel writing -- the crowd are loving it.
Soggy day, but less than five mins on the bikes: wot no racks? Cafe occupies the bright and cheerful windowed area to the right in an infernal L-ish shape. Too tardy for the breakfast bloomers -- bit like McD's, they stop on the dot of 11:30am -- so it's soup or sarnie. Since I'm paying the best part of £7 (!) for my pre-packed chicken and peppers toasted sandwich + crisps + OJ, it better be good. Yep, sure is. Every table's taken with oldies and/or mums and pre-schoolers. Yet somehow there's barely a queue -- are you listening, Mr. Waitrose?
Most pleasing cake selection, from fresh pastries to buns-to-go. Since we're here in an official capacity, I'll splash some more cash on some of that there carrot cake. Andy's heard of a prize winning barista lad on these here premises. I think that's him, Charlie, stacking plates while a trainee girl spills my OK-looking flat white. Still goes down v. well with the slab o' cake. In what I'd hazard is a limited offer, it's help yourself to a Percy Pig, too. So, pretty good coffee is now to be had at M&S and Next Costa, equidistant from the workplace. Both have loyalty cards. It's a problem I'm happy to have.
If it was a car -- Jaguar Mark IV.
If they were passing by -- Rosie Huntington-Whitley.

EDitorial ± 19-Apr-2013
The Latest Lidl Leaflet
<! - |entrytitle|The Latest Lidl Leaflet| -->
(short story published on FlashFlood on Friday 19-Apr-2013)
Ah, there's Danny now with the latest word from Mother. Max hears the letterbox pushed open with a squeak. He reminds himself to spend some of his per diem on a can of WD40 (£1.89 for 300ml). Danny's footsteps retreat.
Although they've never met, Max has come to think of that delivery boy as "Danny". He'd like to say hello, exchange a few idioms. Mother said to assimilate. Mother also said to lay low.
Max closes the front room blinds, pads into the hall and counts to 50 before easing the latest Lidl leaflet from the slot. Taking a seat at the kitchen table, he runs a warm iron over the folded sheets. What are Mother's instructions this week?
There are bedding plants on the front cover. These mean nothing to Max. Inside are office supplies. He thinks back to that October afternoon when, tucked away on page 3, he found the A4 guillotine (£9.49, with paper guide) and duly carried out his mission. A fine, bright day.
Shirts and socks, "Comfortable And Casual", occupy the centre spread. His gaze comes to rest on the smiling lady in her seamless sleeveless top (£3.99, sizes 10-24). Max closes his eyes to better picture his wife's face. He's been too long in this country.
Overleaf is a pets special. Max blinks twice, breathes deep and scans the page. After all these months, there it is, the electronic cat flap (£64.95, works with your pet's existing microchip). Mother says come home.

EDitorial ± 16-Apr-2013
TT1213, Week 15
<! - |entrytitle|TT1213, Week 15| -->
It's really late -- stupidly late -- so let's keep this short. Two games left, both against Capel B, who knows why. We need points to stay up; they want points to go up. Turning out for them are
Matt
The Snack, "Goodness Me"
James
and, bringing her dad along to spectate,
Holly
. In brief:
Well, Holly beat Steve who beat James who beat Ed who beat Holly who beat Kennedy. Bit more detail required:
0/3 for Kennedy -- nought! -- snatching defeat despite matchpoints against Matt and James, both five-enders
1/3 for Ed, overcoming Holly then snatching defeat despite matchpoints against James
2/3 for Steve -- two! -- star of the night by a mile with two big scalps in the form of Matt and James
All change in the doubles with Steve -- obviously -- and Ed. Inevitably went the distance, gone 11pm by this time, before S&E outgunned M&J. Ended in a 4-6 defeat. Another night, in a parallel universe, we'd have won.

EDitorial ± 10-Apr-2013
TT1213, Week 11
<! - |entrytitle|TT1213, Week 11| -->
There's a tiny chink of light. Following
last week's
victory, Defiants require 16 points to catch up or 17 points to overtake those blinkin' Buzzards. That's over our final three games. T'ain't likely, but hey.
What doesn't help is that tonight's opponents are comfortably second in the league table and assured of promotion, very much unlike our good selves. Only a few weeks has passed since our last encounter, a tough 7-3 defeat. Facing us (again) are well-trained Rosemary, fresh from Clacton Mick and, a new old face, king-of-the-Manor Des. In brief:
2/3 for Kennedy, fantastically determined to fight back and beat Rosemary, ditto against Des, though falling to Mick
0/3 for Steve, sadly, despite playing really well and pushing Rosemary all the way
1/3 for Ed, losing straightforwardly to Des and Mick but somehow rising from 2-0 down against Rosemary to spin and win 3-2
Same old same old in the doubles, though Des and Mick were worthy winners. That'll be another 7-3 defeat, then, which, by my calculations, means that we need to scrape together a further 13 points in a double header against the Maidstones of Capel. Not over yet.

EDitorial ± 8-Apr-2013
Light Lunches: Alton Water, Stutton
<! - |entrytitle|Light Lunches: Alton Water, Stutton| -->
Bat signal goes up and we belt through the hub and out into the chilly car park to find the Batmobile -- erm, Bluemotion VW -- and fire her up. Vroom. Where to, Boy Wonder? Hold up, let's consult our ToDo Google Map. That one'll do. Engage thrusters over Orwell Bridge, off on the A137, Jimmy's nought but a blur, then left on the B1080.
Closest we've been to here previously was Popins at Holbrook, over there. Pop £3 into the machine and you're good to park by the visitor centre of Alton Water, "the largest area of inland water in Suffolk", oh yes, and scene of one of my (least) finest hours. That was years ago.
Moving on, we're mighty lucky the cafe (next to the bike hire) is open today: they'd be shut on a Monday if it wasn't the Easter hols. Whiteboard offers sarnies, jackets and drinks. Bacon sandwiches all round, please, his on white, mine on brown with a banana Yazoo on the side. Interior is functional and caff-like with some aging information boards. Lady brings over our grub which is similarly uninspired, couple of slices of microwaved bacon with not a hint of garnish. Nothing to cause the owners of the Wild Strawberry any sleepless nights, that's for sure. If I had a postcard, I wouldn't be mentioning my food for the right reasons: £3.50 for this?!
At least there's a goodly selection of choccy bars -- enough Wagon Wheels to fill a Kwik Fit -- plus two or three proper cakes, even something gluten free. Filter coffee was no better than OK, though at least they offered real milk rather than UHT yuckiness, but my lump of fruit cake was by far the best thing there. Funny that last time I was here (midway through a freezing cold New Year's Day bike ride), this place seemed warm and welcoming. Today, it's brought to you by the words ho and hum.
If it was a car -- Ford GPA.
If they were passing by -- Ellen MacArthur.

EDitorial ± 4-Apr-2013
TT1213, Week 14
<! - |entrytitle|TT1213, Week 14| --> First in a series of four catch-up games that will decide if Defiants remain in the heady heights of division 2 or sink to the depths of division 3. And tonight's encounter happens to be against the team who we *could* just about leapfrog to ensure our safety, theoretically.
Bring on the Buzzards, one of the few teams we've beaten this year, helped enormously last time by them having only the two players turn up. Gonna be different this evening with the gleesome threesome of two Brians, younger and older, plus laughing boy Peter, taking every net and edge in his stride. Not. In brief:
2/3 for Kennedy, not at the races and coming unstuck against young Brian
2/3 for Steve, yay!, also falling to young Brian but digging in to overcome older Brian in five ends and gaining his revenge against happy Peter
3/3 for Ed, winning all games 3-0 inc. a satisfying win (though absolutely terrible to watch game) against smiling Peter
Steve generously ducked out of the doubles, though Ed and Kennedy haven't exactly been piling on the points. Reaching a new level of frustration, E&K were 10-8 up in the 4th with two matchpoints and still lost. V. poor. Got a nasty feeling that that one extra point that Buzzards got and we didn't will return to haunt us.

EDitorial ± 3-Apr-2013
Careful With His Money
<! - |entrytitle|Careful With His Money| -->
(75 word short story published on Paragraph Planet on Wednesday 03-Apr-2013)
He isn't tight. Not one of those blokes who's first out the cab but last to the bar. He loves a bargain, is all.
Box of 160 pyramid teabags down from £4.39 to £3.00. And they're the brand she likes.
Game on.
He feeds in the note, pockets the £2 coin.
Unlocks his bike and sails off to locate the next loss leader.
Doesn't hear the cashier racing out with his forgotten fiver.

EDitorial ± 1-Apr-2013
The Elegant New Humber Doucy
<! - |entrytitle|The Elegant New Humber Doucy| -->
(found in the souvenir programme for the 1930 Wolsey Pageant held in Ipswich and perhaps explaining the origin/source/meaning/etymology of the odd street name)
Tel. Ipswich 2585
H. O. Cox (Car Sales) Limited
Light Car Specialists
The Elegant New Humber Doucy
Admired for Elegance, Applauded for Performance
Graceful styling — Exceptional visibility — Complete luxury — Deep seating and de-luxe fittings — Walnut facia and impeccable interior finish — Generous luggage space
The ROOTES Group, in conjunction with the County Borough of IPSWICH, is extraordinarily delighted to announce its sponsorship of the cut-through from Tuddenham Road to Playford Road. Why not drive your brand new Humber Doucy along Humber Doucy Lane?
Send for catalogues:
Humber — Hillman — Sunbeam — Commer — Karrier
1-3 St. Peters Street