EDitorial ± 12-Jul-2013
Light Lunches: Boathouse Cafe, Bawdsey
<! - |entrytitle|Light Lunches: Boathouse Cafe, Bawdsey| -->
One destination that's been on the radar for E.ONs is out at Bawdsey. Admittedly the full wit of that opening sentence is best appreciated by those with a working knowledge of pulsed operation aircraft detection, the history thereof: go read more here. We haven't done it until now 'cos of its awkward placement -- nobody's fault -- on the dark side of the River Deben. But heck, sun's out, it's July, so let's take an official half-day and by gosh do the darn place.
Meeting up in that Woodbridge around 1pm, we saddle up and set the cycle-nav for, er, somewhere else altogether. Andy suggests that we head out via the recently refurbed Ramsholt Arms. Did I mention the heat? By the time we've done the eight miles to find the Dock Road which leads down to the waterside, I am one sweaty Betty. Thank goodness for a restorative Fentimans orange jigger. Bit nice down here, like an undergentrified version of the Maybush at Waldringfield. Crazy busy at weekends, they say.
Back on two wheels -- good practice for Andy's imminent French velo-tour -- and only six more miles to Bawdsey. Mid-afternoon now and we could easily eat that Muntjac deer we spotted near Alderton. To the left of the international school, it sits: behold the Boathouse Cafe. Up the stairs, in through the back, quick orders placed at the counter and we plonk ourselves outside on the balcony. Cold Coke in a glass has never tasted better and that ham & chutney sandwich, like Andy's pate, didn't touch the sides. That's much better.
Cake selection is pleasingly random. Trad scone with jam and cream for him. For me, the affogato (hello Kitty's), no less. Some yum. And because that's not quite enough coffee for now, a latte plus extra shot as well. Zing! Yes, we've been to some lovely places before, but sitting up here in the sun eating nice food and drinking nice drinks sure takes the homemade biscotti. F.A.B. Plenty of seating inside, by the way, 'cos it ain't always this tropical. NB If you fancy a trip, best check the opening hours afore ye visit.
How'd I get home? Thanks for asking. While Andy did another eight miles back to Boyton, I took the one-man ferry over to old Felixstowe and did a further fifteen miles home, fading fast.
If it was a car -- Hillman Minx 10HP.
If they were passing by -- Chris Froome.

EDitorial ± 11-Jul-2013
Felixstowe Light Lunches: View Point Cafe
<! - |entrytitle|Felixstowe Light Lunches: View Point Cafe| -->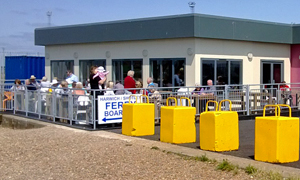 [presenting a guest review by Margaret Broom: hi, Mum!]
This new cafe has been open since late May, and judging by the amount of people there when we went, it is proving to be a great success. Unprepossessing from the outside, inside it is air conditioned and has windows all along two sides allowing a view of the water and shipping. Along with the bright and airy interior, the chairs are bright colours which add to the ambience. Outside there is a deck area with several tables which were occupied at the time of visiting.
Orders are given in at the counter, a colourful beach bucket with a number is handed over and is later brought to your table . The variety of food is good. Ranging from all day breakfasts - Fisherman's and Tug Driver's etc., there is fish and chips, salads, butties, soup, pies, cakes, crisps, and so on. Ice-cream as well.
Although we had to wait some time, the waitress did apologise, and was due presumably to the hot weather bringing everyone out. My fish and chips were very good and my partner's steak and kidney pie also scored highly. On my personal scale, I would rate the View Point Cafe 8 out of 10.
[plus a few words from The EDitor]
Can't quite afford The Fludyers? Outlook not wet enough for you at The Alex? Now you too can go Yeo with prices you can afford!
As part of the gentrification of the ever popular vantage area overlooking the Port o' Felixstowe, it's goodbye to the Crow's Nest (now a prime parking spot) and hello to the awkwardly spaced View Point Cafe. Swish go the automatic doors into the cafe stroke visitor centre. Bright inside, brighter still outside on a glorious day like today.
While Andy opts for the English breakfast bap, I reap the rewards of scanning further down the menu with my "croque madame," a "croque monsieur" topped with a fried egg. Crazily good value with 5p change from a fiver and mighty tasty with thick ham and cheese. As Andy pops back inside for a napkin, a bird attacks his roll and has to be shooed away repeatedly, the cheeky chappy. Dunno what sort it was but it was nowhere near as big as those cranes.
Place is humming with couples, a party of schoolkids, etc. Back in for OK pushbutton coffee and a wodge of Vic sponge, plus there's loads of choccy bars and ice creams. Your kids will love it here. Yo for Tim Yeo!
If it was a car -- VW Jetta Sport.
If they were passing by -- Dick Strawbridge.

EDitorial ± 4-Jul-2013
Half Man Half Biscuit, John Peel Centre
<! - |entrytitle|Half Man Half Biscuit, John Peel Centre| -->
Some 27 years after I first saw them perform, I'm off to see the mighty Half Man Half Biscuit play a sell-out gig. Fittingly enough this is at the all-new John Peel Centre For The Creative Arts in nearby Stowmarket, as mentioned in JP's Desert Island Discs show. Go find it and listen to him talking about standing on the Stowmarket station platform.
After some intense support from one JD Meatyard, who namechecks the Pixies and finishes with a catchy little number about the situation in Palestine, here come HBHB, "four lads who shook the Wirral." Centre stage is the unsung national treasure that is Nigel Blackwell, a true poet. They're off to a cracking start with The Light At The End Of The Tunnel:
She stayed with me until she moved to Notting Hill
She said it was the place she needs to be
Where the cocaine is fair trade, and frequently displayed
Is the Buena Vista Social Club CD
Six tracks in they're doing Corgi Registered Friends leading into Bob Wilson Anchorman. Like headlines from The Onion, these song titles alone provide plenty of carats, and then you listen to the lyrics within. Jerry, this is comedy gold.
It's all going a bit lentil by the time All I Want For Christmas Is A Dukla Prague Away Kit comes around, during which a lot of grown men are jumping around wearing their actual Dukla Prague Away Kits. Not pretty. One or two of the hardcore are also sporting Joy Division Oven Gloves. There's some retro goodness with the Fred Titmus and Trumption Riots encore, which bookend a perfectly straight (and, to me, unexpected) cover of Abba's SOS. Then the Probe Plus boys are off. Well played, chaps. Well played.