EDitorial ± 11-Jul-2013
Felixstowe Light Lunches: View Point Cafe
<! - |entrytitle|Felixstowe Light Lunches: View Point Cafe| -->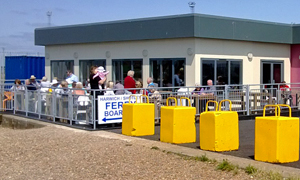 [presenting a guest review by Margaret Broom: hi, Mum!]
This new cafe has been open since late May, and judging by the amount of people there when we went, it is proving to be a great success. Unprepossessing from the outside, inside it is air conditioned and has windows all along two sides allowing a view of the water and shipping. Along with the bright and airy interior, the chairs are bright colours which add to the ambience. Outside there is a deck area with several tables which were occupied at the time of visiting.
Orders are given in at the counter, a colourful beach bucket with a number is handed over and is later brought to your table . The variety of food is good. Ranging from all day breakfasts - Fisherman's and Tug Driver's etc., there is fish and chips, salads, butties, soup, pies, cakes, crisps, and so on. Ice-cream as well.
Although we had to wait some time, the waitress did apologise, and was due presumably to the hot weather bringing everyone out. My fish and chips were very good and my partner's steak and kidney pie also scored highly. On my personal scale, I would rate the View Point Cafe 8 out of 10.
[plus a few words from The EDitor]
Can't quite afford The Fludyers? Outlook not wet enough for you at The Alex? Now you too can go Yeo with prices you can afford!
As part of the gentrification of the ever popular vantage area overlooking the Port o' Felixstowe, it's goodbye to the Crow's Nest (now a prime parking spot) and hello to the awkwardly spaced View Point Cafe. Swish go the automatic doors into the cafe stroke visitor centre. Bright inside, brighter still outside on a glorious day like today.
While Andy opts for the English breakfast bap, I reap the rewards of scanning further down the menu with my "croque madame," a "croque monsieur" topped with a fried egg. Crazily good value with 5p change from a fiver and mighty tasty with thick ham and cheese. As Andy pops back inside for a napkin, a bird attacks his roll and has to be shooed away repeatedly, the cheeky chappy. Dunno what sort it was but it was nowhere near as big as those cranes.
Place is humming with couples, a party of schoolkids, etc. Back in for OK pushbutton coffee and a wodge of Vic sponge, plus there's loads of choccy bars and ice creams. Your kids will love it here. Yo for Tim Yeo!
If it was a car -- VW Jetta Sport.
If they were passing by -- Dick Strawbridge.