EDitorial ± 30-Sep-2014
TT1415, Week 2
<! - |entrytitle|TT1415, Week 2| -->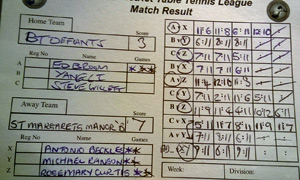 Already week two but another strong three (how's that!) providing opposition tonight in the trusty Adastral aerodrome. It's a trio of familiar foes, those being timely Rosemary and local boy Mick (both previously) and separate whack-a-mole and ex-Wren Anton. Like the packets you see going cheap in Sainsburys bakery about 7:30pm, them's some tough cookies.
Heavy on the Y chromosome for team Defiants with Ed and Steve again and, for his first competitive match of the new season, Dr Yang. Our warm-up gets us even warmer before the ping-pong warmongering kicks off. In brief:
null points and just the one end (against Mick) for Steve
also a big fat zero for Yang though he had a matchpoint against Rosemary before losing out in five ends
amazing 3/3 for Ed, slipping and sweating to beat Rosemary in three, Anton in four and, best of all, Mick in five clammy ends
Let's not pay too much heed to the nondescript doubles performance phoned in by Ed and Yang: another 7-3 defeat it is. All team points to Ed thus far: come on everybody else!