EDitorial ± 2-Sep-2015
Felixstowe Light Lunches: Angel Inn Coffee House
<! - |entrytitle|Felixstowe Light Lunches: Angel Inn Coffee House| -->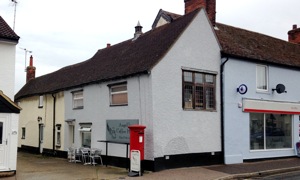 September already, sheesh, and not looking too none bright today, neither. Kev, one of the three muskehounds, has cried off. Maybe he's in the doghouse. That leaves us other two cartoon canines, Bathos and Pathos, to sniff around for a new bone.
Ten electrified Zoe minutes later and it's welcome to Walton once more in the 'Stowe suburbs. Back when spring had sprung, we hit the High Street at number 276 for the classy Walton Coffee House. Look, we can wave to it from where we're parked. Today, however, we're at 230, formerly a Chinese dentist, to alight upon the Angel Inn Coffee House. Er, how do we get in? Front or side? Both are good, apparently.
Entering by the pillar box red postbox, we encounter a counter and a nice chap (Gabriel?) who says to take a seat down the steps. That'll be in ye olde inne, this being a dead historic beamed pub and one of the oldest buildings around these parts, FYI. Other folk in here are partaking of salads and omelettes and pasta. For us, though, it's a wrap. BLT for the driver, chicken & chilli for Iggy, both well-presented chunky handfuls with a few balsamic-dressed leaves on the side, a touch that Kev would have appreciated.
Having opened up only six months ago, AICH is still earning its wings, so it's pleasing to see people from neighbouring businesses dropping in for the odd takeaway coffee. Probably helps, too, that the room morphs into the Post Office next door. There's even a table or two among the greetings cards and parcel tape up there. Wraps gone, it's time to test the caffeine. Andy returns from his long trip upstairs with a fine piece of carrot cake, always reliable, and a really good flat white that would have graced the Wild Strawberry. And that, readers, is high (and almost heavenly) praise.
If it was a car -- Lagonda Rapier Tulipwood.
If they were passing by -- Angel Di Maria.