EDitorial ± 31-Jan-2016
130Story: Spoon / Kick / Collect / Grease
<! - |entrytitle|130Story: Spoon / Kick / Collect / Grease| -->
The rules of 130Story are simple: given a random seed word, write a story in 130 characters.
Spoon
The Runcibles comprise Rob on tablespoon/bass, Eric on dessert/rhythm and Alex on teaspoon/lead. They're metal through & through. @130story

— Ed Broom (@edbroom) January 29, 2016
Kick
With a mighty kick, Pearce hoofed the ball into row Z. We ducked. Girl behind not so lucky. She didn't appear for the second half. @130story

— Ed Broom (@edbroom) January 28, 2016
Collect
Stan picked up a drawer. First day covers, Krugerrands, cigarette cards, all gone. He breathed hard and tried to collect himself. @130story

— Ed Broom (@edbroom) January 27, 2016
Grease
Chapped lips?
Chain that slips?
Need a hand to fry your chips?
Made from finest Pilgrim geese
Choose Papa's Patent Wonder Grease@130story

— Ed Broom (@edbroom) January 26, 2016
More to follow.

EDitorial ± 29-Jan-2016
Woodbridge Lunches: Christine's
<! - |entrytitle|Woodbridge Lunches: Christine's| -->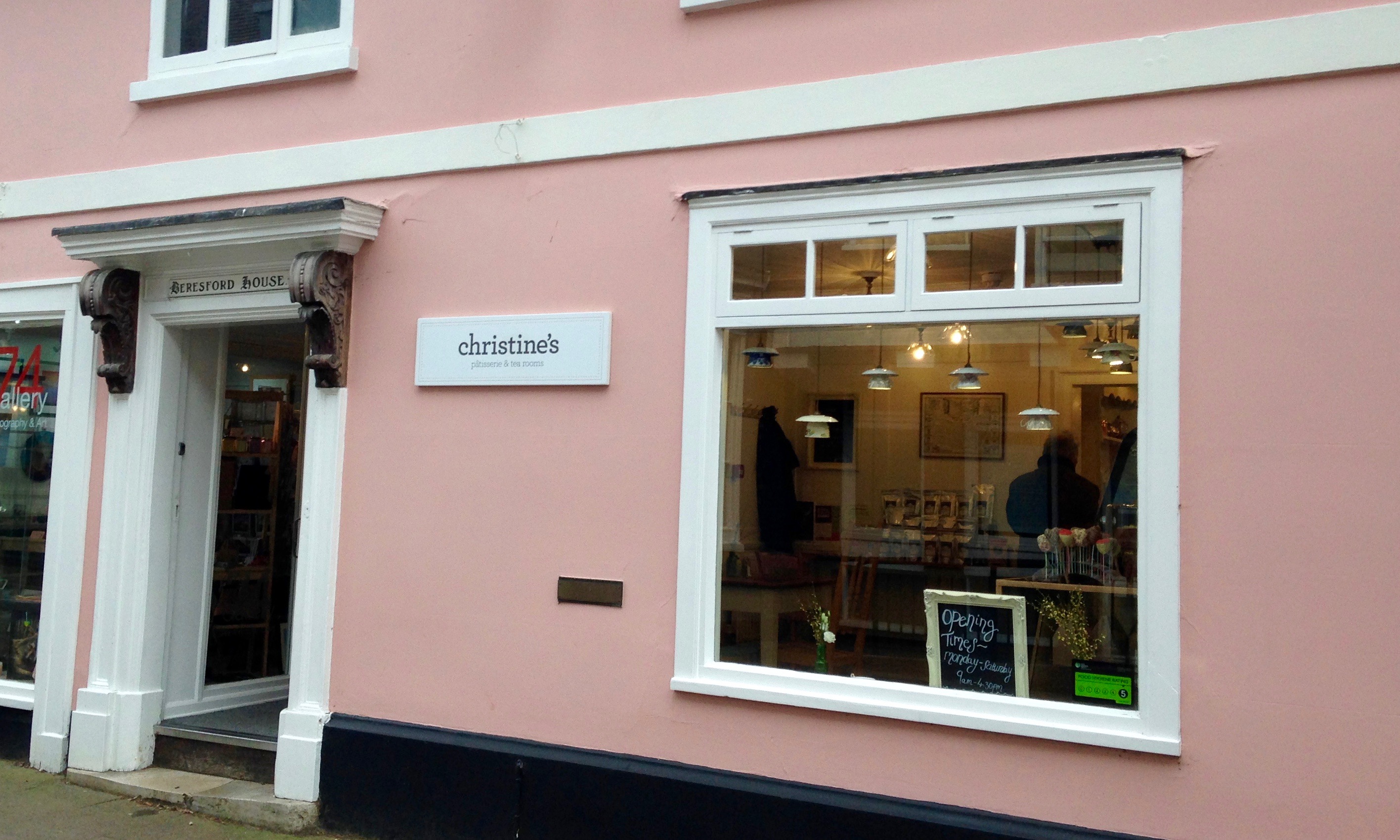 In our time, visiting ye olde yet classye Woodbrydge, we've done it all along the length of the Throughfare, whether following Mrs Piper's or chaining it at Costa or booking it at Browsers or chomping at the Cake Shop or waiting for Caffe Nero or living the sweet life in Honey & Harvey or even vegging out at the Firestation. Done. The. Lot. Or have we?
Ever vigilant Andy's spotted a new 'un opposite the job centre at the unfashionable end of the 'Fare. Classy paint job, classy signage and even classier business cards. Feel that heft at Christine's. Menu has all the esses from salad to sarnies to soup and quiche, the odd one out. French onion soup for the very nearly birthday boy -- and boy, it's a big one -- and egg mayo for yours trult. Granary? Please, I interrupt, before the lady surprises me by then offering sourdough. Ooh, that one, thanks. No Whitehouse white bread here, no sir.
Food picked, it's then time to pick a room. Smallish one at the front by the big counter, medium square room next, and a garden room (with Sonos and courtyard view) for us. I'm liking the arty minimalist feel with the odd mirror and bit of jewellery, plus the cracking choice of papers and mags to browse. Not a D***y M**l in site, for which we are truly grateful. Top nosh, too.
Chatty lady running the show has plans for chocolate making lessons, BBQ instructionals, you name it. And everything's made on the premises, a boast few establishments can make. Cafetiere with Honduras is fine and, oh my, the cakes. Quite the tart. All very good indeed, all very Woodbridge.
If it was a car -- Aston Martin One-77.
If they were passing by -- Ella Woodward.

EDitorial ± 26-Jan-2016
TT1516, Week 14
<! - |entrytitle|TT1516, Week 14| -->
Ended up calling off our game last week when the minimum two players required became one, which ain't enough. All's well, though, 'cos it got rearranged for tonight. Only Ed available but joined by guest players Alison, always more than welcome, and another Thunderbird, Richard. His son Josh turned out for us last time and played a blinder. Here's to good ol' Dad doing the same.
Up against representatives of Ipswich Sports Club this evening (previously), once again with cheery father and son Terry and Rob plus bracing Chris. In brief:
handy brace for Ed, satisfactorily beating both Butlers as revenge for an awful performance last time
another sweet point for Alison, edging out Father Terry
terrific point for Richard, somehow defeating tricksy Chris in five ends
Dobules for Ed and Richard what with Alison bailing out, but that wasn't to be. Still, one point better than the away leg has to be a good result. Cheers once more for the Thunderbirds.

EDitorial ± 24-Jan-2016
130Story: Bolt / Harm / Leg / Yellow / Dear
<! - |entrytitle|130Story: Bolt / Harm / Leg / Yellow / Dear| -->
The rules of 130Story are simple: given a random seed word, write a story in 130 characters.
Bolt
"I'm the Statue of Liberty!" cried Caz. The lightning bolt blasted his ice cream cone. Choosing metallic sprinkles proved fatal. @130story

— Ed Broom (@edbroom) January 25, 2016
Harm
Plummy weekenders keep our deli afloat. Today, a green welly pointed to the Serrano, saying "You do more harm than Gouda." Idiot. @130story

— Ed Broom (@edbroom) January 22, 2016
Leg
Nigel has his answer prepared.
"My left. Toned. Strong. Reliable."
He's still waiting to be asked,
"Do you have a favourite leg?"@130story

— Ed Broom (@edbroom) January 21, 2016
Yellow
Bouncing off his chin, the plum hit the laminate. After 30 perfect catches - 15 tomatoes, 15 blackberries - he missed the yellow. @130story

— Ed Broom (@edbroom) January 20, 2016
Dear
Before Reeve's talk, I slid into Jack's row. Seeing me, he turned red and bounded off. An odd fellow, yet I suspect he's a dear. @130story

— Ed Broom (@edbroom) January 19, 2016
More to follow.

EDitorial ± 23-Jan-2016
Crinkle-Crankle Walls in Suffolk, 21-30
<! - |entrytitle|Crinkle-Crankle Walls in Suffolk, 21-30| -->
(visit the list of crinkle-crankle walls in Suffolk and view the accompanying Google map)
— (21) Sudbury, Hardwicke House —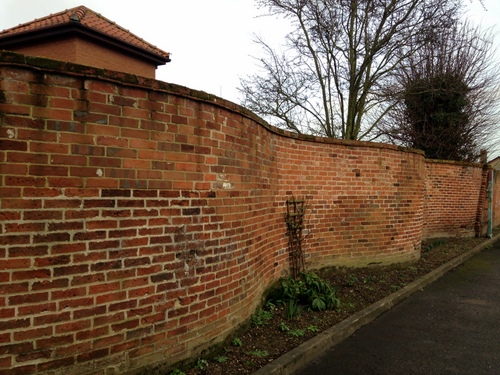 (visited 23-Jan-2016)
Easy ten minute drive along the B1115 and we're back in Sudbury with another nifty parking spot on Gainsborough Street. My two passengers are muttering about lunch. Yes, I say, but we have to earn it, and I head off out of town. There on Stour Street stands what's now a doctor's surgery in olde Hardwicke House. You wouldn't know it but, as verified by my Twitter buddy Tim Ranson, there's a wall way back from the public footpath to the rear of the car park. That's right. Not a kitchen garden, a car park.
Let's pass over the fact that the surgery was closed and the gates were locked, this being a Saturday afternoon, and say that I was the only one of our group to attend this structure in person. It's rather unremarkable, in all honesty, and shows numerous signs of having been patched up. Plus it's dwarfed by some unadventurous modern buildings to the rear. One point of note is evidence of a former gate or doorway, long since bricked up. Oh well. Tick it off and on we go.
— (22) Sudbury, Royal Grammar Place —
(visited 23-Jan-2016)
Still in Sudbury and still dragging around a mother and a nephew both desperate for a sarnie, we backtracked down School Street emerging on to Christopher Lane. Opposite us, super conveniently, stood Grammar School Place.
A week or so back, I'd had a dead useful chat with Mr Wall, straight face, the chairman of the Sudbury History Society. If anyone might know the location of that pesky Friars St wall, the one we failed to find previously, t'would be he. Mr Wall was the wall man, of course, and directed my eye towards this odd little (private?) road where we now found ourselves.
I'd passed on that nugget to Tim Ranson who had again come up trumps and confirmed Mr Wall's wall. Into the road, glance to the right and bullseye. A goodly part of this one is obscured by foliage and flower beds, and the brickwork appears of a certain age. Unclear if this was once attached to something grander. Nephew did his job and announced that today's crinkle-crankle count had now reached three and could we please stop for lunch?
Another weird thing to mention, similar to meeting those friends in Beccles (see above). Taking Friars Street back into town, my mum pointed out this chap walking in the opposite direction. This was the very same chap who provided great assistance two weeks back on this very street by walking us to The Red House. As he was walking by, I stopped him to convey my thanks, again, and point out that we'd finally found the Grammer wall. Oh, he said, that's good. And by the way, I saw your thing on Twitter.
— (23) Long Melford, Westgate Street —
(visited 23-Jan-2016)
Lunch finally taken at The Coffee House (does what it says), back to the motor for another return trip. We "did" Long Melford in the September sun, knocking off both Melford Hall and Cock & Bell Lane. That was that, or so we thought.
Ah. I seem to have totally forgotten to tell of my appearance on Radio Suffolk. I'd put out an appeal on Twitter for any CC info and that eventually found its way to Lesley Dolphin, who, after a brief email exchange, invited me on to her show on January 12th. Around 2:30pm you'd have seen me in a small meeting room off the main corridor at work, pretending to be on a confernce call but really speaking to the Suffok populace.
Out of that came a bunch of useful leads including confirmation of a third example in Long Melford, first mentioned to me by my mate Birder Bill. Here be Westgate Street, where Lesley apparently used to live. Opposite the Black Lion pub and Scutchers restaurant winds a tremendous wavy wall which, according to the listing description, is C18 and around 7ft high. Blimey. Couple of breaks, a gate, pillars, the whole 88 yards in fact. Nephew chips in to tell me this is the fourth wall today.
— (24) Long Melford, United Reformed Church, Hall Street —
(visited 23-Jan-2016)
Will this day out never end? Came away from Westgate Street to coast carbound past Melford Hall and Cock & Bell Lane instructing passengers to keep eyes peeled for a church. In particular, the United Reformed Church. I see it!
Pull over and cross the road to the library next to the church. Little lane leads who knows where. Bingo. Skittering hither and thither is a half-height serpentine bordering the church garden. I wasn't that impressed at first, then I viewed it from higher up and saw it for the weaving wonder that it undoubtedly is. Also listed, as per Westgate Street, and C18 or early C19. Done for the day and fully deserving of teatime treats at faintly odd Fanny Annes next door. Combines art deco with Elvis, as you do in these parts.
— (25) Cockfield, Tudor Cottage —
(visited 25-Jan-2016)
Day off work due to G's birthday and an excellent leisurely lunch at Bury's very own The One Bull. Totally her day, it goes without saying, and yet we find ourselves veering off-piste on the A134. Through the prizewinningly named Bradfield Combust and a left turn on the A1141 (7x163) leads us to Cockfield.
Plainly visible from the main road is Tudor Cottage where "the front is protected by a modern crinkle-crankle wall built of old bricks," or so says the listing. Not too tall and not too small, a mid-Suffolk treat, though blink and you'd miss it.
— (26) Ipswich, St Edmund's Road —
(visited 30-Jan-2016)
Badminton at Bury with The Boy and the day's nearly done by the time we get back. Thinks: I could pop on the Boardman bicyclette and try to check out that secret example less than a mile away. For the word is, dear wallflowers, that dear old Ipswich boasts a crinkle-crankle wall.
Tipped off by a conservation insider, I'd been shown a series of garden walls on Google Earth. Who knew? Location in question is posh St Edmund's Road. Potential problem in that these constructs can't be seen from the highway. Here goes nothing, I thought, and walked up to the side door of one of these highly desirable properties. Bloke who answered was most obliging, listened patiently to my bizarre quest and left me to my own devices.
Separating these gorgeous gardens (which lead down to Ipswich School's playing fields) are at least three fine crinkle-crankles, possibly the handiwork of one E.F.Bisshopp, a local architect who lived here too. Absolutely delightful stuff. Can curved lines be parallel?
— (27) Eye, Buckshorn Lane —
(visited 31-Jan-2016)
A somewhat chilly and dank Sunday. Roast consumed, dishwasher packed, it's gone 3pm when me and G and lunch guest Mum set off for a sabbath saunter. Off the A140, into Eye and the kindly folk at The Bank cafe let us in for a sneaky cuppa although it's closing time. Love those people, love the artwork, love The Bank. Seriously, go.
Way back the original crinkle-crankle crew checked out Chandos Lodge on Lambseth Street. Legend has it, however, that there are at least two further examples in wonky Eye. Right into Church Street and again into narrowing Buckshorn Lane, behold Wall Cottage and a white cat. This one's keeping itself to itself and perhaps extends further back. No way of knowing from the path. Listing says "red brick laid in header bond," so now we know.
— (28) Eye, Castle Street, Stanley House —
(visited 31-Jan-2016)
An increasing number of those remaining to be seen either belong to big country houses (eg Heveningham) or are on private property. That's true for our next destination, listed Stanley House on Castle Street, timber-framed and 16th century. Gosh.
Standing awkwardly outside pondering my next move, I hear noises in the garden and knock at the gate. Chap answers, listens to my request for a cheeky peek, and we're in!
Owner chappy is most obliging and happily gives us a mini-tour of the garden. Wall is in two stretches, one taller than the other. Higher section has signs of work after ivy removal, and lower section is partly down due to thrusting tree roots. Chop the tree, keep the wall? Anyway, big thanks to the owner. Stanley, I presume. To my knowledge, that completes our Eye operation.
— (29) Brome, Rectory Road, The Oaksmere —
(visited 31-Jan-2016)
Headlights on as we wave to Chandos Lodge on our northwards exit. Born optimist that I am, there may still be time for a third wall of the day. Brief photo opportunity stop for the towering turbines in the business park overlooking the A140. Right off the B1077 into Rectory Road and we're here.
Former rectory and home of the Cornwallis family, this historic house is now a luxury hotel named The Oaksmere. Brickwork of the courtyard parking area is fancy enough but that's not why we're here. Now unafraid to ask, I pop inside to seek directions/permission to/for the wall.
Confused faces abound in the rather nice interior before a young man presents himself. This way, he says. Over the muddy site of the walled garden with talk of an icehouse to be built, and yonder lies the crinkle-crankle. According to the updated Suffolk: East book by James Bettley, this example was built by Penning in 1848. It's a good length though not easy to tell in this dying light, and the corner (rebuilt) section has gone exposing the single brick construction. Thanks to The Oaksmere rep for his hospitality. I bet this whole area will look lovely once it's finished.
— (30) Rendlesham Hall —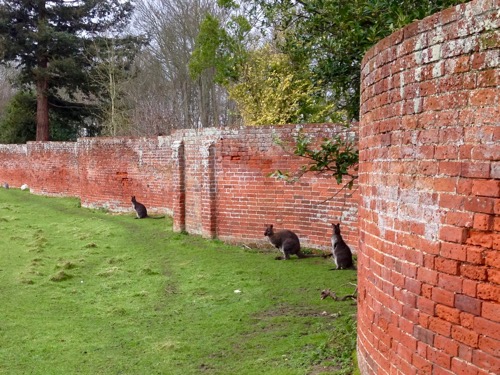 (visited 05-Feb-2016)
Big one, this, in all senses. When I put out my Twitter crinkle-crankle appeal ahead of the Radio Suffolk slot, the most bizarre response was from the Stokes Sauces people who said: "Here's a photo of ours at Rendlesham Hall. Complete with wallabies!"
Which was how my mum and me found ourselves being given a guided tour by Mr Rick Sheepshanks, mug of tea in hand, of the Rendlesham gardens one pre-arranged Friday afternoon. This way, he said, and the fun began.
Peacocks. A hugely tall brick wall. Larches. Rheas. A bothy. Redwoods. Brahman Indian holy cows. Lumberjack tales. Folly remains. And, over there to the north, a lengthy and elderly serpentine wall (with buttresses) partially obscured by lots of wallabies. Like you don't see every day.
This man loves his animals and loves his trees. He's also got his very own Buddhist temple in the orangery. We spent a flabbergasted hour in his company and enjoyed every minute. Hugely hospitable host, and then some. And the ketchup is great too.

EDitorial ± 21-Jan-2016
Ipswich Lunches: Go Manila!
<! - |entrytitle|Ipswich Lunches: Go Manila!| -->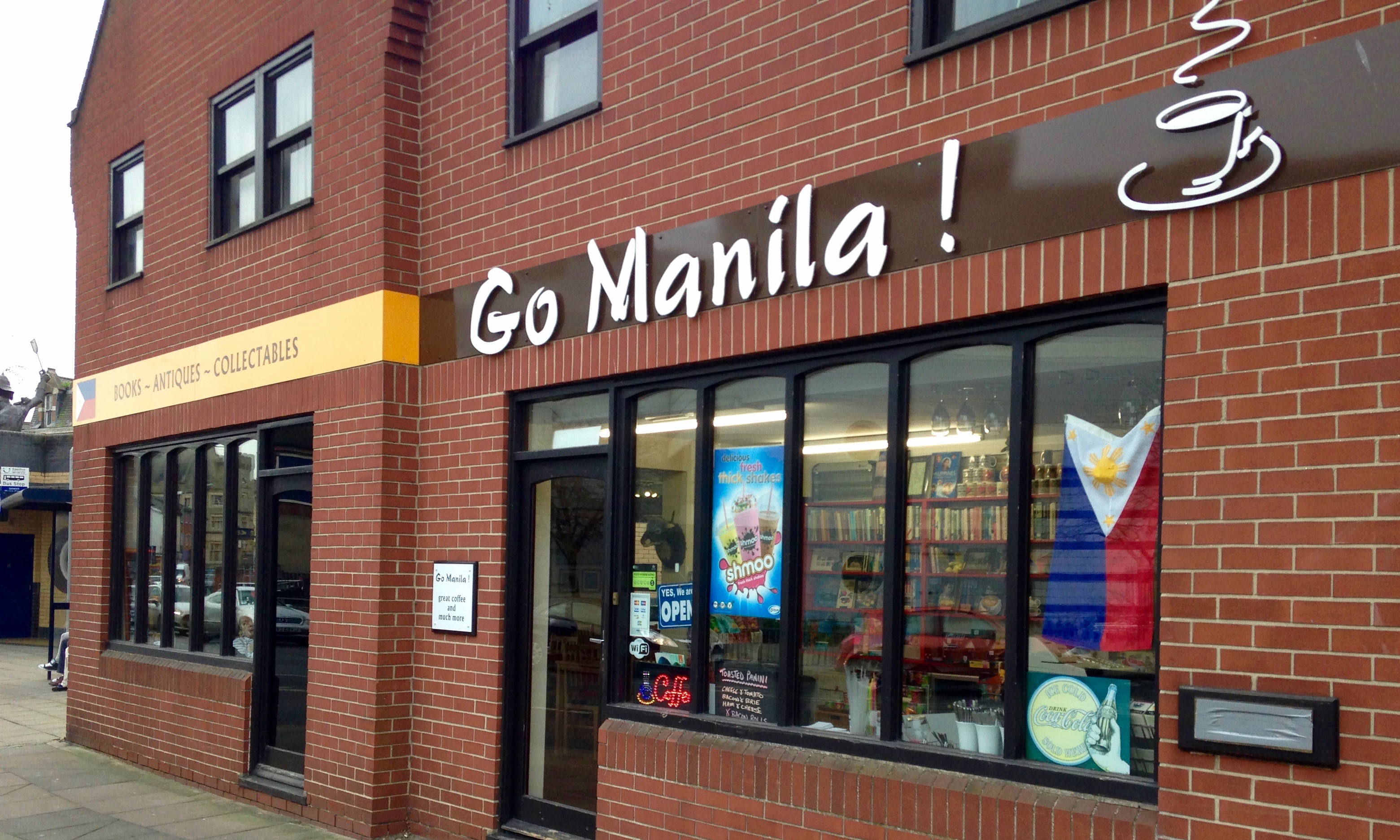 Another of those Mad, Mad, World style starts from The Labs with Andy in the motor versus me on the replacement Boardman, as per our excursion to the now defunct Buttery Bar. Chillsville aujourd'hui, non? Into town, pedals a-blur, quick Iberian stop by the lights outside the popular Flavours Of Portugal, and the winner is...
...Andy, again, visible through the windows of the intriguingly named Go Manila!. This has been here for a year or so by the Major of Major's Corner. You know, opposite the dead Odeon and by the public loos. Not perhaps the most auspicious of locations, then, and yet GM is super cosy, like a large back room squished full of chairs and comfy seating. Sofa, so fine.
Limited savoury offerings today, but that's no bad thing. Hot paninis all round, ta very much. Pepperoni and tomato is good & crips & hot and, with a sneaky bag of Fairfield crisps and a cup of local dandalan juice, fills a gap and then some. Every spare space is taken up by assorted souvenirs from the land of Quezon and Aquino, occupying shelves and cabinets galore like a Western Pacific version of Oxford's Pitt-Rivers. To complete that comparison, there may even be a shrunken head in here. You could play I-Spy for hours, put it that way.
Our window seats in the warm are ideal for people watching, helped along nicely by a half-decent coffee and shared slabs of choc 'n' orange and Toblerone cake. Service with a smile, too, though the lady in charge tells us she's still angling for staff training over in Manila. Great place to brush up on your Tagalog.
If it was a car -- Toyota Camry.
If they were passing by -- Tim Tebow.

EDitorial ± 17-Jan-2016
130Story: Trousers / Hawk / Drunk / Sail / Major
<! - |entrytitle|130Story: Trousers / Hawk / Drunk / Sail / Major| -->
The rules of 130Story are simple: given a random seed word, write a story in 130 characters.
Trousers
New Saturday job at Denim Elliott. Fashion for men and an espresso bar. Great except for Levi, the manager. Any tips, he trousers. @130story

— Ed Broom (@edbroom) January 16, 2016
Hawk
Cambridge market, Howard hawks film posters. There's Stephen hawking sci-fi while Nicholas hawks more books about architecture. @130story

— Ed Broom (@edbroom) January 15, 2016
Drunk
Midnight, ideas flowed. Paragraphs poured out. Killer ending, too. Woke up. Laptop battery dead. No auto save. Don't write drunk. @130story

— Ed Broom (@edbroom) January 14, 2016
Sail
You discarded cushions. Removed your slippers. When the breeze caught the antimacassar, I saw you sail out of the French windows. @130story

— Ed Broom (@edbroom) January 13, 2016
Major
Renovating the Major's Greek temple pays well but he can be fussy. See those columns? He likes the fluting in a most peculiar way. @130story

— Ed Broom (@edbroom) January 12, 2016
More to follow.

EDitorial ± 16-Jan-2016
Crinkle-Crankle Walls in Suffolk, 11-20
<! - |entrytitle|Crinkle-Crankle Walls in Suffolk, 11-20| -->
(visit the list of crinkle-crankle walls in Suffolk and view the accompanying Google map)
— (11) Beccles, Hungate Lane —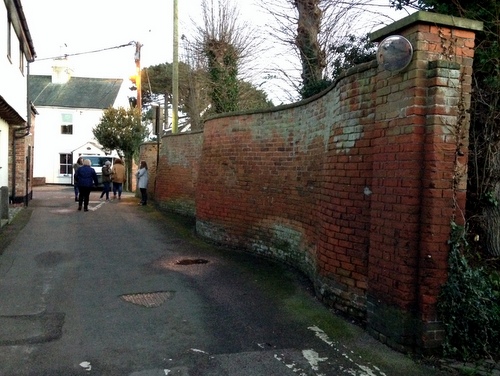 (visited 29-Dec-2015)
One of those dead days between Christmas and the New Year. Hey, let's get some air and tick off a few more walls. Which we duly did, eventually, having struggled to find somewhere to eat. Thank goodness for the Garden Tea Rooms in downtown Beccles.
Full of hot food, we hopped back in the motor (not knowing quite where we were going), consulted the map and set the SatNav to Hungate Lane. Round the corner, near Puddingmoor, sits this super gnarly ribbon complete with mirror. It even extends, after a break, to that white house at the end. Top quality, as they say.
— (12) Beccles, Coney Hill —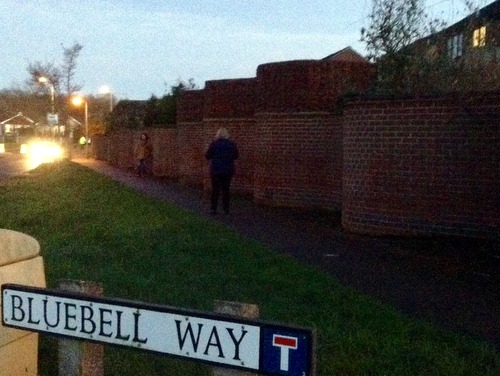 (visited 29-Dec-2015)
Here's a weird thing. Sitting at the next table to us in that same Beccles cafe, the only one we could find open at that time, were some friends of my mum who live up in these parts. She had a nice chat with them, caught up a bit, and was trying to remember their address: Coney Hill, as it happens.
Naturally, Coney Hill, a mile or so away but still in Beccles, was our next stop-off point. For there, facing an ordinary looking estate, sits a modern crinkle-crankle complete with wicker fence topping. Big ol' curves on this one.
— (13) Worlingham, Garden Lane —
(visited 29-Dec-2015)
Can we squeeze in one more in The Darkness? Naturally, we can, if we can only find some 3G signal to quickly scan the GoogleMap. Five minutes and a mile and a half away and we're staring out into deepest Worlingham. We haven't the foggiest.
Fear not, friends. One meander of about 100 yards brings us to the junction of Garden Lane with Paddocks Green where, behind that bus stop, stands a monster example. It's tall, has a door, and really has no right to be here. Wall of a long-gone estate, perhaps? Whatever, it's a cracker and deserves to be seen in the daylight.
— (14) Boxford, Church Street —
(visited 09-Jan-2016)
First chance to get out and about in the capitalized New Year and we're beating a path to Boxford where, according to Edward Martin's list (see above), there's a CC awaiting us on Church St. Big old church in the middle of the village but no obvious wall to be seen. Best we ask at The Stores.
Helpful chap is on the case. That'll be a few doors up the road, he says, behind the orange house, but it's not visible from the road. Only way I've seen it, he confides, is from the church tower. Which is only open in the summer. Oh. What to do?
Well, the local doctor's is in an odd little building set back from the main road. Wandering around there, we looked over two or three gardens and caught a glimpse. Ooh, there it is! I confess that we walked into an open green area and up to the wall, whistling and keeping an eye out for stray dogs. Delightfully sinuous curves on this one and it bends around the corner too. Snaps snapped, we hopped it before The Peelers turned up. Result.
— (15) Sudbury, Meadow Lane —
(visited 09-Jan-2016)
One down, 3:30pm on Saturday, and time for another. A brief tootle along the A134 and here's Sudbury, jam-packed with history. Again, if EM's list is credible, there's a contender on Friars Street. Me and Ma walk out of the town centre gazing hither and thither. Nowt. I consult one family group who won't catch my eye then see a chap on the far side of the road. Yes, he says, I know what you mean -- that's always a start -- but it's not here, it's where I work. And we've got a folly in the garden. You what?
He leads us through local lanes and bang, there's the Red House, these days a retirement home where our new best friend helps out. Here's the wall, he says. Wow. Of course, he's right. In the grounds stands a "square and battlemented gazebo", guarded by a wiggly wall up Meadow Lane and around into Red House Lane. Hats off to this anonymous Sudbury citizen. Later Googling reveals that these "serpentine walls of the garden of the Red House" are separately listed as grade II by English Heritage. I can recommend celebratory coffee and cake at David's in town.
— (16) Brantham, Newmill Lane —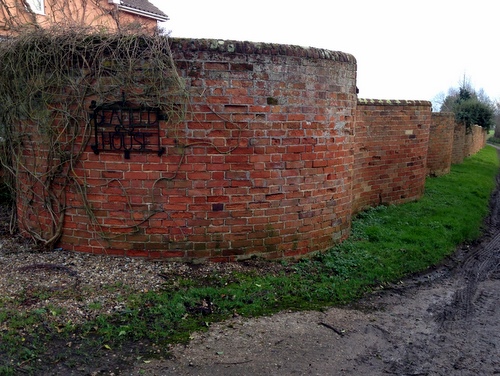 (visited 10-Jan-2016)
Here's an oddball which only emerged after many internet searches. Tip of the hat to Keith Evans for posting his photo taken at Brantham on the Geograph website back in 2013. His pinpoint placement directed me to the single-track Newmill Lane, down which the Google StreetView car did not venture.
That road leads to a single property named Seafield House. We're not talking fancypants rectory or grand hall but a reasonably humble dwelling, and yet there's a remarkable crinkle-crankle for a pretty decent length alongside the path which leads to the river. Unlisted from what I can tell and quite the oddity.
— (17) Shotley, The Street —
(visited 10-Jan-2016)
While south of the Orwell Bridge, may as well attempt to sneak in a second on this dank Sunday afternoon. Credit to Eldest for somehow locating this particular one which has evaded all my searches. Eastward ho to the peninsula through Chelmondiston and finally into Shotley.
I parked by the shop -- closed Sunday -- and wandered along The Street. Finding nothing, I retreated to the motor, headed to Land's End, i.e. Shotley Gate down by the water, then retraced my route. Reparking by the shop -- still closed -- I went a tad further. On the verge of giving up, I found it! Lowest wall thus far, compact and bijou, and rather classily dividing one house's drive from the next. That was a satisfying afternoon's work.
— (18) Martlesham Heath, Eagle Way —
(visited 14-Jan-2016)
Oi, said G. on the sofa, did you know about the CC wall in Martlesham? I fumbled for the remote, found mute, and made a hand gesture inviting her to speak. Chap in the office says there's a modern one out there. Show me, I said, reaching for an iPad. Did I know about this? No I did not.
And there it is, about 800m from my daily bike journey on the huge horseshoe formed by Eagle Way. Modern, of course, most likely dating from when this whole estate was built back in the '70s, I s'pose. Undulatingly good, pleasing height, and, like the best, apparently there for no good reason. Hats off to whoever was behind its conception and construction.
— (19) Yoxford, Satis House —
(visited 15-Jan-2016)
Final placename in Pevsner's "The Buildings of England, Suffolk"? That'd be Yoxford, you know. In passing, on page 512, it says:
(SATIS HOUSE. In the garden an undulating or crinkle-crankle wall. N. Scarfe)
The Crew attempted to find this fella way back in the summer but darkness had already fallen. This time, with EcoAndy en route to egg and bacon at Emmett's, we drove up the driveway (as you do) and saw some vertical bricks out front. They crinkle a bit and crankle a tad. I'm not convinced this is the one that Norm The Storm picked out. Maybe there's a walled garden round the back? I will find out and get back to you, he idly promised.
— (20) Great Waldingfield, Babergh Place Farm —
(visited 23-Jan-2016)
New crew member in the form of birthday boy nephew unexpectedly joining me and Mater. Gave him the key job of keeping a crinkle-crankle count for the afternoon since I had Big Plans. Out through Bramford, Somersham and do-you-come-here-Offton to previously unheard of Great Waldingfield, not to be confused with that place with The Maybush pub.
I'd never have known about this had it not been for online tip-offs from Brenda in Acton and Ray Connelly and Pat Bridges and Freddie Lay and Hilary Drain. Thanks, all. Nephew eyeballed the wall in question and we managed to park just along from Babergh Place Farm. To the left of the house and set back from the B1115 sits a mighty and majestic crinkle-crankle. Quite a stretch of it too, yet apparently unlisted. I can recommend the fine view from Google Earth.

EDitorial ± 15-Jan-2016
Light Lunches: Emmett's, Peasenhall
<! - |entrytitle|Light Lunches: Emmett's, Peasenhall| -->
Mid-January and the end of another week crammed with crinkle-crankle shenanigans. Having put out an appeal on Twitter for any and all serpentine spottings, I was an interviewee on Lesley Dolphin's BBC Radio Suffolk show on Tuesday pm (while-I-was-at-work, which made for a devious quarter of an hour). Suffolk folk were sent in search of wavy walls in Sudbury, Framlingham and beyond, and even two of the local MPs (Coffey and Poulter) chipped in.
Which is how me and Andy found ourselves beyond Louie Lou's and even the Flying Goose, attempting but not succeeding to pin down the hard-to-find Sibton crinkle-crankle. Maybe Sibton Place, perhaps Sibton Hall? Still puzzling, we hit Peasenhall and remembered our rumbling bellies. Past Weavers, saved for another time, to park outside the distinguished blue and gold shopfront of Emmett's Store. Plenty of foodstuffs inside. This is a renowned deli and no mistaking. How about a caff?
Yes, indeedily. Before we can run through the single sheet menu, the chap mentions an offer to good to refuse:
Come and have breakfast at the Emmett's Cafe for only £2.16 per person during January, February and March 2016. Two rashers of our free range bacon, one egg, slice of toast and a mug of hot tea!
Seriously? A full English for four coins of the realm? Apparently so, and way cheaper than some of the other options such as the delicious sounding ribs. Here's our piping tea, bag still bobbing in the Emmett's design mug, and then two plates arrive. Oh my. This is some quality bacon and that is some quality banana chutney. Oh me, oh my. Ab fab food.
By now, we're somewhat under budget and somewhat over time. No pudd for us. Gotta takeaway a coffee, though, from that Kubrickian machine. As you might expect, that's a top jolt and is presented with a gorgeous Spanish sweet. Fishing around for cash, the lady tells us about the current deal on their bacon. We both buy family packs, and Andy also opts for a jar of the chutney. If that breakfast is a loss leader, it works very well.
If it was a car -- Hennessey Venom GT.
If they were passing by -- Steve Coogan.

EDitorial ± 10-Jan-2016
130Story: Beak / Steak / Collection / Growl / Resolution
<! - |entrytitle|130Story: Beak / Steak / Collection / Growl / Resolution| -->
The rules of 130Story are simple: given a random seed word, write a story in 130 characters.
Beak
Attacks the King, does Marchmont Needham With his writings every week He can kiss goodbye to freedom Now he's up before the beak @130story

— Ed Broom (@edbroom) January 11, 2016
Steak
Poker and a porterhouse. Perfect. But Paddy opened the fridge, took one sniff and shook his head. Those steaks? Too high. @130story

— Ed Broom (@edbroom) January 7, 2016
Collection
Forgot my wallet on Sunday so I took 20p from the collection plate. The Good Lord wouldn't want me to miss my post-service latte. @130story

— Ed Broom (@edbroom) January 7, 2016
Growl
Big team meeting. From under the table came a low growl. Nobody blinked. Thanks, everyone, for warning me about Bob's guide dog. @130story

— Ed Broom (@edbroom) January 6, 2016
Resolution
Pink Post-it. Purple Sharpie. NO CHOCS WATCHING TELLY. I stuck it on the corner of the screen. That resolution will be televised. @130story

— Ed Broom (@edbroom) January 5, 2016
More to follow.

EDitorial ± 9-Jan-2016
Crinkle-Crankle Walls in Suffolk, 1-10
<! - |entrytitle|Crinkle-Crankle Walls in Suffolk, 1-10| -->
(visit the list of crinkle-crankle walls in Suffolk and view the accompanying Google map)
— (1) Easton —
(visited 28-Aug-2015)
Bring up the subject of crinkle-crankle walls and, if you're not met with total bemusement, your conversational partner will inevitably cite "that long one on the corner near Framlingham". They mean the huge example at Easton, the daddy of them all. It's most likely the longest in the land and goes on and on and on right round to the church near the pub.
To add to its notoriety, a motorist destoyed part of it in November 2013 before driving off. Car drivers, eh? At considerable expense, it's now been repaired. Them's a bucketload of bricks.
— (2) Bramfield —
(visited 30-Aug-2015)
You might think it's all downhill after Easton. Yet the wall at Bramfield provides the image for the above mentioned Wikipedia page. Where's Bramfield? We weren't sure, either, and then, having taken a left turn off the A12, got lost in the village itself, quite a feat in itself.
Find St Andrew's Church with its detached round tower and opposite you'll find a superb example bordering Bramfield Hall. This is a beaut.
— (3) Eye, Chandos Lodge —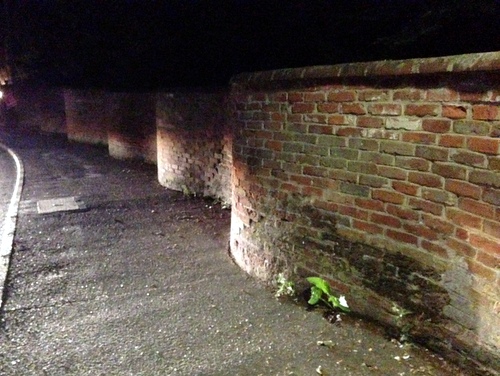 (visited 03-Sep-2015)
Crazy for crinkle-crankles, we headed up the A140 one late summer's evening to the ocular town of Eye. In fading light we idled out of town to find Chandos Lodge.
There, right there on the busy main road, stood our target. Passing headlights provided the necessary illumination for a quick snap.
— (4) Brome Grange —
(visited 03-Sep-2015)
Pevsner says there's another one nearby, I said, pointing the motor a tiny bit further northwards. Rejoining the A140, a quick shimmy brought us into the grounds of the Brome Grange hotel, now an upmarket Best Western establishment.
Unsure of where to go next, me and Eldest sidled into the reception to be greeted by a lovely helpful lady. She was great, and indulged us by leading us through the hotel to stick our heads out of a side door. Over there, she said, nodding into the gloom. Couples have their wedding photos taken against it. We didn't get the bestest view, truth be told, but there it was.
— (5) Long Melford Hall —
(visited 05-Sep-2015)
Later that week and blessed with summer sun, we motored to Melford. Parked in Long Melford Hall and ready to flash our National Trust cards, I asked the people about their wavy walls. They denied all knowledge. Very poor, NT, very poor.
Two minutes later we spotted the first example near the entrance. Ten minutes later we found the second example in the gardens, stretching from the house and including a built-in door. Double bubble. Thumbs down to the woeful car park folk. Thumbs up to the delightful lady providing tea and cake.
— (6) Long Melford, Cock and Bell Lane —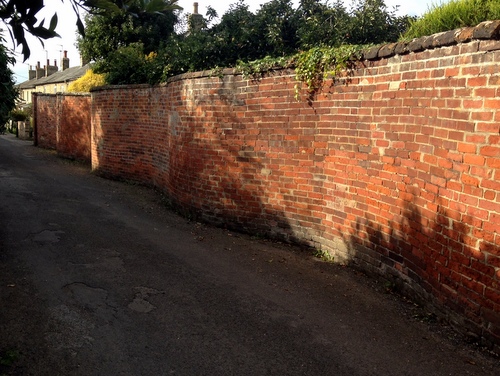 (visited 05-Sep-2015)
With the afternoon wearing on, Eldest directed us into the main drag of Long Melford. And that is a long drag.
Sure enough, very close to the interestingly named Cock & Bell pub sits the interestingly named Cock & Bell Lane. Who knows why, but there stands a fine structure alongside a walkway. Good one, and fun when they're hidden away.
— (7) Earl Soham, Brandeston Road —
(visited 07-Sep-2015)
Putting in the hard yards, we set the controls for the A1120 tourist route, the one that goes all the way from Stowmarket to Yoxford. Fighting a losing battle with the setting sun, we zipped through Stonham Aspal, Pettaugh and the like before slamming on the brakes in aristocratic Earl Soham.
Once more following Eldest's lead, we parked slightly off piste on the Brandeston Road. I've seen this on StreetView, she said, walking along a grassy verge. And waddya know, there's a stubby little example in the grounds of a grand house, probably/possibly The Rookery. Characterful, you'd have to say.
— (8) Saxmundham, High Street —
(visited 07-Sep-2015)
Not yet done that same September evening, we pressed on in search of another. Addicted, us? On through Dennington (hi, Ed!) and Peasenhall to Yoxford. Apparently there's a wobbly wall by Satis House, that nice looking hotel cum restaurant on the corner. I pulled the car in, we had a cursory look around and came away empty-handed. It was dark, to be fair.
Still keen, a few miles down the trusty A12 stands Saxmundham. We won't be defeated this time. For there on the high street, much like Eye, stands another crinkle-crankle with a go-faster stripe adorning its lower third.
While the crew messed around for the obligatory snaps, a lady popped her head out of a nearby window to ask what we were doing. And then she invited us in to survey her house, probably the oldest residence in Saxmundham. That wall forms her back garden, it so happens, and isn't really that ancient. All very hospitable of her though we were all wondering if we'd get out alive.
— (9) Halesworth, Rectory Lane —
(visited 12-Sep-2015)
That following weekend happened to coincide with Heritage Open Days when lots of old buildings, often inaccessible any other time, throw open their doors to the public. For the first time, Halesworth was doing lots of stuff. We had a fantastic guided tour of the magnificent property which now houses Tilly's cafe. Top coffee and cake, too, and huge thanks to the owner for showing us around.
Oh, not forgetting the rather fine wall along Rectory Lane, apparently better known to locals as Duck Lane. A bit like Cock & Bell Lane in Long Melford, this one's slightly off the beaten track and pleasingly not reachable by car. Follow the town trail and you can't miss it.
— (10) Ashbocking, Crockery Barn Cafe —
(visited 04-Dec-2015)
What with various children at various centres of further education, the crew disbanded for a couple of months to go their separate ways. Then, almost accidentally, I ticked off another example on a light lunch trip to the Crockery Barn Cafe in middle-of-nowhere Ashbocking.
According to their website, this serpentine slitherer was commissioned by the Sargent family in 1999 to replace an old ugly wall. It's 100 feet long and was constructed over six weeks by David Starlng, a local builder. Considering he'd not done one before, he did an excellent job!

EDitorial ± 8-Jan-2016
Light Lunches: Seckford Spa
<! - |entrytitle|Light Lunches: Seckford Spa| -->
Faffing on a Friday is our forte. Chief among the many questions always to be answered is: where will we go forte? Scrap that. Doesn't really work since this is invariably a lunchtime trip. Adding to the simultaneous equations today is the fact that Andy's fleet is all at sea, therefore w=2 where "w" represents wheels. Meet you at 1pm on the boneshaker. Sometimes there's more to life than cars and grills.
Sun's on our backs as we whizz down past the Red Lion before the first challenge, to cross the A12 while wheeling a bike. Not pleasant. Left off the path leads to Seckford's "luxurious accommodation" and a poshy-washy AA-starred restaurant. Not for us chickens, obvs. We're here for the recently refurbished Spa, open 8 'til late.
That Andy's discovered that you don't need to be a guest to grab a light lunch here. Up those steps is an upmarket seating area with a plunge pool in the distance. Well done to the nice lady for welcoming us and for being savvy enough to stop that Girl From Ipanema background music. Order a cranberry juice, choose a snack from the menu and await nutrition in the classy conservatory overlooking The Hall. Very good tuna melt panini with well dressed salad, ditto Andy's carrot and orange soup. Bit nice, here, much like the golf club down the road. Kev would have liked it too though he'd have had to mind his language being so close to Woodbridge.
Somewhat at odds with spa living, there are sugary treats back on the shiny metal counter. This ain't no Shrubland. Slice of rich chocolate torte and a brownie simply slide down, all helped by the equally rich atmosphere. Coffee wasn't up to much, truth be told, but everything else was el-e-gant.
If it was a car -- S.P.A. 30/40 Super Sports.
If they were passing by -- Jane Horrocks.

EDitorial ± 5-Jan-2016
TT1516, Week 12
<! - |entrytitle|TT1516, Week 12| -->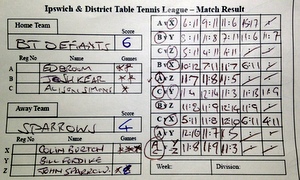 Took a call at the weekend. Hi Ed, John Sparrow here. I believe we have a game against you on Tuesday. Here's our team... (See, I have to book in everybody coming to play on a stupid paper form, but that's by the way.) Point is that I was still caught up in the whole Christmas stroke New Year thing and happily unaware of upcoming ping-pong.
Which was unfortunate 'cos Steve's on hols, Yang's swimming and Natalie's busy doing exams. Leaving l'il ol' me. Frantic emails and phone calls on Monday, though, the usual last-minute Larry, and a team emerged thanks to the fine folk from Thunderbirds. Stepping up once more would be she-got-game Alison and, making his debut, whippersnapper Josh, riding high in the div3 averages. This being the second half, it's a warm welcome to the birdmen, aka Sparrows, (previously), with gentle giant Colin, smiling Bill, and the eponymous jumping John Sparrow. In brief:
useful brace for Ed, slightly sad not to take Colin to a 5th end
sweet point for Alison, edging out Bill and playing a blinder to go 2-1 up against Colin before he came back strong
super sweet brace for that Josh, showing stacks of potential and an array of killer shots to get past Bill and John
Schoolnight for Josh -- ah! -- but never fear. Ed and Alison swept through the doubles to secure a vital point and thereby win the match. Thunderbirds are go!

EDitorial ± 4-Jan-2016
Crinkle-Crankle Walls Of Suffolk
<! - |entrytitle|Crinkle-Crankle Walls Of Suffolk| -->
Racking my brain (back in summer 2015) for someone or somewhere or something which might typify Suffolk, I hit a wall. A very particular sort of wall. Not dead straight like your normal garden wall, but weird and wobbly and wonderfully named. It's called a crinkle-crankle wall and, counterintuitively, uses less bricks than its linear companion.
According to Wikipedia, "the county of Suffolk claims at least 50 examples", easily beating everywhere else. Should be straightforward to find a list, don't you think? Not so. Pevsner's "Buildings Of Suffolk" has a throwaway reference to:
...undulating forcing walls of brick, which Mr Norman Scarfe has collected and published
He goes on to mention half a dozen examples but, frustratingly, there's no explicit reference to any publication by Scarfe. Other Googling also points to this mythical list having been extended by one G.A. Coulson. Again, sadly, with no periodical or article.
So I dug out all the passing nods in Pevsner, around ten or so, then handed that list to Eldest, busy doing nothing in late August. She then got to work on that there internet and doubled the list. Key to this enterprise was to actually see each of these fabled creatures in the flesh, if possible. Thus was born the Crinkle-Crankle Crew, comprising me, Eldest and friend, Middler, and my mum. Membership comes and goes, TBH.
According to my last search of the Historic England website for mentions of "crinkle" or "serpentine" wall, I currently believe that there are 31 crinkle-crankle walls in Suffolk that are listed to at least Grade II standard. They're all marked on the below list. Actually, make that 32 since the example at Great Waldingfield was listed -- see this EADT article -- in October 2020.
Must mention the tremendous help received from Edward Martin (EM) of the Suffolk Institute of Archaeology and History. He's been on a near identical path to myself, it so happens, trying and failing to track down that wretched list. When we finally compared notes, he had around 46 examples, twice my total! His understanding, by the way, was that Ye Olde Liste had around 92 entries. Gulp. I've now done my best to merge our disparate lists and add ones of which we were previously unaware. Thanks, Edward.
Also a big tip of the hat to Dr James Bettley for leading the way with his authoritative Buildings of England volumes covering Suffolk East and West.
Here's a handy map of crinkle-crankle walls in Suffolk.
— Confirmed Sightings —
Easton — listed
Bramfield — listed
Eye, Chandos Lodge — listed
Long Melford Hall — listed
Long Melford, Cock and Bell Lane — listed
Earl Soham, Brandeston Road — listed
Halesworth, Rectory Lane — listed
Beccles, Hungate Lane — listed
Worlingham, Garden Lane — listed
Sudbury, Meadow Lane — listed
Great Waldingfield, Babergh Place Farm — listed in 2020
Long Melford, Westgate Street — listed
Cockfield, Tudor Cottage — listed
Eye, Buckshorn Lane — listed
Eye, Castle Street, Stanley House — listed
Brome, Rectory Road, The Oaksmere — listed
Parham Hall — listed
Palgrave, Park House — listed
Metfield, Bell House — listed
Carlton Colville, The Old Rectory — listed
Tostock Place — listed
Ringsfield, All Saints — listed
Barsham, The White House — listed
Henham Hall — listed
Alderton, Cedar Court — listed
Coney Weston Hall — listed
Wattisfield, The Croft — listed
Hinderclay, The Old Rectory — listed
Rickinghall, Snape Hill House — listed
Rickinghall, Broomhills — listed
Heveningham Hall — listed
— To Do —
Which leaves:
Badwell Ash, Green Farm Barn
Holbrook, Royal Hospital School
Kelsale Hall
Orford, Peacock's Pyghtle
Ringshall, Chestnuts Farm
Updates to follow as and when.