EDitorial ± 23-Jan-2016
Crinkle-Crankle Walls in Suffolk, 21-30
<! - |entrytitle|Crinkle-Crankle Walls in Suffolk, 21-30| -->
(visit the list of crinkle-crankle walls in Suffolk and view the accompanying Google map)
— (21) Sudbury, Hardwicke House —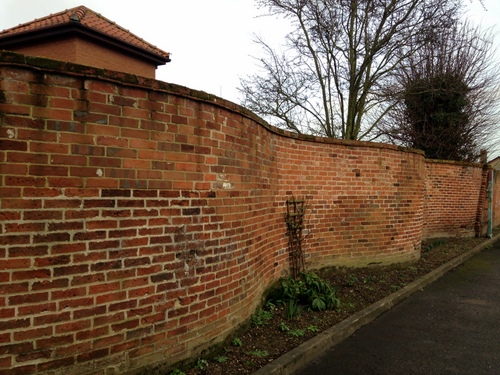 (visited 23-Jan-2016)
Easy ten minute drive along the B1115 and we're back in Sudbury with another nifty parking spot on Gainsborough Street. My two passengers are muttering about lunch. Yes, I say, but we have to earn it, and I head off out of town. There on Stour Street stands what's now a doctor's surgery in olde Hardwicke House. You wouldn't know it but, as verified by my Twitter buddy Tim Ranson, there's a wall way back from the public footpath to the rear of the car park. That's right. Not a kitchen garden, a car park.
Let's pass over the fact that the surgery was closed and the gates were locked, this being a Saturday afternoon, and say that I was the only one of our group to attend this structure in person. It's rather unremarkable, in all honesty, and shows numerous signs of having been patched up. Plus it's dwarfed by some unadventurous modern buildings to the rear. One point of note is evidence of a former gate or doorway, long since bricked up. Oh well. Tick it off and on we go.
— (22) Sudbury, Royal Grammar Place —
(visited 23-Jan-2016)
Still in Sudbury and still dragging around a mother and a nephew both desperate for a sarnie, we backtracked down School Street emerging on to Christopher Lane. Opposite us, super conveniently, stood Grammar School Place.
A week or so back, I'd had a dead useful chat with Mr Wall, straight face, the chairman of the Sudbury History Society. If anyone might know the location of that pesky Friars St wall, the one we failed to find previously, t'would be he. Mr Wall was the wall man, of course, and directed my eye towards this odd little (private?) road where we now found ourselves.
I'd passed on that nugget to Tim Ranson who had again come up trumps and confirmed Mr Wall's wall. Into the road, glance to the right and bullseye. A goodly part of this one is obscured by foliage and flower beds, and the brickwork appears of a certain age. Unclear if this was once attached to something grander. Nephew did his job and announced that today's crinkle-crankle count had now reached three and could we please stop for lunch?
Another weird thing to mention, similar to meeting those friends in Beccles (see above). Taking Friars Street back into town, my mum pointed out this chap walking in the opposite direction. This was the very same chap who provided great assistance two weeks back on this very street by walking us to The Red House. As he was walking by, I stopped him to convey my thanks, again, and point out that we'd finally found the Grammer wall. Oh, he said, that's good. And by the way, I saw your thing on Twitter.
— (23) Long Melford, Westgate Street —
(visited 23-Jan-2016)
Lunch finally taken at The Coffee House (does what it says), back to the motor for another return trip. We "did" Long Melford in the September sun, knocking off both Melford Hall and Cock & Bell Lane. That was that, or so we thought.
Ah. I seem to have totally forgotten to tell of my appearance on Radio Suffolk. I'd put out an appeal on Twitter for any CC info and that eventually found its way to Lesley Dolphin, who, after a brief email exchange, invited me on to her show on January 12th. Around 2:30pm you'd have seen me in a small meeting room off the main corridor at work, pretending to be on a confernce call but really speaking to the Suffok populace.
Out of that came a bunch of useful leads including confirmation of a third example in Long Melford, first mentioned to me by my mate Birder Bill. Here be Westgate Street, where Lesley apparently used to live. Opposite the Black Lion pub and Scutchers restaurant winds a tremendous wavy wall which, according to the listing description, is C18 and around 7ft high. Blimey. Couple of breaks, a gate, pillars, the whole 88 yards in fact. Nephew chips in to tell me this is the fourth wall today.
— (24) Long Melford, United Reformed Church, Hall Street —
(visited 23-Jan-2016)
Will this day out never end? Came away from Westgate Street to coast carbound past Melford Hall and Cock & Bell Lane instructing passengers to keep eyes peeled for a church. In particular, the United Reformed Church. I see it!
Pull over and cross the road to the library next to the church. Little lane leads who knows where. Bingo. Skittering hither and thither is a half-height serpentine bordering the church garden. I wasn't that impressed at first, then I viewed it from higher up and saw it for the weaving wonder that it undoubtedly is. Also listed, as per Westgate Street, and C18 or early C19. Done for the day and fully deserving of teatime treats at faintly odd Fanny Annes next door. Combines art deco with Elvis, as you do in these parts.
— (25) Cockfield, Tudor Cottage —
(visited 25-Jan-2016)
Day off work due to G's birthday and an excellent leisurely lunch at Bury's very own The One Bull. Totally her day, it goes without saying, and yet we find ourselves veering off-piste on the A134. Through the prizewinningly named Bradfield Combust and a left turn on the A1141 (7x163) leads us to Cockfield.
Plainly visible from the main road is Tudor Cottage where "the front is protected by a modern crinkle-crankle wall built of old bricks," or so says the listing. Not too tall and not too small, a mid-Suffolk treat, though blink and you'd miss it.
— (26) Ipswich, St Edmund's Road —
(visited 30-Jan-2016)
Badminton at Bury with The Boy and the day's nearly done by the time we get back. Thinks: I could pop on the Boardman bicyclette and try to check out that secret example less than a mile away. For the word is, dear wallflowers, that dear old Ipswich boasts a crinkle-crankle wall.
Tipped off by a conservation insider, I'd been shown a series of garden walls on Google Earth. Who knew? Location in question is posh St Edmund's Road. Potential problem in that these constructs can't be seen from the highway. Here goes nothing, I thought, and walked up to the side door of one of these highly desirable properties. Bloke who answered was most obliging, listened patiently to my bizarre quest and left me to my own devices.
Separating these gorgeous gardens (which lead down to Ipswich School's playing fields) are at least three fine crinkle-crankles, possibly the handiwork of one E.F.Bisshopp, a local architect who lived here too. Absolutely delightful stuff. Can curved lines be parallel?
— (27) Eye, Buckshorn Lane —
(visited 31-Jan-2016)
A somewhat chilly and dank Sunday. Roast consumed, dishwasher packed, it's gone 3pm when me and G and lunch guest Mum set off for a sabbath saunter. Off the A140, into Eye and the kindly folk at The Bank cafe let us in for a sneaky cuppa although it's closing time. Love those people, love the artwork, love The Bank. Seriously, go.
Way back the original crinkle-crankle crew checked out Chandos Lodge on Lambseth Street. Legend has it, however, that there are at least two further examples in wonky Eye. Right into Church Street and again into narrowing Buckshorn Lane, behold Wall Cottage and a white cat. This one's keeping itself to itself and perhaps extends further back. No way of knowing from the path. Listing says "red brick laid in header bond," so now we know.
— (28) Eye, Castle Street, Stanley House —
(visited 31-Jan-2016)
An increasing number of those remaining to be seen either belong to big country houses (eg Heveningham) or are on private property. That's true for our next destination, listed Stanley House on Castle Street, timber-framed and 16th century. Gosh.
Standing awkwardly outside pondering my next move, I hear noises in the garden and knock at the gate. Chap answers, listens to my request for a cheeky peek, and we're in!
Owner chappy is most obliging and happily gives us a mini-tour of the garden. Wall is in two stretches, one taller than the other. Higher section has signs of work after ivy removal, and lower section is partly down due to thrusting tree roots. Chop the tree, keep the wall? Anyway, big thanks to the owner. Stanley, I presume. To my knowledge, that completes our Eye operation.
— (29) Brome, Rectory Road, The Oaksmere —
(visited 31-Jan-2016)
Headlights on as we wave to Chandos Lodge on our northwards exit. Born optimist that I am, there may still be time for a third wall of the day. Brief photo opportunity stop for the towering turbines in the business park overlooking the A140. Right off the B1077 into Rectory Road and we're here.
Former rectory and home of the Cornwallis family, this historic house is now a luxury hotel named The Oaksmere. Brickwork of the courtyard parking area is fancy enough but that's not why we're here. Now unafraid to ask, I pop inside to seek directions/permission to/for the wall.
Confused faces abound in the rather nice interior before a young man presents himself. This way, he says. Over the muddy site of the walled garden with talk of an icehouse to be built, and yonder lies the crinkle-crankle. According to the updated Suffolk: East book by James Bettley, this example was built by Penning in 1848. It's a good length though not easy to tell in this dying light, and the corner (rebuilt) section has gone exposing the single brick construction. Thanks to The Oaksmere rep for his hospitality. I bet this whole area will look lovely once it's finished.
— (30) Rendlesham Hall —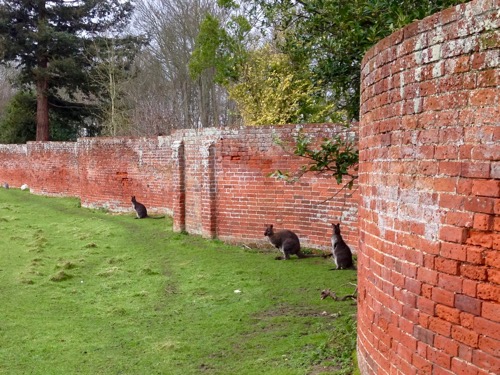 (visited 05-Feb-2016)
Big one, this, in all senses. When I put out my Twitter crinkle-crankle appeal ahead of the Radio Suffolk slot, the most bizarre response was from the Stokes Sauces people who said: "Here's a photo of ours at Rendlesham Hall. Complete with wallabies!"
Which was how my mum and me found ourselves being given a guided tour by Mr Rick Sheepshanks, mug of tea in hand, of the Rendlesham gardens one pre-arranged Friday afternoon. This way, he said, and the fun began.
Peacocks. A hugely tall brick wall. Larches. Rheas. A bothy. Redwoods. Brahman Indian holy cows. Lumberjack tales. Folly remains. And, over there to the north, a lengthy and elderly serpentine wall (with buttresses) partially obscured by lots of wallabies. Like you don't see every day.
This man loves his animals and loves his trees. He's also got his very own Buddhist temple in the orangery. We spent a flabbergasted hour in his company and enjoyed every minute. Hugely hospitable host, and then some. And the ketchup is great too.