EDitorial ± 29-Feb-2016
TT1516, Week 13
<! - |entrytitle|TT1516, Week 13| -->
February 29th today. Superman's birthday, if I recall from my DC days. More pertinently, the final day to purchase some qar tax for the Qashqai. Quickly does it! You'd think they'd knock a few quid off if you leave it until the last few minutes, but not so. Quality web forms, though, unlike some Nissan nonsense I used last week which rejected a registration number because it contained a space character. Numpties.
Moving on. The boys, Ed and Steve and Yang, are back again, and this will most likely be Yang's final game of the season, what with the swimming. Mega, i.e. a rearranged game. Geddit? Those Bright Stars are out to eclipse us as they did previously, though there's a slight line-up change. Shining tonight are bunny Warren, palindromic Hannah (dad Nigel sitting out) and Yootha Brian. In brief:
good brace for Ed, coming back from 2-0 and 8-2 down to outlast fading Brian
great brace for Steve, grabbing his first points in three games with a hard-fought five end victory over luckless Brian
maximum three for top-scoring Yang, the only one of us to beat Warren
Those singles had already put us comfortably ahead before Ed and Yang added a rare doubles point with a fine win. An 8-2 victory equals our best result of the season and should go a long way to retaining our div2 status. Nice!

EDitorial ± 28-Feb-2016
130Story: High / Underwater / Swill / Teach / Ring
<! - |entrytitle|130Story: High / Underwater / Swill / Teach / Ring| -->
The rules of 130Story are simple: given a random seed word, write a story in 130 characters.
High
Flights banned. Skyscrapers barred. Ladders burned. The Diminutive Party goes to great lengths to stop its citizens getting high. @130story

— Ed Broom (@edbroom) February 27, 2016
Underwater
Job offer, he said. Nick a statue. Some old god. 3m tall, maybe 3 ton.
Possible, I said. City? Hillside?
No, he said. Underwater.@130story

— Ed Broom (@edbroom) February 26, 2016
Swill
Chilling & swilling brandy [*] in [**] The Sands [***] and waiting for my girl [****]
* Blue Rat
** outside
*** The Spar
**** mum@130story

— Ed Broom (@edbroom) February 25, 2016
Teach
Things To Teach My Child:
* forehand smash
* table manners
* goal difference
* cook fried rice
* troubleshoot WiFi
* screw shot@130story

— Ed Broom (@edbroom) February 24, 2016
Ring
Something glinted in my drink. A ring. Too much, too soon, dear Billy. I nearly choked as I downed the margarita, ice and all. @130story

— Ed Broom (@edbroom) February 23, 2016
More to follow.

EDitorial ± 23-Feb-2016
TT1516, Week 19
<! - |entrytitle|TT1516, Week 19| -->
Our salty seasoning is slowing drawing to a close what with only a handful of games left. Not looking too bad, he said with glass half full, but a few more points would be more than welcome. Talking of which...
Manor are visiting our manor tonight, and they're comfortably bottom of the division. We got a decent result at their place on a crazily drawn-out evening. Same again would be super. Steve and Ed on duty again but this time joined by Thunderbird Andy, complete with Glenn Hoddle's shorts and shiny new eBay-sourced bat. Making the Manor team are division 2 champion Martin, who I really should have beaten in the championships a couple of weeks back -- I was 2-0 up! -- but who then went on to win the whole shebang, very impressively, plus blue trainered Kevin and dad Winsley. In brief:
OK brace for Ed, failing to take revenge against Martin
another duck for Steve, alas
maximum hat-trick set-of-three for star-of-the-night Andy, playing an absolute blinder to outgun all opponents
Top fun in the doubles with Ed and Andy, the old team, back together again. We had our chances. We blew our chances. Draw's a fair result.

EDitorial ± 21-Feb-2016
130Story: Frozen / Moss / Shard / Respond / Guitar
<! - |entrytitle|130Story: Frozen / Moss / Shard / Respond / Guitar| -->
The rules of 130Story are simple: given a random seed word, write a story in 130 characters.
Frozen
Tonight's the night. Your favourite bar. Your favourite drink, a frozen margarita. Is there something in that...DON'T EAT THE ICE! @130story

— Ed Broom (@edbroom) February 20, 2016
Moss
Back to Pete's squat after lectures. No rent! No wonder. Black mould on the walls, moss on the coving, and the bog is aptly named. @130story

— Ed Broom (@edbroom) February 19, 2016
Shard
I'll always wear this patch 4 U
Although U moved to Brighton
I broke your heart of glass in 2
And a shard lodged in my right 'un@130story

— Ed Broom (@edbroom) February 18, 2016
Respond
"Good, thanks. Slept most of the time."
Every night I quiz Bruce about his day. Now, as I stroked his tail, he chose to respond. @130story

— Ed Broom (@edbroom) February 17, 2016
Guitar
- He wants us to build a pool shaped like a guitar?
- So the guy says. Isn't he some big rock star?
- Yeah, but he's the drummer!@130story

— Ed Broom (@edbroom) February 16, 2016
More to follow.

EDitorial ± 17-Feb-2016
TT1516, Week 18
<! - |entrytitle|TT1516, Week 18| -->
That Natalie said she could play, then that Natalie said she couldn't play. These things happen. In stepped muggins who'd been looking forward to a hard night staring blankly at a blank piece of blank paper. Out with the bicycle and out into the chill for the short ride across Norwich Road, Bramford Lane and Bramford Road. Con Club ahoy.
Us boys are once more back in town for the rematch against high-flying Rosary Blue (previously) with green Matt, the best a man can John Gillett, and Oh Phil Phil. In brief:
single point for Ed, going down in straight games to Matt and John
nowt for Steve, beaten in the fifth by big Phil
excellent hard fought two points for Yang, outnetting Phil in five but saving his best to claw back from 2-0 down to win against Matt
Never in the doubles were Ed and Yang when facing the formidable pair of Matt and John. Still, always good to catch up with John and spectator Adrian. Both chilly and wet when leaving with our three snatched points.

EDitorial ± 14-Feb-2016
130Story: Mix / Pumpkin / Spear / Method / Bed
<! - |entrytitle|130Story: Mix / Pumpkin / Spear / Method / Bed| -->
The rules of 130Story are simple: given a random seed word, write a story in 130 characters.
Mix
A dash of chemical X gave his liquid spheres unlimited life. Hold them! Punch them! And so was born Mick's Indestructi-Bubble Mix. @130story

— Ed Broom (@edbroom) February 14, 2016
Pumpkin
Cucumber legs prop up Zack's melon belly. His pumpkin head bares a squash nose. Zack's quest for love is in the lap of the gourds. @130story

— Ed Broom (@edbroom) February 12, 2016
Spear
"Centurions? Stage left in 5 minutes. Hey you, where's your..."
*roots around backstage*
"A-ha, I do believe I spy a spare spear!"@130story

— Ed Broom (@edbroom) February 11, 2016
Method
My method combines Dean's charm, Hoffman's physicality and Pacino's power. Did you see my last role as a shoplifter on The Bill? @130story

— Ed Broom (@edbroom) February 10, 2016
Bed
Rolling over, he tells Sandra that he'll try to come home earlier tomorrow and that he loves her. It's so easy to lie in bed. @130story

— Ed Broom (@edbroom) February 9, 2016
More to follow.

EDitorial ± 8-Feb-2016
TT1516, Week 5
<! - |entrytitle|TT1516, Week 5| -->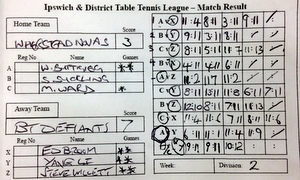 Bloomin' breezy out there tonight what with Storm Imogen bearing down. I tell you, I saw any number of wheely bins tumbled over in Kesgrave. Thing is, too, they can't right themselves when they're horizontal. I've watched. Besides that, The Chaps -- Ed and Yang and Steve -- are back together tonight for the first time in yonks.
How long has it been since we played those Novas? Er, only last week, actually, 'cos this is one of them thar rearranged games. Dipstick Willie and Smash'Em Sue return accompanied by long-time-no-see Lift It You Noodle Marty. In brief:
6-0 up after six games with two each for us, happily enough
after a rest, canny Willie outfoxed both Steve and Yang
Ed went 2-0 down to Marty and clawed back to 2-2 before being deservedly beaten
Kind of Steve to allow Ed and Yang to play and win the doubles in an unlikely straight games victory. Two (count 'em) wins in a row!

EDitorial ± 7-Feb-2016
130Story: Jail / Wise / Pond / Bake / Art
<! - |entrytitle|130Story: Jail / Wise / Pond / Bake / Art| -->
The rules of 130Story are simple: given a random seed word, write a story in 130 characters.
Jail
The warden threw a party in the jail. Jelly and cake, fine, but cheese & pineapple? Each cocktail stick became a miniature shiv. @130story

— Ed Broom (@edbroom) February 8, 2016
Wise
"Debut playwright," my friend said. "I might invest." I scanned the first page. Clunky dialogue. I turned to him. "Is that Wise?" @130story

— Ed Broom (@edbroom) February 5, 2016
Pond
When fairground Goldy broke the tank, we moved him to the bath. Soon we'll have to transfer him to the pond. He sure loves krill! @130story

— Ed Broom (@edbroom) February 3, 2016
Bake
After hanging up his raincoat, Jimmy showed me his photos. Hey, I said, is that my cake? Do you know how long that took to bake?! @130story

— Ed Broom (@edbroom) February 2, 2016
Art
They stare at the floor. "Strong. Current. Challenging art." From the rear comes the cleaner's voice. "Cheers. That's my bucket." @130story

— Ed Broom (@edbroom) January 30, 2016
More to follow.

EDitorial ± 6-Feb-2016
Crinkle-Crankle Walls in Suffolk, 31-40
<! - |entrytitle|Crinkle-Crankle Walls in Suffolk, 31-40| -->
(visit the list of crinkle-crankle walls in Suffolk and view the accompanying Google map)
— (31) Boyton, The Clock House —
(visited 05-Feb-2016)
Some ten miles south-east of Rendlesham Hall in the back of beyond is Boyton, home of pal Andy, founder of the light lunch outings. Hearing of my crusade, he's piped up with the unlikely news that the chap living opposite has a crinkle-crankle wall. Really?
Richard, current occupant of The Clock House, kindly said we could come over to check it out. Said wall was built in the late 90s by the previous owner, one Kristen Busch-Hansen, with the help of an unnamed friend. They used proper lime mortar and included the odd decorative terracotta tile, a classy touch.
Around 20 bricks high, it weaves towards the distant fields among shrubs and flower beds. Cleverly, the wall also rises up the slope. Must have been quite a project. Thanks to Richard for coming out into the cold to show us!
— (32) Framlingham, Mount Pleasant —
(visited 07-Feb-2016)
Exchanging emails with Edward Martin, I saw that his list included an example in Framlingham. Been there loads of times for a walk around the castle walls and never yet seen a wavy one.
Knowing that a Twitter contact lived nearby, I asked John Brassey for assistance, directing him to a house called Greystones on Mount Pleasant. Sure enough, he found it, bless him. Not at all obvious, and not obvious from StreetView, it snakes behind a couple of private houses.
Things got a little complicated when another incarnation of the crinkle-crankle crew comprising me/Mum/TheBoy went to visit. As me and Mum wandered into Buttons Corner to see what we could see, The Boy called to say that the car alarm was going mad. At this point, however, I was knocking on the door of a nearby conservatory to ask for a better view, please. Again, chap was perfectly helpful and showed me into his back garden to view his chunk of the venerable wall. He owns this bit, next door owns another bit. Decent height with a modern gateway and trailing wisteria. Why's it here? Couldn't say.
Meanwhile The Boy was trying to tell his Nana not to try to break into the car and further provoke the alarm. All seemed much calmer once we were safely ensconced in the vinyl warmth of The Common Room.
— (33) Wickham Market, Hill House —
(visited 14-Feb-2016)
Significant moment on Saturday when an email popped in from Dr James Bettley. Who he? Only the chap who's spent years updating various Pevsner "Buildings of England" guides, including our very own Suffolk. I'd pestered him via Twitter for a list of crinkle-crankle mentions in his East and West volumes, and he duly obliged. Cheers!
Consequently, on to the list went a handful of new old 'uns including this one. Darling, I know we're en route to a lovely Valentine's lunch, but would you mind awfully if we briefly dropped anchor to gawp at a wall? That's terribly decent of you, honey-bun. You can imagine, can't you?
The good doctor's East tome directs us to the prominently placed Hill House on Wickham Market's triangular-shaped market square, specifically to the "garden behind with crinkle-crankle wall". Quite a formidable looking property. A dash down Dallinghoo Road does the job and there she blows behind a metal gate. Beautifully bulgy, slightly pear-shaped and boasting a back gate too. Bet that's a quality garden in there too.
— (34) Parham Hall —
(visited 14-Feb-2016)
Luncheon at the capital Common Room and partially walked off around the windswept walls of Framlingham castle, let's attempt to locate a second Sunday serpentine. Never before have we taken that turn off the B1116 to Parham. Here goes nothing.
Along the Hall Road and I'm searching for the small blue accommodation sign to Garden View, "a lovely first floor apartment situated within Parham Hall". There it is! Doesn't seem entirely right to simply drive in without prior invitation so we park nearby and I head back on foot. Plenty of CCTV warnings and guard chickens and even a sign saying Danger: Bees!
Over here to the left is the Adam Paul studio. Mr Paul apparently makes violins and grows fruit, and he's skilled at both. His grandparents owned Parham Hall, in the grounds of which sits a fantastic walled garden. I can see precious little from the farm forecourt, to be fair, so this is a token visit. Note to self to arrange to come back for a better look around.
— (35) Wangford, Church Street, Parsons Meadow —
(visited 21-Feb-2016)
Years and years and years ago, some three decades back, I had the pleasure of attending a gig by the mighty Hank Wangford. Actual doctor by day, actual country & western legend by night, and I believe still going strong into his mid '70s.
Up the A12, past the Latitude sight and it's a right to the place that lent Hank his name. Welcome to Wangford. Village stores, couple of pubs and a smattering of historic properties. Behind the doubly sainted church of Peter and Paul lies the lane leading to the old vicarage. Down here, according to a Geograph picture posted by Christine Matthews, is today's first target.
Recently on the market for a cool half-million is Parsons Meadow, "built in a traditional Georgian style." Rightmove helpfully adds that there are "lawned areas of garden to either side of the house, one partially enclosed by a crinkle crankle wall." Here it is, about my height, apparently recently built but ageing nicely although a tad regular for my discerning eye.
— (36) Wangford, Church Street, Ivy House —
(visited 21-Feb-2016)
Still on foot and along Church Street in pursuit of a lead from Adam Little who was good enough to email me:
It's in the garden of the house I was born in, Ivy House, Wangford. The wall runs from Church Street across the garden (used to divide the lawn from the kitchen garden) back to the old coach house. We had a minor collapse once, when a particularly heavy lorry went down Church Street and the vibration caused a minor collapse, but it was all reinstated.
Ivy House, ex-boarding school, sits symetrically behind a hedge. There's nobody at the door today, alas, but glimpsed through the side gate is the infamous wall, tantalisingly out of reach. Shame not to be able to get any closer and view the full length. Another day, maybe.
— (37) Reydon, Wangford Road, near Copperwheat Avenue —
(visited 21-Feb-2016)
Another hot tip has come in from both Juliet Blaxland, rural architect, and Celia, my Mum's Latin classmate. Check out the Wangford Road, they both said, in downtown Reydon, and steer your eyes southwards.
Return to the motor, past St Margaret of Antioch and there's Copperwheat Avenue to our right. Here be many modern crinkle-crankles with a small stretch on the corner and a much longer length on the other side of the avenue.
Lots of ins, lots of outs and a gate too, a little reminiscent of Eagle Way in Martlesham in its contemporary context. I wonder if these estate developers get some weird looks when they propose building these wavy walls?
— (38) Reydon, Lakeside Park Drive —
(visited 21-Feb-2016)
Three down already today and no nephew to keep score. Plus we're nowhere near the promised coffee 'n' cake. One more, I say, one more. SatNav warns of a "sharp right turn" approaching the A1095 Halesworth Road, nearly doubling back on ourselves. Left turn into Lakeside Park Drive and another new-ish estate.
Among these executive boxes, some bright spark has created his very own walled garden. An Englishman's home, and all that. I hesitated to include this particular example, truth be told, but it does perform the requisite crinkle and crankle and has a distinctive stitched effect. Bricks are pleasingly assorted colours, too.
Two final brief points. First, coffee in The Boardwalk on Southwold Pier was warm, frothy, underpowered and overpriced. Must try harder than that push-button machine, guys. Second, we did try to take in one more wall which merits a mention in the original Pevsner. He talks of a place in Blyford named Serpentine House. Regulars at the Queen's Head couldn't help, then we spotted said house at the western edge of the village. There's a big brick wall on the roadside, possibly made of older bricks, but no serpentine wall. Destroyed or collapsed, perhaps?
— (39) Palgrave, Park House —
(visited 27-Feb-2016)
To the east of the A140 sit the likes of Brome and Eye (see above for both). To the west sits Mellis, ex-home of the in-laws, a village with a large common, extant pub and a Multiyork outlet. That Mellis Road bends north to join the A143, off which springs Lion Road. If in doubt, head Diss way.
Before hitting Palgrave proper -- I think we're still in Wortham, technically -- gaze right and there, a few yards beyond that low fence, stands a mighty wall. Must get closer. We turned in and saw a sign for St John's, a "medium secure" mental health hospital with plenty of handy parking. I'm sure nobody will mind if I take a quick recce. This, crinkle-crankle fans, is an elderly brick-built beast, most likely at least 3m tall. Google Earth shows the wall to the west, north, and east.
After a close-up look and feel by the NW corner, we asked if we could have a quick shifty inside. No, said the man. This is private property. Oh. And off we drove to Diss for lunch at cute Katie's Kitchen.
— (40) Long Melford, The Water Meadow —
(visited 06-Mar-2016)
Surely Long Melford, crinkle-crankle central, is D&D? Long since ticked off are Melford Hall, Cock & Bell Lane, Westgate Street and the United Reformed Church. Then I stumbled across a Flickr photo by "Barry at LM" showing the view of a "crinkly crankly" wall across the meadows. Best check it out.
South-west of the high street is a field, a water meadown if you will, bounded by the Stour. Satellite view shows a path across it from Liston Lane. What that bird's eye doesn't reveal is the fence. Finding a gate, and treating as local humour the advice of a passing lady to "mind the bull", I traipsed over to the wall. Took out my phone, switched to camera mode, and watched the screen go black. No battery.
Solo trudge back to waiting G and Mum -- it is Mother's Day, after all -- with a plea to borrow her charged phone, then back over the grass. This apparently antique wall guards the rear of a large garden. There's a few signs of repair, to be sure, but it's an 8ft treat, and who on earth would know it was here? Cheers to Barry at LM. Oh, and to Mum for the loan of the camera. And to the smiling ladies of Tiffins for post-crankle refreshments. Cakes on wooden boards? We want plates!

EDitorial ± 4-Feb-2016
Ipswich Lunches: Smokey Joe's
<! - |entrytitle|Ipswich Lunches: Smokey Joe's| -->
That there Twitter thangy has its uses. My timeline had some mention of a new burger joint in the 'Swich, apparently very recently opened. When mentioning this to Kev, his little eyes flipped over to become miniature patties. He'd missed the last few light lunch outings. He sure as heckington wasn't going to miss this one.
Come Thursday, the appointed day, Kev hands myself and Andy a folded A4 sheet containing an unbeatable offer for the opening week. Any burger plus fries for only £5. Nice one. Parking on Elm Street, I lead the way to Coytes Gardens thinking that the old sandwich shop will be the place. Not so. Round the Londis corner and facing Antonio Giovanni, home of hair, sits the "all American" Smokey Joe's. Gosh darn. I guess that previous Chipbis business didn't last too long.
Positive first impressions. Walls are graffiti covered, artfully, and yes, that offer is still good for a day or so. What to have? Size-wise, there's the XL, the XXL, and the gutbusting XXXLs. Pepsi fizzy pops all round while we're weighing our calorific options. Fifty points if you guessed that we'd all choose the fatboy options:
(Andy) New Yorker: double chicken, double cheese, BBQ sauce, etc.
(Kev) Mac Attack: beef patty, double cheesy mac, Joe's ketchup, etc.
(Ed) Big Tuna: grilled tuna steak, mint chilli salsa, etc.
And all with fries, please. Wait for a bit, 'cos plenty of others in here too, then here come our platters. Oh my. More than enough to get your teeth into. Loved the tuna. Those fifty-somethings opposite me, the lightweights, didn't actually finish theirs, such was the quantity of food. Not quite the East Coast Diner, if I'm honest, but this is their opening week and I'd more than happily go back with the family in tow. It'll do well.
If it was a car -- Cadillac Escalade.
If they were passing by -- Kate Riley.

EDitorial ± 2-Feb-2016
TT1516, Week 16
<! - |entrytitle|TT1516, Week 16| -->
Already February and we could do with a few points. Hoping to get some tonight against similarly lowly Novas who, oddly, we haven't yet played. Three proper Defiants on call with Ed, self-driving Natalie and Cuban-tanned Steve.
Playing for Novas are Oor Willie, last spotted way back in 2009, with mild-mannered Dave and purple Sue, also not seen for a good while. In brief:
another brace for Ed: two strong comebacks to get past Willie and Sue before coming unstuck against darn Dave
excellent double for Steve, defeating Dave but losing out to Willie's guile
off-the-mark point for Natalie, finally!
Captain's decision to pick himself, ahem, plus Steve for the doubles. What with Ed and Steve both having won a couple of games, you know. And that went well, for a change, winning in straight games. Nice 6-4 win and let's do it all again next week.