EDitorial ± 8-Feb-2016
TT1516, Week 5
<! - |entrytitle|TT1516, Week 5| -->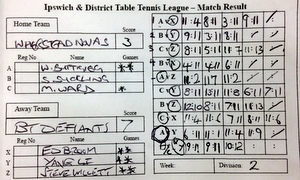 Bloomin' breezy out there tonight what with Storm Imogen bearing down. I tell you, I saw any number of wheely bins tumbled over in Kesgrave. Thing is, too, they can't right themselves when they're horizontal. I've watched. Besides that, The Chaps -- Ed and Yang and Steve -- are back together tonight for the first time in yonks.
How long has it been since we played those Novas? Er, only last week, actually, 'cos this is one of them thar rearranged games. Dipstick Willie and Smash'Em Sue return accompanied by long-time-no-see Lift It You Noodle Marty. In brief:
6-0 up after six games with two each for us, happily enough
after a rest, canny Willie outfoxed both Steve and Yang
Ed went 2-0 down to Marty and clawed back to 2-2 before being deservedly beaten
Kind of Steve to allow Ed and Yang to play and win the doubles in an unlikely straight games victory. Two (count 'em) wins in a row!