EDitorial ± 30-Mar-2016
Felixstowe Light Lunches: Coffeelink
<! - |entrytitle|Felixstowe Light Lunches: Coffeelink| -->
Full twelve months since the Co-op/CL joint venture that is the Darsham Hamper and already a quarter of the way through 2016. About time we visited a new branch of local indie Coffeelink. Seaside, driver!
That Azzouz has finally found and fitted out a Felixstowe frontage, moving into the venerable Garrucci deli. Next to Subway and within spitting distance of the recently refurbished Costa, he means business. There are high seats at the window, throwing me briefly back to the sadly departed Enjoy!, and the comfort level rises the further you go in.
Chiller is loaded with fresh baguettes and paninis, supplied I think from Delice, but me and Andy know what we want. Fresh bacon roll and a hot drink for a bargain £3.50, if you'd be so kind. That's a very good Americano, incidentally. We're tucking into our salty baps when who should turn up but Kev and the kids, still enjoying their Easter hols. Ain't this nice!
Got papers, got WiFi, and weirdly got some b&w photos of some random Ipswich buildings. My idea would be to hold a local photographic competition. Winner gets their large canvas print on the wall and a year's supply of freshly roasted coffee. That aside, we can just about fit in sweet slices of bakewell and caramel tart before we waddle out. Support your local independent!
If it was a car -- Opel Combo.
If they were passing by -- Kev & Ruby & Tony.

EDitorial ± 27-Mar-2016
130Story: Raise / Grass / Creature / Stress / Hair
<! - |entrytitle|130Story: Raise / Grass / Creature / Stress / Hair| -->
The rules of 130Story are simple: given a random seed word, write a story in 130 characters.
Raise
Pitch: Earthquakes. Volcanoes. A rogue geologist (Bruce?) realises that America is sinking. Working title: Raise The Tectonic. @130story

— Ed Broom (@edbroom) March 26, 2016
Grass
We all knew that Gunter the bookie needed cash ASAP. Stupidly, I offered him a job. Never trust a turf accountant. Guy's a grass. @130story

— Ed Broom (@edbroom) March 25, 2016
Creature
I laughed when the landlord mentioned the creature under the oven. Then, grilling sausages, a tongue flicked out. Where's the cat? @130story

— Ed Broom (@edbroom) March 24, 2016
Stress
6am, I started that TPS report.
9am, in strolled Jim.
Sunny out, yet he put the lights on.
Ensuing events were due to my stress.@130story

— Ed Broom (@edbroom) March 23, 2016
Hair
Sensing a hair on his tongue, Vic pulled. Out came a wire, a cord, a rope. Gagging, he yanked. The tug of war team yanked back. @130story

— Ed Broom (@edbroom) March 21, 2016
More to follow.

EDitorial ± 23-Mar-2016
Woodbridge Lunches: The Cooks Shed
<! - |entrytitle|Woodbridge Lunches: The Cooks Shed| -->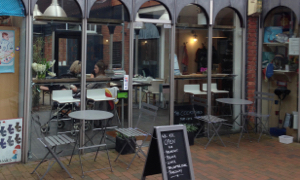 Nine years ago -- OK, let's pause there for a minute to sigh, feel our joints and rub our eyes -- came the original 2007 tour of Woodbridge. Among the first ten light lunch spots we "did" was the unexceptional Pickwicks, situated within the gravitational vortex of imperial Gobbitts Yard. Four years later and with austerity Britain in full swing, we were back to check out its replacement, the really rather good Eat Drink Rugby, later to rename as the more conventional Eat Drink Relax. That too, like England's world cup hopes, died a death.
Rewinding once more, one of the Best Ever trips was in 2010 to a Brigadoonesque place in Melton called The Cook's Shed. Sadly, the lady who ran that sublime shack moved on before any of us could show off the place to our partners. Now, however, she's dropped an apostrophe and is back for business in The Yard with The Cooks Shed. This should be a bit special.
Surroundings are anonymously basic yet the place is buzzing with LTLs. Fitting in nicely, we finally nab some seats and survey the board:
homemade baked beans on sourdough
sweetcorn fritters with bacon and avocado
bacon roll with fried tomato
homemade lemon and maple granola with yogurt and winter compote
Cooks Shed breakfast: potatoes, mushrooms, avocado, halloumi, boiled egg and chorizo
tarka dal with mango yogurt
lamb koftas with hummus, cucumber, radish, tomato salad and flatbread
spring minestrone soup with basil oil
counter salad selection
pork and ginger meatballs with courgette noodle and miso broth
Beans for me, fritter for Kev, brekky for Andy, all excellent, washed down with some homemade lemonade. Extending our lunch hour slightly, we made the time for a top coffee -- I had what Kev calls a "machachito" -- and shared some quality bakewell and cookies. What's on special? It's all special. Go.
If it was a car -- BMW i8.
If they were passing by -- Rachel Khoo.

EDitorial ± 20-Mar-2016
130Story: Basic / Dirt / Calf / Butter / Test
<! - |entrytitle|130Story: Basic / Dirt / Calf / Butter / Test| -->
The rules of 130Story are simple: given a random seed word, write a story in 130 characters.
Basic
If you need a cheap flat to let then Dijkstra is the goto man. Lighting's often dim but they're mostly OK, if a little basic. @130story

— Ed Broom (@edbroom) March 18, 2016
Dirt
Customers flocked to Cafe Dirt. We served the food in troughs. When Health & Safety closed us, I didn't mind. I still cleaned up. @130story

— Ed Broom (@edbroom) March 18, 2016
Calf
When Shirley Eaton died on the big screen, the camera panned along her spray painted body. I was seduced by the golden calf. @130story

— Ed Broom (@edbroom) March 17, 2016
Butter
Please restyle the dairy aisle
Says this head office letter
It's Marjorie who does the spreads
But Betty does the butter better@130story

— Ed Broom (@edbroom) March 16, 2016
Test
Sitting at that desk
I tried to find the words to
Pass that haiku test@130story

— Ed Broom (@edbroom) March 15, 2016
More to follow.

EDitorial ± 15-Mar-2016
TT1516, Week 22
<! - |entrytitle|TT1516, Week 22| -->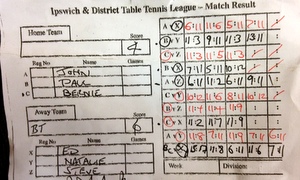 Couple of weeks since we've had a game thanks to a blank week (during which I wrote a lot of cheques and pulled a lot of faces) and a cancellation. Two games left of the 2015/2016 season and I think we're a little like Swansea, hopefully having already done enough to stay up.
At the Thunderdome and that Natalie's back. She dutifully turned up to play this lot last time out at our place except that yours truly had forgotten to book her in and thus she could not legitimately remain. Oops. Good chance tonight, then, to show us what we missed. On Petrel patrol are canny John, big-hitting Paul and chopper Bernie, the latter slowly progressing from "prune!" to "idiot!" to full-on effing and blinding as the night wore on. In brief:
good brace for Ed but no excuse for surrendering a 9-5 lead to lose in straight games against Bernie
good brace for Natalie, digging in to outhit John and Bernie
good point for Steve (after last time's duck) to get past John
Bracing duo of Ed and Natalie in for the doubles. Down to that final end before Natalie put away some nifty backhands to claim that vital point and, in so doing, the win. Division 2!

EDitorial ± 13-Mar-2016
130Story: Breakfast / Foot / Grain / Phantom / Pole
<! - |entrytitle|130Story: Breakfast / Foot / Grain / Phantom / Pole| -->
The rules of 130Story are simple: given a random seed word, write a story in 130 characters.
Breakfast
I need to fetch a sausage and egg McMuffin for our guest? Seriously? Sheesh. Has the lad not realised this is his final breakfast? @130story

— Ed Broom (@edbroom) March 12, 2016
Foot
At the foot of the stairs stood a grinning boy holding a balloon and a knitting needle. I raced back to bed and awaited the bang. @130story

— Ed Broom (@edbroom) March 11, 2016
Grain
$5, he says, and I write child's name on grain of rice. Great, I say. Who shall we do first? Cassandra, Persephone or Evangelina? @130story

— Ed Broom (@edbroom) March 10, 2016
Phantom
Those Yanks are long gone yet we heard it rip across the swimming pool sky, an invisible echo. An F-4, unmistakably. A Phantom. @130story

— Ed Broom (@edbroom) March 9, 2016
Pole
"Standard mid-door letterbox. Straight hallway. No carpet." Only when I'd satisfied the seller would he post me my new barge pole. @130story

— Ed Broom (@edbroom) March 8, 2016
More to follow.

EDitorial ± 12-Mar-2016
Crinkle-Crankle Walls in Suffolk, 41-50
<! - |entrytitle|Crinkle-Crankle Walls in Suffolk, 41-50| -->
(visit the list of crinkle-crankle walls in Suffolk and view the accompanying Google map)
— (41) Hollesley, Mallard Way —
(visited 12-Mar-2016)
Halfway down Dr Bettley's helpful list (see Wickham Market) was an entry for Hollesley. You know, home of the prison that once housed the ABC of Archer, Behan and Coulson. An internet search turned up a Rightmove page for a four bedroom detached house on the corner of Rectory Road and Mallard Way where:
...the grass continues along the outside of the feature "crinkle-crankle" style wall
Very modern and similar to Lakeside Park Drive in Reydon, it's not entirely worth the trip on its own but it does perform the requisite crinkle and crankle, plus it has a decent skirt and topping off. And, fellow parents, it falls within the highly regarded Farlingaye School catchment. Palm tree, too, possibly of interest to Rick Sheepshanks (see Rendlesham Hall).
— (42) Hollesley, Glebe House —
(visited 12-Mar-2016)
Five minutes walk from Mallard Way is Glebe House, a former rectory designed by one S.S. Teulon in the 1840s. In we go to set the usual scene (tour of CC walls) and ask the usual question (can we see yours). Young uniformed care home lady asks her more senior boss who in turn says she'll need to ask the neighbours since, strictly, it's owned by the people next door.
Another lady appears, the owner, and is curious: how did I know about their wall? Oh, and did I know it's a modern one that they built around 2000? Ah, no I did not. I'd assumed it was contemporary with the house. Not so. After buying Glebe House, and inspired by a regular commute past Easton, they decided to build their own, a little like Ashbocking.
Pleasingly tall, it weaves and wends and separates their residence from the retirement home. Nearly 20 years of weathering has aged it such that it now blends in well with the original kitchen garden wall towards the rear. If they moved, she adds, they'd build another one! Thanks for the info and kindly showing us around.
— (43) Metfield, Bell House —
(visited 20-Mar-2016)
Deep into Sunday afternoon by the time we'd pootled up the A140, scuttled off on the A143 and hit a right to the clearly made up Withersdale Street. Along the A1123 is the village of Metfield, home to a listed crinkle-crankle wall. To quote Historic England:
A length of railings along the road frontage of Bell House together with a short stretch of serpentine wall at the north end
It crinkles, it crankles, it crinkles, it stops. Norman Stanley Fletcher had a longer stretch.
— (44) Eye, Millfield, Castleton Way —
(visited 20-Mar-2016)
Surely, much like Long Melford, there's nothing more to see in Eye? Ticked off are Chandos Lodge, Buckshorn Lane and Stanley House. Except that the chap who owns Stanley House thought he'd seen a modern wall in a new housing development on the edge of town.
On Castleton Way and opposite Harismere School sits the Millfield estate. Round to the right, towards the rear, we find a pair of recent wavy walls. The one which guards a conservatory has a double brick red skirt, the other doesn't. Which is fine. Things don't have to match all the time, you know?
— (45) Lowestoft, Maltster's Score —
(visited 25-Mar-2016)
I know it has its detractors but, thanks to some fine family holidays back in the '70s, I love Lowestoft. With most of the original Crinkle-Crankle Crew reunited, thanks to the Easter break, what better time to Go East?
You well-informed readers will know about The Scores, that series of narrow paths which lead from the town centre to the original beach village. One of these, Maltster's Score, has an official plaque which reads:
This Score leads down between distinctive "crinkle crankle" walls. These walls have withstood winds and the passage of time even though they are only a single brick in thickness and are built without buttresses.
Despite those fine words, I'm not convinced that much of the original structures remain. Bits of older crinkle-crankle segments are hanging on at the bottom of the sloped path, while at the top there's a suspiciously new-ish downhill length with metal fish sculptures attached. This way to the sea!
— (46) Carlton Colville, The Old Rectory —
(visited 25-Mar-2016)
Ten minutes south-west of allegedly low-rent Lowestoft is civilised Carlton Colville, home of the East Anglia Transport Museum. Strolling through the sunlit graveyard of St Peter, all eyes are peeled for the Old Rectory. After ten minutes scratching our heads, I caved and knocked on a door for directions.
Now, this is worth listing, being tall (around 2m), old (late C18) and lengthy (around 30m). Like a quality embroidery, front and back are both top notch. Running down the lane to the left, clumps of daffodils, etc., enhance the authentically antique outer length, while the inner section (necessarily seen at a distance) has a matching serpentine flower bed and lots of lawn. Lovely scenes in the setting sun of a Good Friday.
— (47) Tostock Place —
(visited 26-Mar-2016)
Late afternoon, away at the in-laws for Easter and in need of some fresh air. Not far from Stowmarket, close to Woolpit and therefore within easy reach of an unvisited wall. With both daughters in tow, let's go. Before you know it, we're parked outside the church of St Andrew in nearby Tostock.
Along the public footpath to the right of the church and there's a driveway with signs to various houses. I don't believe we were intruding -- apologies if we were -- but here's a listed but hidden gem. This, folks, is a C19 kitchen garden surrounded by four (count 'em) 2m crinkle-crankle walls. Wow.
We didn't go in. That would be overstepping the mark. But we did peer over the gates at either end to admire the trees, bushes and plots within. As and when I write my guide to crinkle-crankle walls in Suffolk, this would be the perfect spot for the launch party.
— (48) Dunwich, Cliff House —
(visited 02-Apr-2016)
Rewinding to mid-Jan's Radio Suffolk appearance, a listener named Wurzel asked if I knew of a crinkle-crankle wall in Dunwich. No, sir, I did not. Later, that same wall was confirmed by its appearance on Dr Bettley's list.
Through Middleton and Westleton, right at the fork and right again onto Minsmere Road. Here, on the left, is Cliff House Holiday Park. Looks smart, this place, and there, next to the car park, is our wall. Probably seven feet tall and, curiously, with the odd buttress, it seems to form two sides of an old kitchen garden. There's a gateway too but the view is sadly blocked.
However, the Cliff House website has a terrific YouTube promo film shot from a drone on a very sunny day in 2015. About 20 seconds into the film, there's an excellent view of the garden (complete with trampoline and pond) on the far right of the screen. Well worth a look.
— (49) Bacton, Brickwall Farm —
(visited 10-Apr-2016)
One of the joys of this whole enterprise is to receive a tip-off from a complete stranger. Such a thing happened at Easter with an email from Richard Farrow:
Just to update your search for wavy walls, there was one at Brickwall Farm, Broad Road, Bacton near Stowmarket... the wall was at the back of the farm house and not visible from the road.
In all my dealings thus far, Bacton had never featured. Turning up unannounced on Sunday, we were fortunate to be welcomed by current owner Mick, the perfect host. Whereas the wall alongside the road is straight, the parallel wall to the rear is decidedly wavy and looks a treat with its beds of flowers. It's a good length, too, with piers, and includes a locked metal gateway.
I own this side, he said, and next door owns the other side. You're welcome to see if they're in. Which they were, the helpful lady inviting us to wander round and admire the view in front of a watery ditch c/w childproofed handrail. Base of the wall, like Palgrave, is flint-covered. What's curious to me is that there's no mention of this wall in any listing descriptions that I've seen, and nothing at all about it on the web. Maybe there are more low-key walls such as this hidden away in people's back gardens? Anyway, hat-tip to Richard for the info.
— (50) Redgrave, Juniper Cottage —
(visited 17-Apr-2016)
We need to talk about Rickinghall. Not right now, but that whole area's a hotbed of unvisited undulations. While attempting to pin down what's what, I received this message from Jean Sheehan:
There is a crinkle crankle wall at Redgrave in front of The Red House which used to continue on to the next house although this was not so high.
With a brief detour to revisit impressive Palgrave, we passed Cross Keys to find the Red House on The Street. Outside is a dead straight wall which keeps going to the more modern property next door, and here we find the teensiest hint of a crinkle. No crankle, though.
One further house along, however, is a two house terrace including Juniper Cottage. Sitting proudly along the full length is a waist-high crinkle-crankle of a similar height to Shotley. T'aint much but it's ticked off.

EDitorial ± 6-Mar-2016
130Story: Sand / Fond / Spear / Paint / Weasel
<! - |entrytitle|130Story: Sand / Fond / Spear / Paint / Weasel| -->
The rules of 130Story are simple: given a random seed word, write a story in 130 characters.
Sand
Roy sculpts sand into barbicans and baileys. Today, it's Conwy. Nobody doubts his dedication. He knows the tide will always win. @130story

— Ed Broom (@edbroom) March 5, 2016
Fond
I grew fond of Mia
Ska music was our bond
She always planned to form a band
Now she gigs across the land
Eternally one step beyond@130story

— Ed Broom (@edbroom) March 4, 2016
Spear
Longinus, you cretin. You've lost your weapon. Your commander will kill you. He smiles. The light's still on in the local Spear. @130story

— Ed Broom (@edbroom) March 3, 2016
Paint
"Details, if you please," said the desk sergeant. "The horse, the cart, the suspect." He paused. "Constable, paint me a picture." @130story

— Ed Broom (@edbroom) March 2, 2016
Weasel
*holds up furry animal*
[me] Listen to him.
[guy] He's pining.
[me] No, he's rasping.
[guy] You suggesting we sell wheezy weasels?@130story

— Ed Broom (@edbroom) March 1, 2016
More to follow.

EDitorial ± 3-Mar-2016
Woodbridge Lunches: Subway
<! - |entrytitle|Woodbridge Lunches: Subway| -->
Vous connaisez Luc Besson? Those of us d'un age certain with our lapsed Empire subscriptions retain fond memories of his earlier films, from Leon, with assassin Jean Reno giving sniping lessons to a young Natalie Portman, to Nikita, with Anne Parillaud as, er, another assassin. And then there's his 1985 masterwork of style over substance with pre-Highlander Christopher Lambert and post-One Deadly Summer's Isabelle Adjani. How could you, Daniel Day-Lewis? Oh, Isabelle.
Now, in our many years of light lunches, we endeavour to favour the independent establishment. Yet sometimes, in the name of convenience, we falter, hence the odd trip to KFC or McDonald's. Forgive us, Grenvyle, for we have partaken of salty and saturated foodstuffs. Today's another first, though. Ipswich's underground railway is legendary, but who knew that Woodbridge had its very own Subway? Andy, that's who, gracing us with a rare lunchtime appearance despite Project X. Kev's here, too, slightly narked that we've already ticked off the much more attractive sounding Christine's up the road.
Not having its own premises, Subway's host organism is the venerable Co-op opposite the jazzy buskers. Past the pre-packed snacks, past the cous-cous and accelerating past the veg brings us to the information overloaded counter. Us being noobs, we're not entirely sure how this works. Smiling girl helps out the old-timers: choose your length, choose your bread, choose your filling, choose your salads. Complex. Six-inch, cheese and herb, tuna, little bit of everything for me. Love the Hubble precision of that metal ruler for cutting that 15cm size. There's even flatbread, an especially Woodbridge touch. Our "sandwich artists" work in a blur and, in no time at all, we're handed our greaseproofed packages. That £3 for a selected six-incher plus drink (classy Tropicana) is a steal.
Guidelines, we're always reminding Kev, require there to be hot drinks plus seating. Here, to the left, is a communal high table for us saps, soon to be joined by a bunch of sixth-form kids, plus O2 WiFi, a boon in The 'Bridge. Snob that I am, I believe this is my first Metronomy purchase. Is it OK? It's really, really good. Filling in all respects and top value too. Five minutes for a sampled regular latte, not half bad, and some three-for-a-quid cookies. I will take the Subway again.
If it was a car -- Vauxhall Mokka.
If they were passing by -- Richard Bohringer.