EDitorial ± 23-Mar-2018
Light Lunches: Stutton Community Shop
<! - |entrytitle|Light Lunches: Stutton Community Shop| -->
Two Friday outings in succession! Truly, we are back to the golden age of light lunching even though both trips were Kev-less. As per last week's Campsea Ashe odyssey, the sun's got her hat on and the VW's still registering 13 degrees (like we've all forgotten dieselgate). A137, past Jimmy's Farm and left at the B-B-B-Brantham Bull.
Up here on the left somewhere, deep in Griff Rhys Jonestown, stands a pristine black building that now houses the Stutton Community Shop. Out with the earlier portacabin and in with shiny shelves bulging with fresh veg, greetings cards, cake decorations, et cetera. YNI, it's here: this ain't the Moon & Sixpence. Oh, and in the solar lit corner, a cute community caff. Like Garnett's, a sign reads "self service", slightly worringly. No savoury, Percy, but lady says 'tis OK to take refrigerated items, scoff 'em at the tables then pay for them afterwards.
Works for us as we grab a County Pies pasty, a scotch egg and some dietary chipsticks for Andy. Plus (slurp) a cool can of Cawston cloudy apple. They're overcompensating for who knows what with WiFi and a remarkable display of browsing material from OS maps to the local school's Ofsted report to the program for the upcoming horticultural show. Scarily comprehensive.
There's a steady flow of local punters stocking up on canned goods as we survey the wide selection of sugary goodies inc plenty for your GF. Helping ourselves to massive slabs of choc cake and coffee & walnut, we hit trouble with the user-unfriendly Flavia coffee machine, completely failing to understand the instructions on the wall. Press button, select size, and then insert the sachet, as we're shown by the clearly expect lady. Perfectly reasonable pushbutton hot drinks and very satisfying (and crazily cheap) cakestuff. Time to show our savoury wrappers, settle up and for Andy to do a spot of hyperlocal shopping. Something tells me they're on to Stutton good.
If it was a car -- GRJ's Vauxhall VX220.
If they were passing by -- Gruff Rhys.

EDitorial ± 16-Mar-2018
Light Lunches: Station House, Campsea Ashe
<! - |entrytitle|Light Lunches: Station House, Campsea Ashe| -->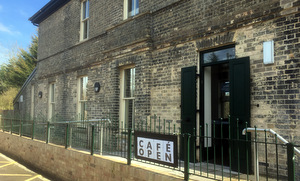 Too long since the last light lunch outing. Definitely too long since the last light lunch write-up, oops. TBF, though, there was the whole episode of TBFTE. You know, all that snow? That was a fun Friday, biking to work over the compacted frozen stuff that covered the cycle path.
Today, however, the sun it is shining, yes? Andy's car temperature thingy reads a full 13 degrees, though not entirely sure you can trust any measurement from a VW. Kev's busy busy giving the pair of us permission to pootle past Woodbridge and take the Framlingham turn-off. No left leanings but a righteous right into the early Viking settlement of Campsea Ashe, site of my wedding reception way back when. Past the village store, auction house and pub to park outside the pristine Station House. Thinks: when was the last time we sat for a snack in a station?
Andy up the ramp and me up the steps. Super smart421 interior and we can see straight away how this place "combines its historical purpose and heritage with a community function", oh yes. Already thumbs up for WiFi, newspapers and lashings of local leaflets (knit & natter, concerts, the peace palace). Cafe's to the left serving a carefully chosen selection of savoury and sweet. Helpful lady recommends the homemade leek and potato and garlic soup, yum, with whatever we like on the side. Tasty cheese scone for me, full bacon roll for Andy, going large on the protein. Posh cutlery and ceramics plus a mandatory chilled San Pellegrino.
Looked up mid-slurp to see an actual train pulling in -- what a place to bring your train obsessed small child -- since, after all, this is officially Wickham Markset railway station. People get on, people get off, and that fat old sun continues to do its stuff. Understandably, the boy Andy's completely stuffed so only little me to return for decent (and very reasonably priced) choc cake and a top flat white. Everything's very good indeed, and, what's more, they're open until 6pm daily. Did I mention the meeting spaces upstairs?
Had a quick chat with the SH folk about the general poor state of other local stations. Wouldn't it be good if other communities could rally round in the same way to bring theirs back to life?
If it was a car -- Elddis Accordo 120.
If they were passing by -- Michael Portillo.