EDitorial ± 9-Jul-2021
Ipswich Lunches: The Hold
<! - |entrytitle|Ipswich Lunches: The Hold| -->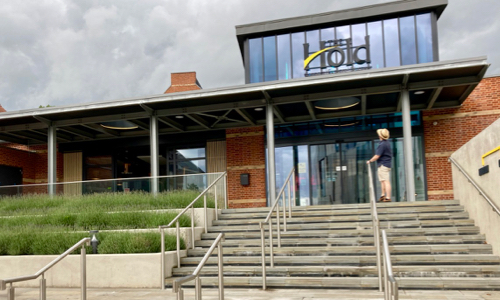 "Bit short notice," began the text from Andy, "but I've got a couple of hours in Ipswich tomorrow, Monday afternoon, from 3-5pm if you're available for a coffee somewhere?" Fair enough, I thought: I could maybe stop work at 4pm if I start an hour-and-a-half earlier than usual. "I suggest cafe at The Hold opposite the university. Should be open until 5. I'll get there as soon as I can after 4. OK?"
The retired founder of light lunches was polishing off a cream tea when I rocked up at the outdoor seating out front; he'd grabbed a fab parking spot on the wonderfully named Coprolite Street near Coffeelink. Within two mins of my arrival, a smiling young woman brought me a latte and a chunk of iced lemon cake. All good but, thinking that I shouldn't judge a caff purely on the c&c, I decided to make a short solo return visit at the end of the week:
| | | |
| --- | --- | --- |
| 08:30 | — | drop off bike at central cycle shop for brake repair (blah blah rear calliper) since "sooner we get it, sooner you'll get it back" |
| 08:45 | — | fire up the laptop, hook up to the Wifi and kick off with a refreshing Frobisher's Bumbleberry summer fruits medley, The Hold quiet like 1992 Stansted |
| 09:45 | — | large coffee and a (warmed) croissant, please; big screen showing historical recipes being made including 1917 rock cake and 1980 choc cake |
| 11:00 | — | still no call from the bike shop and my laptop battery expires; praise be to G. for making a special drive to drop off my Dell charger |
| 12:30 | — | good fish finger sandwich (apply own ketchup) with crisps & dressed salad, most tables occupied and the sun shining on the bright yellow chairs outside |
| 14:45 | — | cuppa tea from tiny (or faraway) pot, brought to my table like everything today; now drizzling out there; are you still here? asked the cheery woman |
| 16:15 | — | unplugged my charger, packed up my stuff and waved 'bye to the woman before brief walk to bike shop; bright yellow bike? working on it now, mate |
There's a rather fine spanking new heritage centre behind the cafe with more records than Our Price. I'll be back there shortly for the Lego exhibition.
If it was a car -- Holdsmobile Bravada.
If they were passing by -- Cherie Lunghi.