EDitorial ± 16-Jul-2021
Ipswich Lunches: Little Beans
<! - |entrytitle|Ipswich Lunches: Little Beans| -->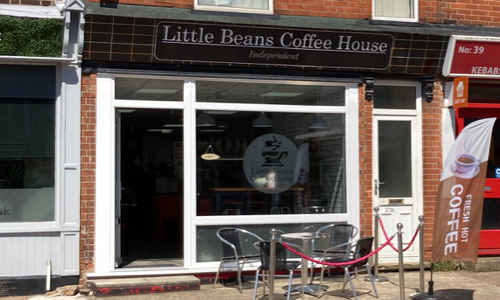 Seeing me about to head out on two wheels, G. and Middler advised that I'd be too hot in my long-sleeved top. Did I listen? Bien sur que non, and thus I was glowing like a 1950s young Elizabeth ascending Grove Lane. Precious few places to park your pedals opposite the Co-op so I nabbed a nearby post, wiped my face, and donned my mask.
At the start of the Foxhall Road local centre stand Four Paws, Salon 31, The Tan Box, The Grove Aesthetic Clinic, and then what I'm here for, the 2021 opened Little Beans Coffee House. "Independent" says the italics; "fresh hot coffee" reads the banner. Mucho coffee signage inside. I better hang back from that distinguished behatted gent at the counter: hold on, it's Andy! Yes please, I'll join you in a Lovestruck smoothie. We'll have those on the table outside, ta v. much.
Drinks are quality fruity beverages with the texture of gazpacho and presented in glasses wider than Syd Little's. Meanwhile Andy's fresh from Nordic walking by the Deben -- oh, the retired life -- and also from a late morning bacon butty at the Whistlestop. Nonetheless, here's his Brie & bacon baguette, and here's my pre-wrapped chicken & pesto, both with a handful of tortilla chips. There's a fine view of Bro's the apostrophed barbers and the passing Ipswich buses. Blinkin' boilin' in the Suffolk sun. Yes, I'm overdressed. If only someone had said something.
Inside for his iced coffee (with cream) and my vg chai latte and a chat with Christy the ex-Coffeelink area manager. Business is good so far having opened mid-February. She's got her regulars and is all about the coffee. Picked the wrong weather to try one of the good-looking cakes on show. I shall return to LB.
If it was a car -- Mr Bean's British Leyland Mini 1000 Mark 4.
If they were passing by -- Simbiatu Ajikawo.