EDitorial ± 8-May-2009
Popova To The Tate
<! - |entrytitle|Popova To The Tate| -->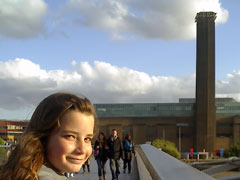 Middler couldn't sleep. I was still up. Let's watch some telly. Here's an unwatched Culture Show on the trusty Humax HD. Just because it's late doesn't mean we can't use our brains. There's that nice Andrew Graham-Dixon showing us round some Russian exhibition in London. Snazzy posters, 3-D drawings, even some paintings of pure colour: one red, one blue, one yellow. Maybe we could go visit?
Two months later and we made it, past No 1 Poultry, lots of red buses and umpteen men in suits. Tate Modern is open until late of a Friday, and here we are on the un-wobbly bridge. First to the museum's cafe for a posh bite: grilled sardines, chorizo, sourdough bread, all very Gunner Graham. Cosmopolitan urbane types, that's us. We're not really from the sticks.
Into the paid-entry expo we go: welcome to Rodchenko & Popova. Wow. All white walls and colourful images: some we like, some we don't, and some we don't know what to think. Ooh, there's a second room. We consult our pocket guide: this is gallery 2 of 12. Probably shouldn't have shared that whole bottle of water between us. A nagging bladder does not help your appreciation of fine artworks. Much literal relief when we find a white door, naturally, leading to a local loo.
We like the overlapping shapes of the Painterly Architectonic series. And what a title. We stare intently at the three side-by-side paintings of red, blue and yellow: what's to say? Less keen on the 3D woodwork. Highlight is probably the post-Revolution posters, including those for Battleship Potemkin and various magazine covers. Seventy years old and yet ridiculously modern.
Into the shop for a Modern Mug, a "Defining Constructivism" poster, natch, and a red/yellow/green cloth bag for school. Dead arty.