EDitorial ± 21-Mar-2014
Light Lunches: Cookhouse, Suffolk Food Hall
<! - |entrytitle|Light Lunches: Cookhouse, Suffolk Food Hall| -->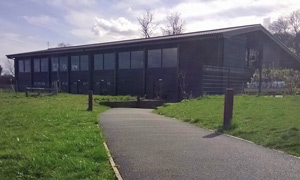 Highbrown with the lowbrow. From posh to passable to perfunctory. For every marvellous mono Milsoms, there are multiple middling Mermaids and more than one makeshift McDonald's. Not, as Jerry would say, that there's anything wrong with that, the price of inclusivity. Even so.
Even so, nice to have a bit of nice. And here's nice. Those gastronauts at the Suffolk Food Hall thought they could squeeze more Waitrose wonga by building a big new shed next door. Past the bouncy pillow -- Andy, come away -- and round the path, in the door, up the stairs. Wait to be seated: we will. Busy-busy in the car park, busy-busy in The Cookhouse. Before any mention of the grub, let's take a minute to admire that view of the Orwell Bron||Broen. That framing through the upper-storey windows must have been planned. Quality.
Helpful chap finds us a cosy little whacking great 6-8 seater table with pull-out sofas either side, like that seating you can never land in Costa. Big single sheet menus on heavy paper. This lunch is going to cost us. OJ and AJ for hydration and we're both running down the light lunch options, mains-dodgers that we are. Six or seven quid for my rarebit and dressed leaves and onion chutney, good if a tad mild, and ditto for Andy's vg open beef sandwich with horseradish. Who'd a thought ten years ago we'd all be sitting here nibbling on sourdough?
Not that it looks much from the outside, but it's Madeleine (all bright) and airy and modern in here with an open kitchen and a highly tempting selection of sweet stuff just over there. Another jolly guy talks us through the calorific choices. TBH, I prefer my carrot cake a little more down and dirty with some creaminess. Couldn't fault the jolt from the macchiato, however. Bene and then some. Even though he might turn his nose up at the prices, Karl was right: top marx.
If it was a car -- Audi Q3.
If they were passing by -- Charles Dance.