EDitorial ± 15-Mar-2016
TT1516, Week 22
<! - |entrytitle|TT1516, Week 22| -->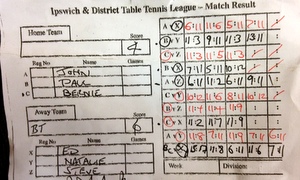 Couple of weeks since we've had a game thanks to a blank week (during which I wrote a lot of cheques and pulled a lot of faces) and a cancellation. Two games left of the 2015/2016 season and I think we're a little like Swansea, hopefully having already done enough to stay up.
At the Thunderdome and that Natalie's back. She dutifully turned up to play this lot last time out at our place except that yours truly had forgotten to book her in and thus she could not legitimately remain. Oops. Good chance tonight, then, to show us what we missed. On Petrel patrol are canny John, big-hitting Paul and chopper Bernie, the latter slowly progressing from "prune!" to "idiot!" to full-on effing and blinding as the night wore on. In brief:
good brace for Ed but no excuse for surrendering a 9-5 lead to lose in straight games against Bernie
good brace for Natalie, digging in to outhit John and Bernie
good point for Steve (after last time's duck) to get past John
Bracing duo of Ed and Natalie in for the doubles. Down to that final end before Natalie put away some nifty backhands to claim that vital point and, in so doing, the win. Division 2!