EDitorial ± 23-Mar-2016
Woodbridge Lunches: The Cooks Shed
<! - |entrytitle|Woodbridge Lunches: The Cooks Shed| -->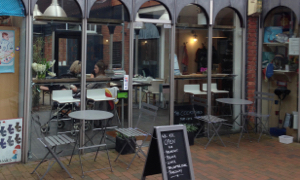 Nine years ago -- OK, let's pause there for a minute to sigh, feel our joints and rub our eyes -- came the original 2007 tour of Woodbridge. Among the first ten light lunch spots we "did" was the unexceptional Pickwicks, situated within the gravitational vortex of imperial Gobbitts Yard. Four years later and with austerity Britain in full swing, we were back to check out its replacement, the really rather good Eat Drink Rugby, later to rename as the more conventional Eat Drink Relax. That too, like England's world cup hopes, died a death.
Rewinding once more, one of the Best Ever trips was in 2010 to a Brigadoonesque place in Melton called The Cook's Shed. Sadly, the lady who ran that sublime shack moved on before any of us could show off the place to our partners. Now, however, she's dropped an apostrophe and is back for business in The Yard with The Cooks Shed. This should be a bit special.
Surroundings are anonymously basic yet the place is buzzing with LTLs. Fitting in nicely, we finally nab some seats and survey the board:
homemade baked beans on sourdough
sweetcorn fritters with bacon and avocado
bacon roll with fried tomato
homemade lemon and maple granola with yogurt and winter compote
Cooks Shed breakfast: potatoes, mushrooms, avocado, halloumi, boiled egg and chorizo
tarka dal with mango yogurt
lamb koftas with hummus, cucumber, radish, tomato salad and flatbread
spring minestrone soup with basil oil
counter salad selection
pork and ginger meatballs with courgette noodle and miso broth
Beans for me, fritter for Kev, brekky for Andy, all excellent, washed down with some homemade lemonade. Extending our lunch hour slightly, we made the time for a top coffee -- I had what Kev calls a "machachito" -- and shared some quality bakewell and cookies. What's on special? It's all special. Go.
If it was a car -- BMW i8.
If they were passing by -- Rachel Khoo.