EDitorial ± 27-Sep-2019
Ipswich Lunches: Clip 'n' Climb
<! - |entrytitle|Ipswich Lunches: Clip 'n' Climb| -->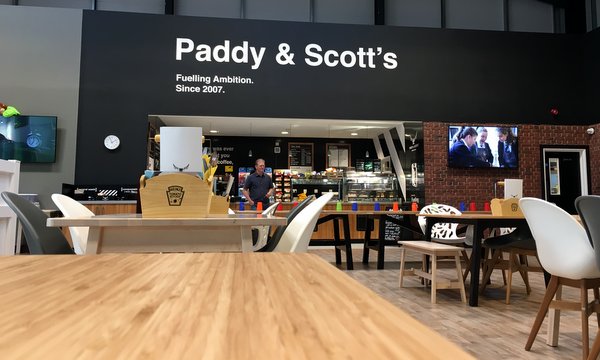 Kev's not around today: he's attending to his tonsure. Yep, it still grows up top, apparently. One down, time for two amigos -- Dusty and Ned -- to saddle up. Talking of which, did you see that the actual Steve Martin and the actual Martin Short are doing some UK shows in March 2020? Top title, "the Funniest Show In Town At the Moment", and (restricted view) tickets at the actual Albert Hall could be yours for £49.88. Three figures and upwards for the decent seats.
One speedy VW emissions-laden drive finds us at l'Europark d'Ipswich. Past Toyota and Lexus and Vauxhall and Ford and Citroen sellers along the tranquil Havens to reach a big yellow cube (not far from Kings). H-o-o-o-g-e logo stares down at us: behold P&S who provide the catering here at Clip 'n' Climb, "the first purpose-built CnC in the UK" with "the highest CnC walls in Europe at 9.6m".
Downstairs are cherry pickers and candy dispensers and what Kev would call a plethora of money grabbers. Upstairs is a mahoosive sans-serif Paddy & Scotts "fuelling station". Their now-closed branch at Framlingham would be lost in here. Special today is the fish pie, ignored by both of us in favour of the roasted squash risotto (for him) and the Spanish style chicken and chorizo tortilla (for me). None of your Ginsters pre-packed sarnies here, matey.
Cafe area is on a floating mezzanine that affords great views of people shinning up multicolour walls before banging the stopwatch button near the roof. All eyes are on a guy being winched up to the top of a death slide. He's grimly holding on as his feet get further from safety. Nearing the top, he shouts "I can't let go! I can't let go!", before being lowered and then sliding the last few metres. Excellent entertainment at others' expense. Andy's plate arrives several minutes before mine, but this is some really good grub, a very long way from what I expected. Maybe that's the Purdey's Rejuvenate ("good choice") kicking in? Lots of wood, everything v. clean, with big screens either side of the counter to promote their brand. Corporate hire is obviously a thing.
Quiet-ish of a wet schoolday lunchtime, CnC is chop-chop-busy-busy of a weekend and requires pre-booking. Back to our picnic bench where now sit two fantastic flat whites. Red velvet cake went down well, too. Not sure about myself -- I was never one for arboreal ascent -- but Andy will be hitting the heights here on his next birthday.
If it was a car -- Ford Everest.
If they were passing by -- Anita Rani.

EDitorial ± 20-Sep-2019
Light Lunches: Deben Cafe, HMS Vale
<! - |entrytitle|Light Lunches: Deben Cafe, HMS Vale| -->
Wherever there is injustice, you will find us. Wherever there is suffering, we'll be there. Wherever there's a half-decent cafe nearabouts, you'll find The Three Amigos! Except that Lucky and Ned are stuck in Dusty's car which is itself stationary on the A12. Dusty has heard talk of onions on the road. Lucky and Ned suspect the hand of El Guapo.
Would have been quicker to canter around (Dead)Woodbridge. Finally, though, we trotted off Melton Road by equally equine The Coach & Horses. Tied up Dusty's car with a bag of oats at bottom of Dock Lane, walked over level crossing, looking both ways, then where? This is a working boatyard, darn your eyes. Right on the footpath and there she blows in the shape of HMS Vale, home to the Deben Cafe.
There be warnings a-plenty before boarding: mind the railings, the deck, the bollards, the chains, and you should be fine. Swedish patrol boat turned training ship then headed for the scrapheap, P155 arrived here in July 2018 at some expense. Today's trip is possible since they're now open not just at the weekend but Fridays and Mondays too. Me and Andy opt for the Sunday roast roll -- beef or lamb? -- while Kev favours the boatyard toastie. Captain Cate, impressively contactless, gives us each a chit and invites us to find a spare picnic table.
View on a blue sky September day is hard to beat. Tucking into our roast lamb baguettes, we gaze towards the opposite riverbank, the very spot where Raedwald's boat was possibly / probably dragged out of the water, up the bank and overland to its resting place at Sutton Hoo. That was over 1300 years ago. This very week, Andy's village has been occupied by a crew filming The Dig, all about local boy Basil Brown and Edith Pretty. While Carey Mulligan and Lily James have the female leads, Basil, the great mound detective, is played by none other than Ipswich-born Ralph Nathaniel Voldemort Quartermaine Twisleton-Wykeham-Fiennes.
What with our earlier hold-up, no time for coffee 'n' cake, alas, but time enough for those two to re-enact that scene from Titanic. Note that Kev says the on-board loo is to be experienced. As my receipt says, "fair winds and following seas and we look forward to seeing you again soon."
If it was a car -- Vale Special.
If they were passing by -- Arsher Ali.

EDitorial ± 13-Sep-2019
Ipswich Lunches: Hank's Deli
<! - |entrytitle|Ipswich Lunches: Hank's Deli| -->
Quarter to two on a pleasant Friday lunchtime, seated solo in Caffe Nero facing Marks and Sparks in central 'Swich. Good in-house wifi is letting me get on with some work of national importance while I nurse a £1.80 bottle of Coke Zero. Borrowed a handful of grapes and a satsuma from the office to keep me going 'cos who knows when Andy will ring?
At 15:36, the call comes. Great, I say. Meet you up Lloyds Avenue -- yes, through the archway -- at that odd place that was Powwow & Pip. I don't mention that it was Cafe de Montparnasse before that, and even earlier was the much-missed Enjoy. New in at 38 is Hank's Deli. Glossy fast-food style wall menu offers burgers, nuggets, quesadillas and fries. Oh, and everything is 110 per cent vegan.
Falafel wrap please, says me to the cheery bearded fella, and a can of Dalston's fizzy blackcurrant from the extremely well-stocked fridge. Just an organic cola for Andy since he's still digesting a large home-cooked lunch. That boy's a pro. Sat outside in the Lloyds Avenue wind tunnel, Andy asks: was that the guy from Carrot Cake? That was Avi; this is Geoff. Both clearly know their grub, both sport wild facial hair, both hail from Canada. Uncanny.
Inside for a warming filter coffee (with oat milk, naturally) and, as part of a fiver deal, a walloping Trivial Pursuit triangle of chocolate cake with icing boulders and bits of Oreo. Seating in the back, free water refills, many boxes ticked. Any number of folk turned up to buy plant-based goodies from the extensive shop while we filled our faces. What with Hullabaloo (now on St Peters St) and Felixstowe's Greenhouse Cafe to name but two, this non-meat thing could catch on.
If it was a car -- Soybean car.
If they were passing by -- Avi Kniznik.