EDitorial ± 26-Jul-2021
Latitude 2021
<! - |entrytitle|Latitude 2021| -->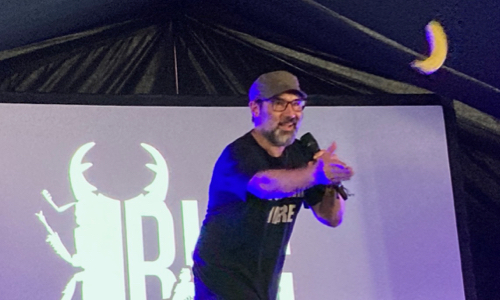 Must have forgotten to write up Latitude 2020, which is unlike me. Last one I can find is 2019. Oh well, sun's out and I'm back Back BACK for 2021, and on a Friday too. Double-flash at the gates of my QR ticket and my "expires 24 July 2021 at 11:43am" NHS Covid Pass then the usual protracted perambulation past tents, the medical centre and the pop-up Co-op.
Obligatory photo of the shiny LATITUDE lettering, mandatory queueing for a Greenpeace coffee, then a struggle to locate The Outpost among the yogis. Mind the nettles, whispers a helpful chap as I park myself on the ground to hear polished Kate Mosse (not that one) telling us How To Start Your Novel. We should know what colour socks our protagonist is wearing, she says, and remember that while lots of people want to write a book, very few do. Friend Adrian, a fellow scribbler, is in the audience and invites me (and his wife) to a posh hot choc. Which is nice.
Back over The Writers' Bridge and into The Sunrise to see the latest Specsavers Scottish Music Awards Breakthrough Artist, one Luke La Volpe plus band. Great voice, great look, great accent. Festival tweet took me to the trashy Trailer Park for some New York Brass Band: unlikely combination of a pumping sousaphone and a steampunk device pumping out smoke rings over the dancing crowd.
Took my £11.50 burrito over to The Alcove only to find that stewards were restricting the numbers so only able to sneak in for the final twosome by The Cool Greenhouse; they finished by trying to thank all other bands on the bill at the start of their winning track Alexa: "Please never stop listening in". Hoped to catch local food supplier Hodmedod's at the Theatre of Food: instead watched Kathy Slack grilling helda beans for ten mins before feeling the need to do a runner.
Would have liked to stay longer in the BBC Sounds tent for Dream Wife and their Bjork-esque lead singer but had to secure my spot in The Ballroom. Well done, me, for finding a prime location with a Mr Whippy to finish as the legendary Adam Buxton appeared in his SHORTS! Banana, Bad Dad and bags of Supergrass in a baggy BUG special. Chanced across Stephen Fretwell, clearly big enough to merit a 6pm slot in Sounds though new to me: classy and charismatic if a tad Radio 2 to me. Grown men around me mouthed the words.
Past Georgie surrounded by sofas at BBC Introducing for an impromptu visit to The Listening Post, the somewhat sparsely populated literary and poetry place. Gotta catch self-deprecatingly endearing Jon Osborne reading some of his latest poems "based on different aisles of the supermarket". Lovely stuff, and the crowd slowly swelled, drawn by his poetic pictures and the draw of next-up Mark Kermode. Who's this Jack Howard teenager?
Left the Kermode family (and Adrian) to be sure to catch Squid in Sounds. Oh my, what an awesome and apparently unstructured racket they bang out. With time running out before the headliner, selected the smallest food queue then carefully held my plate of pie & mash & peas as Hot Chip graced the stage. Wish you could have felt the release as the crowd sang along with Over and Over before an unexpected Springsteen finale. Wonderful.
Feeling the long day start to catch up with me, I aimed for the exit. Not so many volunteer guides this year, it seemed, to point me towards Red Car Park 2. Faced with a darkened field of cars, I fired up what3words and entered ideals / blend / habits: over there somewhere, it said. Navigate there? Yes please: Google Maps "can't find a route". Reverted to the compass app. Slow going, but boy was I glad when a light appeared in response to pressing the car remote. Returned home with a Backlisted podcast about Steve Aylett.
...and still missed Wet Leg, Dry Cleaning and Wolf Alice.