EDitorial ± 27-Oct-2021
Light Lunches: Felixstowe, All Things Nice / Scribble
<! - |entrytitle|Light Lunches: Felixstowe, All Things Nice / Scribble| --> Phone trilled with a short message from Andy: "Cafe trip Weds? Maybe Felixstowe?" That'd be swell, I thought, sounding just like Mr Laurel in my head, but that's quite a stretch on two wheels in the middle of the day. Doesn't he realise that... when it hit me that I'm back in the office on Wednesdays and that he could most likely pick me up like the golden olden times. "That could work," I fat-thumbed back.
In a sign of his new maturity, Andy was at Adastral reception at precisely the appointed time and, having motored to Felixstowe, opted straight for the pay-and-display library car park rather than risk a free 30 minute spot. Used RingGo, too. Older & wiser?
— All Things Nice —
In spite of the cursed Covids, a cacophony of coastal caffs seems to have sprung up in the last 18 months. One that appeared in Spring 2021 is All Things Nice with a sweet spot on Hamilton Road in the old Sweet Hut premises, adjacent to the Wimpy and diagonally opposite Coffeelink. Mask up to go in, mask down when seated.
Buzzing inside with most if not all tables occupied. Long laminated menu offered pretty much whatever you'd like in a Wetherspoons stylee. I'd biked to work and thus felt entirely justifed to order my fave egg/bacon/chips/beans (EBCB) combo -- see previously -- while advanced Andy chose the all day breakfast in a bap, which I'd say is his default option. October 27 was obviously stick-with-what-you-know day.
Part of the reason for our Felixstowe foray was to catch up with young Kev of this manor; shame that he cried off, leaving us sobbing into our excellent plates-o'-grub and mournfully sipping our medicinal Dr Peppers. Couple of mirrors if you want to watch yourself chewing and some random stock artwork, e.g. a London street scene, but the punters are here for the reasonably priced fill-you-up food. Shopfront has a curious mix of fixed-width Breakfast / Lunch / Dinner and curly-wurly cafe name. That and their choice of brown with yellow colour palette is all part of the appeal.
— Scribble Coffee Bar —
Given the reviewing backlog, we quickly reached a mutual decision to head elsewhere for kaffee und kuchen. Round the corner, just past the mighty Treasure Chest bookshop, used to be The Oaks. Not no more, 'cos celebrating its first birthday is funky fresh Scribble.
It's clear as Sealand on a clear day that owner (and musical theatre maestro) Wade Ablitt loves his music: there's an upright piano against the wall, a huge Pink Floyd poster to its left, and he's advertising an album of the week. Partners in Crime by Rupert Holmes, if you're asking. I could also mention the Spotify playlist and the "Scribble Sessions" tiny concert series.
Keeping with that firm favourites motif established at All Things Nice, I went for a flat white -- vg -- and surveyed the monster sweet items provided by local company Tray Bakes. As Wade says online, why pay for tiny cakes that Costa fortune? That man talks my language. Me and Andy opted for a gigantic yellow & pink battenberg cube topped with an individual marzipan-encased slice: two forks, please.
Great place to watch the world go by on that busy corner by the cinema: couple of others were doing exactly that. We were there during Spooky Season with pumpkin spice coffee and Biscoff white hot chocolate on the menu. Dunno if there's any connection to the local writing group, the Felixstowe Scribblers, but Scribble is well worth writing home about. Top cake, coffee and wall art.

EDitorial ± 4-Oct-2021
Sound City Ipswich 2021
<! - |entrytitle|Sound City Ipswich 2021| -->
After the seemingly great night had by all at the premier Sound City Ipswich back in 2019, I secured my Super Early Bird ticket in December 2019 for the next one. Friday 02 Oct 2020, start time 5pm, it said.
Didn't happen for very good pandemic-y reasons. However, they said, "all tickets remain valid for the new date in October 2021". That seemed like a long way off until last week when it finally happened over not one but two nights. Let's go big on the hand sanitiser and do this.
Out goes the Manor Ballroom as a venue; in come St Stephen's church, the hyper centrally located ex-tourist information centre, and The Baths where I used to flounder in the shallow end on swimming trips from school.
Day 1 -- Friday (mild, dry)
(17:50) Fraulein at St Stephen's -- three piece of male drummer, female bassist and her great hair, combining to make a fine noise
(18:30) bdrmm at The Baths -- bunch of reverb heavy blokes under a worryingly low ceiling, heaving and hot
(19:10) Katy J Pearson at The Baths -- melodic, sweet with some welcome keys and a young Andy Murray on bass
(19:50) Pom Poko at Corn Exchange -- replaced Porridge Radio, frontwoman bounding around, all smiles and high vocals
(20:15) Sink Ya Teeth at Smokehouse -- two women, one on bass, one on vocals with synth drums, easily filling a small room with a big beat
(20:40) Kyanos at Cornhill -- featuring The Boy's mate HWD on guitar, a chill Friday evening didn't seem right for some summery psych
(21:10) Yard Act at The Baths -- joined queue, got in halfway through set, much Leeds talking, did song with Katy, funny, Lemmy on bass, would have happily taken another half an hour
(21:40)Los Bitchos at St Stephen's -- rammed, much dancing, church lit up in every way
(22:35) Warmduscher at Corn Exchange -- late, loud, murky, crowd moving
Day 2 -- Saturday (chill, rain)
(16:50) Bug Teeth at St Stephen's -- solo guitar & electronics, ambient; would have liked to lie down
(17:30) Falle Nioke at Corn Exchange -- West African groove, camo, funky female drummer, curious keyboards
(18:15) Ren Harvieu at The Baths -- classy Salford Superstar in Cowboy hat and a great voice, twin sax, Matt Berry on guitar
(19:10) Khazali at St Stephen's -- smooth boiler suit soul, big up to Marco on the decks, two last numbers
(19:50) Alabaster de Plume at Corn Exchange -- extraordinary, supercool band, a unique chap whose orbit only sometimes intersects our own; spiritual set with Visit Croatia one of many highlights
(21:20) White Flowers at Smokehouse -- intense three piece, Cocteau infused, b&w projections
(22:00) Jelani Blackman at The Baths -- joint is jumping with Steves as wingman at the rear
(22:15) Billy Nomates at The Baths -- endless energy and positive attitude from within those dungarees
(22:45) Working Men's Club at Corn Exchange -- shirtless hardness to pound your ears
...and still missed The Cool Greenhouse, PVA and BC Camplight
Go Joe, go Marcus, go all involved in the Sound City set-up. Same next year?

EDitorial ± 2-Aug-2021
The Bucks Stop Here
<! - |entrytitle|The Bucks Stop Here| -->
To Sproughton
Where I biked
And bought
An iced chai frappuccino
Soon Suffolk's glitterati
Will be sampling these services
I wonder whose car
Will be seen at the Spar?
Maybe that of Eno?
And doubtless Peter Purves's

EDitorial ± 26-Jul-2021
Latitude 2021
<! - |entrytitle|Latitude 2021| -->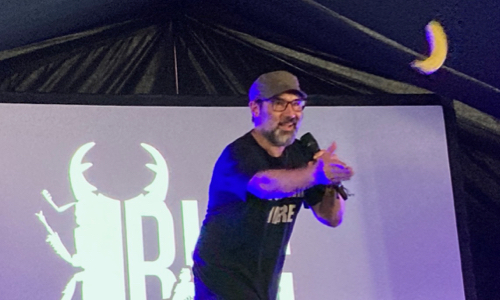 Must have forgotten to write up Latitude 2020, which is unlike me. Last one I can find is 2019. Oh well, sun's out and I'm back Back BACK for 2021, and on a Friday too. Double-flash at the gates of my QR ticket and my "expires 24 July 2021 at 11:43am" NHS Covid Pass then the usual protracted perambulation past tents, the medical centre and the pop-up Co-op.
Obligatory photo of the shiny LATITUDE lettering, mandatory queueing for a Greenpeace coffee, then a struggle to locate The Outpost among the yogis. Mind the nettles, whispers a helpful chap as I park myself on the ground to hear polished Kate Mosse (not that one) telling us How To Start Your Novel. We should know what colour socks our protagonist is wearing, she says, and remember that while lots of people want to write a book, very few do. Friend Adrian, a fellow scribbler, is in the audience and invites me (and his wife) to a posh hot choc. Which is nice.
Back over The Writers' Bridge and into The Sunrise to see the latest Specsavers Scottish Music Awards Breakthrough Artist, one Luke La Volpe plus band. Great voice, great look, great accent. Festival tweet took me to the trashy Trailer Park for some New York Brass Band: unlikely combination of a pumping sousaphone and a steampunk device pumping out smoke rings over the dancing crowd.
Took my £11.50 burrito over to The Alcove only to find that stewards were restricting the numbers so only able to sneak in for the final twosome by The Cool Greenhouse; they finished by trying to thank all other bands on the bill at the start of their winning track Alexa: "Please never stop listening in". Hoped to catch local food supplier Hodmedod's at the Theatre of Food: instead watched Kathy Slack grilling helda beans for ten mins before feeling the need to do a runner.
Would have liked to stay longer in the BBC Sounds tent for Dream Wife and their Bjork-esque lead singer but had to secure my spot in The Ballroom. Well done, me, for finding a prime location with a Mr Whippy to finish as the legendary Adam Buxton appeared in his SHORTS! Banana, Bad Dad and bags of Supergrass in a baggy BUG special. Chanced across Stephen Fretwell, clearly big enough to merit a 6pm slot in Sounds though new to me: classy and charismatic if a tad Radio 2 to me. Grown men around me mouthed the words.
Past Georgie surrounded by sofas at BBC Introducing for an impromptu visit to The Listening Post, the somewhat sparsely populated literary and poetry place. Gotta catch self-deprecatingly endearing Jon Osborne reading some of his latest poems "based on different aisles of the supermarket". Lovely stuff, and the crowd slowly swelled, drawn by his poetic pictures and the draw of next-up Mark Kermode. Who's this Jack Howard teenager?
Left the Kermode family (and Adrian) to be sure to catch Squid in Sounds. Oh my, what an awesome and apparently unstructured racket they bang out. With time running out before the headliner, selected the smallest food queue then carefully held my plate of pie & mash & peas as Hot Chip graced the stage. Wish you could have felt the release as the crowd sang along with Over and Over before an unexpected Springsteen finale. Wonderful.
Feeling the long day start to catch up with me, I aimed for the exit. Not so many volunteer guides this year, it seemed, to point me towards Red Car Park 2. Faced with a darkened field of cars, I fired up what3words and entered ideals / blend / habits: over there somewhere, it said. Navigate there? Yes please: Google Maps "can't find a route". Reverted to the compass app. Slow going, but boy was I glad when a light appeared in response to pressing the car remote. Returned home with a Backlisted podcast about Steve Aylett.
...and still missed Wet Leg, Dry Cleaning and Wolf Alice.

EDitorial ± 16-Jul-2021
Ipswich Lunches: Little Beans
<! - |entrytitle|Ipswich Lunches: Little Beans| -->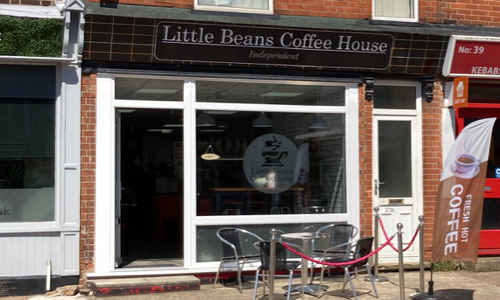 Seeing me about to head out on two wheels, G. and Middler advised that I'd be too hot in my long-sleeved top. Did I listen? Bien sur que non, and thus I was glowing like a 1950s young Elizabeth ascending Grove Lane. Precious few places to park your pedals opposite the Co-op so I nabbed a nearby post, wiped my face, and donned my mask.
At the start of the Foxhall Road local centre stand Four Paws, Salon 31, The Tan Box, The Grove Aesthetic Clinic, and then what I'm here for, the 2021 opened Little Beans Coffee House. "Independent" says the italics; "fresh hot coffee" reads the banner. Mucho coffee signage inside. I better hang back from that distinguished behatted gent at the counter: hold on, it's Andy! Yes please, I'll join you in a Lovestruck smoothie. We'll have those on the table outside, ta v. much.
Drinks are quality fruity beverages with the texture of gazpacho and presented in glasses wider than Syd Little's. Meanwhile Andy's fresh from Nordic walking by the Deben -- oh, the retired life -- and also from a late morning bacon butty at the Whistlestop. Nonetheless, here's his Brie & bacon baguette, and here's my pre-wrapped chicken & pesto, both with a handful of tortilla chips. There's a fine view of Bro's the apostrophed barbers and the passing Ipswich buses. Blinkin' boilin' in the Suffolk sun. Yes, I'm overdressed. If only someone had said something.
Inside for his iced coffee (with cream) and my vg chai latte and a chat with Christy the ex-Coffeelink area manager. Business is good so far having opened mid-February. She's got her regulars and is all about the coffee. Picked the wrong weather to try one of the good-looking cakes on show. I shall return to LB.
If it was a car -- Mr Bean's British Leyland Mini 1000 Mark 4.
If they were passing by -- Simbiatu Ajikawo.

EDitorial ± 9-Jul-2021
Ipswich Lunches: The Hold
<! - |entrytitle|Ipswich Lunches: The Hold| -->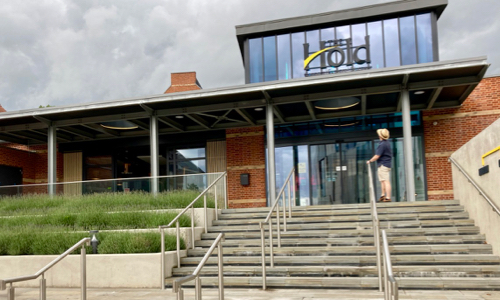 "Bit short notice," began the text from Andy, "but I've got a couple of hours in Ipswich tomorrow, Monday afternoon, from 3-5pm if you're available for a coffee somewhere?" Fair enough, I thought: I could maybe stop work at 4pm if I start an hour-and-a-half earlier than usual. "I suggest cafe at The Hold opposite the university. Should be open until 5. I'll get there as soon as I can after 4. OK?"
The retired founder of light lunches was polishing off a cream tea when I rocked up at the outdoor seating out front; he'd grabbed a fab parking spot on the wonderfully named Coprolite Street near Coffeelink. Within two mins of my arrival, a smiling young woman brought me a latte and a chunk of iced lemon cake. All good but, thinking that I shouldn't judge a caff purely on the c&c, I decided to make a short solo return visit at the end of the week:
| | | |
| --- | --- | --- |
| 08:30 | — | drop off bike at central cycle shop for brake repair (blah blah rear calliper) since "sooner we get it, sooner you'll get it back" |
| 08:45 | — | fire up the laptop, hook up to the Wifi and kick off with a refreshing Frobisher's Bumbleberry summer fruits medley, The Hold quiet like 1992 Stansted |
| 09:45 | — | large coffee and a (warmed) croissant, please; big screen showing historical recipes being made including 1917 rock cake and 1980 choc cake |
| 11:00 | — | still no call from the bike shop and my laptop battery expires; praise be to G. for making a special drive to drop off my Dell charger |
| 12:30 | — | good fish finger sandwich (apply own ketchup) with crisps & dressed salad, most tables occupied and the sun shining on the bright yellow chairs outside |
| 14:45 | — | cuppa tea from tiny (or faraway) pot, brought to my table like everything today; now drizzling out there; are you still here? asked the cheery woman |
| 16:15 | — | unplugged my charger, packed up my stuff and waved 'bye to the woman before brief walk to bike shop; bright yellow bike? working on it now, mate |
There's a rather fine spanking new heritage centre behind the cafe with more records than Our Price. I'll be back there shortly for the Lego exhibition.
If it was a car -- Holdsmobile Bravada.
If they were passing by -- Cherie Lunghi.

EDitorial ± 3-Jul-2021
Light Lunches: Juniper Barn, Rendham
<! - |entrytitle|Light Lunches: Juniper Barn, Rendham| -->
Bliss of a recent sun-soaked week in Cornwall was tempered by two calls from Middler: one at the start of the week to say that our poor old cat was on her last legs, and one at the end of the week to tell us that she'd just returned from A&E having come off her bike. Surely things would improve for her with a weekend away in Bristol? Yes, up to the point a friend texted to say she'd had a positive Covid test, thus requiring Middler to immediately self isolate and cancel her long-awaited driving test. Some girls don't have all the luck.
Elsewhere (and with Middler now less bruised, germ-free and returned to John Lewis), time for me to tear myself away from the televised footy -- big Euros 2020/21 quarter-final this evening -- and to take G. out to lunch. I had just the place in mind and directed she-at-the-wheel off the A12, through Hacheston and Parham and onto some twisty turny new Suffolk roads. That B1119 switches back multiple times and past the Sweffling White Horse before leading us over a bridge into Rendham, home of the Juniper Barn. Parking outside as per the Smokehouse at Falkenham. Box of secondhand books sat outside, a civilised sign.
Trusty masks on for the short guided trip to our prebooked table. Beams ran overhead: my wife, who knows about these things, pronouced this barn-of-a-place as "some sort of agricultural building". A teenage boy brought us the specials board -- couple of quiche, lentil & coconut bowl, soups, etc. -- and took our order. G. went for the Scotch egg: "Sorry," he said, "but I've just had the last one for lunch. But the fishcakes are good!" Fishcakes it was, for her, and the shakshuka for me. Packed with peppers, it very much did the job. Pleasing soft drinks too with the San Pellegrino range and some Breckland posh pop.
High-class grub aside, the JB all-stars offer fresh local produce and "a range of essential food" in what's effectively the village shop at the end nearest the entrance. Artwork on the walls (I spy a hare) is for sale, as is a selection of new books, and G. bought some eco shampoo plus half a dozen eggs and a cucumber. Seating outside, too: shame about today's drizzle and not being up to sampling the tempting cakes. More than made do with his-and-hers flat whites. Still not entirely sure where Rendham is but took us ten minutes to reach Framlingham. If you're in that vicinity, buy brunch at the barn.
If it was a car -- Jowett Jupiter.
If they were passing by -- Jules Hudson.