EDitorial ± 9-Jul-2021
Ipswich Lunches: The Hold
<! - |entrytitle|Ipswich Lunches: The Hold| -->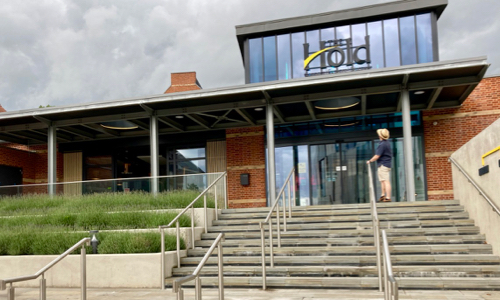 "Bit short notice," began the text from Andy, "but I've got a couple of hours in Ipswich tomorrow, Monday afternoon, from 3-5pm if you're available for a coffee somewhere?" Fair enough, I thought: I could maybe stop work at 4pm if I start an hour-and-a-half earlier than usual. "I suggest cafe at The Hold opposite the university. Should be open until 5. I'll get there as soon as I can after 4. OK?"
The retired founder of light lunches was polishing off a cream tea when I rocked up at the outdoor seating out front; he'd grabbed a fab parking spot on the wonderfully named Coprolite Street near Coffeelink. Within two mins of my arrival, a smiling young woman brought me a latte and a chunk of iced lemon cake. All good but, thinking that I shouldn't judge a caff purely on the c&c, I decided to make a short solo return visit at the end of the week:
| | | |
| --- | --- | --- |
| 08:30 | — | drop off bike at central cycle shop for brake repair (blah blah rear calliper) since "sooner we get it, sooner you'll get it back" |
| 08:45 | — | fire up the laptop, hook up to the Wifi and kick off with a refreshing Frobisher's Bumbleberry summer fruits medley, The Hold quiet like 1992 Stansted |
| 09:45 | — | large coffee and a (warmed) croissant, please; big screen showing historical recipes being made including 1917 rock cake and 1980 choc cake |
| 11:00 | — | still no call from the bike shop and my laptop battery expires; praise be to G. for making a special drive to drop off my Dell charger |
| 12:30 | — | good fish finger sandwich (apply own ketchup) with crisps & dressed salad, most tables occupied and the sun shining on the bright yellow chairs outside |
| 14:45 | — | cuppa tea from tiny (or faraway) pot, brought to my table like everything today; now drizzling out there; are you still here? asked the cheery woman |
| 16:15 | — | unplugged my charger, packed up my stuff and waved 'bye to the woman before brief walk to bike shop; bright yellow bike? working on it now, mate |
There's a rather fine spanking new heritage centre behind the cafe with more records than Our Price. I'll be back there shortly for the Lego exhibition.
If it was a car -- Holdsmobile Bravada.
If they were passing by -- Cherie Lunghi.

EDitorial ± 3-Jul-2021
Light Lunches: Juniper Barn, Rendham
<! - |entrytitle|Light Lunches: Juniper Barn, Rendham| -->
Bliss of a recent sun-soaked week in Cornwall was tempered by two calls from Middler: one at the start of the week to say that our poor old cat was on her last legs, and one at the end of the week to tell us that she'd just returned from A&E having come off her bike. Surely things would improve for her with a weekend away in Bristol? Yes, up to the point a friend texted to say she'd had a positive Covid test, thus requiring Middler to immediately self isolate and cancel her long-awaited driving test. Some girls don't have all the luck.
Elsewhere (and with Middler now less bruised, germ-free and returned to John Lewis), time for me to tear myself away from the televised footy -- big Euros 2020/21 quarter-final this evening -- and to take G. out to lunch. I had just the place in mind and directed she-at-the-wheel off the A12, through Hacheston and Parham and onto some twisty turny new Suffolk roads. That B1119 switches back multiple times and past the Sweffling White Horse before leading us over a bridge into Rendham, home of the Juniper Barn. Parking outside as per the Smokehouse at Falkenham. Box of secondhand books sat outside, a civilised sign.
Trusty masks on for the short guided trip to our prebooked table. Beams ran overhead: my wife, who knows about these things, pronouced this barn-of-a-place as "some sort of agricultural building". A teenage boy brought us the specials board -- couple of quiche, lentil & coconut bowl, soups, etc. -- and took our order. G. went for the Scotch egg: "Sorry," he said, "but I've just had the last one for lunch. But the fishcakes are good!" Fishcakes it was, for her, and the shakshuka for me. Packed with peppers, it very much did the job. Pleasing soft drinks too with the San Pellegrino range and some Breckland posh pop.
High-class grub aside, the JB all-stars offer fresh local produce and "a range of essential food" in what's effectively the village shop at the end nearest the entrance. Artwork on the walls (I spy a hare) is for sale, as is a selection of new books, and G. bought some eco shampoo plus half a dozen eggs and a cucumber. Seating outside, too: shame about today's drizzle and not being up to sampling the tempting cakes. More than made do with his-and-hers flat whites. Still not entirely sure where Rendham is but took us ten minutes to reach Framlingham. If you're in that vicinity, buy brunch at the barn.
If it was a car -- Jowett Jupiter.
If they were passing by -- Jules Hudson.

EDitorial ± 1-Jul-2021
Red 'Wich
<! - |entrytitle|Red 'Wich| -->
James Callaghan's in Holly Lodge still waiting at the church
By Clarks a fed up Michael Foot forgoes his Footmans search
Neil Kinnock tuts at each closed shop from Quiz to Evolution
While John Smith chats to Johnny Wark re Scottish devolution
Dockside, Tony Blair says mea culpa for The Ark
As Gordon Brown climbs Constitution Hill to Christchurch Park
Milliband lurks by the stand that serves the sizzling pork
Spots Corbyn cycling to the jam night at The Duke of York
Ranelagh Road's abuzz as our man labours with the lingo
Tory sleaze? That's thirty-three!
Johnson's den? It's number 10!
Keir Starmer's at the bingo

EDitorial ± 26-Jun-2021
Ipswich Lunches: The Milkshed
<! - |entrytitle|Ipswich Lunches: The Milkshed| -->
OK, so we-as-a-nation didn't quite make that 21st June date on the Road to De-mask-us, celebrated somewhat prematurely by that tremendous Streets "Who's Got The Bag?" track, but we are permitted to partake of provisions prior to a Parkinson's ping-pong practice. Up past Sainbury's, up-up-and-away past Chantry Park then straight on 'til morning or you see that disconcerting Catch 22 school sign.
Not to be confused with The Shed at Sproughton, The Milkshed (Milk Shed? Milkshedcafe?) is also within spitting distance of Sproughton. In fact, take Church Lane 400m down the road and that'll take you and your bicycle under the A14 into S-town. As I'm cooling down from my ride and admiring the Nourish-like gravelled exterior with Big Wooden Arbor, I see that Andy's taken a shady table-a-deux close to the main building. And here comes his Scotch egg and coleslaw with a good looking iced coffee. Don't wait for me, Andy.
"Any chance you could do me the avocado on sourdough?" I ask inside the cool-in-every-sense interior (I like those Atom Heart Mother prints). Breakfast finished at 11:30am; it's now 11:35am. "Have you seen Falling Down with Michael Douglas?" No, they haven't. Ten minutes later I'm back out dodging that darn sun and enjoying my Brick Lane brunch c/w poached egg, seeds and chilli jam, plus a Maynard House juice. Posh, here, where they believe in "fika" -- drink coffee, eat cake, relax with others -- which has been the whole light lunch ethos since 2007. Their standard menu includes a Scandi salad bowl, numerous open sandwiches and assorted charcuterie goodies.
Sportsmen that we are, we're all too aware that we'll both be needing energy for an afternoon of table tennis up at The Dome, hence the shared cinnamon roll and cheeky Paris Brest bun -- both excellent -- with a Crude macchiato that could play a forehand winner with one hand behind its back. Milk Shed, bra gjort!
If it was a car -- Uniti One.
If they were passing by -- Peter Stormare.

EDitorial ± 28-May-2021
Ipswich Lunches: Good Inside
<! - |entrytitle|Ipswich Lunches: Good Inside| -->
For weeks there's been a folded bit of Guardian on the fridge headed "Path out of lockdown: key dates to remember". Having got past 8 March (schools), 29 March (six people outdoors) and 12 April (hairdressers), the most recent of these was 17 May (rule of six indoors). So with a quartet of jabs between us, it's finally time for the first officially sanctioned light lunch since Feb 2020.
Despite one thing and another, a handful of new eateries have sprung up over the last 18 months. Right next to the lovely Green Room -- where myself and Andy could be pictured on Street View until recently -- stands Good Inside, "a real food cafe" with a (checks notes) paleo-ancestral ethos. Think low carb, high protein. Already sat in the prime window seat is Captain Caveman himself, Eco Andy. I thought we might have sat outside in the sun, joining that young couple sipping wine in short sleeves, but he thought it was equally good inside.
We're greeted with a smile by a cheery young woman: she's wearing a face shield, a reminder that we ain't done with this whole thing just yet. Ginger iced tea, please, while we scan the smartly printed A5 menu which includes:
aubergine parmigiana
peposo -- Tuscan shin of beef
parmesan crusted chicken wings
roast chicken laksa
kapuska -- lamb stew
Brancaster mussels
Andy goes for the eggs benedict -- he very much likes the sound of that cheese waffle -- while it's the grilled sardines with fennel for me, ta v. much. Fresh from Felixstowe, apparently, and splendidly fishy. Locally sourced light floods into the sparsely decorated downstairs room while we chomp away.
I'm obliged to try the maple and pecan cheesecake -- smoother than Smooth FM -- while Andy doggedly declines dessert. As shown by their zingy macchiato, this is clearly a classy joint and will hopefully say nice things and possibly even complement the neighbouring Green Room, turning St Margaret's Green into Ipswich's very own 18th Arrondissement.
If it was a car -- Fiat Palio.
If they were passing by -- Harry Hill.

EDitorial ± 21-Feb-2021
Jab Done
<! - |entrytitle|Jab Done| -->
Now into his 80s, my father-in-law had his first Covid vaccination just after Christmas -- the first person I knew to receive one -- and his second in mid-January. Then, in early February, my mum, my mother-in-law and my wife (probably due to a recent blood transfusion) all had their initial jab on the same Tuesday. Me, though? Peak of health, 54 but feeling 53, not likely to get the call for a few months. Days later, dear reader, I got the call.
Biking up to the Ivry Street medical practice I thought back to that 80,000 Suspects film, those extras queueing outside the Bath Assembly Rooms in freezing conditions, and in particular to the scene with actor Graham Moffatt nervously rolling up a sleeve. He doesn't make the film credits but, according to Wikipedia, played the role "fat man in vaccination line." That'll be me, I wrote, breaking out in a sweat at the sight of a needle.
Downstairs at the doctor's I sanitised my hands, confirmed my ID and, like some robotic droid, waited on the red line drawn in tape on the carpet; a faster-moving yellow line snaked off to the right. A sign on the wall told me that "the vaccine in use is Oxford / AstraZeneca" -- like the soupe du jour -- with the parenthesised "(British)" in eight point font. I had a better view of the woman ahead of me being done than I would have liked and looked away. Called through, there were questions to be answered:
do you work in a care home or the NHS?
have you had a vaccination in the last seven days?
are you taking part in a COVID19 trial?
have you ever suffered a severe reaction to an injection?
are you or have you even been a member of the Communist Party?
I'm Liz, said Liz the nurse. How are you with this sort of thing? Not great, I said. OK, she said, turn the chair this way and I'll shift over here out of sight; you'll hardly feel it go into the muscle. I was thinking that's the sort of detail I'd rather not know when she pronounced me all done. I gave it a few minutes standing outside, as advised, then whizzed back down Paget Road to resume Working From Home for the 47th straight week.
Hope you get yours soon. In the immortal words of the 1957 track by The Silhouettes, "yip yip yip yip yip yip yip yip, mum mum mum mum mum mum, get a jab."

EDitorial ± 1-Feb-2021
80,000 Suspects: Smallpox in Bath
<! - |entrytitle|80,000 Suspects: Smallpox in Bath| --> A Tweet from
James Harrison
(BBC archive researcher) pointed me to
80,000 Suspects
(
IMDb
), a black & white film from 1963 about a smallpox outbreak in Bath. What with one thing and another -- the current situation -- it makes for fascinating viewing.
For those interested in the Bath filming locations, of which there are many, there's no better resource than Reel Streets which compares film stills against present sites.
— Identify All Primary Contacts —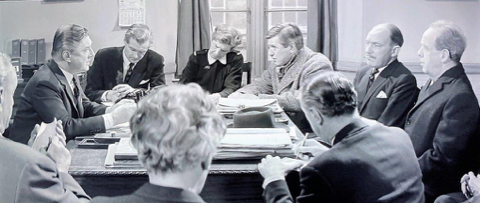 "The top priority now is to identify all primary contacts and the immediate vaccination of all police, emergency services, postal staff, in fact every public servant in the city."
Basil Dignam takes charge.
— This Virus Is A Killer —
"I cannot say this too emphatically. This virus is a killer. Yes, we do only have three cases but tomorrow it could be 33, in two weeks 1003 unless we contain it now."
Asked if this is an over reaction by the town clerk, Basil Dignam slaps him down.
— An Unidentified Coffee Bar —
"We have a list of all the places the boy Davis can remember going to... The theatre, two cinemas, Pump Room dance, Colonnade restaurant and an unidentified coffee bar."
Mervyn Johns is Mr Track & Trace.
— 16 Days —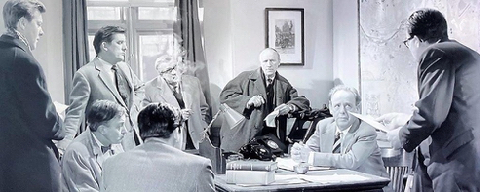 "Our urgent job is to find every person who was in any of those places on the dates he was there."
"And when we find them?"
"Report their names and addresses to the doctors. They'll be vaccinated, isolated to their houses or wherever they are for 16 days."
There's gonna be a lot of tracking and a lot of tracing.
— Stay In Your House —
"Do you understand how you can help us by staying in your house for a couple of weeks?"
"What about my job? Supposing they stop my wages?"
Norman Bird's son is home from working on a cruise ship and has unwittingly brought the disease into beautiful Bath. Basil Dignam heads round to spell out what the family must do.
— No One Must Go Out —
"Your groceries and things will be delivered. They'll be put in a special bin outside so they'll keep clean and dry. You do understand: no one must go out for any reason whatsoever."
Fortunately Norman Bird didn't have to wait for a Tesco slot.
— Theatre Royal —
"Anyone who visited the Theatre Royal for the evening performance on December 20 should likewise go to their doctor for immediate vaccination."
The perils of going to see Mother Goose.
— They'll Still Hold The Football —
"I suppose they'll still hold the football on Saturday."
"Mind you, I don't really believe in it but if it's free why miss it?"
"You'd think they'd organise it better, wouldn't you?"
Of course the football will be going ahead. And it seems there's a conspiracy theorist in the queue awaiting vaccination.
— You've Had This Before —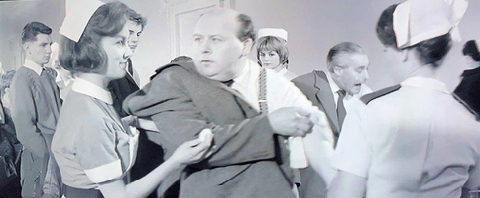 "Oh, come on, you've had this before, haven't you?"
That'll be me, breaking out in a sweat at the sight of a needle.
— House Quarantine —
"Although many hundreds of people are still under observation in house quarantine, the Ministry of Health state that all steps are being taken to prevent the outbreak from spreading to other districts."
As ever, we're in the best possible hands.
— More Than 21,000 People —
"According to reports more than 21,000 people have been vaccinated since the beginning of the outbreak just over a week ago."
Pfizer? AstroZeneca?
— Have We Licked It? —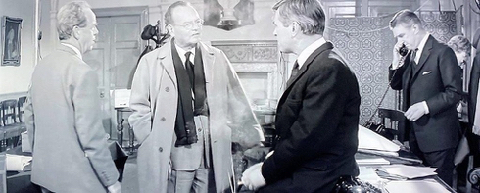 "I can't go on saying it's all under control. What else can we publish?"
"Plenty of sunshine cruise pictures, football and comic strips, that's my prescription."
"They don't want to escape, they want to be told: have we licked it or haven't we?"
Arthur Christiansen, "the greatest editor in the history of Fleet Street", plays the local newspaper chief two years after a very similar role in The Day the Earth Caught Fire.
I rented 80,000 Suspects from the BFI Player but it pops up sometimes on Talking Pictures TV.