EDitorial ± 13-Mar-2017
TT1617, ISC B v. Defiants
<! - |entrytitle|TT1617, ISC B v. Defiants| -->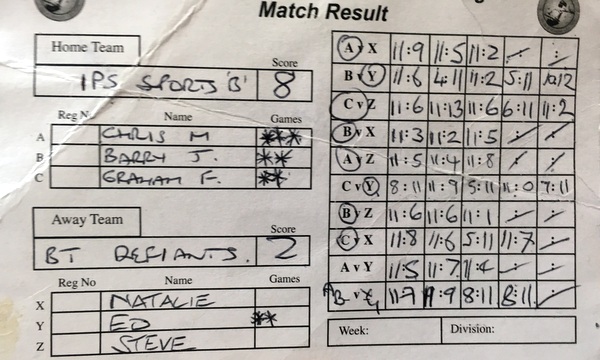 Back in the land of Dick Jeeps and Natalie's agog at something hung on the wall of the Ladies Hockey Club on Tuddenham Road. That shirt, she says, was worn by Sandy Lister, my PE teacher. Emerges that Sandy (born 1961) was part of the women's hockey team that won bronze at the 1992 Barcelona Olympics. Impressive.
Good news for us is that Steve's back from the dead. Well, not quite, but recovered enough after tumbling from two wheels. Returning from our previous encounter are chill Chris M and lefty Barry with new/old face Graham. In brief:
not Natalie's night, winning only one end with only the solace provided by a grapefruit San Pellegrino
not Steve's night either, taking Graham the distance but earning no points
Ed's night, just like last time, coming back from 9-5 down in the fifth to edge past Barry and bouncing back from an 11-0 4th game skunking to beat Graham
Doubles looked briefly promising before the usual capitulation. Nice of the ISC chaps to make us a cuppa. Cheers for the 8-2 defeat!